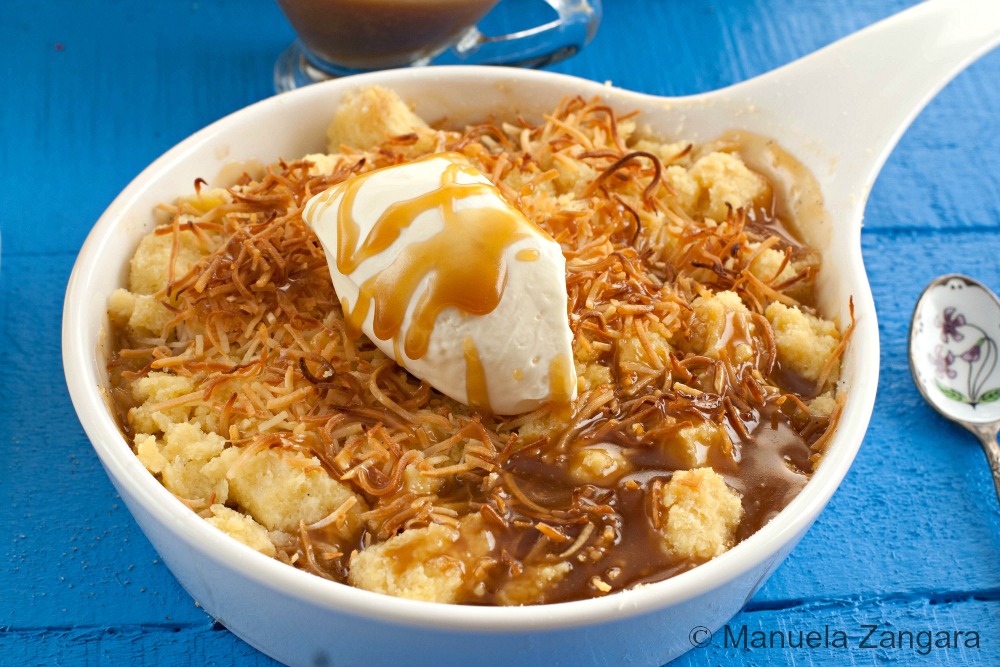 Today's recipe is a spur of the moment kind of recipe.  I had some fresh pineapple in the fridge and some butterscotch sauce leftover from another dish and I knew they would taste delicious together.  So, I came up with a quick dessert: pineapple and butterscotch crumble.  We all loved it.  The slight tanginess of the fruits is perfectly balanced by the sweetness of the sauce.  I love crumbles as the filling always gets nicely stewed and becomes soft, while the topping is crunchy and… crumbly.  Yum!  I served it with a dollop of double cream (though vanilla ice cream would have worked great too) to cut through the sweetness of the cake.  It was definitely a great use of leftovers!
  Enjoy!
PINEAPPLE CRUMBLE WITH BUTTERSCOTCH SAUCE
Serves:
makes 2x13cm – 5 inch round pans
Ingredients
Butterscotch Sauce
Crumble
Instructions
Butterscotch Sauce
Put the cream, brown sugar and butter in a pot and stir over medium heat for 5 minutes.
Increase the heat to high and bring to a boil. Reduce the heat to low and simmer, uncovered, stirring often, for 5 minutes or until the sauce thickens slightly.
Crumble
Mix the cubed pineapple and the butterscotch in an oven proof dish.
To make the crumble put the flour, butter and sugar in an electric mixer and mix until just combined (it will look like coarse breadcrumbs).
Use these crumbs to top the pineapple in the oven proof dish.
Top this with the shredded coconut and bake it in a pre heated oven at 180°C – 350°F for about 30 minutes or until golden.
Serve warm with a dollop of double cream or vanilla ice cream and some extra butterscotch sauce
Pin It
Related Posts: