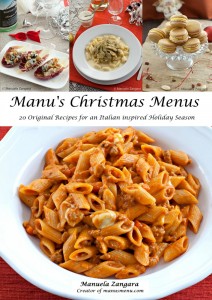 SCROLL DOWN TO BUY YOUR COPY NOW!
Manu's Christmas Menus contains 20 original recipes, divided in 4 menus, to help you bring Italy to your table this holiday Season. The recipes follow my blog's structure, so they all contain step by step pictures and tutorials.  All of the recipes in the eBook have never been published before (so you won't find them on the blog) and are quite representative of what Italians would serve for Christmas and New Year.  You will find some traditional dishes and others with a more modern twist.
As I say in the eBook's introduction "The idea of this eBook came about almost a year ago, when my parents were visiting us for Christmas and we were planning our holiday menus. We usually sit down together and write down 4 different menus: one for Christmas Eve dinner, one for Christmas Day lunch, one for New Year's Eve dinner and one for New Year Day lunch. It is quite a process as everyone has to be pleased and not everyone likes the same food. But it is also a lot of fun and a moment we share as a family. The same feeling of "sharing a moment together" continues throughout the meal preparation, as we all contribute to it. Back in Italy, holiday meals would have many people seated at the same table, so it is customary to divide the work among family members: nonna would make pasta, aunty would make the appetisers, mum would make meat, dad would whip up a dessert and so on. Dividing tasks in the kitchen is also a way not to get too tired and still be able to enjoy your day/evening.
Italians have quite elaborate meals at Christmas time. We do serve at least 4 to 5 different dishes per meal, sometimes more (it depends on how many people we have to feed and divide the work with!), so I have created 4 menus with 5 dishes each. If you are not used to eating this much (or have a smaller family) you can simply choose 2 or 3 dishes per menu. If you decide to go "the Italian way", remember that while Italians cook up a storm, we do not serve huge portions of each dish. It is all about "tasting" and enjoying different flavours without getting too full."
I thought I should also give you, my dear readers, a preview into the eBook.  This is the table of contents, so you know what recipes are included:
Click here for a PREVIEW of the eBook.
And here are a couple of pictures, for your eyes only:
WHAT THEY ARE SAYING…
"…I think the book can offer something for everyone. For a cook unfamiliar with Italian tradition, the book provides a good introduction to holiday meals and the recipe for some ageless classics like insalata di rinforzo, cotechino in crosta and risotto allo spumante. For the advanced cook, the book provides some very interesting new ideas. My favorite are the panettone macarons, but that flank steak roll and those radicchio boats don't look bad either!
A good inspiration for the Coming holidays!" Pola of An Italian Cooking in the Midwest
"I'm going to forewarn you: do not look at this book if you are hungry. I just ate dinner and I was literally salivating when looking at the spectacular photographs of the festive dishes. As a follower of Manu's Menu online, I was elated to see that she has created an ebook for the holidays! […]
As an Italian, I appreciate the authenticity of the recipes, and menus keeping to the traditions of our Italian culture. Yet, Manu isn't held back creatively, and adds her own flair to the dishes she has so thoughtfully prepared in this wonderful ebook.
I highly recommend this for anyone who would like to delve into authentic Italian cuisine, or as a fabulous Christmas gift, which will surely delight the recipient! Looking forward to more of Manu's Menus!" Christina of Christina's Cucina
"As an an Italian cuisine cookbook, "Manu's Christmas Menus" is absolutely refreshing. Not only does it contain 20 great and original recipes, it has them organized in 4 complete menus, each with a 5 course progression from appetizer to dessert. Some of the dishes reach high levels of complexity, but all recipes are equally easy to follow thanks to their detailed descriptions, step-by-step and with pictures. All preparations are inspired by traditional Italian flavors (from the entire Italian territory, north to south), but at the same time they are modern and creative. Absolutely recommended!" Paolo of Quatro Fromaggio and Other Disgraces on the Menu
Manu's Christmas Menus is available in 3 different formats: pdf, epub and kindle.  Follow the links below to purchase your copy in your preferred format.
BUY IT NOW!!!
Buy it now and be prepared for the Holiday Season!

Related Posts: