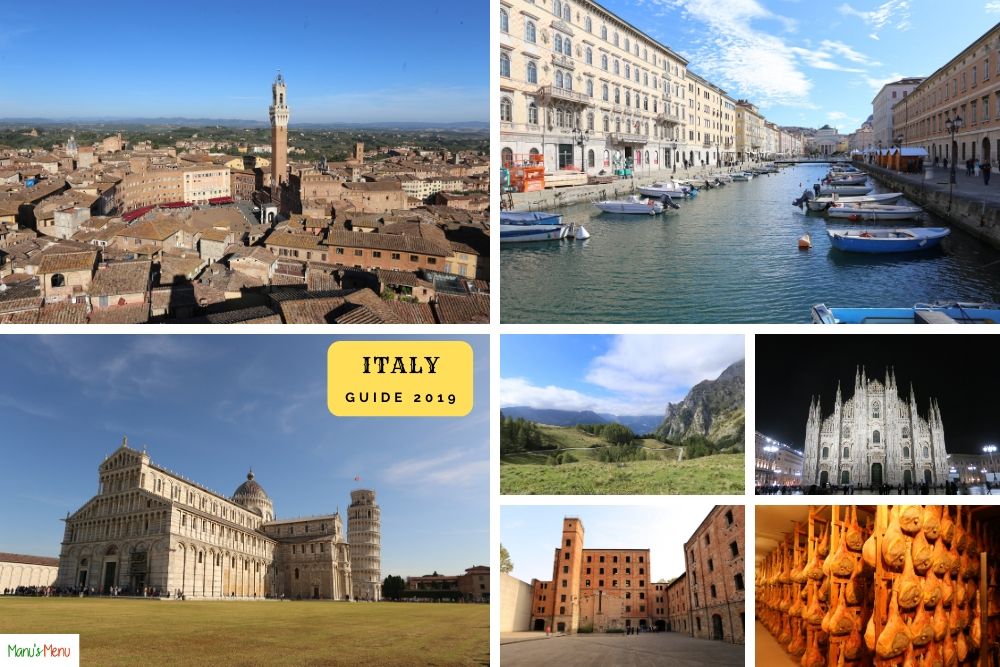 Last autumn, my family and I travelled to Europe, as the kids had a school exchange in Italy. After spending a few days in South Africa, and another 5 days travelling around Slovenia and Croatia, we finally settled down in Italy for a few weeks. And this is my Italy 2019 Guide!
As you know, I was born and raised in Milan, in the North of Italy. I have travelled quite a lot around my native country, however, my kids had (and still have) a long list of must-see places to go through.
Keeping in mind that we had previously visited Rome, Venice, and Sicily, this time we prioritised other areas.
The school exchange was done with a school in Cividale del Friuli, a beautiful little town in the Friuli-Venezia Giulia region, in the North-East of the country, an area that borders with Austria to the north and Slovenia to the East. We spent 3 unforgettable weeks there, enjoying the Medieval town and touring the surroundings.
After that, spent 5 days travelling around Tuscany and 1 week in my hometown, Milan.
OUR ITINERARY
24/09/2019 Johannesburg – Venice airport – Trieste
29/09/2019 to 18/10/2019 Cividale del Friuli
19/10/2019 Cividale del Friuli – Ferrara
20/10/2019 Ferrara – Montepulciano
21/10/2019 Montepulciano – Assisi – Montepulciano
22/10/2019 Montepulciano – Pienza – Montalcino – Siena – San Gimignano
23/10/2019 San Gimignano – Pisa – San Gimignano
24/10/2019 San Gimignano – Florence – Milan
25/10/2019 – 31/10/2019 Milan
Before going into more details about our journey, let me give you some practical information that will help you plan your own trip.
HOTEL BOOKINGS
For this trip, I booked through Booking.com. To decide on the hotels to book, I read reviews on Tripadvisor and besides reading what other travellers had to say, I looked at the pictures they took, as those don't lie and I can get a better idea about the place.
I will be sharing a more detailed review of each place later on, so stay tuned.
INTERNET
All the hotels we stayed in had free wi-fi. So, keep that in mind when you decide whether or not you need Internet 24/7. However, because we were staying in Italy for a while, we got a local SIM (Vodafone) for our mobile. This Italian SIM also worked in Slovenia and Croatia. It was useful because we had rented a car at Venice airport, and we could use our mobile as a navigator.
DRIVING
We rented a car at Venice airport through Hertz and had no problem whatsoever. Actually, we got a free upgrade and ended up driving an Alfa Romeo Stelvio for the duration of our trip. The car was great (obviously), however, if you don't have much luggage, get a smaller car as finding parking and driving through very small villages with narrow roads (especially on the mountains) can be tricky with a big car!
If you are planning to go to another country with your rental car, make sure to specify where you intend to drive it as you may need additional documents. Croatia is one such country!
You will not need to buy a "vignette" to drive on Italian highways, but you do if you drive to some neighbouring countries like Switzerland, Austria, and Slovenia. In Italy, you pay the toll every time you drive on the highway. They take both cash and credit cards.
INTERNATIONAL FLIGHTS
This was probably the most complicated part to sort out for us, as we were also "stopping" over in South Africa on our way to Italy and we had to wait for the specific dates from the school. We flew Qantas between Sydney and Johannesburg (return). And then we flew Emirates (via Dubai) to Venice and then back from Milan to Johannesburg! Yeah, I know… luckily, we stopped for a night and 2 days in Jo'burg on our way back.
The Qantas flight between Sydney and Johannesburg was awful. We have been flying a lot with Qantas and I am very sad to say that it's been getting worse and worse every time. After cancelling our flight to Tokyo 3 hours before it was scheduled and serving me a cheese-covered vegan meal on the Santiago de Chile route, this time I was left without a working screen for 14 hours!! And that too on a DAY flight. I was literally going insane. I was bored out of my mind and couldn't even listen to music, as the full thing wasn't working. It was one of the WORST flights I have ever taken. On the way back, their air-con system was not working while waiting to take off. Needless to say, we were dying in the heat and it took about 45 minutes before we could take off and the air-con started working. My husband got sick because of this as we had been sweating and then the AC was really cold… On this same flight, I got served an Indian curry with my "bland meal". Even the hostess who brought it to me was embarrassed to hand it to me!! I mean, BLAND and INDIAN?? Hahahaha Luckily I had my own food…
The Emirates flights were on another level altogether. Much newer aircrafts, more spacious, a fantastic (and fully functional!) entertainment system with movies and music from all over the world, and food even I could eat (yes, they got it right)! Just perfect.
WHEN TO VISIT
Any time! The best time, depends on what you want to see and do. If you are there to enjoy the seaside and the beaches, then you will want to go in summer (June to September). However, keep in mind that it is high season, so prices will be higher and you can expect some crowds.
If you intend to visit the cities and lakes, autumn and spring are a great time as well.
And of course, if you want to ski in the Italian Alps, then winter is the time to go!
HOW TO PLAN YOUR ITINERARY
A trip to Italy is very easy to organise on your own because there is a ton of information available on the web.
Here are the sites that I highly recommend you read when planning:
TripAdvisor – to find hotel and restaurant ratings. There are also great forums with friendly people who give very good advice.
Lonely Planet Thorntree – a good forum.
Google Maps – useful for planning, but above all while there.
OUR JOURNEY
I am going to write a specific post/guide on each place with more details, however, what follows is a summary of our journey.
We landed in Venice (coming from Johannesburg) at lunchtime. We picked up our rental car and headed straight to Trieste, where we stayed overnight.
Trieste is a breathtakingly beautiful city. We visited a few times during our stay as it wasn't too far from Cividale. I literally fell in love with it. Some parts of it remind you of Venice, others of Vienna. There are a ton of things to see here both in the centre and just outside of town.
Do not miss out Miramare Castle.
And Duino Castle!
And visit Risiera di San Sabba, the only Italian Nazi concentration camp. The visit is a punch in the stomach, but so worth it.
After the day spent in Trieste, we went for our 5 day-trip around Slovenia and Croatia. When we came back to Italy, we settled in Cividale del Friuli for 3 weeks.
I must admit I didn't know this part of Italy before and I was pleasantly surprised. It is so beautiful. The town itself is Medieval and it's got plenty of historical buildings to explore.
The countryside is equally breathtaking. It is very similar to Tuscany, with hills covered in vineyards and small villages scattered around.
This area was part of the Austro-Hungarian Empire, so it shares many traditions with its neighbouring countries. It was also the theatre of terrible battles during World War I and you can visit trenches and museums that clearly explain what happened 100 years ago.
The Alps are also very close! You can go trekking and enjoy waterfalls and beautiful views.
And when you are tired, you can have some fantastic food at the local malghe (mountain huts that double up as restaurants).
If you are ever in this area, you MUST visit Sauris. It is a lovely little mountain village near a lake.
And make sure to try their local Prosciutto. It is to die for. I have never eaten a better prosciutto in my whole life!
We also visited the 3-border place. It is the place where Austria, Slovenia, and Italy intersect. The kids had a blast jumping from one country to the other!
From Cividale we took lots of day trips. We would drop the kids to school and then off we went. We visited Gorizia, Grado, a few local vineyards, San Daniele where we enjoyed the famous prosciutto.
We also went to Aquileia to see the beautiful UNESCO World Heritage sites. The Roman Archaeological Area and the Patriarchal Basilica, an outstanding building with an exceptional mosaic pavement.
We also visited the town of Venzone which was almost entirely destroyed by the 1976 Friuli earthquake. Clearing-up operations started immediately and the historic town centre was rebuilt in its original style from numerous pieces of rubble in the next years.
After thoroughly enjoying our time in Friuli Venezia-Giulia, we took the car and made our way towards Tuscany. We stopped in Ferrara for one night on our way south. Ferrara is the Emilia Romagna region. The town has numerous palaces dating from the Renaissance, when it hosted the court of the House of Este, including the famous castle.
For its beauty and cultural importance, it has been designated by UNESCO as a World Heritage Site.
Our next destination was Montepulciano, a medieval and Renaissance hill town in the province of Siena.
Montepulciano is a major producer of food and drink. Renowned for its pork, cheese, "pici" pasta, lentils, and honey, it is known worldwide for its wine. Connoisseurs consider its Vino Nobile, among Italy's best.
From Montepulciano, we visited Assisi, the birthplace of St. Francis, who founded the Franciscan religious order in 1208, and St. Clare.
In the area, we also visited Pienza and the Val d'Orcia.
The beautiful Montalcino, another Medieval hill town with an impressive fortress and other important ancient buildings.
We also stopped by the nearby Abbey of Sant'Antimo, a Benedictine monastery.
After that, we went to Siena for a quick visit. I love Siena, however, it was packed with tourists! We visited the Duomo.
And we even managed to go up to see the splendid view over the town and Piazza del Campo!
We stayed 2 nights in San Gimignano, another small walled medieval hill town in the province of Siena. San Gimignano is known as the Town of Fine Towers and it is famous for its medieval architecture and its tower houses, which form "an unforgettable skyline".
The Historic Centre of San Gimignano is a UNESCO World Heritage Site. The town is also known for saffron, its Golden Ham, and its white wine, Vernaccia di San Gimignano, produced from the ancient variety of Vernaccia grape which is grown on the sandstone hillsides of the area.
From San Gimignano, we drove to Pisa to visit the famous leaning tower and Piazza dei Miracoli.
That's always a fun visit.
On our last day, we drove to Florence where we returned the rental car.
What can I say about Florence? I think I will let the photos speak. Unfortunately, it was raining, however, Florence is always beautiful!
From there we took a train to Milan, where we spent our last week in Italy. Besides visiting friends and family, we managed to squeeze in a few visits.
Besides the Duomo/Cathedral, we visited the Sforzesco Castle and Michaelangelo's Pieta' Rondanini.
We also visited Santa Maria delle Grazie to see Leonardo's Last Supper.
And we went to Sant'Ambrogio Church, one of the symbols of the city.
After spending a week in Milan, we flew back home via Dubai and Johannesburg.
FOOD
Well, you all know what I think of Italian food. It is AMAZING. We had so much food that we all put on some weight.
Each region has its own specialties and products/produce, so I will write about each of them in more detail under their specific posts.
However, I just want to mention the best pizza I have ever had – it was at Bianco's in Trieste. I mean, look at that!
CONCLUSION
Needless to say, we LOVED it. It was an amazing experience and we got to see some breathtaking places.
After having lived abroad for 14 years, I can easily say that Italy is one of the most beautiful places on earth. Both nature wise and architecturally wise. Everywhere you look, there is a piece of history staring back at you. I really miss that here in Australia.
Highly recommended! If you have any questions, leave a comment and I will be happy to help out!
Don't forget to PIN this post!
RESOURCES ON MSM
FOOD:
TRAVEL:
Trapani, Erice, and Segesta – Italy Guide
San Vito lo Capo – Italy Guide
MAP

Related Posts: