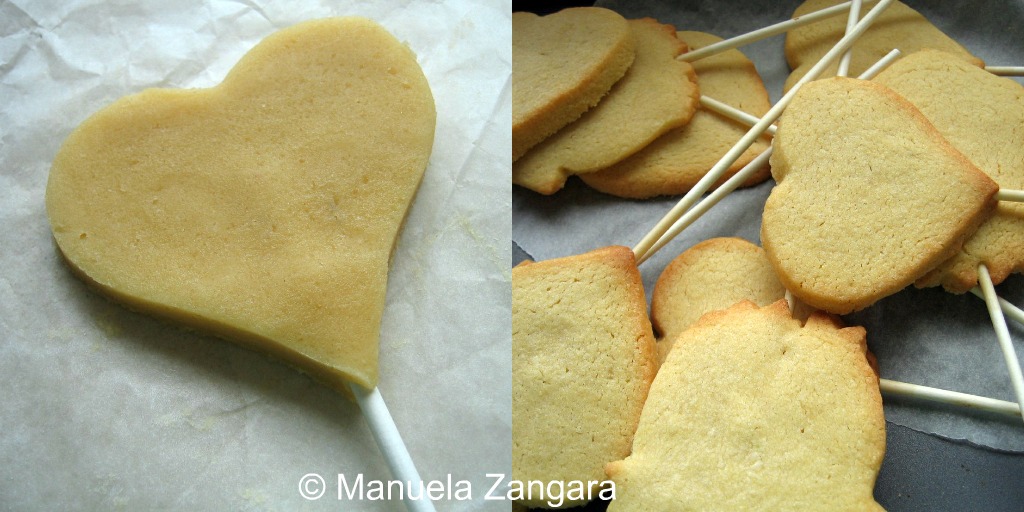 I first made sugar cookies for my youngest daughter's 2nd birthday party and we all liked them so much that something tells me, we are going to make them more often!
Sugar Cookies recipe adapted from Sweetopia
Ingredients (I made a half dose of this):
2 ½ cups butter (at room temperature)
2 cups sugar
2 large eggs
Seeds from 1 vanilla bean (or 3 tsp vanilla)
5 cups flour
1 tsp baking powder
1 tsp salt
Cream the butter and sugar together (1 – 2) in the bowl of an electric mixer with a paddle attachment on low to medium speed.  Mix until well incorporated, but don't over mix or you will incorporate too much air into the dough (not good if you would like the cookie to hold its shape while baking).  Add the eggs (3) and mix.  Cut open your vanilla bean and scrape the seeds out.  Add to mixing bowl.  Or add the liquid vanilla extract (as I did – 4) and stir briefly.  Sift the flour, baking powder and salt together and add it to the bowl and mix (5).  The dough will be ready when it clumps around the paddle attachment (6) (don't overmix or the dough will become tough).
Roll the dough out between 2 large pieces of baking paper.  Place it on a cookie sheet and into the fridge for at least 1 hour.
Roll out the dough further if you need to and cut out the cookie shapes.  Place on parchment paper-lined baking sheets.  Re-roll the scraps and repeat.  I made "cookie pops", so I just inserted a pop stick into the cookies at this stage.  Do this slowly so you don't break the dough.  Also, you may want to keep your cookies a bit thicker, just to make sure that they don't break.
Put the cookie dough shapes back into the freezer for 10 minutes to 15 minutes to chill again (or you can keep them in the fridge for longer, depending on how warm it is where you live).  They will then hold their shape better when baked.
Bake in a pre-heated oven at 175°C – 350°F for 8 to 12 minutes (I kept mine 12 minutes as they were quite large and thick) or until the edges become golden brown.
Let the cookies cool to room temperature and then decorate them.
Here are some decoration ideas:

Related Posts: