New Caledonia – October 2011

View New Caledonia 2011 in a larger map
We have just come back from a 10 day holiday in beautiful New Caledonia.  If you follow Manu's Menu you will know that I love travelling and I have a long list of "must see places" from which I pick one to visit whenever I have the chance.  New Caledonia has been on the top of that list for quite some time… I was dreaming of visiting it even before moving to Australia.  As it is too far away from Italy, I never really thought I would be able to actually go… but living in Sydney made everything so much easier.  Noumea (the capital city of New Caledonia) is only a 2.5 hrs direct flight from here and from there, you can fly to one (or more) of the wonderful islands that surround the Grande Terre, the mainland (also called le Caillou, the rock) or explore the mainland itself.
We decided to keep it simple and limit our transfers to the bare minimum, simply because we were travelling with 2 small kids and we wanted to relax and have a relaxing family holiday.  It was an easy choice as New Caledonia is so close that we have no doubt we will be going there again, so we will be able to explore other parts of this beautiful land.  This time we limited our visit to Noumea and Ile des Pins (the island of pines), probably the most famous island of the country.
New Caledonia is a dependent territory of France, which also means people speak French and are French citizens and that French food and wines are supposed to be the staple… YAY!  The population is a mix of French people (or people of French descent) and locals, referred to as kanak.  In the last few years, there have been tensions among the population and a few movements pro-independence have become more popular.  I am not going to explain this in details as it would require a lot of time… but if you are interested, you can read more about New Caledonia on Wiki.
Noumea is a mix between a small quiet French town and a colourful and somewhat messy South Pacific city.  Before leaving, someone told me to go there with low expectations as they had been badly disappointed.  I guess they were expecting a more "European" town with cobbled streets and cafes.  Well, I was actually expecting a chaotic place, so I was pleasantly surprised.  We only had 1 day to go around the city (and that too was cut short as it became too warm for the girls to handle), but I would say the city centre was definitely colourful and a bit messy…
But other areas of town (like Anse Vata or Baie des Citrons, where our hotel was) were really beautiful and well maintained.
We chose to stay in an apart hotel called Casa del Sole and I can easily recommend it if you are ever in town.  Moderate prices, beautifully appointed apartments, great location and an AMAZING view!
And by night…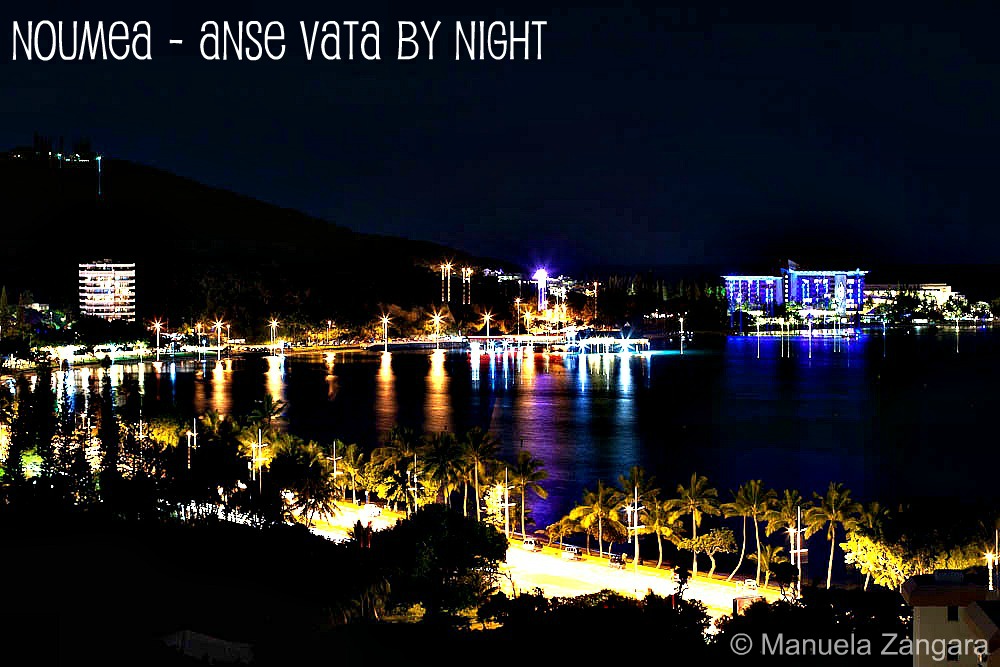 Just outside the hotel, there are a few restaurants and cafes where you can have breakfast, lunch and dinner.  The choice in the area is a bit limited and we did not have any food really worth mentioning, with one exception: Crêperie La Gavotte.
We ordered a Mojito and a Margarita to start our dinner.
Truth be told, the cocktails were not that great… my Mojito definitely needed more sugar… but they did not lack alcohol!! Hehehe
But the real stars of the show were their galettes [bretonnes]: savoury buckwheat flour pancakes/crêpes.  We ordered a Galette Forestière filled with mushrooms, bacon, cream and Emmenthal cheese.
And a Galette D'Ouessant filled with bacon and Fourme d'Ambert blue cheese and served with a refreshing salad dressed with a hint of the same blue cheese and walnuts.
These were so good I am already looking for a way to remake them at home… so stay tuned!
We obviously could not leave without sampling one of their sweet crêpes, so we ordered one with pears, chocolate and Chantilly… amazing!
This is definitely a place to bookmark if you are ever in Noumea.  We loved it so much that we ate there twice.  The prices are very good for the area, the service is attentive, friendly and fast and there is a very nice view over the lagoon.
After 2 nights and 1 full day in Noumea, we left for Paradise.  A 20 minute flight took us to the Ile des Pins, just south of the mainland.
We stayed 6 nights at Le Meridien as it was very close to THE place I had dreamed of swimming in for years: la Piscine Naturelle (natural swimming pool).
As this is a food blog, I think it is right that I spend a few lines reviewing this hotel and its restaurant as both my husband and I felt a bit let down by the latter.  The hotel itself is really nice and well kept, definitely worth its price and its fame.
The rooms are spacious and nicely furnished.
The common areas and the grounds are well kept and the vegetation is gorgeous.
There is a little swimming pool, attached to the main pool that almost seems to merge with the sea, that the kids loved.
There is also a nice private beach in front of the hotel where you can swim and relax.  You can also borrow a kayak or a pedal-boat and explore the surrounding areas.
They also organised a local kanak dance one evening, which did feel a bit touristic (unlike the local dance we had experienced in Fiji and the Hakas in New Zealand), but it was nice all the same… at least it was something new.  Note: this was the ONLY entertainment organised during the full week.
The bar was ok.  We had a couple of cocktails and they were good.
BUT (and that's a huge BUT for a foodie) the restaurant was very bad.  Breakfasts were good.  They were buffet- style with a reasonably good choice of savoury (including eggs cooked to order, bacon, hash browns, sausages, cheeses, cold meats, rice and miso soup) and sweet options.  Their baguettes, croissants, pains au chocolat and crêpes were very nice and they had some good jams too (I loved their banana and their kiwi jams!).  They also had a very nice "eye opener" drink served in shot glasses that changed daily and was a mix of different fruit juices and spices.
What was appalling were their lunches and dinners.  You have to eat a la carte (they had only 1 buffet dinner during the whole week!) and the problem is the menu NEVER changes.  The choice is very limited… I suppose it is ok if you are staying only for 2 or 3 days, but we could not wait to get out and eat somewhere else after the first 2 days!  The problem is we had no other option.  There are 2 other places around there where you can eat, but they were not a viable option for us having 2 very small children who were already very tired by dinner time!  So, besides having to always eat the same thing (I am not kidding you… there are very few options), these dishes were mediocre and very pricy.  I have had much better food on a small atoll in the Maldives and in the small Nacula island in Fiji (this was in a 3 star hotel that I will never praise enough: The Blue Lagoon Beach Resort).  I was definitely expecting much more from a Meridien.  There was no consistency in what you were served either: one day you would get 3 slices of duck foie gras terrine (this dish was good I must say) and the next day only 2, one day you would get sauce with your duck à l'orange and the next day nothing… and when we asked for some, they brought us steak sauce… needless to say our dinner got ruined… and no apologies were offered either!
The service at the restaurant is awful.  The waitresses almost never got our order right, they would always forget things (even water…) and that was not because of a lack of understanding.  I got the impression that nobody paid attention to the basics.  What was even worse was that to eat a 2 course meal, it would take us between 1.5 to 2 hrs!!!  And ¾ of that time was spent waiting!!  That's totally unacceptable especially when dining out with young kids.  We also tried to skip the main dish once and only got the appetizer and dessert to see if that would reduce our waiting time… but to no avail… we still waited for almost 2 hours to get 2 UNCOOKED dishes!!!  And the restaurant was not even half full!!
As I said the food was mediocre and I honestly cannot understand why.  We were lucky enough to have one of their buffet dinners and that was so much better.  Partially because there was no waiting time and you could just go and serve yourself without having to deal with the staff…  The buffet was divided into 3 sections:
Cold appetizers (among which there were local smoked or marinated fish, snails, beef carpaccio, blinis, venison prosciutto, fish salads, cheeses, salads…) which was really good.
Warm main dishes (beef stew, rice, Thai fish curry and what they said was chicken bougna – but I only saw potatoes in it.  Bougna is a traditional kanak dish that can contain taro, yam, sweet potato, banana and pieces of either chicken, fish, crab, prawns or lobster.  The contents are wrapped in banana leaves and buried to cook in a ground oven, which uses red-hot rocks heated by fire (Wiki).  These main dishes were quite bad and if I had to do it all over again I would just skip the warm dishes section to have more room for…
…Desserts.  This was the BEST part of the buffet and I dare say the highlight of our culinary experience at Le Meridien Ile des Pins.  Unfortunately I was already too full to taste everything (the choice in this case was huge) but I loved their mini Paris Brest's, banana tarte tatin (another dish I will have to try and replicate), mousse au chocolat, eclairs, all kinds of petits fours, pastries, tartes and beignets… Paradise!
So… the chef really knows his stuff and the kitchen can get things right when they want to.  The sweets are their best strength as even the a la carte ones were very good (even though sometimes presented in a way that made them difficult to eat).  So we were left even more puzzled about the rest of our meals.
Even their Kids menu has the same problem… there are only limited options to choose from and that is good enough for 2 or 3 days, but it becomes pretty boring afterwards… and this is always the same for lunch AND dinner.
I guess what I am trying to say is "they have the potential, but they just don't use it to the fullest".  With minor changes and a bit more professionalism and training, this restaurant could be fantastic.  The feeling we got was that the kitchen was doing just enough to "fill your stomach" without caring about the clients' satisfaction.  It was definitely a disappointment.  So much so that I didn't even bother taking pictures…
Other than that, we had a great time.  We would walk every morning to the Piscine Naturelle to swim among hundreds of colourful tropical fishes.  After a 15-20 minute walk in the jungle, you get to Paradise: a fantastic natural tidal pool with crystal clear water and all the shades of blue.
The water is very shallow in low tide and this gives you amazing visibility as the sun light shines through the water lighting up coral and fish. Here are some videos:
I have swum in many places around the world and this was easily the place with the best visibility and the prettiest of all.  The colours of the water, the green of the pine trees around it, the white sand and the blue blue sky make this one of the most beautiful places I have ever seen.
Even the way to get to and from it had some very nice spots.
And some cute crabs too!
I would have loved to see more of the island (especially the famous Baie d'Upi), but we decided to fully enjoy the natural tidal pool and rest.  That's another good reason to go back…
On a positive note, the manager of the hotel offered us a complementary late check-out till 4 PM instead of noon on the last day as our flight back to Noumea was in the evening.  That was really nice as it allowed us to go to the Piscine Naturelle one last time and have the kids rest a bit before leaving.
We spent one last night in Noumea in the same hotel, before flying back home the following morning.  We had dinner at La Gavotte again and a very nice breakfast at The Coffee Club at Baie des Citrons and then flew back home.
We had a great time in New Caledonia and managed to rest and relax completely.  I must admit that I am quite happy it is so close by as I would love to go back and discover more of this beautiful land!  A bientôt Nouvelle-Calédonie!
To see more pictures, visit Manu's Menu on Facebook.
CONTACTS
Hotel Casa del Sole
10 Route de l'Aquarium
Baie des Citrons BP. 3340
98846 Nouméa
http://www.casadelsole.nc/
Hotel Le Meridien Ile des Pins
Baie d'Oro, BP 175
Ile des Pins, 98832
Tel: +687 265000
http://www.starwoodhotels.com/lemeridien/property/overview/index.html?propertyID=1841
Crêperie La Gavotte
Promenade Roger Laroque, Complexe de la Baie des Citrons (near Hotel Casa del Sole)
Noumea
Tel. +687 241086
The Coffee Club
Shop 16/17 Mirage Plaza
27 Promenade Roger Laroque, Baie Des Citrons
Noumea 98800
http://www.coffeeclub.com.au/store-locator/browse/New+Caledonia
New Caledonia Tourism
http://www.visitnewcaledonia.com/

Related Posts: