Even though this is originally a French sauce, it is commonly used in Italian cooking.  We use it in pasta bakes (especially in lasagne or cannelloni) and many other dishes.  So I have decided to include it in the Technique page, as you will find that I often use "besciamella" in many of many recipes.  It is very easy to make and if you do it like in the recipe below, you will get a smooth sauce without problems.
Ingredients:
1 lt – 4 cups milk, hot
100 gms – 3.5 oz. butter
100 gms 3.5 oz. flour
1 pinch salt
1 pinch nutmeg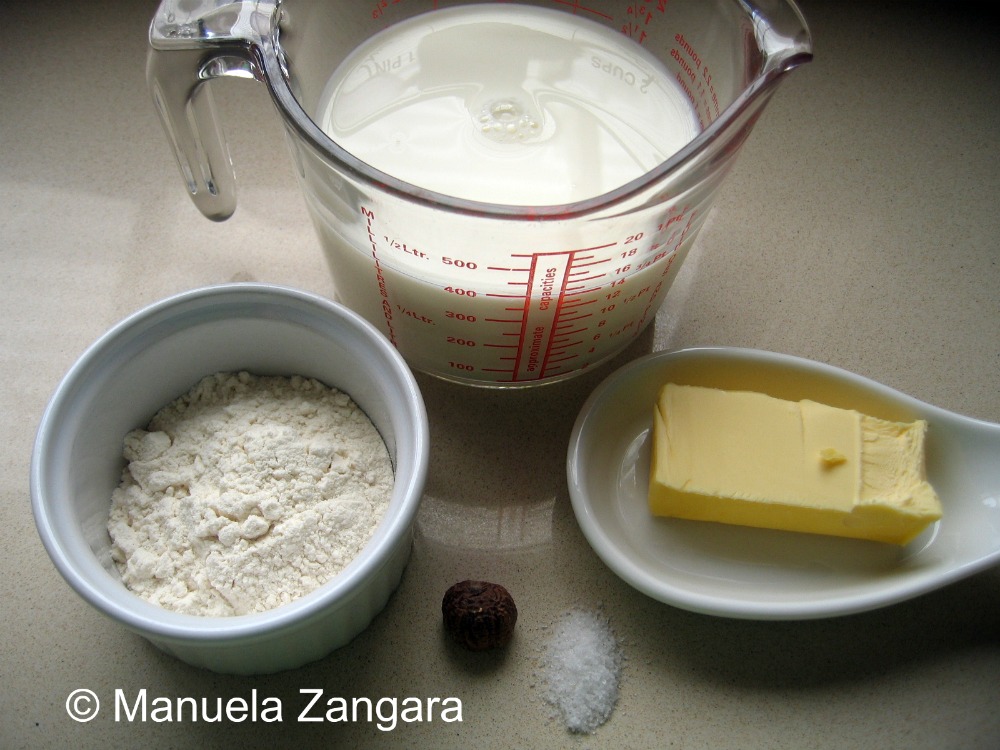 Put the butter in a non stick pot and let it melt.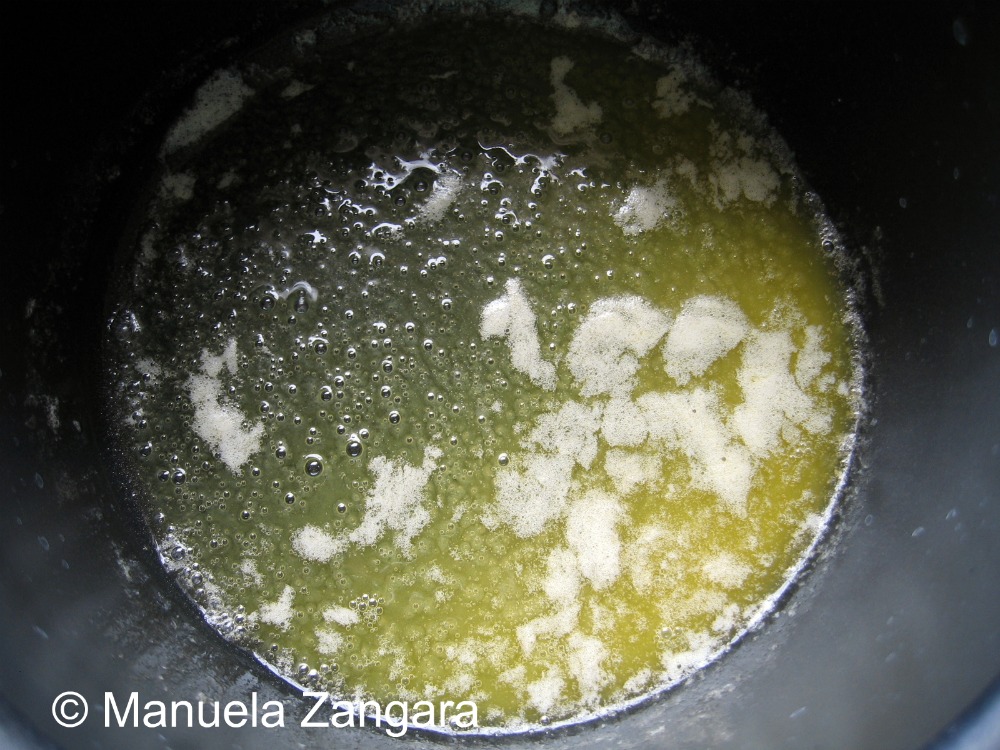 Add the flour and whisk constantly until well incorporated: this is the "roux".  Let it cook for a minute or two.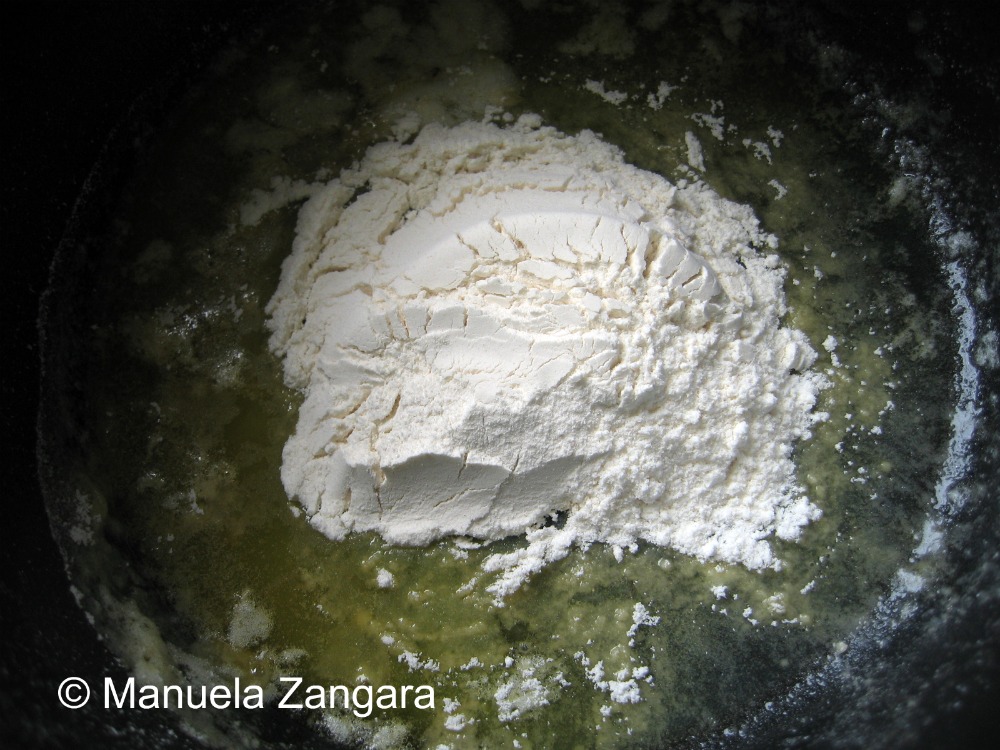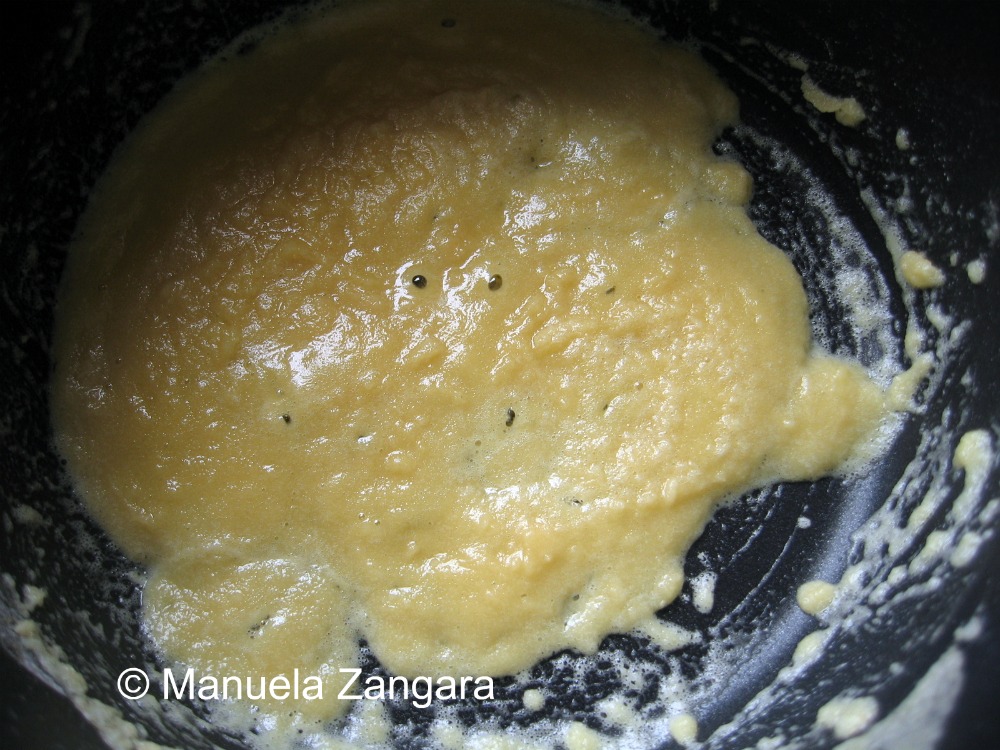 Now start adding hot milk little by little, while mixing continuously.  Do not add the next batch until the milk is well incorporated.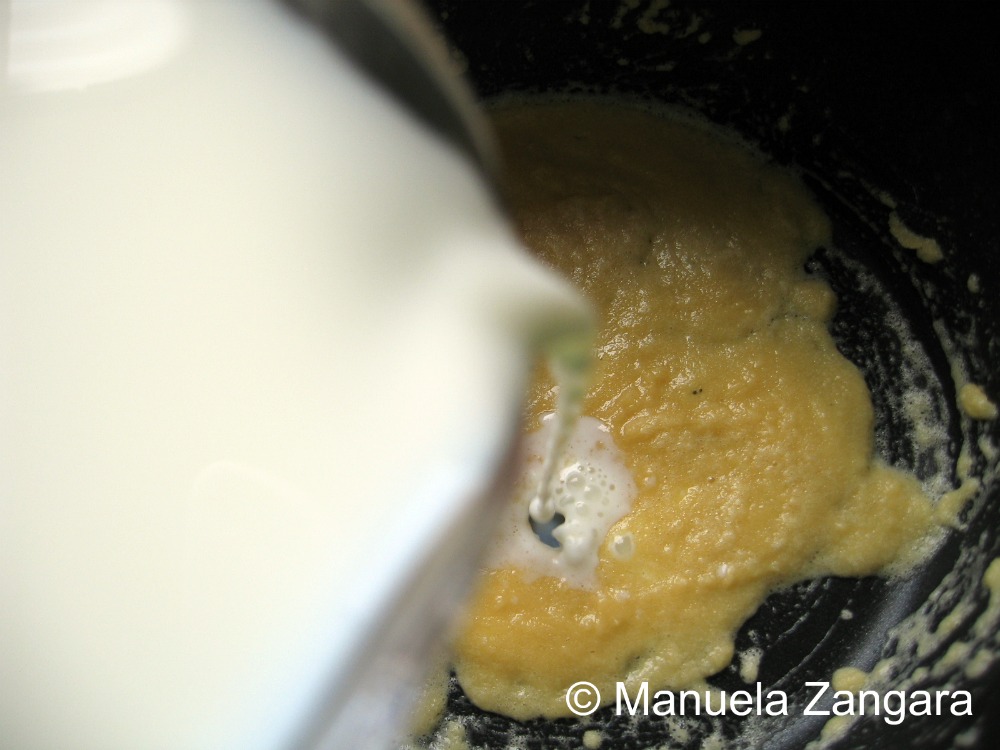 Keep doing so until all the milk is incorporated.  Add salt and nutmeg and cook it on a low flame for 10 minutes or until it thickens.  When ready, cover it to prevent a film to appear on the surface.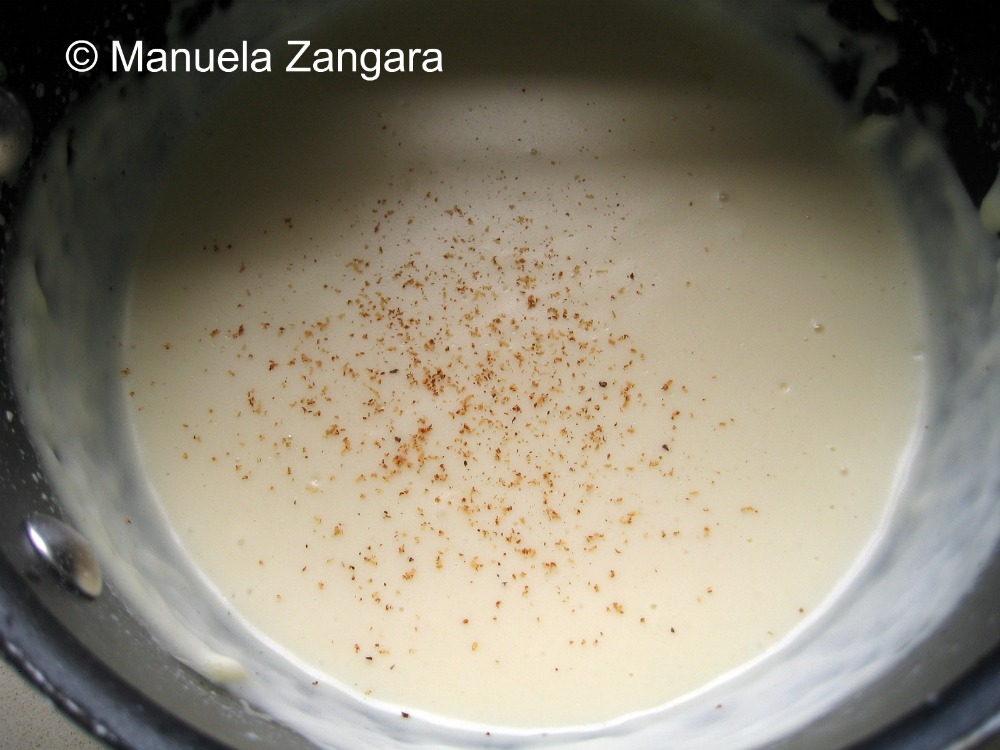 NOTE: if you still get a lumpy sauce, do not throw it out.  You can still save it and make it smooth by using a hand stick blender.
How to make homemade mayonnaise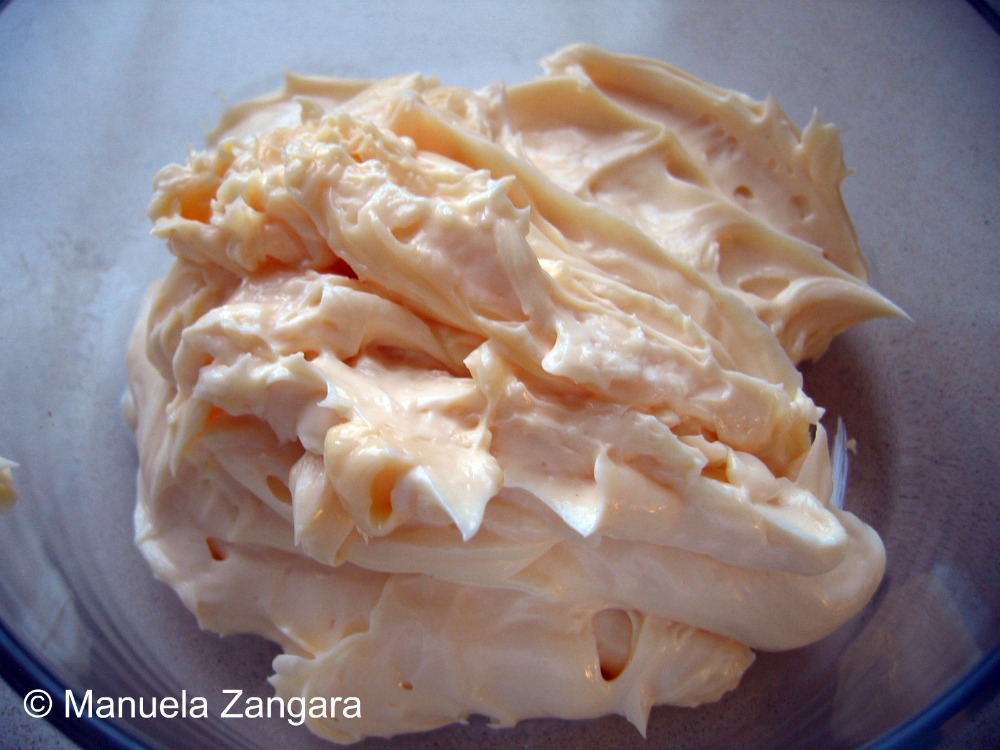 Mayonnaise is one of my favourite sauces.  I have always thought that making your own mayonnaise was way too complicated.  My opinion came from the fact that I had actually tried to make it once many years ago and it was a disaster.  Since I started blogging though I have decided that I will try to achieve new goals and do things that have always "scared" me.  This is surely one of them.  And guess what?  I actually made a fantastic mayonnaise.  If you follow the recipe below, you will not have any problems and you will have a great and delicious homemade mayonnaise in a few minutes.
Ingredients (for 300 gms – 10.5 oz. of mayonnaise):
2 egg yolks – at room temperature
½ lemon, juiced – at room temperature
1 tsp red wine vinegar
250 ml – 8.5 oz. sunflower oil
Salt, 1 pinch
Put the egg yolks, salt and vinegar in a bowl or in the container of a hand/electric mixer (I used a hand mixer with a whisking attachment).
Start whisking while making sure to move the mixer always in the same direction.
Now start adding the oil slowly.  Start by putting it in drop by drop.  Keep whisking while adding the oil.
After a couple of minutes you can increase the quantity of oil you put in by adding it in a thin, slow and steady stream.  It is essential that you keep whisking vigorously throughout the process.
When you have incorporated all the oil and the mayonnaise has thickend, you can slowly add the lemon juice while whisking.
When all the lemon juice has been incorporated your mayonnaise is ready.
You can use it straighaway or keep it in the fridge for a couple of days.  Remember to use fresh eggs and to keep the mayo in the fridge, as it is made with raw eggs!
Ingredients:
250 ml – 1 cup milk
25 gms – 0.9 oz. flour, sifted
3 egg yolks
75 gms – 5 tbsp sugar
½ tsp vanilla extract
NOTES:
you can use a vanilla pod, but if you do, you will need to heat the milk with it and let it infuse for 15 minutes before using the vanilla flavoured milk.
If you are gluten intolerant, you can substitute the flour with rice flour.
Using an electric mixer, whip the egg yolks with the sugar until white and fluffy.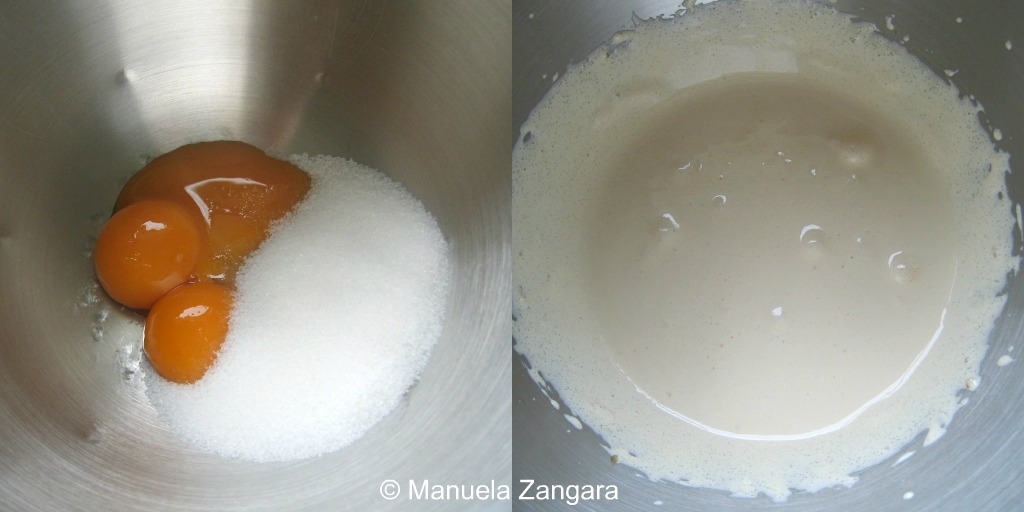 Add the vanilla extract to the milk.
Slowly add the milk and keep whipping.  Then add the sifted flour and whip well.  Transfer the mixture into a pot, put it on the fire and bring it to a boil.
Simmer for a few minutes, stirring continuously with a whisk, until the cream thickens.
Let it cool down before using it.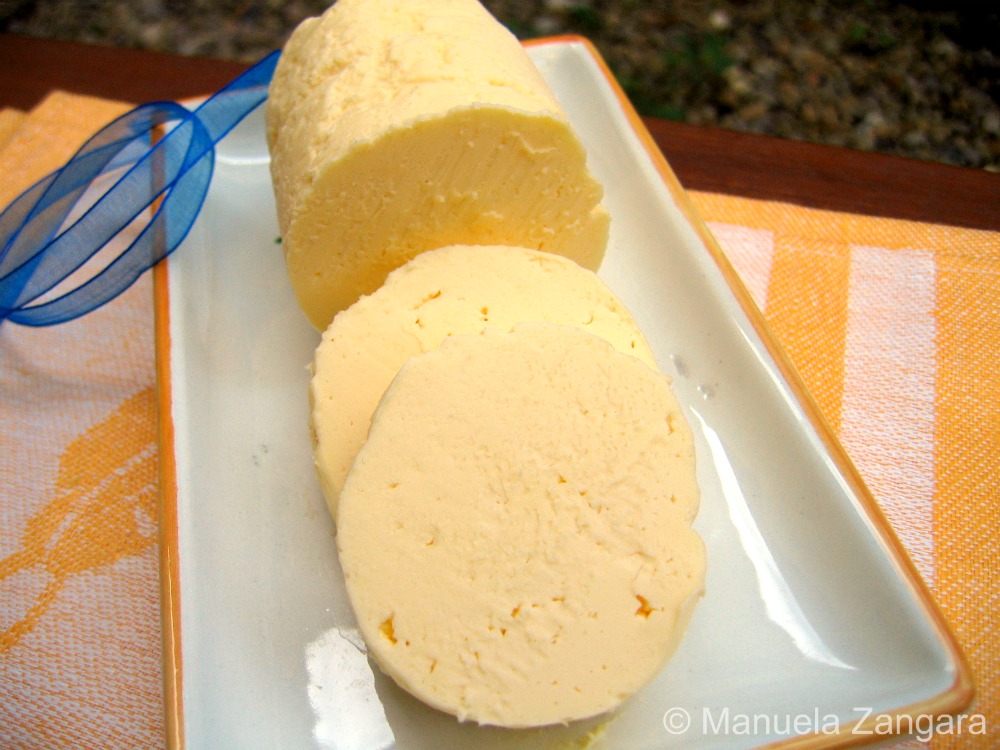 Before I started blogging I had never even contemplated the idea of making my own butter!  Then, I came across this recipe written by Lorraine of Not Quite Nigella (isn't she a genius?) and I got shocked about how easy it actually is to make butter at home!  I wanted to make salted caramel, but did not have any salted butter (I always buy unsalted butter… an Italian habit of mine)!  Luckily I had some double cream, so I decided to give it a try!  And it was so worth it!  You should try it too… it is so easy and so much tastier than supermarket butter.  You can also add garlic/herbs to it and make a different butter every time!
Recipe adapted from Not Quite Nigella
Ingredients: (makes 200 gms – 7 oz. of butter and ¼ cup of buttermilk)
300 gms – 10.5 oz. double cream
1 pinch salt (if you want to make salted butter)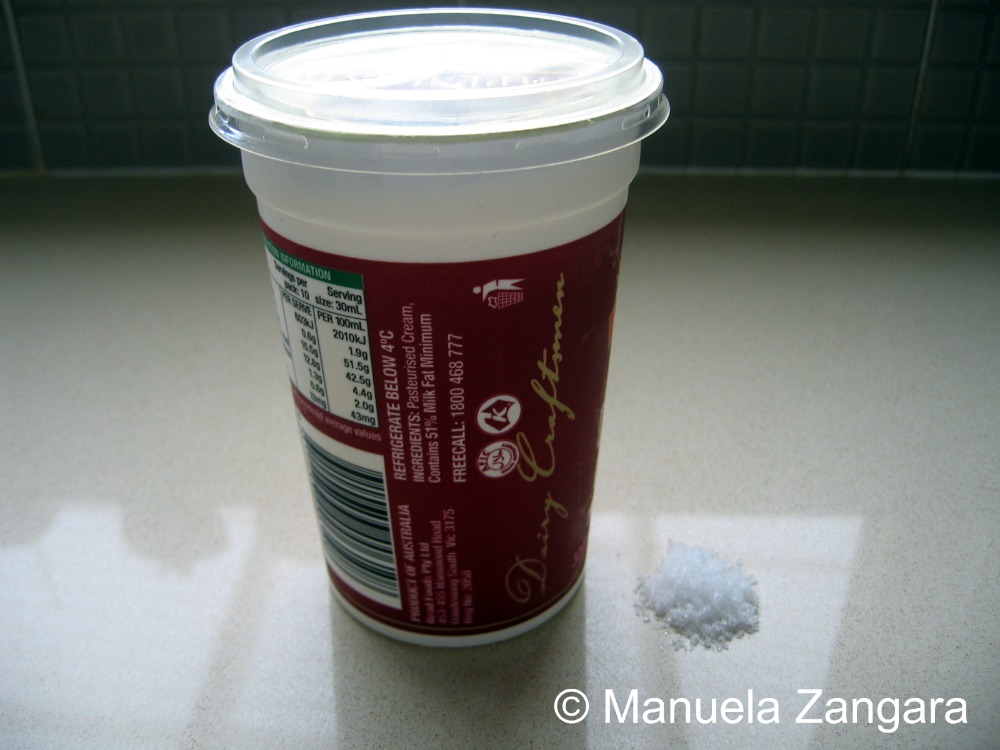 Put the double cream and salt in an electric mixer.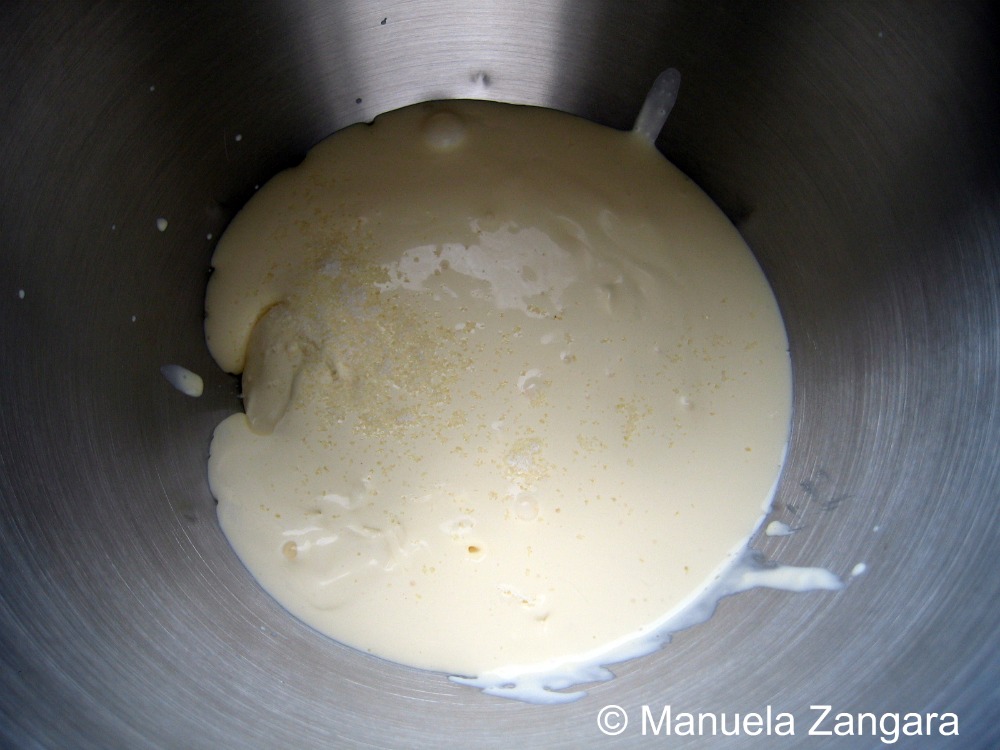 Whip until the butter separates from the buttermilk.  You can store and use this liquid to bake.
When the butter comes together, put in in a sieve and drain it well.
Then put the butter on a piece of baking paper and pat it dry with some kitchen paper.
Roll it up into the baking paper and then shape it into a sausage by rolling it back and forth a few times.
Refrigerate until firm.  You can eat it on bread or cook with it.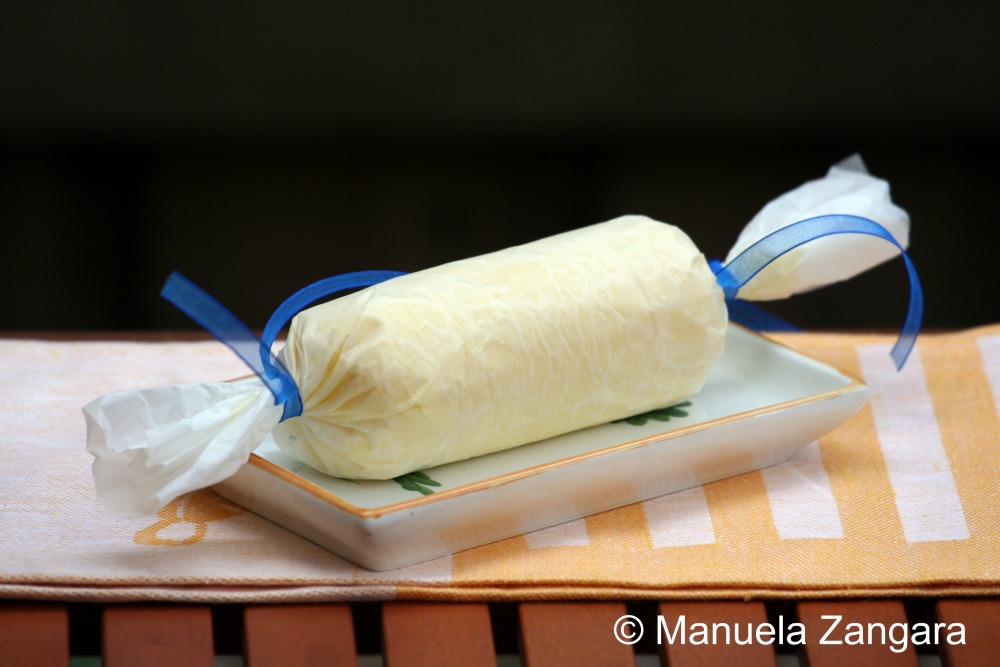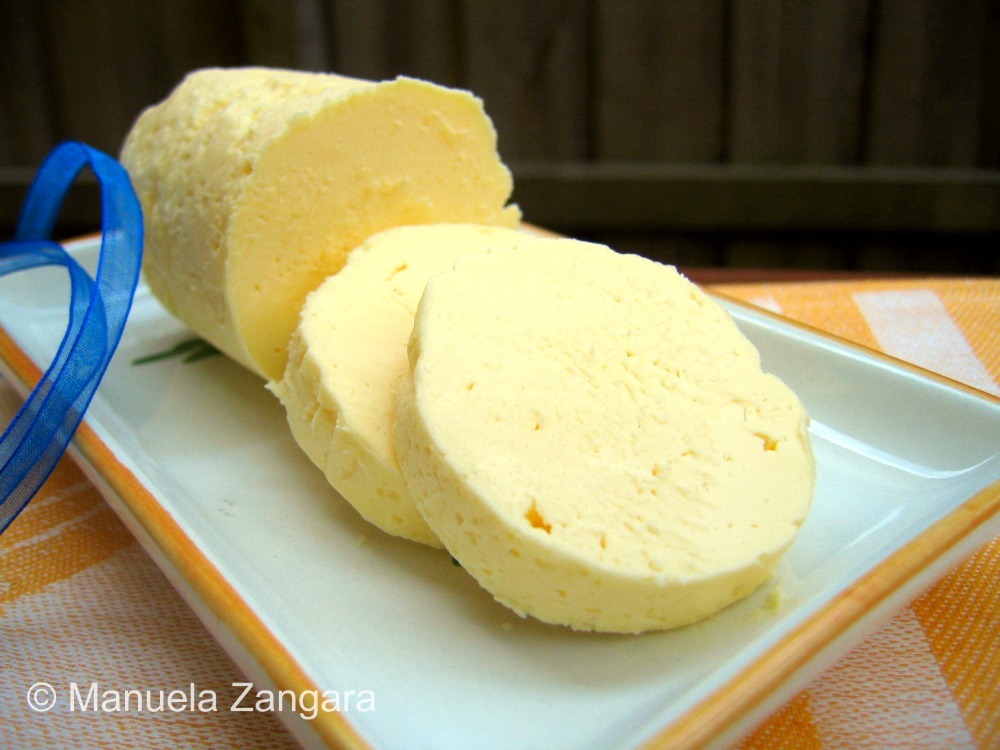 I have made many dishes with this homemade butter, including my Triple Salted Caramel Cupcakes.
Ingredients:
100 gms – 3.5 oz. of sugar (icing, caster or granulated) for each egg white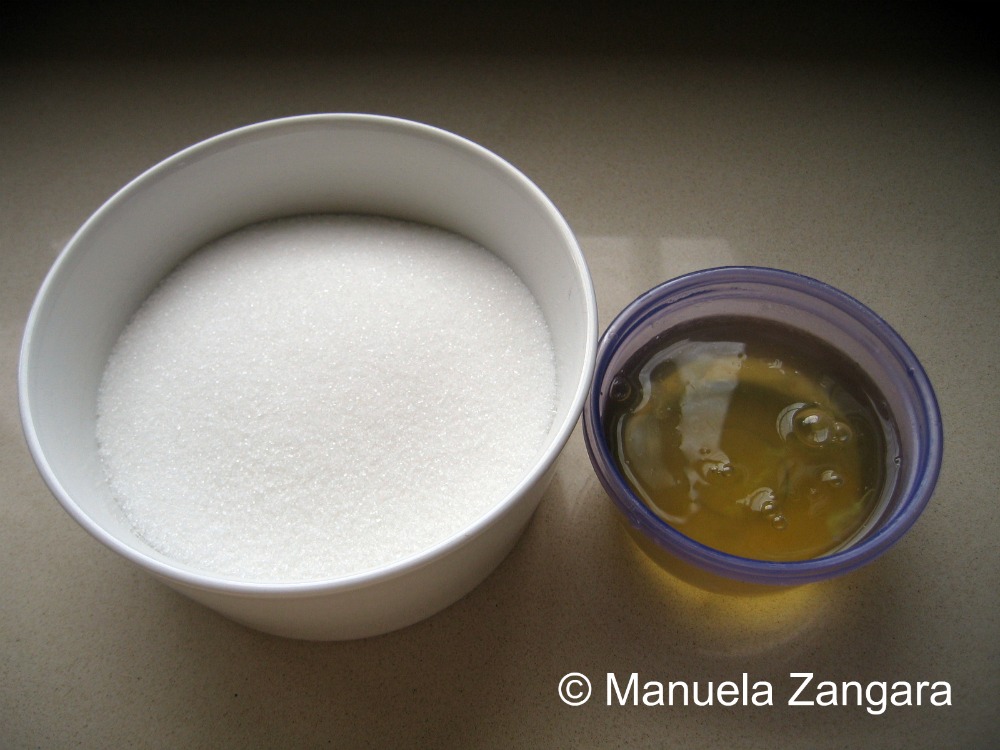 Put the egg whites in a bowl and start whisking with an electric mixer while slowly adding the sugar. Whisk until the egg whites are glossy and "pearl like" in appearance.
Line a baking tray with baking paper. To shape the meringues you can either use a piping bag or a spoon, depending on what you'd like the end result to look like. Make them as big or as small as you like, just make sure to keep some space in between so they don't stick to each other while baking.
Made with a spoon:

Made with a piping bag:

Bake in a preheated fan forced oven at 80°C – 175°F to 100°C – 200°F for about 2 hours (or longer, for bigger sized meringues). When ready, let them cool down inside the oven before removing them. When completely cold, keep them in an air tight container.
This is my grandmother's recipe for the Italian version of a sponge cake.  It is the base for many other sweets and it is very easy to make.
Ingredients (for a round springform of 16-18 cm):
50 gms – 1.7 oz. potato flour
20 gms – 0.7 oz. flour
90 gms – 3.2 oz. sugar
3 eggs, separated
½ a lemon's zest, grated
With a hand mixer, whip the egg whites till stiff peaks appear.  Keep aside.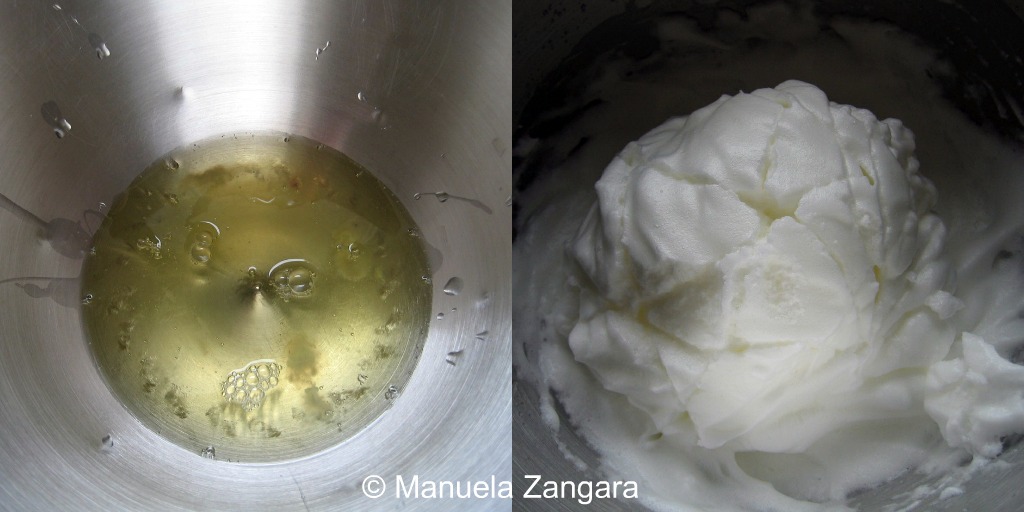 Whip the egg yolks together with the sugar until pale and fluffy (1 – 2).  Put a pot of water on the fire and bring to a boil.  When it boils, remove it from the fire and put the bowl with the whipped yolks on it.  It is like a double boiler, but NOT on the fire.  Add the flour, potato flour and lemon zest little by little (3), while whipping continuously until well incorporated (4).
Gently fold in the egg whites.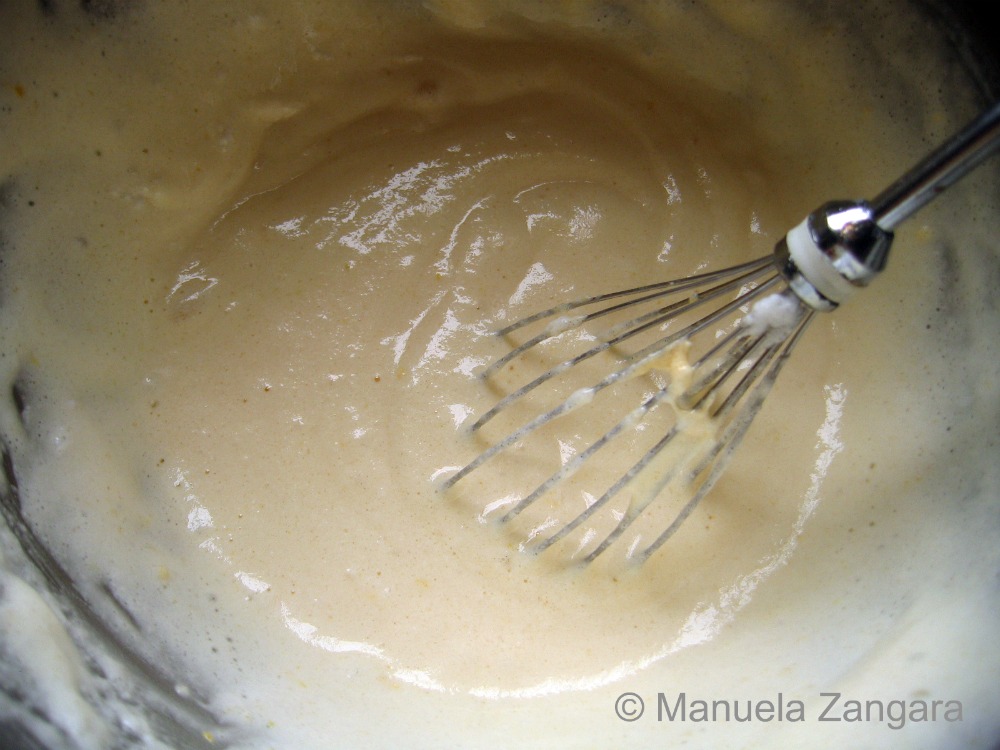 Grease a springform and dust it with flour and pour the batter unto into it.
Bake in a pre heated oven at 190°C for 30 to 35 minutes, or until a toothpick inserted in the center comes out dry.
Let it cool down completey before unmolding it.  When cold, it can be sliced horizontally and filled with jams or creams or it can be used as a base for trifles and other desserts.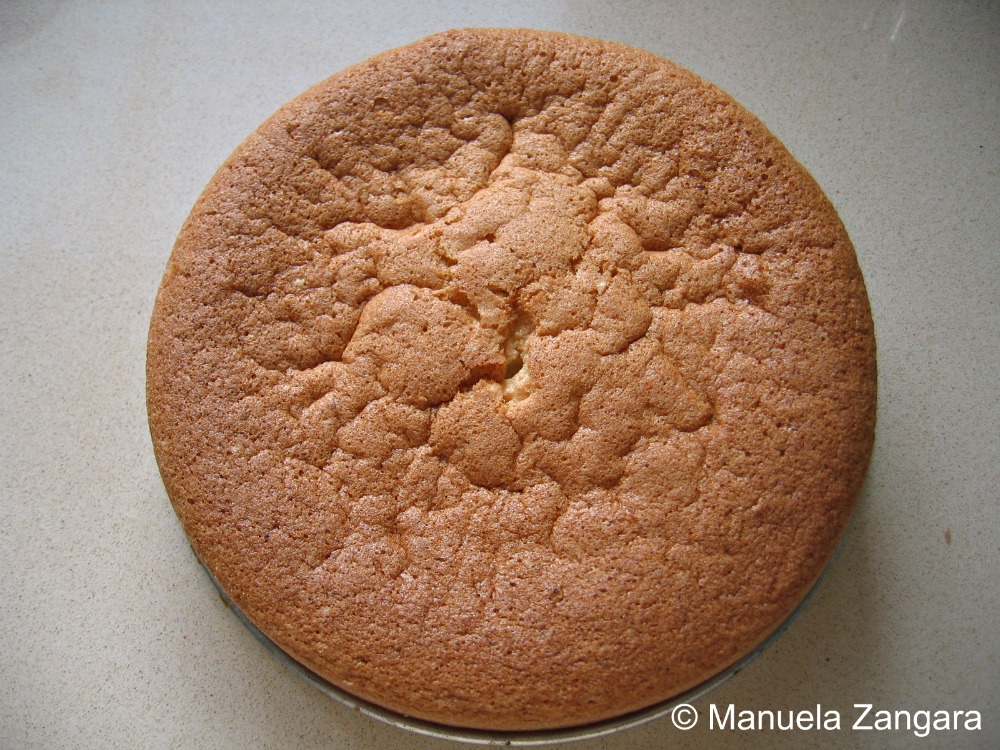 Ingredients:
1 egg white
300 gms – 10.5 oz. icing sugar
2 tbsp lemon juice
Lightly beat the egg white.  Add the icing sugar and whip it with an electric hand mixer until smooth and pearl like.  Add the lemon juice and keep whipping until completely incorporated.
To thin it down a little for flooding cookies, just add a little bit of water one tsp at a time, until you reach the desired consistency.
If you want a coloured icing, just add a few drops of liquid food colouring.
Ingredients (makes about 20 – 25)
125 gms – ½ cup flour
250 ml – 1 cup water
125 gms – 1 stick butter
3 gms – 0.1 oz. salt
4 eggs
Bring the water, salt and butter to a boil.  Stir in the flour and cook for a couple of minutes, while stirring.
Transfer the mixture into the bowl of a mixer with a paddle attachment.  Put the mixer on and add the eggs one by one (make sure the egg is completely absorbed by the batter before adding the next one).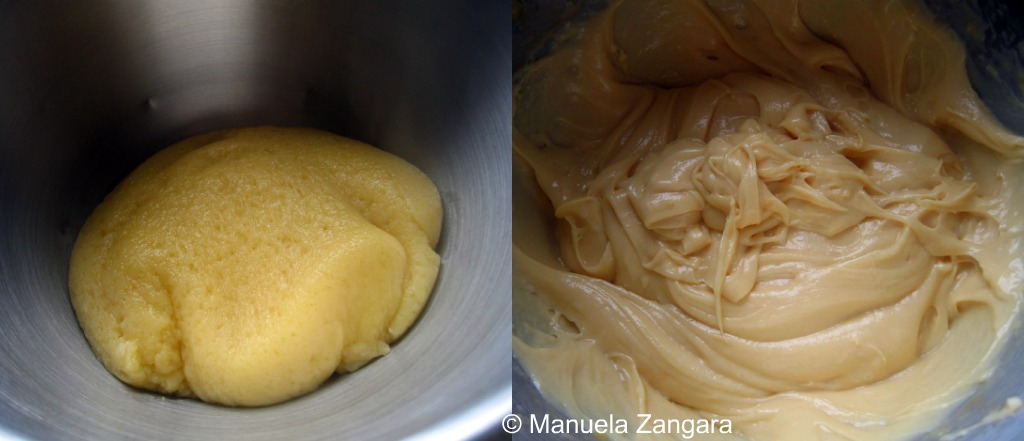 Put the batter into a piping bag and pipe it in circles onto a tray lined with baking paper.  (If you want to make éclairs, pipe the batter into strips.)
Bake in a pre heated oven at 210°C for 25 minutes.

Related Posts: