My family and I have recently travelled to Europe, as the kids had a school exchange in Italy (more on that in a future post). To break the long journey between Australia and Italy, we decided to stop in South Africa for a few days.
I had never been to Africa before (well, I have been to Tunisia many moons ago), so I was really looking forward to this trip! The idea was to just spend a few days relaxing and doing safaris. We chose South Africa because there are direct flights between Sydney and Johannesburg and Johannesburg is also very well connected to Italy.
We had only 8 nights (and 9 days) to use up for this part of the trip, so we had to make hard choices. Keeping in mind that our main goal was to go on safaris and see as many animals as possible, we decided not to go too far from Johannesburg. Also, we did not want to take the anti-malaria prophylaxis for just a few day-stay, so we chose to stay in a malaria-free area.
Keeping all this in mind, our itinerary is not the classic one for a complete South African adventure. We will definitely be back to explore the Cape area, the Kruger and all the other amazing sites.
OUR ITINERARY
16/09/2019 Sydney – Johannesburg
17/09/2019 Johannesburg – Tambuti Lodge (Black Rhino Reserve – Pilanesberg N.P.)
18/09/2019 Tambuti Lodge (Black Rhino Reserve – Pilanesberg N.P.)
19/09/2019 Tambuti Lodge (Black Rhino Reserve – Pilanesberg N.P.)
20/09/2019 Tambuti Lodge – Motswiri Private Safari Lodge (Madikwe Game Reserve)
21/09/2019 Motswiri Private Safari Lodge (Madikwe Game Reserve)
22/09/2019 Motswiri Private Safari Lodge (Madikwe Game Reserve)
23/09/2019 Motswiri Private Safari Lodge – Johannesburg (night flight)
And then
01/11/2019 Milan – Johannesburg
02/11/2019 Johannesburg – Soweto – Sydney (night flight)
Before going into more detail about our journey, let me give you some
practical information
that will help you plan your own trip.
HOTEL BOOKINGS
For this trip, I booked directly with the hotels via email. Always ensure that your booking can be cancelled any time before your stay, just in case… And, make sure to reserve well ahead of time. I booked about 10 months ahead!! The lodges are small and they fill up pretty fast!
To decide on the hotels to book, I read reviews on Tripadvisor and besides reading what other travellers had to say, I looked at the pictures they took, as those don't lie and I can get a better idea about the place.
My decision was made by choosing what I thought was the best compromise in terms of price and services offered. In this specific case, I also had to decide on the safari area/s. I wanted to stay in 2 different places to get some variety of both flora/landscape and fauna. That's why we chose Pilanesberg and Madikwe.
Also, we chose to stay in private reserves instead than at National Parks because it was our first time in Africa and we wanted to maximise the probability of seeing wildlife. In the end, I am very happy we did that because our drivers were really knowledgeable about the animals and gave us lots of information. They also knew how to spot them, which meant we saw A LOT in just 6 days. In fact, we saw 4 out of 5 of the Big Fives – the only one we missed out on was the leopard! If we had gone with our own car, we probably wouldn't have seen half of the stuff we saw.
Hotel-wise, we chose The Aviator and Peermont Metcourt Suites near the airport (the latter was definitely better).
For the safari part, we decided on Tambuti Lodge in the Black Rhino Reserve inside the Pilanesberg N.P. and Motswiri Private Safari Lodge in the Madikwe Game Reserve. In this case, Tambuti was definitely better than Motswiri in terms of service and inclusions (even though Motswiri was fantastic too).
I will be sharing a more detailed review of each place later on, so stay tuned.
INTERNET
All the hotels we stayed in had free wi-fi. So, keep that in mind when you decide whether or not you need the Internet 24/7. We did not get a local SIM for our mobile, as we were not going to rent a car, but if you do, it may be useful to get one so you can use your mobile as a navigator.
TRANSFERS
In Johannesburg, we stayed near the airport as we thought it would be easier for our flights. Both the hotels we chose (The Aviator and Peermont Metcourt Suites) had a free shuttle to and from the airport which was perfect.
To get to the safari lodges, we used a private transfer. We had thought of renting a car (which would have been a bit cheaper), but it was our first time in South Africa and we were not very confident with the roads so, in the end, we opted for the transfers. We chose Choice Tours which is owned by one of my husband's colleagues. The service was impeccable: always on time, very nice drivers (also very knowledgeable – it was like having a driver AND guide at the same time).
We did the following transfers:
Johannesburg/hotel (near airport) – Tambuti Lodge (3 hours)
Tambuti Lodge – Motswiri Private Safari Lodge (3 hours)
Motswiri Private Safari Lodge – Johannesburg OR Tambo International Airport (5+ hours)
EXCURSIONS
Besides going on safaris, we also wanted to have a glimpse of Johannesburg and the history of the country we were visiting. Unfortunately, we only had time for a ½ day excursion and we chose to visit Soweto.
We did so we Choice Tours – the same people who organised our transfers. We loved the excursion and I will be posting about it separately.
We also visited Nelson Mandela's house!
INTERNATIONAL FLIGHTS
This was probably the most complicated part to sort out for us, as we were just "stopping" over on our way to Italy and we had to wait for the specific dates from the school. Because of this, we ended up on a very long return flight…
We flew Qantas between Sydney and Johannesburg (return). And then we flew Emirates (via Dubai) to Venice and then back from Milan to Johannesburg! Yeah, I know… luckily, we stopped for a night and 2 days in Jo'burg on our way back.
The Qantas flight between Sydney and Johannesburg was awful. We have been flying a lot with Qantas and I am very sad to say that it's been getting worse and worse every time. After cancelling our flight to Tokyo 3 hours before it was scheduled and serving me a cheese-covered vegan meal on the Santiago de Chile route, this time I was left without a working screen for 14 hours!! And that too on a DAY flight. I was literally going insane. I was bored out of my mind and couldn't even listen to music, as the full thing wasn't working. It was one of the WORST flights I have ever taken. On the way back, their air-con system was not working while waiting to take off. Needless to say, we were dying in the heat and it took about 45 minutes before we could take off and the air-con started working. My husband got sick because of this as we had been sweating and then the AC was really cold… On this same flight, I got served an Indian curry with my "bland meal". Even the hostess who brought it to me was embarrassed to hand it to me!! I mean, BLAND and INDIAN?? Hahahaha Luckily I had my own food…
The Emirates flights were on another level altogether. Much newer aircraft, more spacious, a fantastic (and fully functional!) entertainment system with movies and music from all over the world, and food even I could eat (yes, they got it right)! Just perfect.
WHEN TO VISIT
The seasons in South Africa are directly opposite to those in the Northern Hemisphere and are the same as those in Australia. South Africa is definitely a year-round destination, with hot summers, mild winters and a climate that varies dramatically across the country. The best time to visit South Africa will depend on whether you are heading to Cape Town or Kruger, seeking wildlife or wildflowers, hiking the Drakensberg or driving the Garden Route.
The best time to visit South Africa's parks is from May to September. This is the dry season and animals congregate around waterholes and rivers. As this is winter, mornings and nights are cold (very cold!). May and September are wonderful because it is less cold and, especially in September, the wildlife viewing is excellent.
Also, September is the time when you will find a lot of baby animals – and that was the highlight of our safaris!
HOW TO PLAN YOUR ITINERARY
A trip to South Africa is very easy to organise on your own because there is a ton of information available on the web.
Here are the sites that I highly recommend you read when planning:
TripAdvisor – to find hotel and restaurant ratings. There are also great forums with friendly people who give very good advice.
Lonely Planet Thorntree – a good forum.
Google Maps – useful for planning, but above all while there.
OUR JOURNEY
I am going to write a specific post/guide on each place with more details, however, what follows is a summary of our journey.
We landed in Johannesburg in the afternoon after a hellish 14-hour flight from Sydney. We got the transfer to our hotel thinking we would wash up and go for dinner at their restaurant. However, we were way too tired and just fell asleep!
The following morning, after breakfast, we got our transfer to Tambuti Lodge in the Black Rhino Reserve inside the Pilanesberg N.P. We checked in and had brunch. The food at Tambuti was another highlight of our holiday (but more on this later). After resting a bit we went for our first safari.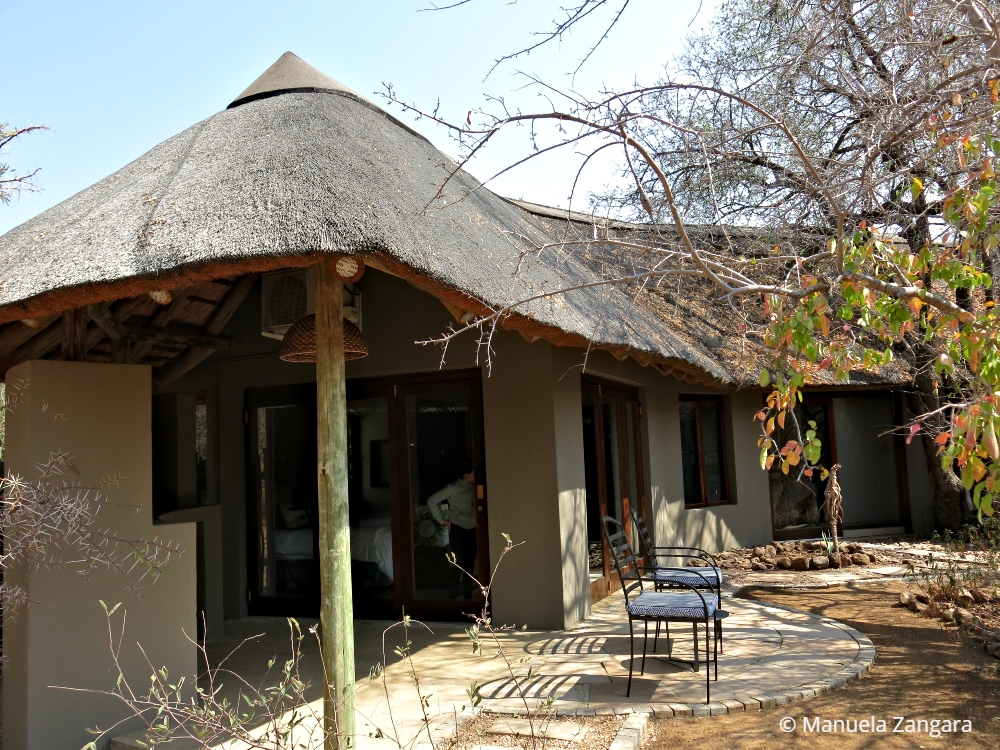 The day at Tambuti works like this: you wake up very early and, after having a quick coffee (amazing coffee!) with cookies, you go on a morning safari. The times vary depending on the sunrise, however, we were usually out before 6 AM and we would be back after 10 AM.
Around halfway through the drive, you stop somewhere safe (and nice) to have breakfast. This changes daily, but you can expect tea, coffee, hot chocolate, juice, muffins, home-made cookies and all sorts of delicious baked treats.
Once back, they serve you brunch and then you are free to rest till 4 PM when the evening drive starts. During the drive, you stop for a sundowner and they serve you drinks (alcohol included) and delicious snacks while you enjoy the breathtaking African sunsets.
Once back (between 7 PM and 8 PM), you sit around the open fire sipping wine with the others and then have your dinner. By then, you are more than ready to go to sleep – happy!
We did this for 3 amazing days.
Then, we got our transfer to Motswiri Private Safari Lodge in the Madikwe Game Reserve. When we arrived, we had lunch and started missing the food from Tambuti! Hahahaha And at 4 PM we went for our first drive.
The day at Motswiri works more or less in the same way as in Tambuti. However, the game drives were shorter – we would go out at 6 AM and come back around 9:30 AM and then at 4 PM to 7 PM – and they serve you breakfast, a 2-course lunch, and a 3-course dinner.
Drinks are not included, not even water (!). During the safaris, you stop for breakfast and sundowner, but you need to pay for the drinks (coffee/tea/hot chocolate/and a small bottle of water are included though). Snacks are included too.
Even though the game drives were shorter, we got to get much closer to the animals in Madikwe.
We did this for 3 days too.
On the last day, we checked out after our morning drive and we got a transfer to the airport. We passed through lots of villages and small towns, so the drive itself, though long, was quite interesting. We also got stuck in the worst traffic jam I have ever experienced and I thought we might miss our flight!! Anyhow, luckily we didn't and we were able to catch our Emirates flight to Venice.
On our way back from Italy, we stopped for 1 night and 2 days in Johannesburg. We arrived very early in the morning and we just rested and explored the Emperors Palace (where our hotel was) which is a huge complex with shops, restaurants, a cinema, hotels, a convention centre, a casino and all sort of things!
The next day, we decided to do a ½ a day excursion to Johannesburg and Soweto. Our driver drove us through downtown, which is almost completely uninhabited!
In Soweto we first stopped at the Hector Pieterson Memorial where we visited the very interesting museum.
Then we visited Nelson Mandela's house.
And drove around the huge township.
No trip to South Africa should be done without visiting Soweto and learning about the country's recent history of apartheid. Highly recommended.
CONCLUSION
Needless to say, we LOVED it. It was an amazing experience and we got to see some breathtaking scenery and lots of animals – babies included. We will definitely be back to explore some more of this beautiful country!
Highly recommended! If you have any questions, leave a comment and I will be happy to help out!
Don't forget to pin this post!
RESOURCES ON MSM
TRAVEL IN SOUTH AFRICA:
SOUTH AFRICAN FOOD:
Beef Braised in Rooibos Tea with Sweet Potatoes
Rooibos Tea and Lavender Sorbet
MAP

Related Posts: