As all you bloggers out there know, there is nothing more flattering that knowing that someone else has remade one of your recipes!  I had this honour a few times and I thought it would be a nice idea to feature these recipes on my site.  That is why I created Manu's Menu in Your Kitchen!  I would like it to be a space where we can all share experiences on MsM's recipes!
So if you have made any of my recipes, please send me a picture of the final dish to [email protected] and I'll publish it on this page with a link back to your site.  You can do this even if you do not have a site/blog and I will put your name on the picture.  Feel free to write a little comment on the final outcome (both good or bad… hopefully there will be more good reviews… hehehe) and I'll add that to the page as well.
Let's start then!
My dear friend Tina from Pinay Cooking Corner has made my Strawberries and Cream in Puff Pastry Cases.  Don't they look divine?? 🙂  Check out her version: Strawberries & Cream in Puff Pastry Cups!
Tina says: " Manu's Strawberries and Cream in Puff Pastry Cases recipe really turned my strawberries into a very delightful dessert that my whole family loved. I was just in a hurry that time and I wanted to make a dozen that's why I came up with a different puff pastry case, and I had lots of ready made cool whip so that's what I used. Other than that, it's all the same with Manu's version. And I'm telling you…IT'S AWESOME! So simple and easy to make, but will surely make you and your family very happy! You should try it!"
Sabina made Risotto alla Milanese!  Great job there!
Of this dish Sabina says "I wish I had had real stock for this risotto!  I used a bouillon cube instead".
Then Sabina has made MsM's Yogurt Cake… and it looks so good Sabina!
Of this cake Sabina says: "It was the first cake I made with my mom after a long time! Next time I am going to try and make it with some fruit flavored yogurt… possibly strawberry!"  Great idea Sabina!!!
Sabina also made MsM's Zucchini and Ricotta Quiche:

Of this Quiche Sabina says: "We were so hungry that we ate the first 3 slices immediately out of the oven, but the 4th slice, that had cooled down, was even better… !"
Lee made MsM's Yogurt Cake… look at that!
This is what Lee said about it: "I've made it twice now, but I would like to say on both occasions the cake was not ready in the timings you gave, they both needed an extra 15 minutes until they were properly cooked. I have a fan oven and set it at the temperature in the recipe."  Thanks Lee, I recently found out that my oven gets warmer than what I set the temperature for, that may be the reason!!!  I will add a note to the Yogurt Cake recipe! 🙂
Manfredi made MsM's Vermicelli with Anchovies and Roasted Breadcrumbs!  Great job!!!
My friend Fiona from Nuts about Food has made 2 of my dishes: MsM's Almond Cookies and Poached Chicken Breasts in a Mint Sauce:
Of these cookies Fiona says: "I skipped a very important step while making these because I was lost in thought, but they were fabulous anyway. If you follow the steps carefully, they will turn out amazing!"  Check out her version of these cookies here: Paste di Mandorla… YUM!
Of the chicken Fiona says: "This chicken with mint mayonnaise will easily become one of our go-to summer dishes. We loved it and despite it not turning out quite as beautifully green as Manu's, it was delicious!"  Check out her Chicken a la menthe!  DELICIOUS!
Paola from An Italian Cooking in the Midwest has made MsM's Yogurt Cake!  Doesn't it look great??
Paola says: "This cake was really good".  Check out Paola's Yogurt tea cake!
Muppy from Muppys made MsM's Lamb Korma!  Look at those chapatis that she made from scratch!!!
And this is what Muppy had to say about the Korma: "I really love the korma and will definitely be cooking it again."  Check out Muppy's version of Lamb Korma!
Asiya from Chocolate & Chillies was inspired by MsM's Mango Lassi to make her own version!  I so feel like having a glass of it right now!

Here is what Asiya said about the Mango Lassi: "A while ago I made your Mango Lassi but with a few changes.  Your recipe was a great starting point to get it to how I like it.  It turned out great and I'm looking forward to making it at our next BBQ!"  Check out Asiya's Mango Lassi!
Trisha from My Hobbie Lobbie made MsM's Eggplant Patties!  Don't they look scrumptious??

This is what Trisha said about the dish: "Before I went on my vacation, I stumbled onto a very interesting way to cook eggplant over at Manuela's blog. I was a little intrigued by it and wasn't sure what the outcome would be. The picture I saw was very convincing, enough to make me give this a try. I'm so glad I did. This recipe is simple to put together. It gets a little messy while shaping the batter into patties, but the end result is so worth the effort and the mess. The patties had a lovely crunch to it and they tasted wonderful. They are not overly spiced, which means you get to relish the delicate flavors of the eggplant and the mild spices and they are surprisingly hearty. Serve these with some salad and bread and you've got yourself a lovely meal."  Make sure you check out Trisha's Eggplant Patties to see how she spiced them up a bit, I LOVE her idea!
Giulia from AlterKitchen made MsM's Focaccia di Recco.  I get hungry just by looking at those pictures!
This is what Giulia said about the dish: "My friends and I liked it a lot, even more than the "original" focaccia that gets too soggy at the bottom… l will definitely make it again".  Please, check out Giulia's version of Focaccia di Recco and say "hi" to her from me! 🙂
Paola from An Italian Cooking in the Midwest made MsM's Tortilla Chips.  Don't they go perfectly well with her roasted pepper rolls?
Paola said: "I had never thought of making Tortilla chips at home and they came out really well.  Thanks for the brilliant idea!".  Thank You Paola, they look great and I love your baked version, I'll have to try that!  Check out Paola's Tortilla chips everyone!!!
My friend Silvia made MsM's Spaghetti con bottarga.  Dont' they look mouthwatering??  I love it with fresh tomatoes too, just like Silvia made them: perfect!
Silvia says: "As promised, I am sending you the picture of my spaghetti with tuna roe.  It has become a frequent dish in my kitchen!!! ;-D"  Thank you Silvia!!!!  The first time I am back in Italy we should have some together!!! 🙂
Parsley Sage from The Deep Dish made MsM's Pasta with creamy broccoli and pine nut sauce.  She made it sooo well that she got Featured on Foodbuzz Top 9!  Doesn't it look DELICIOUS?

This is what she says about it and MsM in her post "Pastafarian": "Since I started cooking her recipes, my idea of 'good' Italian has changed (for the better, I think!)  For example, this broccoli pasta with pine nuts absolutely blew my mind".  Now, how SWEET is that??? <3  Make sure to pass by her site and say hi!
Fiona from Nuts about Food has made MsM's Spaghetti with Tuna and Capsicum!  Doesn't it look delicious??
This is what Fiona said about the dish: "This is the perfect pasta to make for friends showing up last minute. You are bound to have pretty much every ingredient in your kitchen but it will taste like you went out of your way to make it, it is that good. Thank you Manu for another great and simple recipe!".  Thank You Fiona, these spaghetti look great and made me crave for some!!  NOW!!!  Check out Fiona's Perfect Summer Pantry Pasta with red peppers, tuna and olives everyone!!!
Giulia from AlterKitchen made MsM's Cotognata – Sicilian Quince Paste.  Not only, she went a step ahead and turned it into beautifully wrapped candies!  How cute are they??
Giulia said: "I discovered a new and yet old taste, that will definitely become a constant in my house, and it's also a great gift idea".  Thank You Giulia, I really love your idea of wrapping them individually and even giving them as gifts!  Check out Giulia's Cotognata everyone!!
My friend Silvia made MsM's Focaccia di Recco and it looks soooo good.  She made me crave for more!

Silvia says: "A great recipe, crunchy and crisp.  My mum loved it and she usually does not like focaccia!  And my mother in law asked for the recipe!"  Yay!  I am so happy to hear it was a success and everyone liked it! 🙂  And thank you so much for the photo Silvia! <3
Fiona from Nuts About Food made MsM's Eggplant Patties!  Don't they look scrumptious?
Fiona said: "I made these eggplant patties for my Sicilian husband and he loved them. The kids did too until we accidentally mentioned they were not made with meat (oops!). Luckily they had almost finished them already. They were crunchy on the outside and soft and flavorful on the inside. Another perfect and easy recipe from Manu. Thanks!".  Thank YOU Fiona, my kids would have done exactly the same hahahaha!  Check out Fiona's Eggplant Burgers everyone!!
Cì from Il Mondo di Cì made MsM's Torta Mimosa.  Not only, she actually VEGANIZED it!!!  How cool is that??
Thank you Cì!  It looks great and it is light and healthy AND vegan!  Check out Cì's Dolce Mimosa everyone!!
Boaz made some amazing looking Calzoni and Pizza using MsM's pizza dough recipe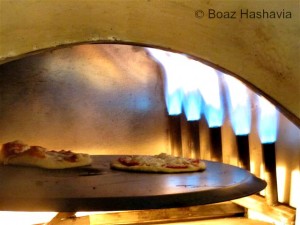 This is what Boaz said about the dough: "Yesterday evening we had 29 teenagers + 4 teachers (half from a students exchange from Germany and half from our son's high school).  I made 2.4Kilo of your great Pizza dough and about 1.5Kilo of the Suco (is that the name of the marvellous tomato puree). This was NOT meant to be the main course, but my appetizer was so good that it came up to be the center of the evening. Thanks again, Boaz"!  YESSS I am so happy your guests liked the pizza and calzoni so much and I must admit I am a bit envious of your beautiful pizza oven! 😉  Great job Boaz and thank you so much for the pictures!
And look at this yummy Focaccia made by Andra!
Andra says: " Initially inspired from the Focaccia con le Olive recipe…then readjusted when I found out I had no single olive! For a first attempt, I am quite pleased:)"  And I absolutely agree… it looks perfect to me!  Well done Andra and thank you for sharing your picture! 🙂
Remember… if you  have made any of MsM's recipes and would like to be featured on this page… just email your picture and comment to [email protected] and I will add it here!  Also, if you have a blog, please include the link to the recipe, so I can link back to it from here!  Thanks everyone!!!  🙂
Happy cooking everyone!

Related Posts: