If you follow me on Instagram, you will know that I have recently returned from… Japan.
My family and I love Japan, so much so that this was our 3rd trip there, you can read all about our previous Japan trips here and here. However, we really wanted to see the famous autumn leaves, so this year, we decided to take the plunge.
As I said before, Italian children of my generation have grown up with bread and Nutella and Japanese anime. The same way American kids watch Sesame Street or Australian children follow Play School, Italian kids are immersed in the Japanese anime culture. This always makes my experience in Japan rather surreal: things that would seem unusual to other foreigners felt completely normal to me. Besides, I was surrounded by icons from my childhood from Monchhichi to Doraemon to Hello Kitty!
Before going into more details about our third journey, let me give you some practical information that will help you plan your own trip.
TYPES OF ACCOMMODATION
In Japan, there is plenty of choice for accommodation. You can choose to stay in hostels, business hotels, upmarket hotels, Japanese Inns and even capsule hotels!
If you travel as a couple, you will be spoilt for choices. But, if like us, you are a family with young kids, then your best option is to book Japanese style rooms. Western-style rooms are usually very small and it's very difficult to find a room with 4 beds! So, we often stayed in ryokans (Japanese style hotels) and slept on futons on tatami mats. It is actually very comfortable! The rooms are often used as a "day room" during the day and then, at night, the futons are prepared for you to sleep on. This means that even smaller rooms have enough space to do everything you need.
All the places we stayed in had a private bathroom with a Japanese style toilet… the one with many functions, including a washlet and heated seats!
HOTEL BOOKINGS
There are many sites where you can easily book your hotels in Japan, like Booking.com. I usually prefer to book directly with the hotels via email, but this time I found better deals on Japan I Can (it's a great site for ryokans). Also, I found it harder and harder to book directly with hotels… many places didn't reply or didn't even have an email address or contact form on their sites!
To decide on the hotels to book, I often read reviews on Tripadvisor and besides reading what other travellers have to say, I look at the pictures they took, as those don't lie and I can get a better idea about the place. Always ensure that your booking can be cancelled any time before your stay, just in case…
INTERNET
All the hotels we stayed in had free wi-fi. So, keep that in mind when you decide whether or not you need Internet 24/7. I wanted to share my experiences on the spot, so we decided to get a data SIM for my mobile. We also found it quite helpful to check train timetables and google maps, when needed.
For the Internet you have a couple of options:
Data SIM. This was our choice. We got a SIM (data only, which means you cannot make phone calls or send text messages from your mobile) from Yodabashi Camera Shop in Ueno (Tokyo). It was 3GB and it lasted 1 month (they also had 1GB and 5GB per month plans). It cost about 4,500 yen and we always had a very good connection. We were also able to use my mobile as a hotspot for our other devices, so we were quite happy with this solution. Besides, we didn't have to book this SIM and we didn't even have to return it.
Pocket Wi-fi. There are many companies that rent pocket Wi-fi's (one of them being Global Advanced Communications) with different plans and prices, many of which also provide free delivery and a return envelope so you can ask your hotel to send it off on your behalf. They may require a booking.
JAPAN RAIL PASS
If you are planning to travel around Japan, I highly recommend you use the JR rail pass. It's valid for 7, 14 or 21 days and it's really convenient. You basically purchase a voucher before travelling to Japan and then exchange the voucher for the real pass when you arrive. We got ours from JTB here in Sydney, but there are many agencies that sell them.
You can decide on which date you want it to begin and then you can travel on the JR lines as many times as you want during that period. This includes the Shinkansen trains! You may choose to reserve a seat at the JR counters or sit in the non-reserved cars. Not only, travelling by train in Japan is an experience on its own. When you reserve a seat, you get your seat number and car number printed on the ticket. The platform has got all the car numbers clearly marked on the ground, so you can go and queue in the right place. When the Shinkansen arrives, everyone is ready to board and it literally takes less than 5 minutes for the people to get down and board and for the train to move!! Also, if you suffer from motion sickness, be aware that the Shinkansen feel like a plane… I know it! 😉
ONSEN
There are many natural hot springs (onsen) across Japan and they are highly popular. Every region of the country has its share of hot springs and resort towns, which come with them.
There are many types of hot springs, distinguished by the minerals dissolved in the water. Different minerals provide different health benefits, and all hot springs are supposed to have a relaxing effect on your body and mind. Hot spring baths come in many varieties, indoors and outdoors, gender separated and mixed. Many hot spring baths belong to a ryokan, while others are public bathhouses.
The majority of hotels and ryokan have an onsen in the building, you just need to ask. Taking a bath, naked, with other people can be intimidating, but I found that after the first time I started to feel at ease.
I highly recommend this experience. Read my Onsen etiquette guide, it will make things a little bit easier.
FOOD
Japanese cuisine is simply amazing and it offers an abundance of gastronomical delights with a huge variety of regional and seasonal dishes as well as international cuisine. Restaurants range from mobile food stands to centuries-old ryote, cheap chain shops and unique theme restaurants about ninja and robots. Many restaurants are specialized in a single type of dish, while others offer a variety of dishes. Basically, there is something for everyone!
I personally love depachikas – food "boutiques" inside the big department stores – where you can get anything from gyoza to tempura, korokke, tonkatsu, steamed buns, sushi and sashimi!
This time, we also tried a few sushi train restaurants. Chojiro in Kyoto was particularly good.
If you go to Japan, you MUST stay in a ryokan at least one night and try their Kaiseki dinner and breakfast. They are beautifully presented and taste amazing. I like how everything reflects the season, from ingredients to decorations!
I have many Japanese recipes on the blog (check them out here), as I love Japanese food. There is so much more than just sushi and sashimi!
WHEN TO VISIT
One of the most common Japan travel questions is, "When is the best time of year to visit Japan?"
The easy answer is of course that you should take advantage of any chance to visit, since each of Japan's seasons is great in its own way! That said, there are pro's and con's for every season.
Winter
In winter, you will find amazing skiing and snowboarding, seafood, and onsen (hot springs). While onsen can certainly also be enjoyed at other times of the year, nothing compares to sitting in a mountain onsen, surrounded by a white landscape with snow falling on you as you soak. It's one of the quintessential Japanese experiences, and not to be missed, trust me – been there, done that!
However, it is cold (snow cold) and try and avoid the Christmas/New Year period and the Chinese New Year period. Japan is a popular travel destination and it can get very busy (and more expensive) during these times.
Spring
In spring, if you are lucky (and don't mind the crowds), you may experience hanami (cherry-blossom viewing) in all its glory. Spring is Japan's most famous season and is symbolised by the iconic sakura (cherry blossoms), which typically bloom sometime between the second half of March, and the first half of April (sakura bloom schedules vary significantly depending on location).
This also means more tourists, lower accommodation availability, higher accommodation prices and the need to plan much further in advance. Been there, done that!
There is one week in spring that I definitely recommend avoiding unless you have no choice: Golden Week. Along with the New Year's holiday (and the Obon holiday in August), Golden Week is one of Japan's peak travel weeks. It usually begins at the very end of April and runs through the first week of May (each year's calendar varies slightly). During this time of the year, Japanese people travel heavily, making it an extremely busy and expensive time to travel around Japan.
Summer
In summer, there are colourful festivals throughout the country, hiking in the Alps, and lovely coastal areas where you can enjoy the sea.
While there are great festivals throughout the year, summertime features many of Japan's best ones — including Kyoto's Gion Matsuri, Osaka's Tenjin Matsuri, Aomori's Nebuta Matsuri, and the Awa Odori festival in Tokushima, on the island of Shikoku. In addition to matsuri, summer is also renowned for its extraordinary fireworks extravaganzas.
But it can get VERY hot and humid.
Autumn/Fall
In autumn, Japan is famous for its brilliant autumn foliage (koyo) and pleasant temperatures with clear skies!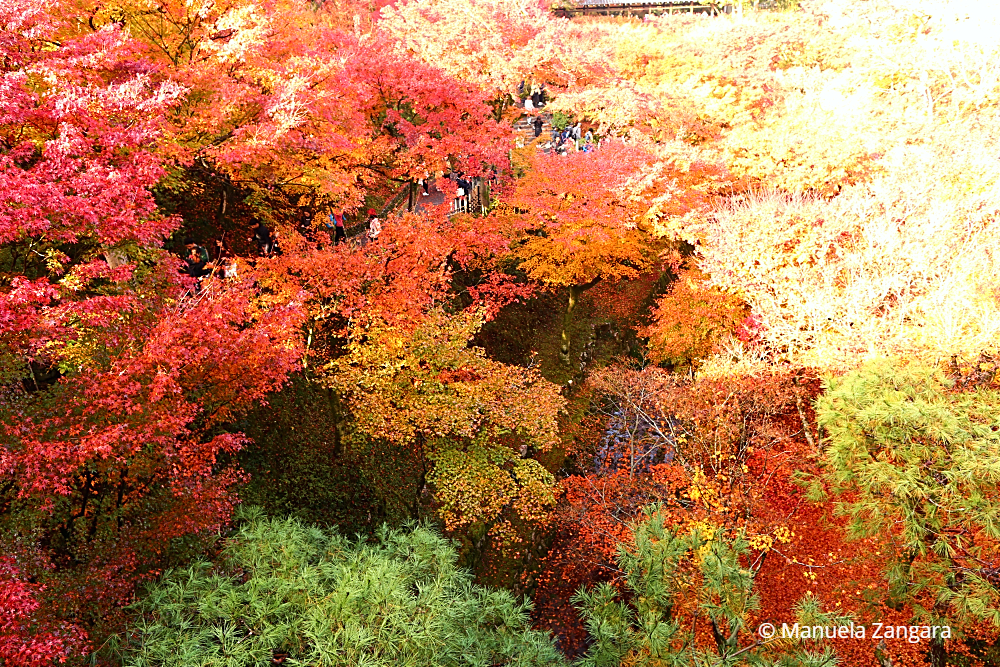 As with hanami/cherry blossom season travel, koyo travel means contending with more tourists, lower accommodation availability, higher accommodation prices, and a need to plan further in advance. The peak time for koyo is November and it tends to be fairly crowded, so if you still want to catch a glimpse of it, but with fewer people around, early December is a good time.
Japan's Rainy Season and Typhoon Season
Japan's rainy season goes from early to mid-June until mid-July, depending on the location. Despite being the rainy season, you shouldn't necessarily expect rain every day. In addition, the rains – while often persistent – are not usually terribly intense (unlike in many Asian countries).
Typhoons generally occur between May and October, with the peak taking place in late summer. This year has been a particularly bad one. Typhoon Jebi caused terrible damage in the Kansai area at the beginning of September and Kansai airport even had to be closed. When we visited the area in November, you could still see fallen trees and damages in some areas and the trail between Kibune and Kurama, near Kyoto, was still closed because of it.
I have been to Japan in spring for sakura viewing, in winter (it was snowing!), and in autumn, and I loved all experiences. In general, I thought that both spring and autumn were much busier times. Winter was less crowded almost everywhere – with the exception of Kyoto which was PACKED with Asian tourists. However, the autumn colours were AMAZING and the weather was still quite warm and dry. I thought that it rained much more often in spring. We also had to book accommodation up to 1 year in advance when we went in spring and autumn. If I had to pick one season, I'd probably say autumn!
HOW TO PLAN YOUR ITINERARY
A trip to Japan is very easy to organise on your own because there is a ton of information about it available on the web.
Here are the sites that I highly recommend you read when planning:
TripAdvisor – to find hotel and restaurant ratings. There is also a great Japan forum with friendly people who give very good advice.
Lonely Planet Thorntree – a good Japan forum.
Japan Guide – a Japan specific website with info on places and attractions around Japan. They also have a forum with plenty of info.
Travel blogs to read other people's experiences (google them and you will be amazed by how many there are!).
Find images of places/cities/attractions to see what they really look like and if you'd like to see them.
Hyperdia – the site to check train/subway/shinkansen schedules around Japan. This is useful both while planning the trip and when you are in Japan!
Google Maps – useful for planning, but above all while in Japan. We used the navigator part quite a bit to get from one place to the other on foot. So much easier than having to deal with a map (often not in scale), especially where there are no street names!
I also have a Lonely Planet Japan (Travel Guide)
that I find very useful.
And I saved the best for last: Japan Travel, Friendly Discussion Group on Facebook. It is an AMAZING group with wonderful people who are always very helpful and very knowledgeable! I highly recommend you join the group!
OUR 2018 ITINERARY
As I said at the beginning, this was our third visit to Japan, so our itinerary was a bit different from a classic first-time itinerary.
Our main goal was to make the most of the koyo season and enjoy the autumn colours as much as possible. Given the timeframe we had, we chose to stay longer in the Kyoto area, as we thought we had the best chances to experience the peak of koyo there. And we were right!
We also added a week in Kyushu, as we wanted to see something new and a bit less touristy and we absolutely LOVED it.
So… this was this year's itinerary:
08/11/2018 Tokyo (arrived in the evening)
09/11/2018 Tokyo – Shuzenji Onsen
10/11/2018 Shuzenji Onsen – Osaka
11/11/2018 Osaka – Uji – Kyoto
12/11/2018 Kyoto – Takao – Kyoto
13/11/2018 Kyoto – Kibune – Kurama – Kyoto
14/11/2018 Kyoto – Ohara – Kyoto
15/11/2018 Kyoto – Miyajima
16/11/2018 Miyajima – Nagasaki
17/11/2018 Nagasaki
18/11/2018 Nagasaki – Fukuoka
19/11/2018 Fukuoka – Kurokawa Onsen
20/11/2018 Kurokawa Onsen – Beppu
21/11/2018 Beppu – Kunisaki Peninsula – Kitsuki – Beppu
22/11/2018 Beppu – Kyoto
23/11/2018 Kyoto
24/11/2018 Kyoto
25/11/2018 Kyoto
26/11/2018 Kyoto – Arashiyama – Kyoto
27/11/2018 Kyoto
28/11/2018 Kyoto
29/11/2018 Kyoto – Osaka Kansai Airport – Sydney (night flight)
Check out the highlights of our trip in this VIDEO.
OUR JOURNEY
Before I get into the details of our trip, I have to say that our original plan was to leave on the 7th of November with the Qantas night flight from Sydney that arrives Haneda at 5 AM, so we could have the first full day in Tokyo. We had already called a cab and we were almost out the door when we got an email from Qantas saying that our flight had been CANCELLED and that WE had to give THEM a call to find out why. Seriously Qantas?? It took a looong time on the phone before we could even get someone on the line. To cut a long story short, we were told that our plane had a mechanical problem and it was not safe to fly. Seriously again Qantas?? You've got ONLY ONE plane available at Sydney airport?? We were given only 2 choices:
Leave from Sydney to Haneda with the same plane the following day at 2:30 PM. This flight would arrive at 10:30 PM!
Leave that night for Brisbane and took a flight the next morning from Brisbane arriving Narita at 5:40 PM.
We were clearly not keen on option 1 as arriving at 10:30 PM was a huge problem for us, as we had to buy a SIM card and above all exchange our JR passes so we could start our trip the following day. It would have also meant a very late arrival in Tokyo.
We were not happy with option 2 either as Qantas would not refund the hotel accommodation in Brisbane!! And we couldn't have spent the night at the airport with 2 kids. Now, this is another fun story about Qantas. They wouldn't refund it because they had already changed our return flight and moved to the day AFTER (we had originally booked for the 28th), so they told us they would only refund 1 of the 2 nights. I mean… really???
We asked them to be put on an ANA flight that same night, but they refused. In the end, we were so frustrated that we told them to book us on a very early morning flight to Brisbane the next morning so we could get there in time to catch option number 2. However, we lost our first day in Tokyo and we were all very disappointed as we were looking forward to spending some time in Asakusa visiting all our favourite spots.
The flight itself was also quite uncomfortable. The plane was old and the air was so dry, both my husband and I got a terrible sinus headache. Not only, they obviously got all our food "requests" wrong AND we were not even seated together. Luckily enough, we were seated 1 adult and 1 child together. Still, I have seen this is becoming a common issue with Qantas… unless you pay extra, you are no longer guaranteed to be seated together. This also happened on the return flight, and we were not the only ones. Sad again, Qantas. I may have to write a separate review on Qantas, as the last 2 experiences we had with them this year (flying to Chile and now to Japan) were disappointing to say the very least. L
This "new flight" we were "assigned" was a day flight, which meant no sleep and a very long and boring journey!
Once we landed in Narita, we immediately sent our luggage to "our house" in Kyoto and just kept 2 small trolleys with us. In fact, there is a fantastic service in Japan that can be very useful when you travel to different destinations: it's called takuhaibin and it's a delivery service. You basically ask your hotel to organise this (in this case, there is a counter at the airport) and your luggage gets shipped to whichever address you want (just have the address written in Japanese to make things easier). It is quite cheap (around 15$-20$ per suitcase) and so convenient! When you get to your destination, you find your bags waiting for you!
Then we exchanged our JR pass at the JR office and we also booked the majority of the train journeys for the following days. The lady at the counter spoke very good English and we were pleasantly surprised by this. I guess they are getting ready for the Olympics. J
We already had our SUICA cards (the rechargeable JR/Subway cards that are very useful in Tokyo, but also in other cities), so we only had to load some money in them, but you may want to get yours at the JR counter.
Then we took the Keisei Skyliner to Ueno (via Nippori) to go to Yodobashi Camera to get a local SIM with Internet data.
By the time we finally arrived in Asakusa, it was about 10 PM! We went straight to our ryokan: Ryokan Kamogawa (the same hotel where we had stayed in 2015 and 2017!), where we had a hot bath in the private "onsen tub" and then went to sleep.
The following morning (9th of November), we walked to Sensoji Temple, one of my favourite places in the whole world! It was very early in the morning and there were very few people around. It felt amazing to be back, even in the rain. We were lucky enough to witness the morning prayer and the monks' chanting was quite touching.
Unfortunately, we didn't have much time (thank you Qantas!), as we had to catch a train to our next destination: Shuzenji Onsen. This place was recommended by a member of the Japan Travel, Friendly Discussion Group on Facebook and it was a very pleasant surprise. It is one of the oldest and most famous hot spring resort towns on the Izu Peninsula and a great alternative to Hakone and Kawaguchiko for people who want to experience a ryokan stay with onsen in the Tokyo area.
We had a fantastic stay at Kikuya ryokan and had some amazing food too. The area is also famous for its wasabi, so we got to enjoy some fresh wasabi with our dinner.
The little town is really pretty, with a couple of famous temples and a hot spring, Tokko-no-yu, located in the middle of the river bed that runs through the town centre.
There is also a small but beautiful bamboo forest.
On the 10th of November, we went to Osaka. On the way, we stopped at Mishima station, from where you get a great view on Mount Fuji.
We had already been in Osaka in 2015 and we had particularly liked the Dotonbori area. So we decided to go back there.
We stayed in the same hotel (Hotel Dotonbori) and just walked around the area which at night is all lit up.
The following day (11th of November), we went to visit Uji. As we had to sleep in Kyoto that night, we decided to travel from Osaka to Kyoto, leave our luggage at the station, and then go on to Uji.
We visited some temples, including the famous Byodoin Temple (which appears on the 5 yen coin!).
The town is really photogenic, especially the area along the river.
Uji is also very famous for its green tea so we had to taste some matcha ice cream!
That night, we spent the first our 11 nights in our beloved Kyoto. I know there are people who visit Kyoto for a couple of days or even as a day trip from Osaka, but let me tell you this much: we have been there for 6 nights in 2015, for 7 nights in 2017, and for 11 nights this time and we still couldn't get enough of it! If we are lucky enough to go back to Japan, we will go back again! This time, we divided our stay into 2 parts: we stayed for 4 nights in the beginning and used Kyoto as the base for our day trips in the area and then we came back at the end of the holiday and spent 7 nights in town.
On the 12th of November, we went to Takao by bus. It is a mountainous area with some historic temples along its forested valley, a one-hour bus ride north of Kyoto. It is particularly beautiful during the autumn leaf season.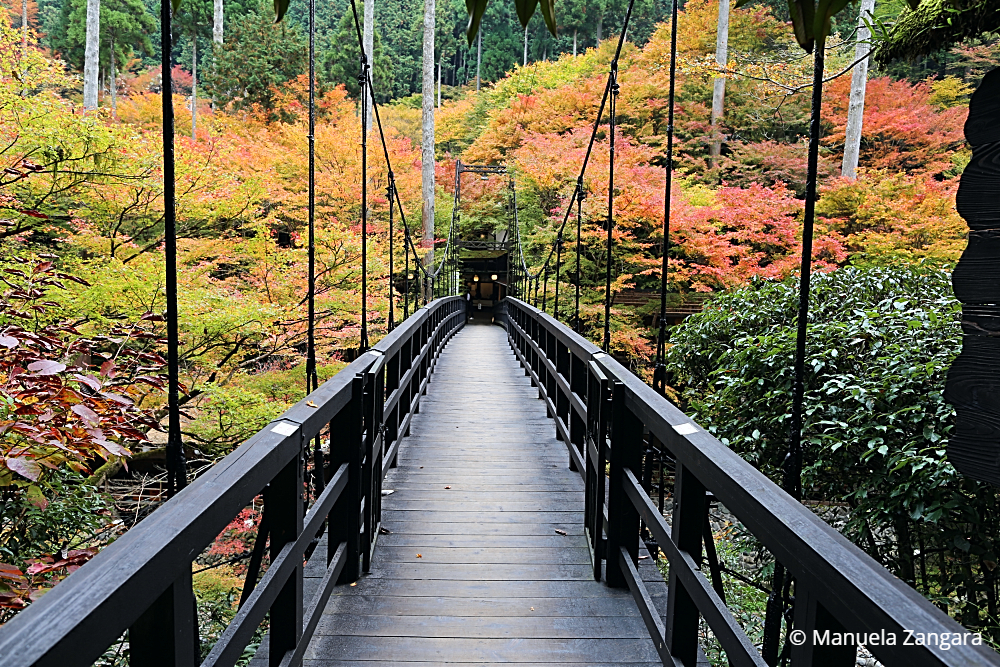 We visited Jingoji Temple that also has an observation point with views over the valley.
Small clay discs with inscriptions can be purchased there to be thrown into the valley for good luck.
And Saimyoji Temple with its vermilion Shigetsukyo Bridge, which leads over a river to the temple entrance.
Then we started the Takao to Arashiyama hike. From Takao, you descend to the banks of the beautiful Kiyotaki-gawa River and follow it to the village of Kiyotaki. From here we took a bus back to Arashiyama and then a train back to the centre of Kyoto.
The hike is beautiful, especially in autumn, and not particularly difficult. Some parts have been damaged by Typhoon Jebi, but it's still doable.
The following day (13th of November), we went to Kibune. There, we saw the beautiful Kifune Shrine.
We were planning to hike to Kurama, but the trail was closed due to the damage caused by Typhoon Jebi, so we went there by train and visited Kurama-dera.
On the 14th of November, we visited Ohara, another place famous for its autumn leaves.
Ohara is best known for Sanzenin Temple. The path from the town to the temple is lined with numerous small shops. The temple grounds are beautiful and I particularly liked the moss garden, where there are a number of cute stone statues that peek out from the moss.
Along with the rest of the temple, the garden is particularly impressive during the autumn colours.
We also visited Jakkoin Temple.
To get there, you walk through fields and rural landscapes.
The following day (15th of November), we left Kyoto for Miyajima (via Hiroshima). Once in Hiroshima, we took a local train to Miyajimaguchi (30 minutes) and then a ferry (that was PACKED) that took us to the island of Miyajima in 10 minutes. The lovely people from Auberge Watanabe, the Japanese Inn where we always stay, came to pick us up at the pier. Now let me tell you that this was our third time both in Miyajima and at Auberge Watanabe – that's how much we love this place! I will write more about Miyajima and our experience at Auberge Watanabe (where we also had an amazing kaiseki dinner) in a specific post, but let me just tell you that we had another fantastic experience and we were treated like family! <3
Luckily, unlike the previous 2 times, this time the weather was beautiful and the sun was shining! And the view from Mount Misen outstanding.
Miyajima is absolutely breathtaking in autumn. This was what we saw at Momijidani Park.
We also experienced the Walking over fire Ceremony (Hiwatari Shiki) at Daishoin temple. Quite interesting!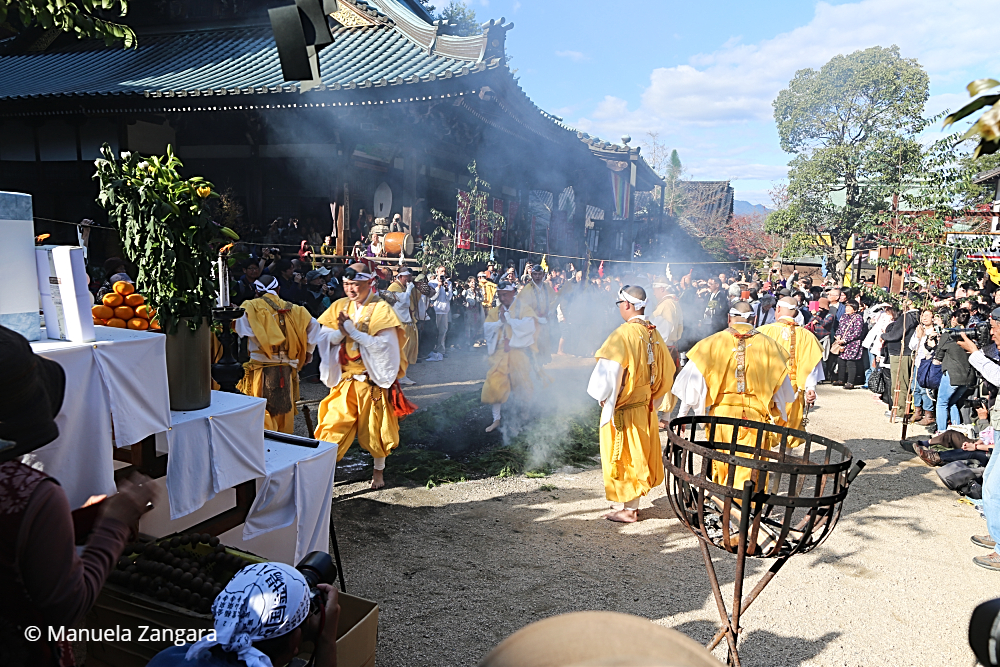 The Itsukushima shrine and the floating Tori were breathtaking!
Especially at night!
On the 16th of November, we left for Nagasaki (via Hakata). We were lucky enough to be able to travel on the special Hello Kitty Shinkansen. The kids loved it!
We arrived quite late in Nagasaki and just went to our hotel: Hotel Monterey.
The following day (17th of November), we visited Nagasaki, which is an AMAZING place. Nagasaki was the second city after Hiroshima to be destroyed by an atomic bomb towards the end of World War II. We visited the Peace Park and the Nagasaki Atomic Bomb Museum, which was similar to the Hiroshima one – maybe a bit smaller – and very moving.
We also saw the Meganebashi Bridge, also known as the "Spectacles bridge".
As one of Japan's closest port cities to the Asian mainland, Nagasaki has played a prominent role in foreign trade relations for many centuries and was the most important of only a very few ports open to restricted numbers of foreign traders (mainly Europeans and Chinese) during Japan's period of isolation.
Very interesting landmarks of this era are:
Oura Church.
Dejima – a man-made island constructed in 1636 to segregate Portuguese residents from the Japanese population and control their missionary activities. When the Portuguese were expelled from Japan, the Dutch Trading Station was moved to Dejima. Here you can visit a few historical structures, including various residences, warehouses, walls and gates.
Dutch Slope – a stone-paved street leading up a hillside in Nagasaki where many foreign traders resided after the opening of the city's port to foreign trade in 1859.
Glover Garden – an open-air museum that exhibits mansions of several of the city's former foreign residents and related buildings. It is located on the hill where Western merchants settled down after the end of Japan's era of seclusion in the second half of the 19th century.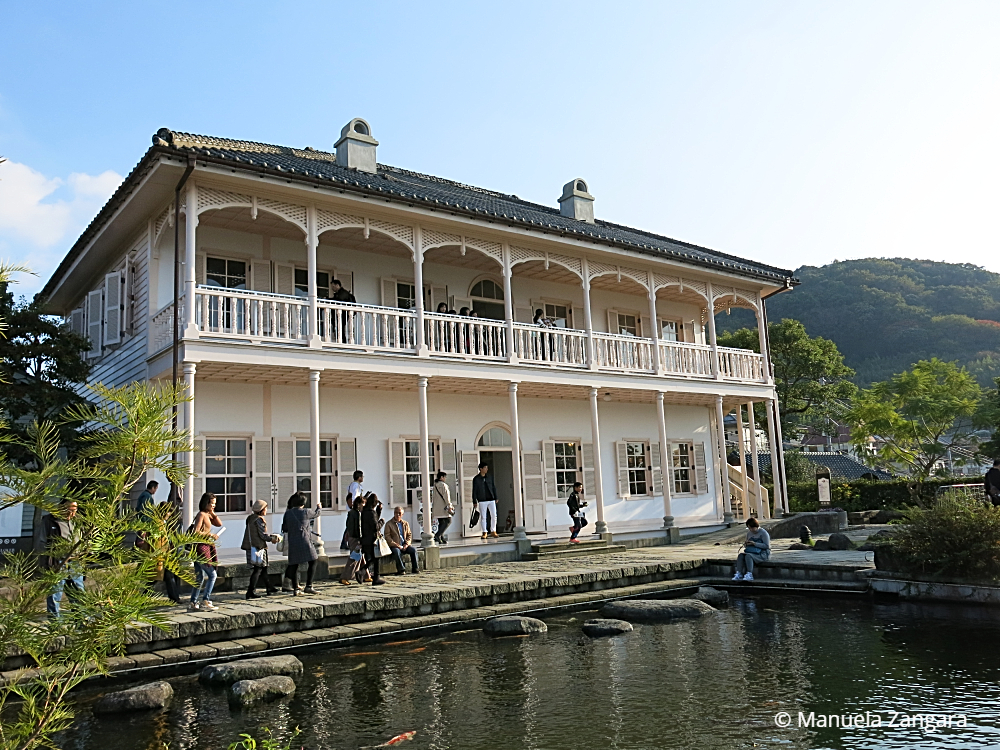 In addition to the historic buildings, the garden offers nice views of the city and the harbour.
We also visited Chinatown, the oldest Chinatown in Japan.
And the beautiful Confucian Shrine. The ornate Chinese-style buildings are adorned with yellow roofs. Flanking the shrine's courtyard stand the 72 sages, life-size stone statues that depict Confucius' disciples.
I really LOVED Nagasaki and I highly recommend you visit it!
On the 18th of November, we went to Fukuoka. We had planned to go to Dazaifu, but we couldn't find a place on any of the early trains from Nagasaki to Hakata, so we decided to skip it and just stay in Fukuoka.
As it was raining, we decided to spend the afternoon at Canal City, near our accommodation (A Good Day Fukuoka Riverside).
Canal City is a large shopping and entertainment complex with about 250 shops, cafes and restaurants, a theatre, cinemas, hotels and a canal running through the complex.
At the centre of the canal there is a fountain with water shows every 30 minutes from 10:00 until 22:00.
The winter illumination was also beautiful and they even had Christmas shows with artificial snow at the end! Needless to say, the kids had a great time!
We also got to see the show of the Cubers, a famous Japanese band.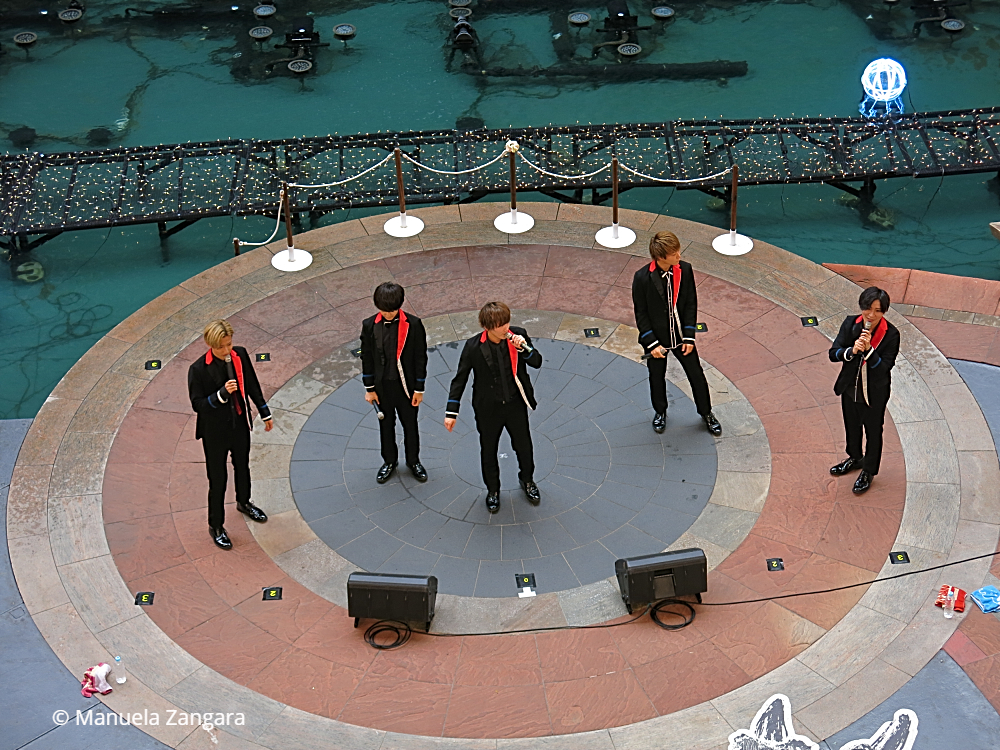 We had dinner at a Yatai along the river. Yatai are small open-air food stands that sell cheap food like ramen, yakitori, and other street food. It's a fun experience!
The following day (19th of November), we went to Kurokawa Onsen, one of Japan's most attractive hot spring towns with a pleasant, traditional atmosphere. Kurokawa's townscape is dominated by wooden buildings, earthen walls, stone stairs and a river flowing through.
The town's lanes are lined by ryokan, public bathhouses, attractive shops and cafes, a small shrine and bridges that lead over the river directly to ryokan entrances.
Kurokawa is not only known for its attractive town, but also for the outstanding outdoor baths (rotenburo) of its ryokan, some of which are located right beside a gushing river.
We stayed at Yamamizuki, a ryokan that has one of the best riverside baths in Japan located in the woods next to a picturesque mountain river.
It was the best onsen experience we've ever had. I will write a separate post on this, however, suffice it to say we had our own private outdoor bath with an amazing view…
On the 20th of November, we travelled to Beppu. On the way, we stopped for a quick tour of Yufuin, another popular hot spring resort. The most prominent feature of Yufuin's skyline is the twin-peaked Mount Yufu, which hovers over the town and serves as the backdrop for many scenic views.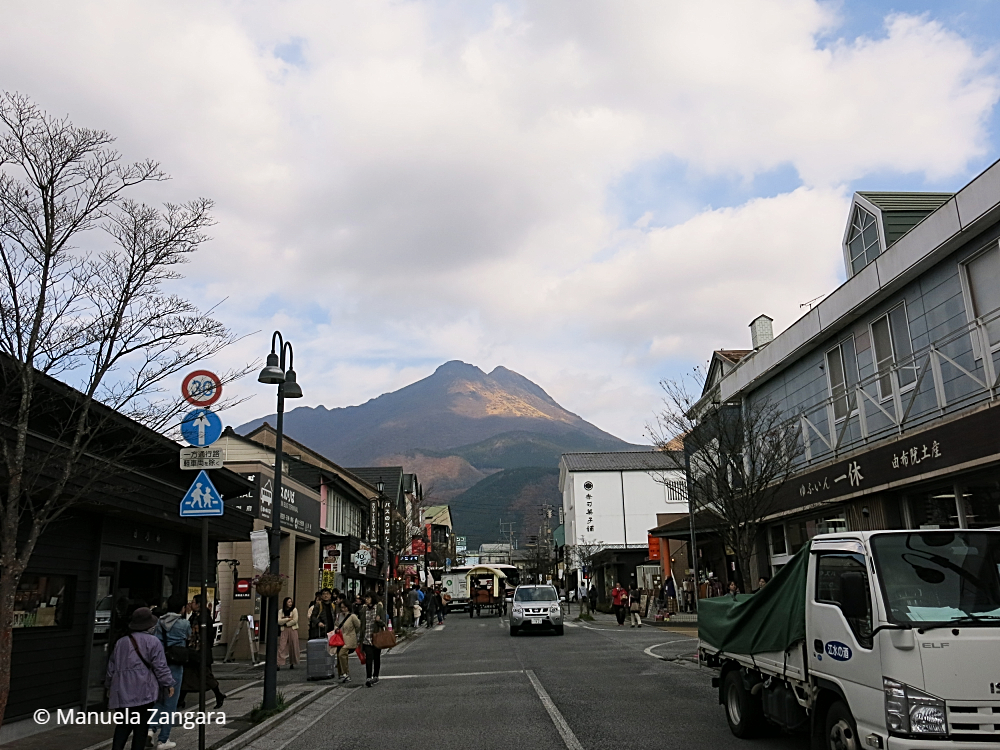 The ryokan and hotels of Yufuin are spread out around town, and not clustered along the main street like in many other resort towns. Instead, the main street is lined with cafes, boutiques and small museums.
Another natural landmark of Yufuin besides Mount Yufu is Lake Kinrin. The small lake is located at the end of the town's main walking route, about a kilometre and a half from the station. Walking paths surround the lake as well as more small shops and cafes, and there is a small shrine located at the lake's southern end.
Before going we were undecided whether or not to sleep in Yufuin one night, but to tell you the truth, I did not like it that much. It was way too crowded and not as picturesque and relaxed as Kurokawa Onsen.
When we arrived in Beppu, we took the shuttle bus provided by our hotel: Suginoi. Beppu is one of Japan's most famous hot spring resorts Beppu offers an unmatched range of baths to be enjoyed, including ordinary hot water baths, mud baths, sand baths and steam baths.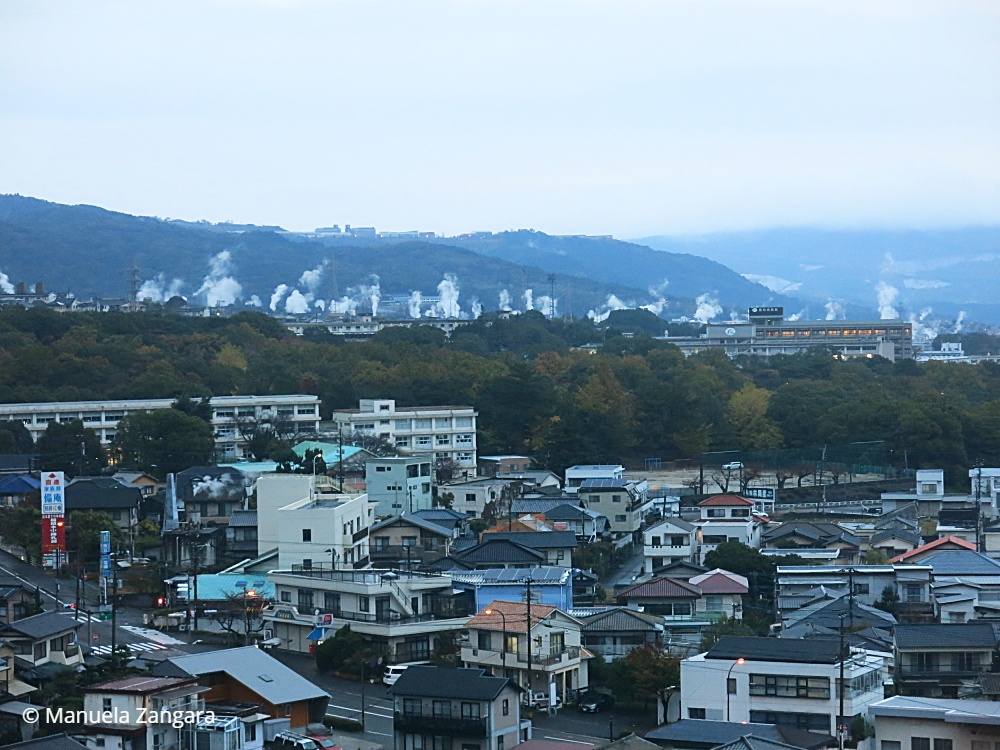 Hotel Suginoi was an experience on its own. It is HUGE and it feels like a little town inside Beppu. It's got 2 onsens and an open-air thermal pool from which you can enjoy a magnificent view over the whole town. They also have a light and water show that is quite spectacular.
We had a plan that included buffet dinner and breakfast and the food was of very good quality. We particularly enjoyed their… pizza! I swear it was the BEST pizza I have ever eaten outside of Italy!
Just outside the hotel, you can enjoy some spectacular winter illuminations.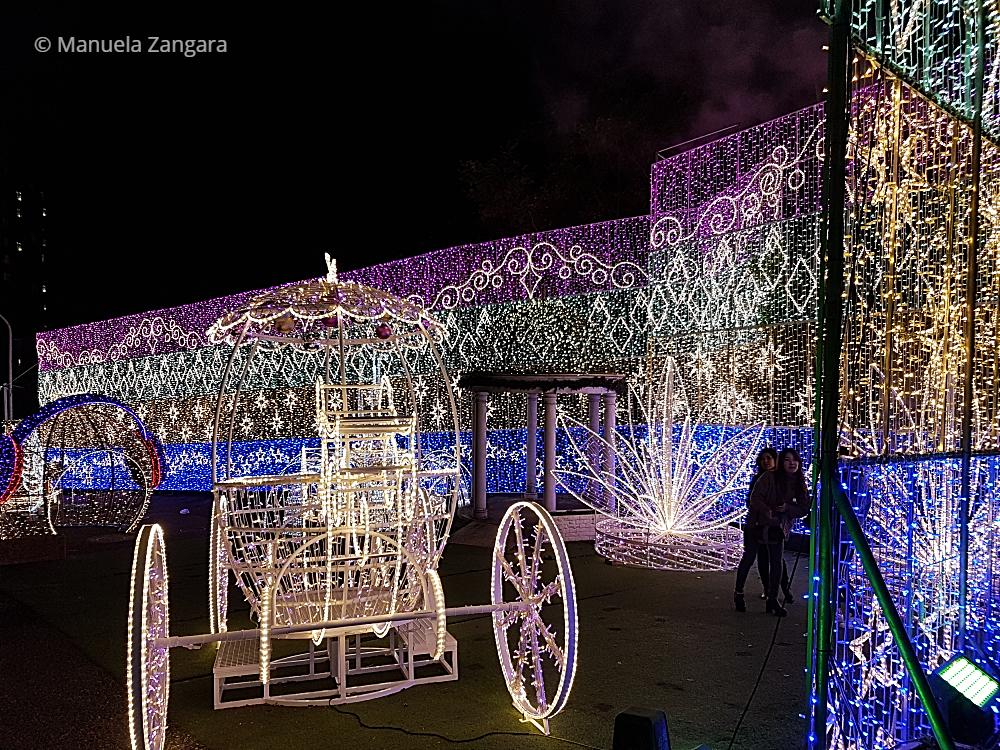 The following day (21st of November), we rented a car (for the first time in Japan!) and drove around the Kunisaki peninsula.
We first visited the Kumano Magaibutsu Stone Buddhas, two large stone carvings into the walls of a cliff: an eight-metre tall Fudomyoo and a nearly seven-metre tall Dainichi Buddha.
In order to see the carvings, you have to walk through the forest for about 20-30 minutes first along a gravel path and then along a very steep flight of stairs.
Then we went to see the amazing Futagoji, a prominent temple with a history of more than 1300 years. Futagoji's grounds cover a wide area on the forested slopes of the mountain, with stone and gravel paths and stairs connecting several halls housing various deities.
A pair of stone Nio Guardians stands at the start of the traditional temple approach below the parking lot, from where a ten-minute ascent up a flight of steps takes you to the main temple buildings.
Among them is the Okunoin Hall, which enshrines the thousand-armed Kannon Bodhisattva and where you can enter a cave where you can drink miraculous spring water that prevents aging and gives long life! I LOVED this place, it was so peaceful!
There were not many tourists around, and I loved this.
We finished the day in the little town of Kitsuki which boasts a nice little castle.
And two well-preserved samurai districts with many residences open to the public. It reminded me of Kanazawa, only much smaller and definitely less touristy!
There are also multiple photogenic slopes, the most famous of which is Suyanozaka.
After a day spent driving around, we relaxed at Suginoi between the pool and the onsen.
In the morning of the 22nd of November, we visited some of Beppu's Hells, which are several spectacular hot springs for viewing rather than bathing.
I particularly liked Umi Jigoku (blue hell).
And Onishiibozu Jigoku (mud hell).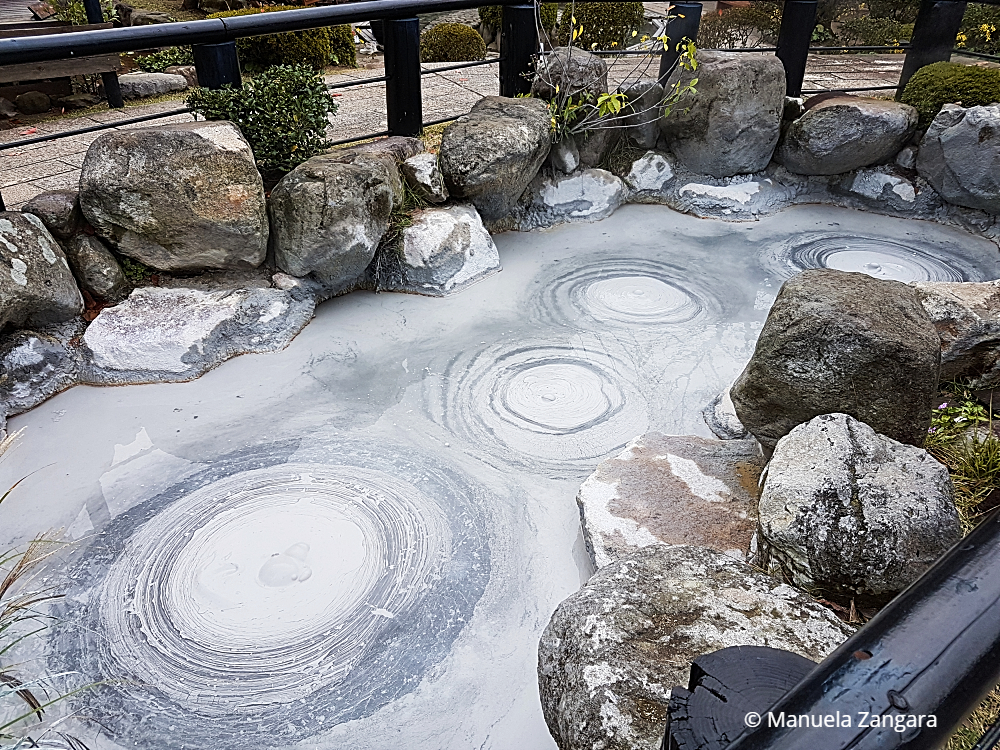 But we also visited Shiraike Jigoku (white hell).
After that, we went to Kyoto, where we spent our last week of holiday.
We rented the same little machiya (Japanese townhouse) in the heart of Higashiyama that we had rented in 2015 and 2017, which has become "our Kyoto home". Having a house is not like having a room in a hotel… you get to live like a local and we thoroughly enjoyed it.
For lunch we would eat street food (beef steamed buns, chicken karaage, yakitori etc.) and for dinner we would visit the depachikas (food "boutiques" inside the big department stores) and buy anything from gyoza to tempura, korokke, tonkatsu, sushi and sashimi and take it back home to enjoy it in the warmth of our kitchen!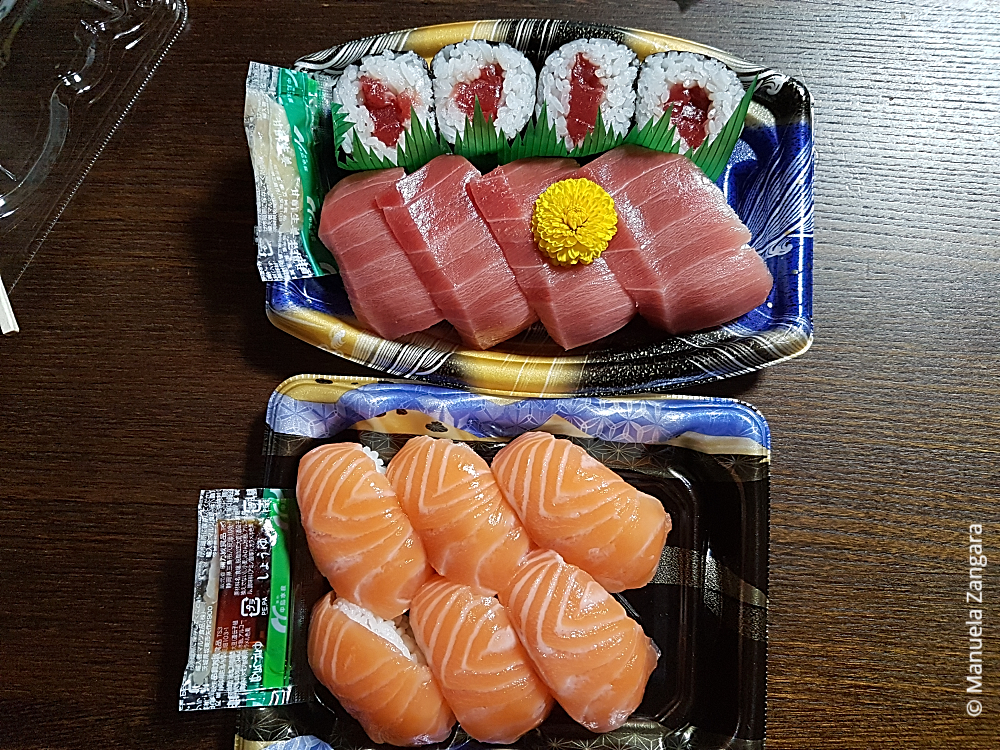 I am absolutely in love with Kyoto. I am going to write a separate guide on Kyoto, as I have a lot to write about it! In the meantime, you can check out my older posts on it. These were the highlights of our latest stay divided by day.
The next day (23rd of November) was Labour Day, which just meant more crowds! We started early and went to Ginkakuji Temple, which was breathtaking in autumn!
Then we walked part of the Philosopher's Path till Honen-in (one of our favourite spots in town).
After that, we visited Shinnyodo, where the autumn colours were absolutely crazy! The place was packed with locals and we took hundreds of pictures!
That day we also visited Konkaikomyo-ji Temple (also known as Kurodani) with its beautiful Purple Cloud Garden!
In the evening, we went to Gion for a walk.
And we got to see some geishas.
On the 24th of November, we went early to Sekizanzenin Temple where we saw a beautiful winter sakura tree in between red maples! So awesome!
Then we visited Manshu-in Monzeki Temple and its pretty zen garden.
Then we walk to Enkoji Temple, which unlike the previous 2 temples, is quite crowded. There are a little zen garden, a bamboo grove and a beautiful normal garden with amazing koyo colours.
What I like the most however is the view from the top! So beautiful!
Shisen-do Temple is also very crowded because of its amazing autumn leaves.
One of the highlights of the day is Tanukidani-san Fudoin Temple. It's almost deserted (which adds to its charm!). This mountain temple is known as a place to pray for recovery from illness, as well as for its many tanuki (raccoon dogs) statues.
To get to the main hall, which has a stage similar to the one of Kiyomizudera, you need to climb 250 steps! But it's absolutely worth the effort. This is such a peaceful place!
And look at the view of the city from up there!
On the 25th of November, we saw Genko-an Temple, famous for its bloodstained ceilings and two of its large windows. One is round and is called "The Window of Enlightenment," expressing the complete wholeness of the universe. The square window is called "The Window of Confusion," each corner representing one of the four human afflictions: life, old age, illness, and death.
Then we visited nearby Koetsuji Temple which has a nice garden. However, the best thing is the entrance lined with maples.
After that, we went to Kitano Tenmangu Shrine where we visited the flea market that is held on the shrine grounds and surrounding streets on the 25th of every month. Hundreds of vendors selling plants, antiques, tools, toys and crafts are joined by many food stands selling festival food such as yakisoba, karaage and takoyaki.
In the evening, we went to see Kiyomizudera temple by night and it was quite a sight!
The following day (26th of November) was an amazing day and we spent most of it in Arashiyama.
We started with the Bamboo Grove.
Tenryu-ji Temple.
Jojakkoji Temple, which had possibly the BEST autumn colours we saw during the trip! Unfortunately, it was packed.
Then we visited Nison-in.
And Gioji, that had a cute moss garden, lots of maples and a little bamboo grove. I liked how peaceful it was.
Then we walked through Saga Toriimoto preserved street.
Until we arrived at Adashino-Nenbutsu-ji Temple, a temple with 8000 Buddhist statues that is dedicated to the repose of souls who have died without families to remember them. This is not to be missed, in my opinion. I loved it.
Then we walked all the way to Otagi-Nenbutsu-ji Temple, famous for its collection of 1200 Rakan statues that represent Buddha's disciples. Each statue was carved by a different person and many have humorous expressions or whimsical poses. It's a fun place to visit!
On the 27th of November, we visited the Imperial Palace.
Then we went to the Manga Museum where you can get your own "manga portrait" done. Highly recommended!
We also visited Shoren-in Temple, which is very beautiful with autumn colours.
In the evening, we went around Ninnenzaka.
And Gion.
I love passing through the Konpiragu Shrine at night to get from "our house" to Hanamikoji-dori.
On the 28th of November, we visited Eikando Temple that was beautiful and packed with people!
Then we walked through the grounds of Nanzenji Temple.
In the afternoon we visited Kodaiji Temple with its beautiful garden.
We also discovered Ryozen Kannon Temple, a war memorial dedicated to the fallen on both sides of the Pacific War in World War II with a 24-meter concrete image of the Goddess of Mercy. Unfortunately, it was too late to enter, so we left it for next time.
On the last day (29th of November), we went to Tofukuji Temple, which is particularly famous for its spectacular autumn colours.
The most popular view is of the Tsutenkyo Bridge, which spans a valley of lush maple trees. The view from the bridge is equally spectacular, and the 100 metre long, covered walkway was extremely crowded!
We also saw the Hojo Rock Gardens.
Then we walked to Fushimi Inari that was absolutely PACKED by the time we arrived.
This was our third visit, and we were not interested in getting all the way up to the top again. We just wanted to get to a place with less people, to take some pictures of the toriis and enjoy the surrounding forest.
However, we got… lost! I know, so weird! Anyhow, we found ourselves in a less touristy area (it's practically deserted!), where people actually live! There are many sub-temples and one of them has plenty of… frogs!
Fushimi Inari remains my personal favourite site! If you have seen the movie "Memoirs of a Geisha" you will know what shrine I am talking about… for the rest of you, you basically have to pass through hundreds of orange toriis to get to the top of the hill where the temple is. The toriis are just breathtaking… look at that orange, it's like fire! But get there first thing in the morning!!
That concluded our 3 week holiday. We flew back to Sydney from Kansai airport (KIX) that night. Getting to Kansai from Kyoto is easy, as there is a direct train (Haruka) from Kyoto station to KIX.
Leaving Kyoto (and Japan) was very hard… I always leave a piece of my heart there and I have promised myself that I will do my best to go back once again.
Needless to say, we loved Japan after our first 2 trips and now we love it even more. Every single place we saw was amazing. The people are very kind and friendly and the food is to die for. This is a trip I highly recommend!
If you have any questions, leave a comment and I will be happy to help out!
RESOURCES ON MSM
RECIPES:
TRAVEL IN JAPAN:
Nara & Fushimi Inari guide – Japan
Haru Cooking Class Kyoto – Japan Guide
Nagashima and Nabana no Sato – Japan Guide
Jigokudani Monkey Park Guide – Japan
Don't forget to pin this post for you to plan your trip!

Related Posts: