New Zealand – Easter 2011
This April we were supposed to go to Japan for a 3 week family holiday, but we had to cancel after the terrible earthquake and tsunami that hit that beautiful country.  While we are not giving up on the idea of visiting the Land of the Rising Sun as soon as the situation improves, we still felt like we needed a break from our everyday life.  So we decided to spend our Easter break visiting a part of our neighbouring country and booked our flights for New Zealand's North Island.  We only had 6 nights, and as we did not want to spend all our time driving from one place to the other (especially having our 2 very young girls with us), we narrowed down our itinerary to Auckland, Rotorua and Lake Taupo.
Unfortunately I could not take almost any pictures of the wonderful food we ate during our stay in New Zealand, because the lights at the restaurants were almost always dimmed and the photos would not have come out well anyway… so my descriptions will have to do! 😉
We only spent one evening in Auckland, so we did not get to see much of the city, but we managed to see the beautifully lit Sky Tower that was right in front of our hotel!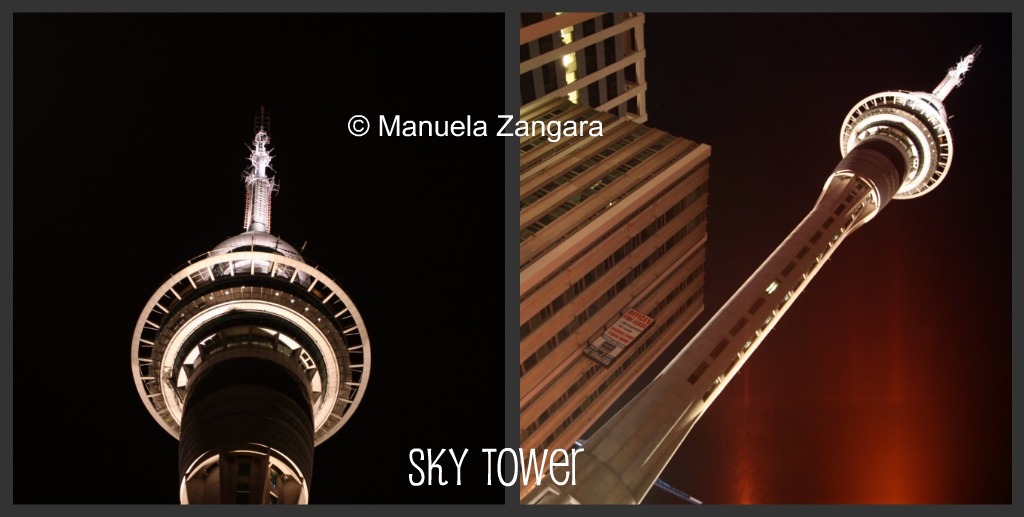 We ate dinner at a restaurant on the Quay called Mecca.  We had:
Trio of dips and olives with warm Turkish pide
and
Char-grilled Eye fillet on parmesan potato puree with asparagus, roasted vine tomatoes, béarnaise sauce and Shiraz glaze
and
Crème Brûlée with tuile and watermelon sorbet… YUM!
The next morning we started our drive down to Rotorua.  We wanted to see a little bit of the countryside so we did not take the shortest way… We saw beautiful green landscapes and lots and lots of sheep and cows.

When we arrived in Rotorua, we went to see the Te Po at Te Puia.  Te Po is a Maori cultural experience that includes Maori singing and dancing and the famous "Haka".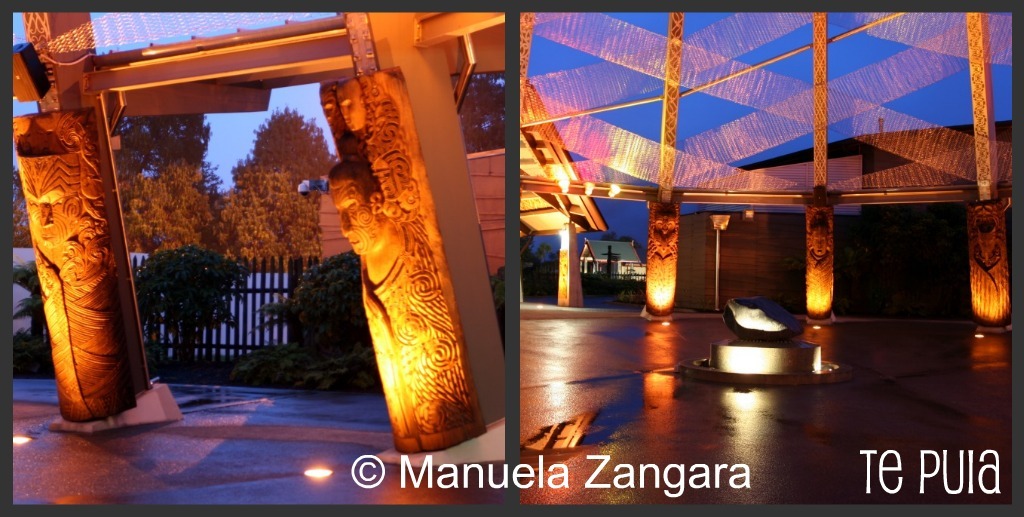 The Te Po also includes a typical hangi dinner.  Hangi is a traditional Maori method of cooking that uses the geothermal heat of the area: you can cook meat, veggies and even pudding by putting the food in a pit oven… a couple of hours later, your meal is ready!  And it tastes fantastic and slightly smokey.  We had pork, lamb, chicken and vegetables (potatoes, kumara and pumpkin).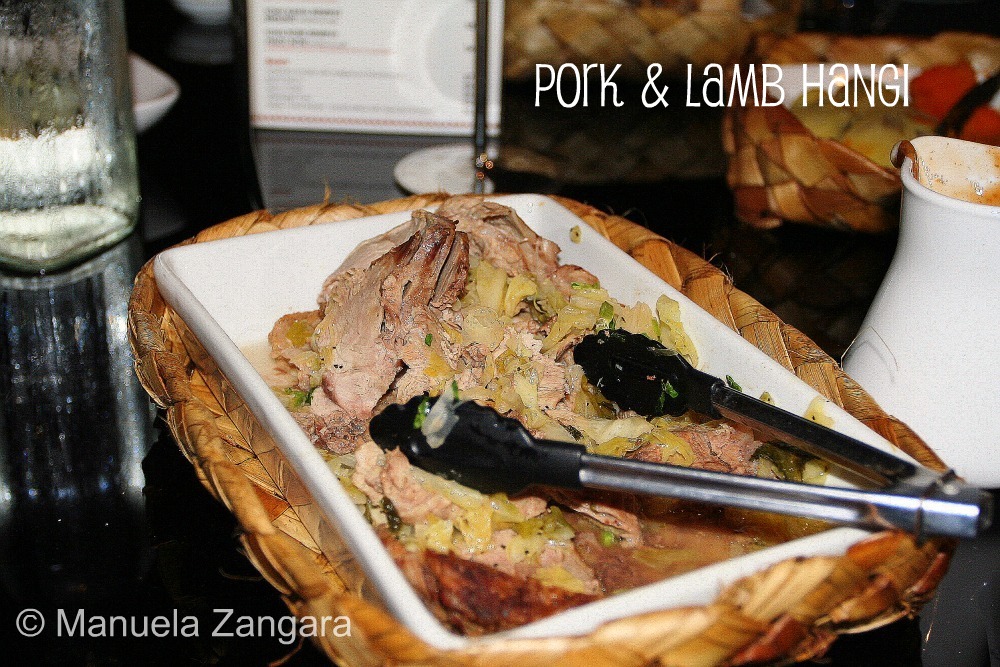 After dinner we went to see the eruption of the Pohutu geyser, which was quite impressive all lit up!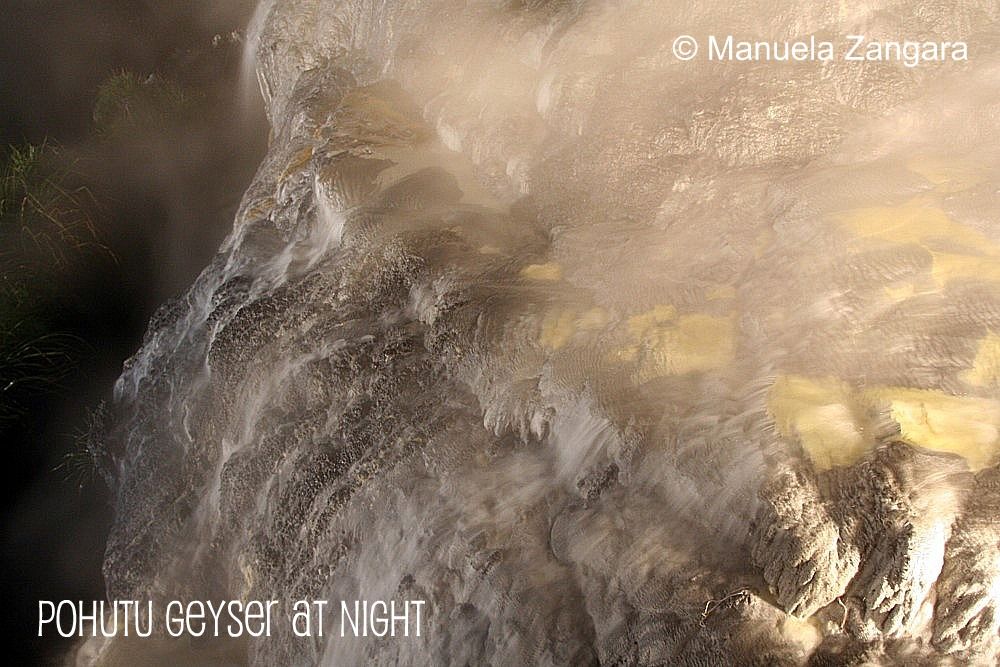 It was a very pleasant experience and we all enjoyed it, especially our little girls who were enthralled by the dancing and haka!
On our second day in Rotorua we visited some geothermical areas: Wai O Tapu, Lady Knox Geyser, Waimangu.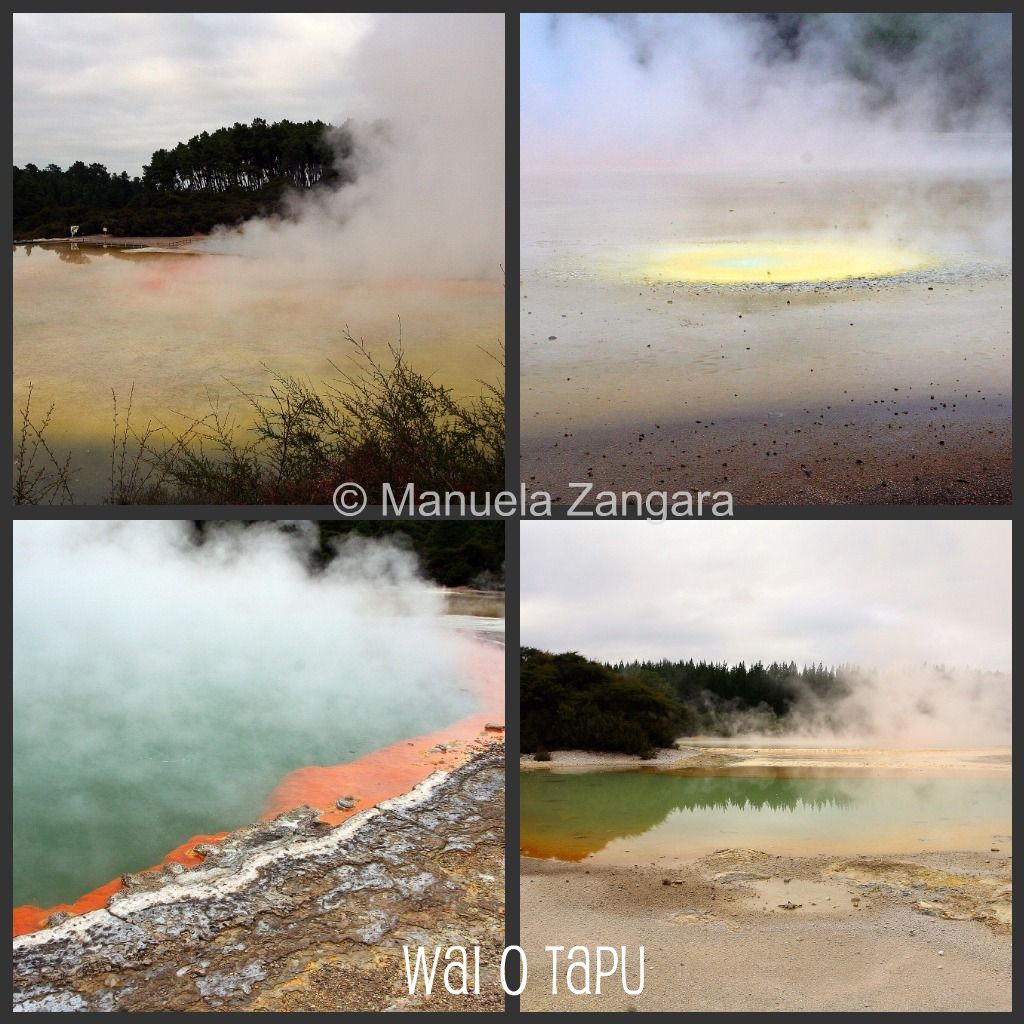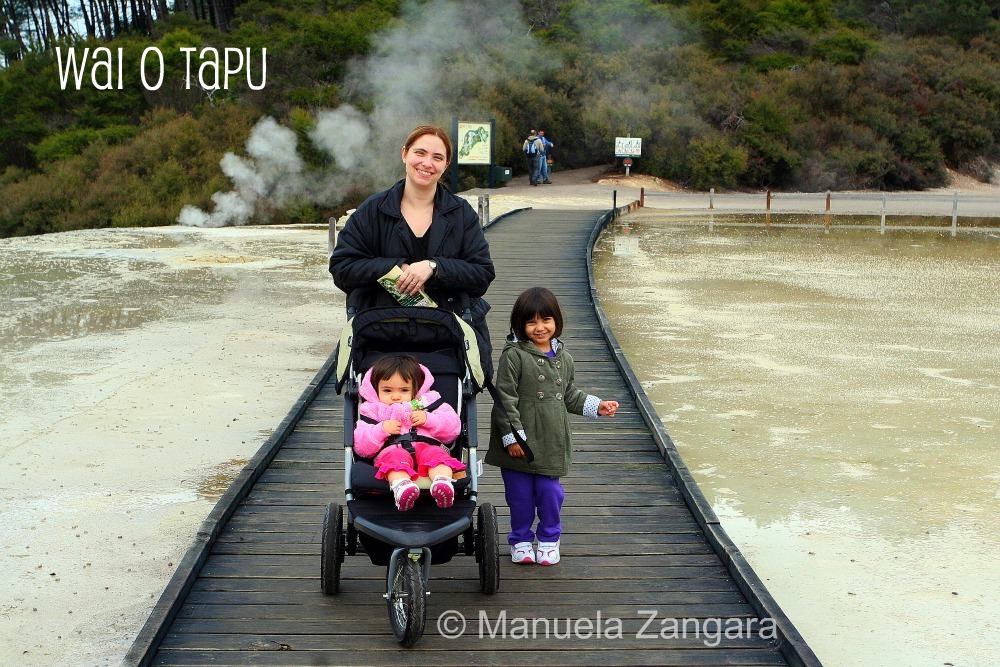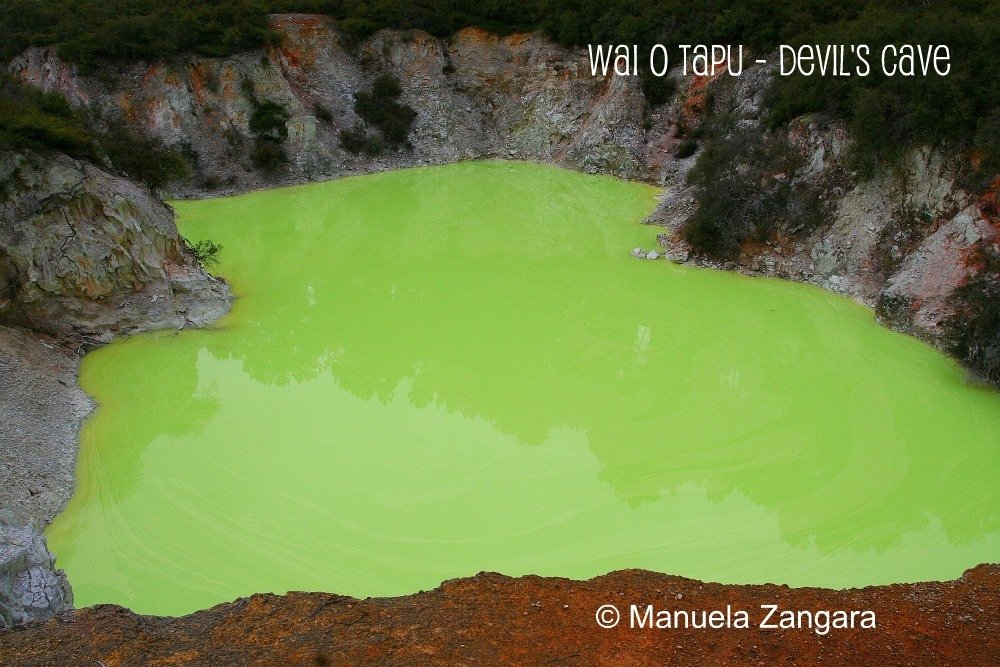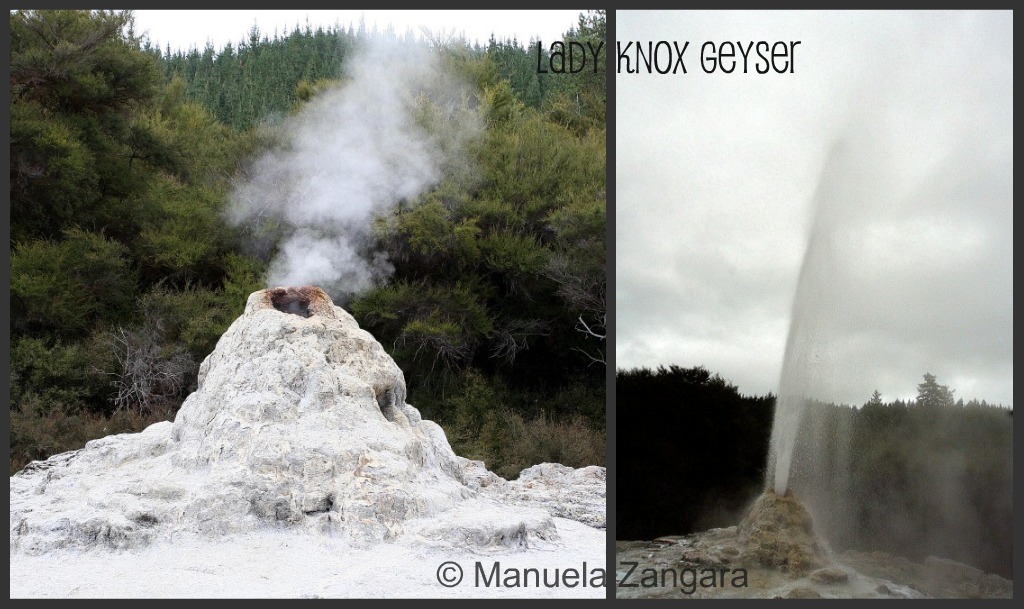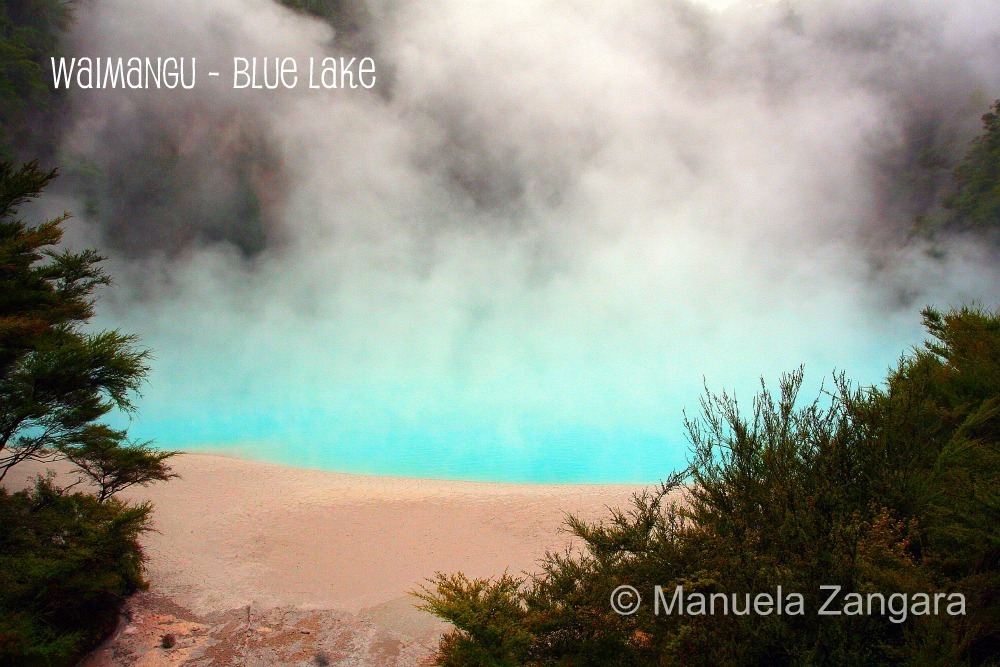 We also visited the Maori village of Whakarewarewa, where we saw some more dancing and another haka.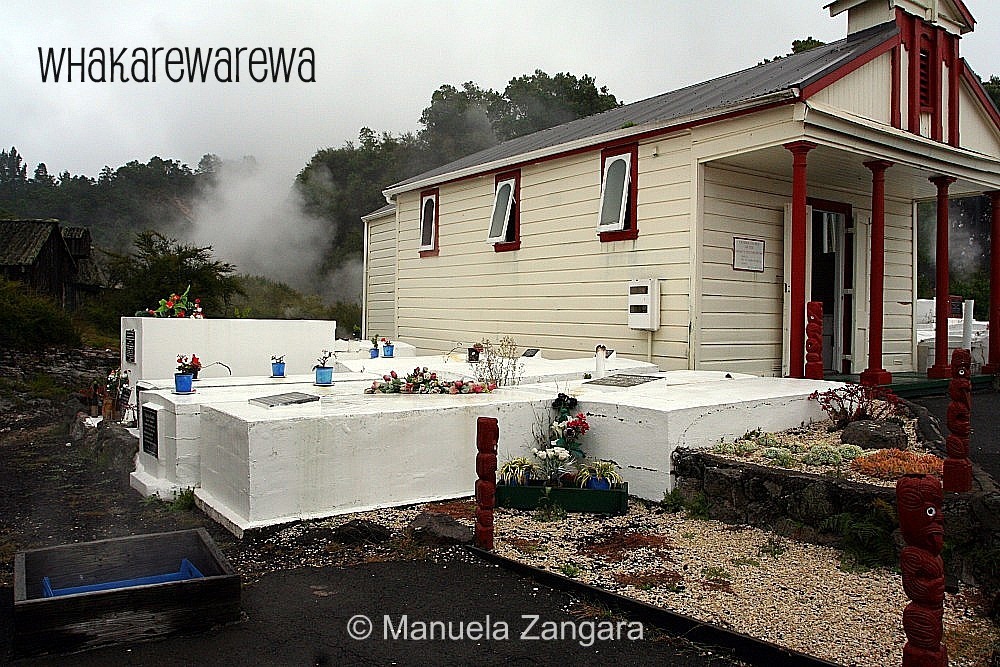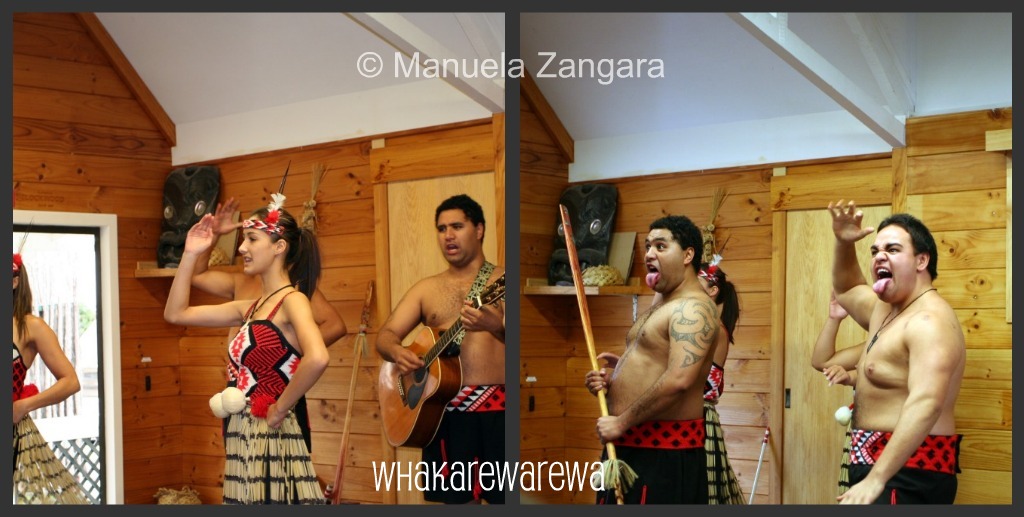 In Whakarewarewa we also saw a Hangi oven and a Hot Pool used to cook vegetables.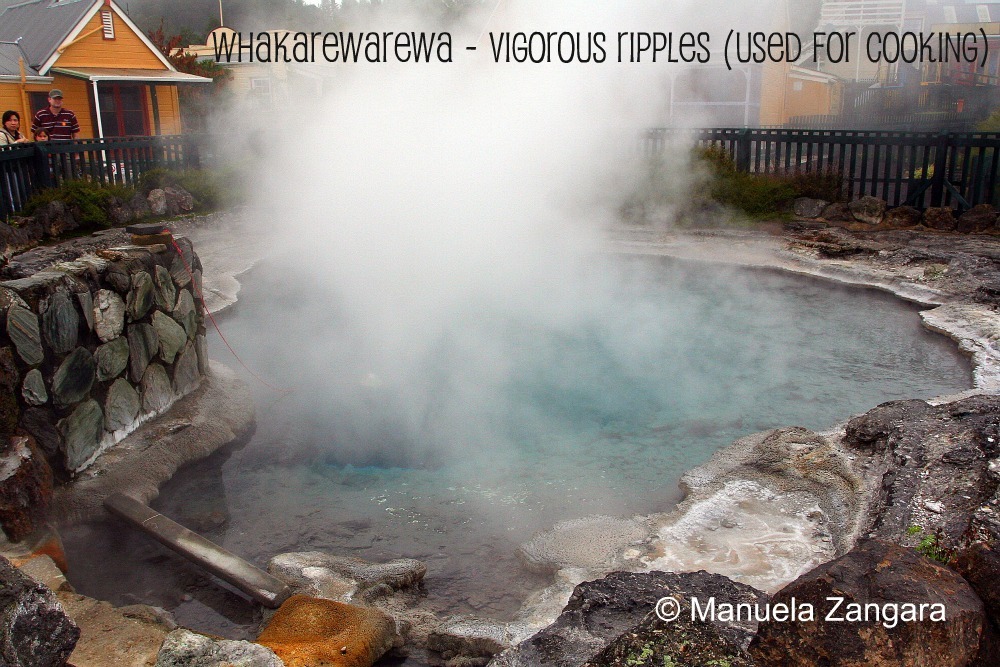 In the evening we had a great dinner at the Amora Lake Resort's restaurant.  We had:
Hot smoked salmon with pear and pine nut rocket salad, white balsamic dressing and melba toast
and
Beef eye fillet with Yorkshire pudding, creamed kumara and truffle mash, vine tomato and caramelized onion jus
and
Pineapple tart tatin with orange compote and orange date ice cream.
The following day, Easter Sunday, we went to see the Pohutu geyser during in the day time.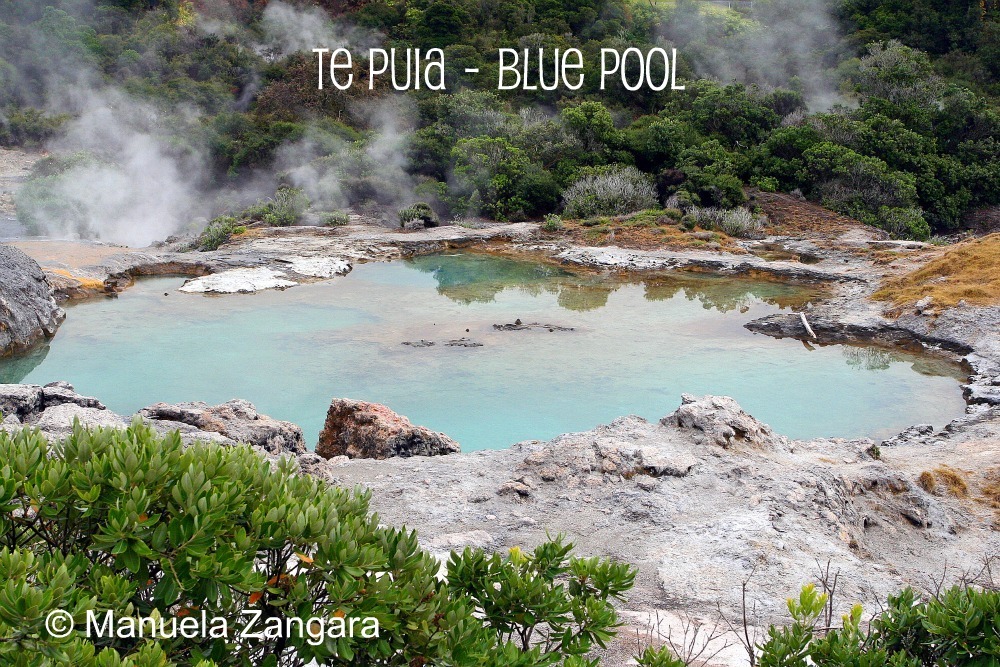 Then we headed off to Lake Taupo, where we stopped at the Wairakei Terraces, the Huka Falls and the Aratiatia Rapids.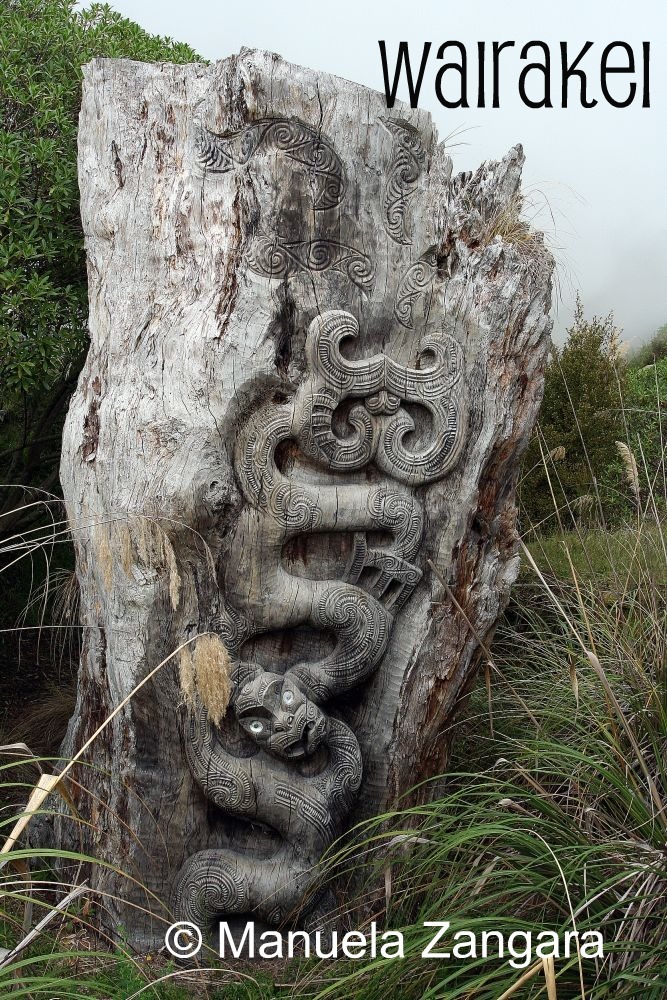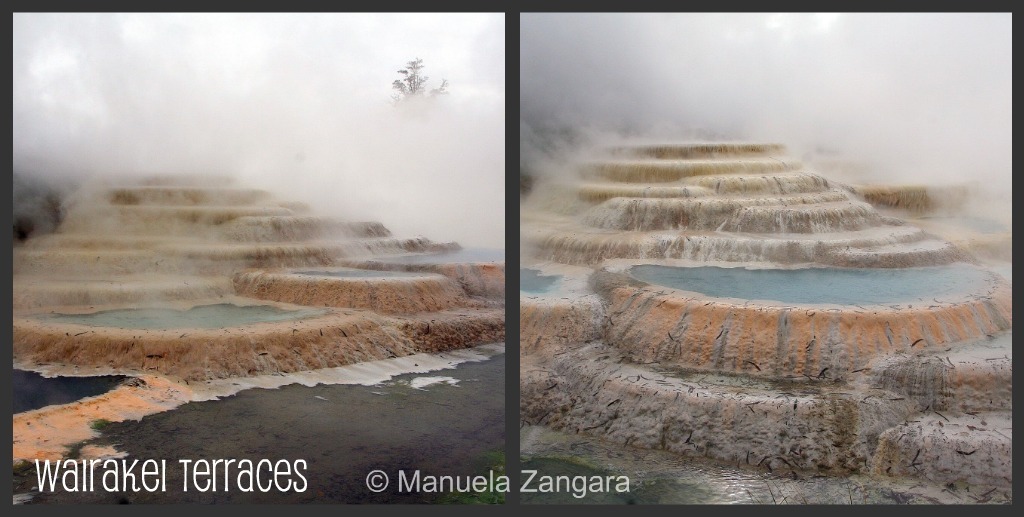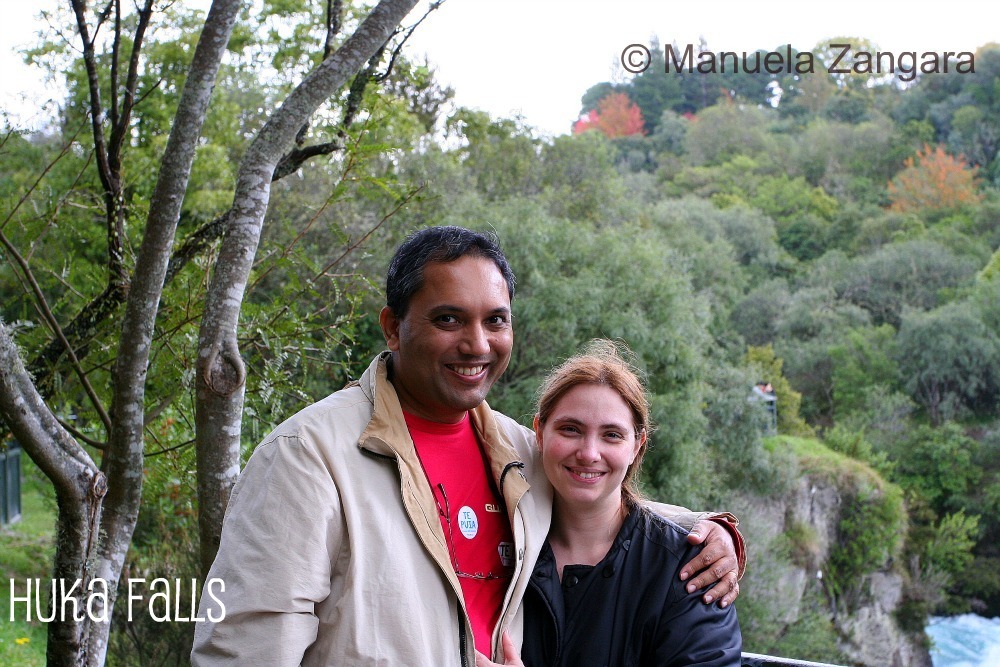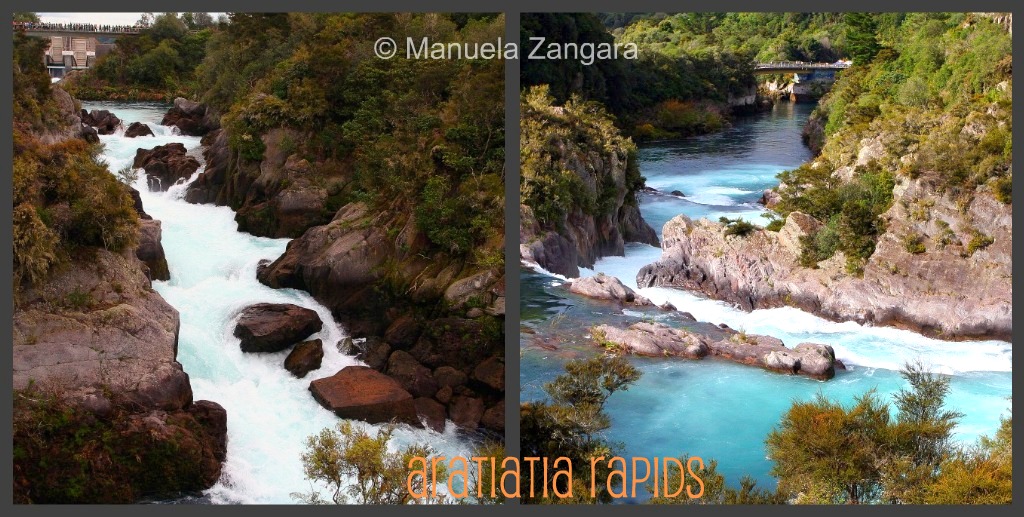 We also had a little stroll along the lake where 2 nice Easter Bunnies gave the girls a chocolate fish each, courtesy of Taupo's Council!  🙂
That night we had the only disappointing food related experience of our entire stay.  We ate at an Indian restaurant in Taupo called Indian Affair.  We ordered:
Lamb Kebab and Seekh Kebab
and
Lamb Korma and Butter chicken with pulao
and
a naan and mango lassi for the girls
We got our lassi and entrees, but it took them more than 1 hour to get our mains out AND the naan for the little ones who by then were exhausted, hungry and crying.  To make matters worse patrons who had arrived after us received their entire meal before us while we were left watching.  Needless to say we were not happy at all as we had to quickly eat our mains and rush out to put the girls to bed!  Very bad service… especially considering that we had 2 very small children with us.
The next day we had planned to go to the Tongariro National Park, to see where parts of the movie "Lord of the Rings" had been filmed.  We drove all the way there, but the weather was so bad that we literally could not see anything… just rain and fog all around us!  Sigh… But we saved our day with the best dinner of the holiday.  We dined at Bistro Lago where the menu has been created by executive chef Simon Gault.  We had:
Ciabatta w truffle & mushroom mascarpone, extra virgin olive oil & Pukara caramelised balsamic
and
Cream of carrot soup w curry & coconut for Clint and Twice baked blue cheese soufflé served with a salad of pear poached in Dilmah earl grey tea, young watercress & candied walnuts for me
and
Eye fillet w grilled zucchini, butternut squash fondant & prosciutto roasted green beans
and
Smoked paprika buttermilk battered onion rings
and
Caramelized mango & white chocolate samosa, Kensington mango ice-cream for Clint and Chocolate fondant w a cardamom & orange fudge centre served w a chocolate sorbet for me
Doesn't that sound AMAZING??? I can assure you all that it was as good as it sounds!
The last day, we just drove back to Auckland in the rain and had dinner at the hotel.  We had some nice lamb and a remarkable kumara and feta cheese pie.
We really enjoyed our time in New Zealand and we will definitely be back to see the rest of the country… hopefully next time we will have better luck with the weather! 🙂

Related Posts: