Organising a little girl's birthday party can be lots of fun… but it also requires a bit of research.  Especially when the little one has a clear idea of what she wants (and she's only 5!).  The theme HAD to be The Little Mermaid.  So I started looking around the web for ideas (thank you Pinterest!) and when I saw these, I could not resist.  I must admit I am not a big fan of marshmallows (they are too sweet for my taste), but everyone else loves them and they looked cute and easy to make.  So I was sold.  I wanted to make them like in the original recipe, but I could not find the tiny fish anywhere, so I made my own decorations with coloured fondant… by hand.  I made different sea creatures and used a few different colours and I was quite happy with the result.  They look just as good as cake pops, but took me half the time to make!  A winner!  Enjoy!
Recipe inspired by Decorating the Ville
Ingredients:
Large Marshmallows
Candy melts – blue
Coloured Fondant
Sugar pearls – white
Rainbow mini chocolate chips
Lolly pop sticks
Melt the candy coating following the instructions on the package (I microwave them as I find it easier).  Also make sure you use a deep enough plastic container to melt the candy so you can dip the marshmallow pops in it.
When the coating is ready, take a lolly pop stick and dip it in the candy melt (2.5 cm – 1 inch).  Insert it in the marshmallow no more than halfway through and keep it aside.  Do that for all the marshmallows.
When dry, dip the marshmallows into the candy melt.  Make sure they are fully submerged and that the candy just coats the stick.  Then pull them out in one movement and remove the excess coating by tapping your left hand on your right wrist and turning the pop at the same time so that the coating gets evenly distributed.
Then put it on some baking paper to dry (or on a piece of Styrofoam, if you are making them up-right).
When they are dry, you can decorate them.  I used coloured fondant and I made the little figurines by hand: fish, jellyfish, starfish, corals, shells… whatever you like.  Attach the fondant decorations to the pops with a little water.  I also used some rainbow mini chocolate chips to make eyes and some sugar pearls for the bubbles (you can attach them with a little candy melt).
Let them dry and serve!  Or store them in a Ziploc bag… the candy melts will prevent the marshmallows from going stale.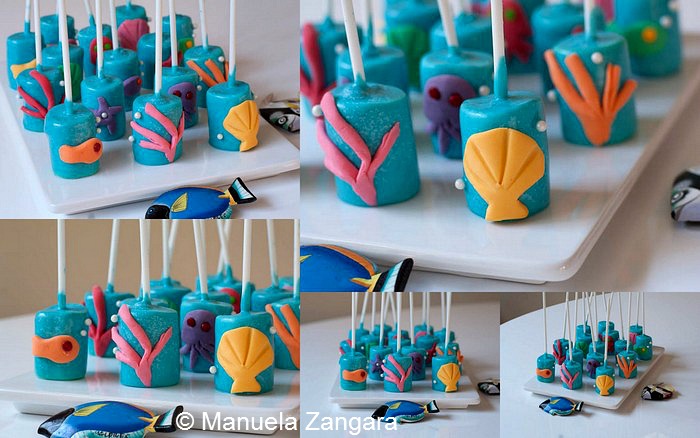 Related Posts: