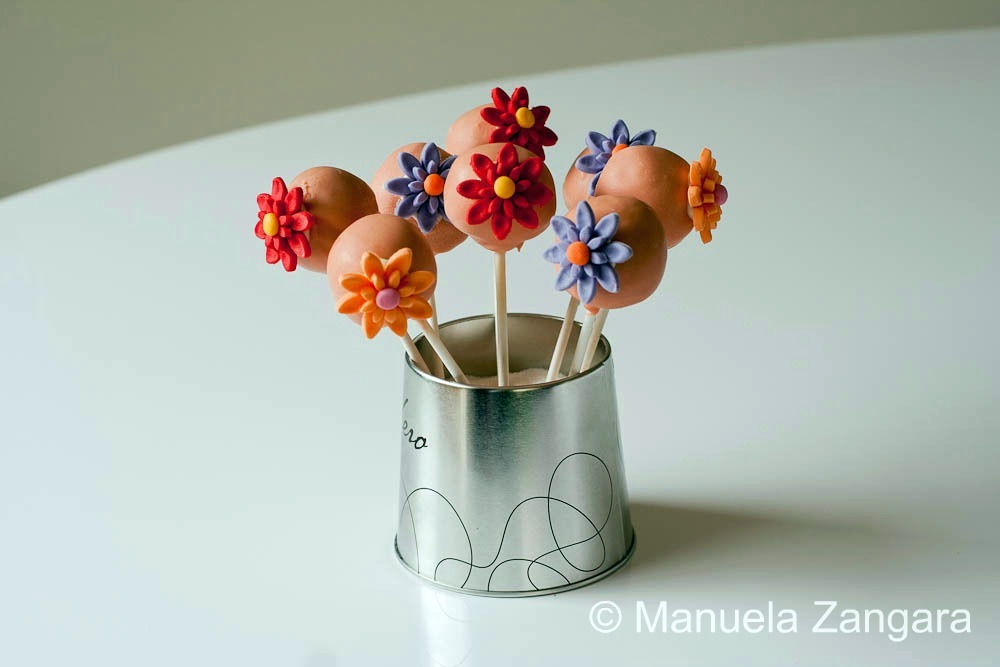 While shopping for cake pops, I had a few problems finding candy melts.  The thing is I had already bought all the cake decorating stuff the previous week and decided on the cake pops only after that.  The cake decorating shop is quite far from where we live, so I set on a mission to find them closer to home.  I did manage to find them, but the first shop l went to only had pink.  I was actually looking for white, but had to settle for pink… In the end I also found white in another shop and bought 1 packet of it.  After checking out Bakerella's recipe though I realised I would have needed more… so I went back to second shop to get more white, but it was sold out!!!  I have been told that some colours get held at customs for some reason… so the shops are running out of them!  Great!  Anyhow, I decided to give it a shot with what I had and chose to make these flowery cake pops with the pink candy melts.  I actually enjoyed working with white much more.  It was so much easier.  I don't know if it was because of the colour or the brand (the pink brand was Wilton's and the white was CK's), or maybe the pink hadn't been stored well… but the pink melts were much thicker and difficult to work with.  I did thin them out a bit using vegetable oil as suggested in Bakerella's book, but it was still quite hard.  The white melts were so much easier!!!  Anyhow, here is how I made these flowery cake pops!
25 cake pops coated with Coloured Candy Melts (I used pink)
Coloured Fondant (I used yellow, orange, red, pink and purple)
Cookie cutters to make the flowers
Start by making the flowers the day before you want to decorate the cake pops.
Take some coloured fondant, roll it with a rolling pin and cut the flowers using cookie cutters.
I made a "double" flower but attaching a smaller flower on the top of the bigger flower.  You can also make the petals look more real, by pressing them with modelling tools (the rounded tipped ones).  Let them dry well.
To make the center of the flowers, simply roll a little piece of fondant between you fingers and attach it to the flower with a little drop of water.
The following day, make the cake pops as described in the Cake Pops recipe.
When the cake pops are dry, simply attach the fondant flowers to them using a little candy melt as "glue".
Serve them in a jar filled with salt or sugar to make a "flower bouquet".

Related Posts: