Sarah from Simply Cooked was our November Daring Cooks' hostess and she challenged us to create something truly unique in both taste and technique! We learned how to cook using tea with recipes from Tea Cookbook by Tonia George and The New Tea Book by Sara Perry.
I have always been more of a coffee drinker, like the majority of Italians (and when I say coffee, I mean espresso!), but I have started to appreciate tea more and more since meeting my husband.  So I now often have a nice hot "cuppa" in the afternoon.  That said, I had never even thought of cooking something savoury with it!  So, when I saw this month's challenge I was very fascinated with the idea.  I immediately decided on this stew because I knew my family would like it… who doesn't like a warm and comforting beef stew?  And this had all the right flavours that made it sound like a great dish: spices (cinnamon), tanginess (orange peel, ginger and vinegar), sweetness (sweet potatoes and honey) and then Rooibos Tea.  Rooibos tea is an herbal infusion from South Africa.  It is honey-flavored and light colored.  The great thing about it is that it is also caffeine-free and it tastes delicious, which makes it great for the whole family.  You can drink it like normal tea (either with milk or with a hint of lemon), but after using it for this dish I think it goes great with orange, cinnamon and honey and it would be great as a cold and refreshing beverage for the summer!  Enjoy!
Recipe Source: Tea Cookbook by Tonia George and The New Tea Book by Sara Perry and the Daring Cooks.
Ingredients (Servings: 4-6)
1¼ pounds (600 gm) brisket or stewing beef (I used chuck steak), trimmed and cut into 2-inch (5 cm) chunks
2 tablespoons (30 ml) (18 gm) (⅔ oz) flour
1 tablespoon (15 m) oil (I used extra virgin olive oil)
2 onions, sliced
2 celery stalks, sliced
3 garlic cloves, crushed
1 tablespoon (15 ml) (8 gm) tomato concentrate
5 Rooibos tea* bags (or 2 tablespoons loose tea leaves)
1 quart (1 litre) just-boiled water
5 tablespoons (75 ml) red wine vinegar
4 strips unwaxed orange peel, pith removed (the peel of about half an orange)
2 cinnamon sticks
2 inches (5 cm) fresh ginger, peeled and sliced (I used ¾ tbsp ginger paste)
4 small sweet potatoes, peeled and thinly sliced (I used ¾ of a very big sweet potato)
¾ cup (175 ml) mild honey (optional) (I used ¼ cup)
Cilantro (coriander) leaves, to garnish
Salt and pepper, to taste
* Rooibos tea can be substituted in this recipe by black tea, or try another dark herbal tea such as one containing licorice.
Season the beef with pepper and coat in the flour.  Heat the oil in a large stock pot and then brown the beef on all sides.
Add the onions and celery.  Put on a tight fitting lid and let them soften for ten minutes.
Add the garlic and tomato concentrate and cook for one minute.
Meanwhile, place the tea bags in a heatproof pitcher and pour the hot boiled water over them.  Allow to steep for four minutes.
Then remove the tea bags (or strain out the tea leaves) and pour the tea into the stock pot.  Add the red wine vinegar, orange peel, cinnamon sticks, and ginger.
Lower the heat and cover.  Let the stew simmer for 1.5 to 2 hours or until the beef is tender.
Add the sweet potatoes, honey (if using), and season with salt and pepper. Cook for a further 30 minutes, or until the sweet potatoes are soft.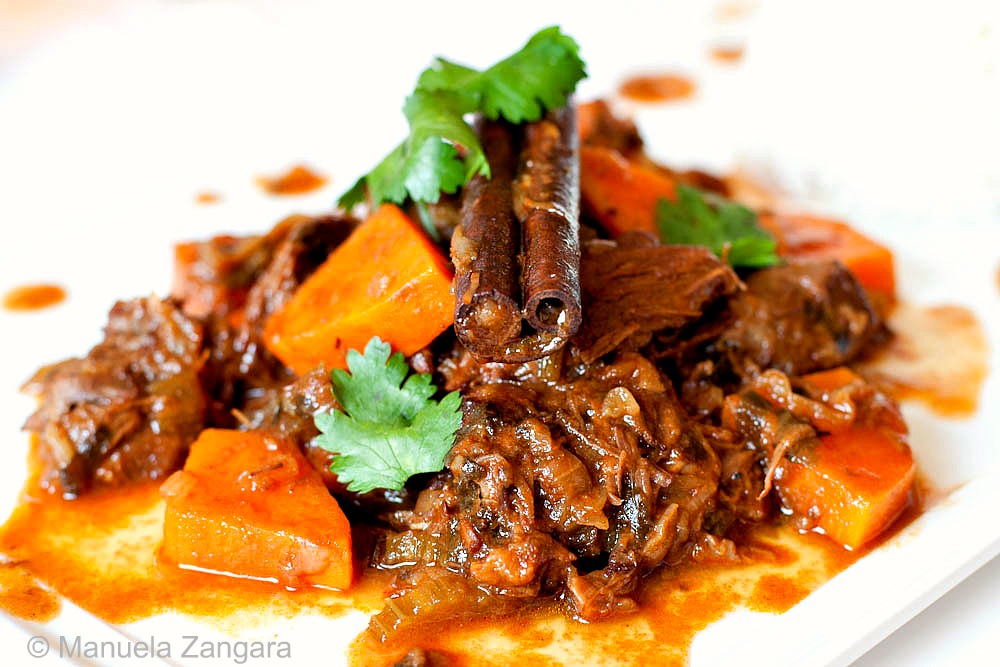 Serve with some steamed rice and garnish with chopped cilantro.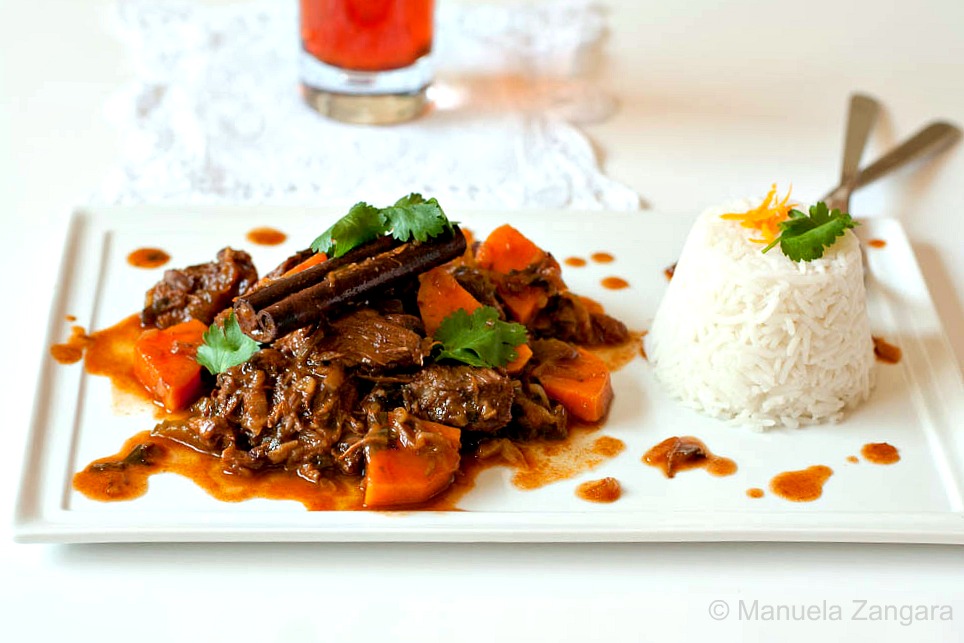 To see all my fellow Daring Cooks posts… click here!

Related Posts: