After a few weeks' break, I am back with my guides about Italy. Today I will take you all back to Sicily, to explore another area with my San Vito Lo Capo Guide.  San Vito Lo Capo – San Vito for short – is a beautiful little seaside village near Trapani.  It is a place I know very well, as I used to live there for 2 months every summer.  My grandparents had a summer house there, so we would visit them and spend the summer all together.
My family has strong ties with this place. My father, in fact, started his 40 year long career as a teacher in this village in the 60's. This means that he knows almost everyone and that almost everyone has been his pupil!  It's hard to go around with him without being stopped by people who want to say hi.
San Vito has changed a lot since the 1960's. It used to be a small fishermen's village where everyone knew everyone else. It is still like that during low season… quiet and peaceful. But during the summer it is a different matter. San Vito is very famous for its beautiful beach and turquoise sea and it has now become popular with people from all over Italy. If you want to enjoy it at its best, June and September are the best months to visit, as July and August are peak season and almost all Italians are on holiday!
During our latest trip, we stayed in San Vito for 8 days and visited nearby Trapani, Erice and Segesta and even Palermo from there. San Vito is in fact between Trapani and Palermo, which makes it a great base for day trips.
Being a small village, there are no monuments worth mentioning, besides the Church, which used to be a fortress.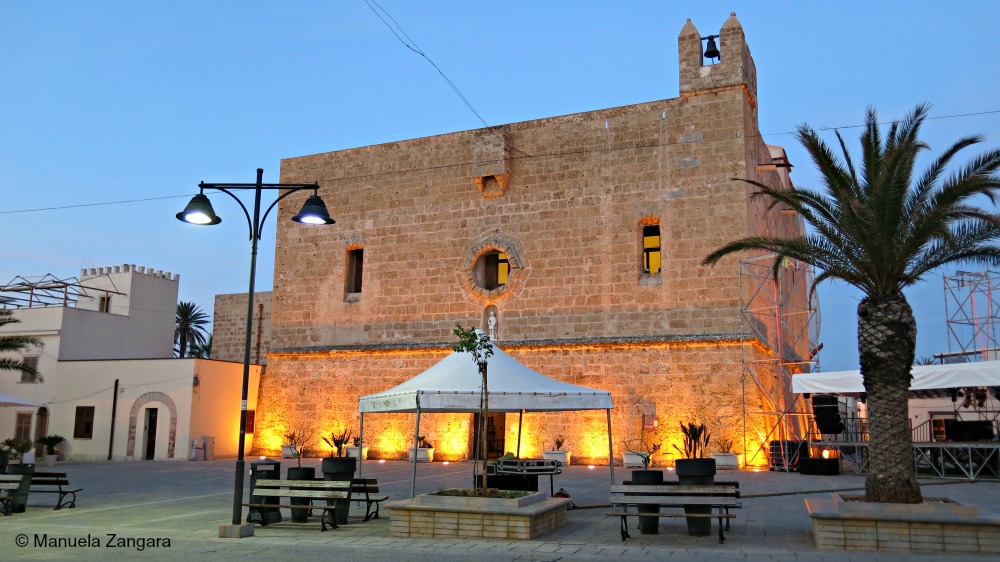 But the beauty of the place lies in the nature all around. It all starts even before you enter the village itself. The bay right before San Vito, where the villages of Castelluzzo and Macari are situated, is a sight not to be missed and the place from where you can see the best sunsets ever.
In fact, Macari is also the place where one of my favourite restaurants is. It is called Azzurra and from its terrace you can see the sun go down in the sea. I will write a separate review of Azzurra in the next few days, so stay tuned.
At the bottom of the bay, there is a beautiful area for swimming. There are small rocks instead of sand on the beach, but the water is crystal clear and it is one of my favourite spots.
After the beautiful bay, you will drive through a boulevard… look to your right. There is a mountain called Pizzo Monaco (Mount Monk). If you look well, you will be able to see 2 rocks that look like a monk and a nun. They get closer and closer while you drive towards town… until they… kiss.  Cheeky eh?
The village itself is made up of small roads with one or two storey houses, many of which are white… and lots of flowers. It sounds idyllic and it is.
The beach is, as I said, the main attraction. Many hotels and restaurants are situated walking distance from it. The sand is white and the sea is turquoise. The water is clean and warm… oh how I miss the warmth of that sea!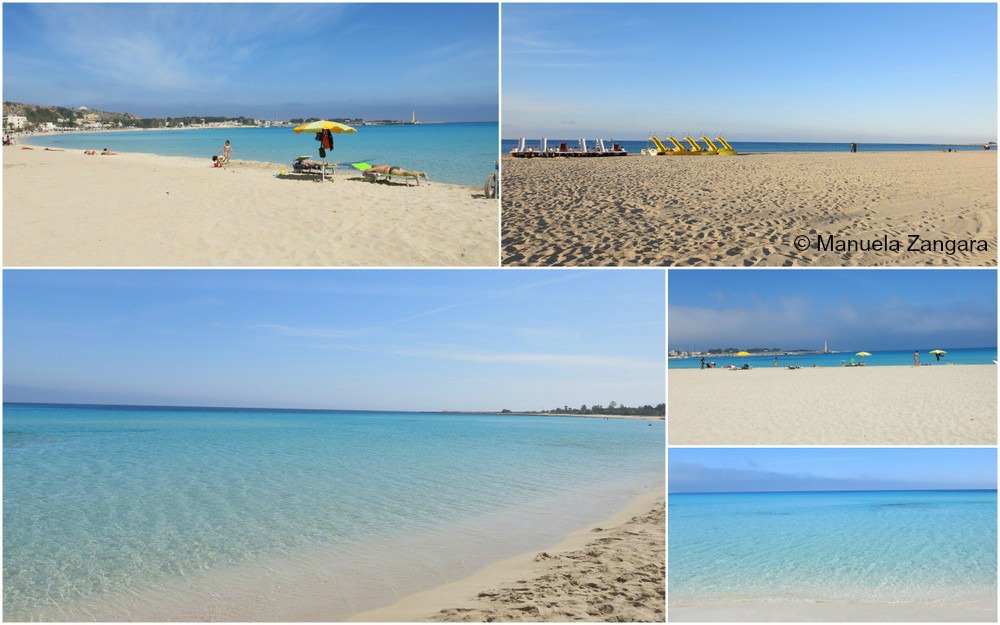 We went in May, so we almost had the beach to ourselves… but in summer, be prepared to go early. You can usually rent an umbrella with chairs or bring your own (or use the ones provided by your hotel).
I often say that the sea here is easily comparable to the best places in the world… Fiji, Cuba, Belize, Mexico, New Caledonia? They are not that different. The only 2 places I know that have better waters are the Maldives and French Polynesia/Tahiti.
Something I'd recommend is to rent a bike and go towards the beautiful lighthouse.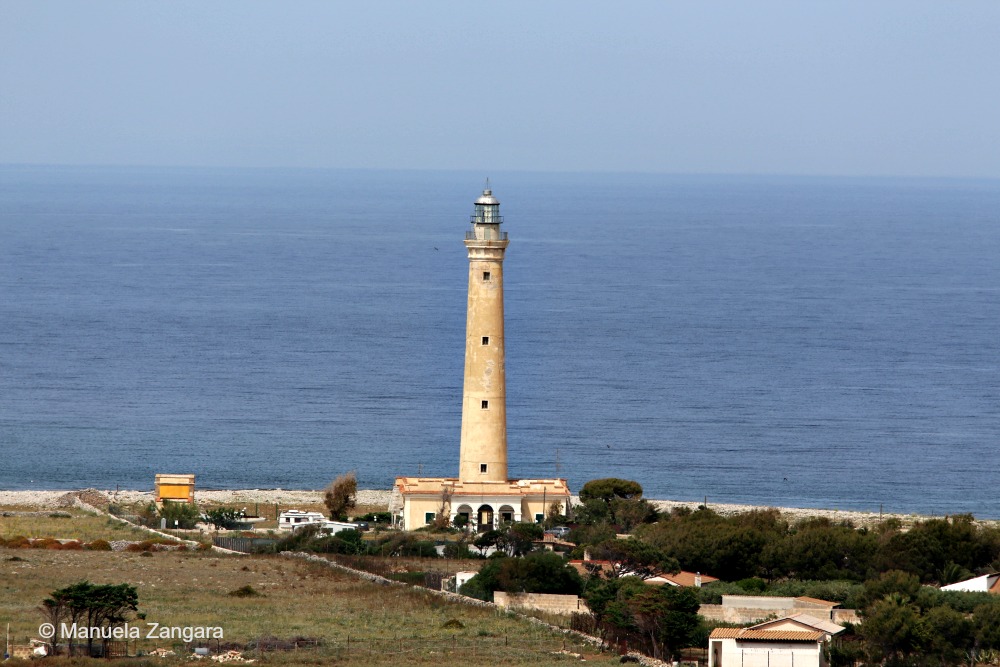 After the town centre, you will pass from the little harbour filled with colourful boats used by local fishermen. It is not unusual to witness some of them at work while repairing their nets.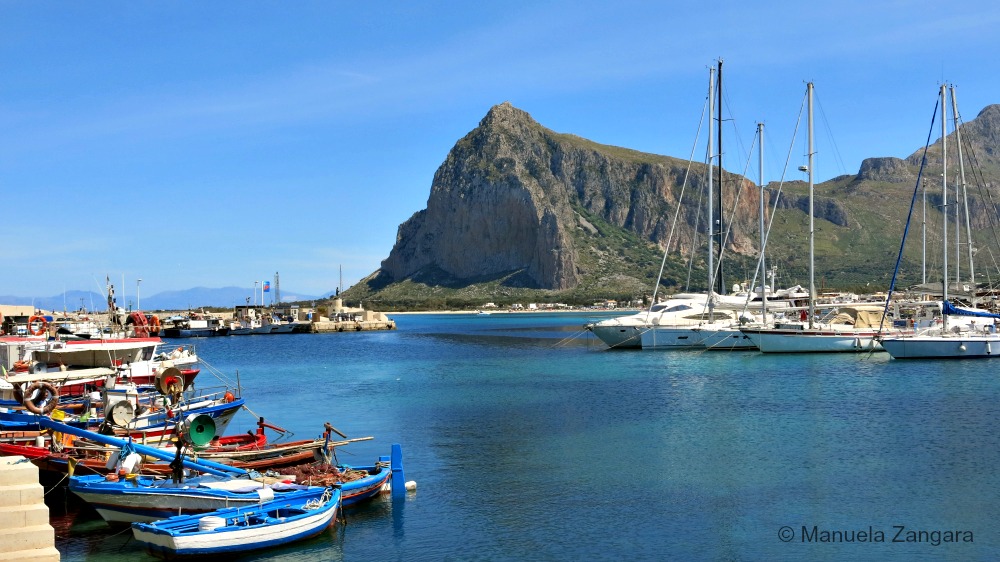 Right after the harbour you will see another stretch of beautiful sea. There is no sand here, so bring your reef shoes and dive in. Don't forget your mask, there is no reef, so do not expect to see corals, but sea urchins, small fish and even octopus live in the area.
This area is known as "Billeci" from the fishmonger shop across the road. Stop by to see the local produce. I wish I could find the same beautiful fish here… look at those colours, perfect to make soup and fish couscous.
The area after the lighthouse is good for swimming too, if you like the rocks. It's called Cala Mancina and it's a much quieter area than the beach.
Another great local "excursion" is to drive to the top of the little plateau that overlooks the village. The view is literally breathtaking!
You can see the whole village, the beach and the lighthouse too. It is one of my favourite spots!
We went in spring… I love it at this time of the year. The vegetation is beautiful… look at these prickly pears and fresh almonds! We even found some loquats!
One of the most famous attractions of the area is the Riserva Naturale dello Zingaro, a natural park with plenty of small coves and amazing crystal clear water.
Go early, wear very comfortable shoes and bring lots of water so you can explore the area. Also, the coves are covered in small stones, so I suggest you also bring reef shoes. A mask is a must here.
In summer there are also boat excursions between San Vito and Lo Zingaro.
FOOD
San Vito is not as famous as Palermo for its food, but it does have some good places where to eat.  Keep in mind that the cuisine is the same as the one from Trapani.
The main culinary attraction of the area is Fish Couscous, where coarse-grained couscous steamed with spices and onions is served with an intensely flavoured fish broth. This is a dish with clear North African origins, but it is also a dish that you cannot eat anywhere else in the world.  It is to die for! I have my grandmother's recipe on the blog, so check it out!

This dish is so famous that every year in September, the Couscous Fest is held in town. You can find all kinds of couscous and chefs that come from all over the Mediterranean area to share new and traditional recipes. If you are in the area around that time, it is definitely worth experiencing.
Fresh fish is obviously the star here, especially if you buy it directly from the fishermen! Mr. Vito Parrinello even comes to your door with the catch of the day!
I love vongole!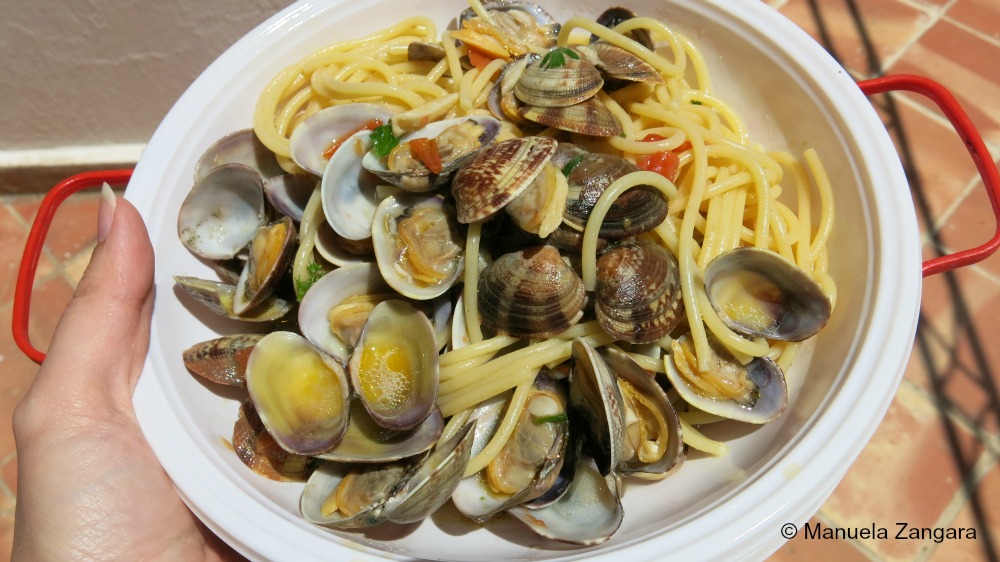 Another delicious speciality of the area are Busiati (or Busiate) – click here for my tutorial. We buy them from an amazing woman who makes them so well… and so fast!!
Look at this! And she can make all sorts of shapes, even smaller pasta – perfect to have with soup!
Busiati are best eaten with Pesto alla Trapanese: a mix of chopped almonds, garlic, basil and fresh cherry tomatoes, pounded together in a mortar and pestle and eaten with a fistful of grated Pecorino and fried eggplant.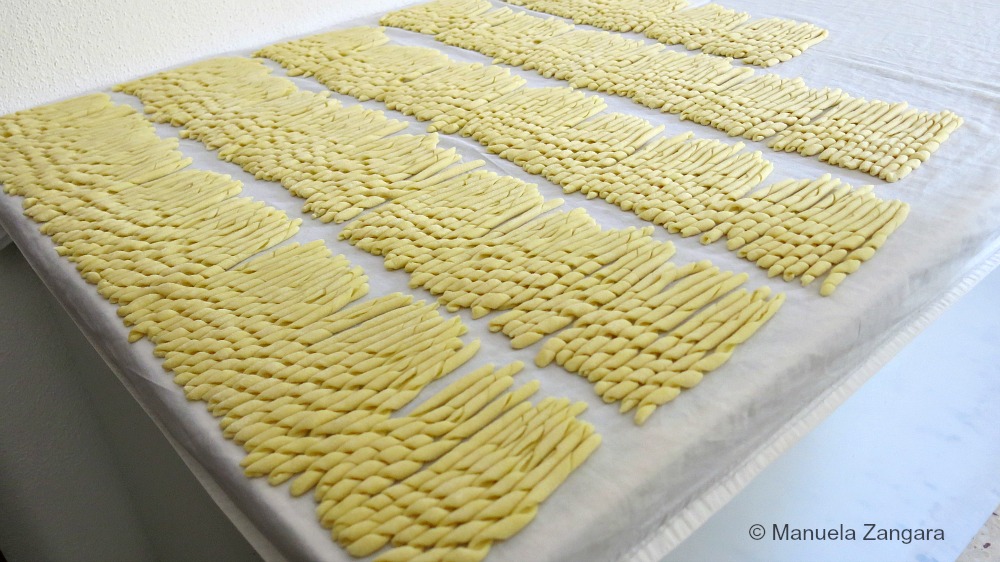 Bread is another local delicacy. I love it warm with some local extra virgin olive oil, or "Cunzato" – dressed with extra virgin olive oil, oregano, tomatoes, anchovies, salt and local cheese.
For the best bread and cookies in town, head over to Panificio La Sala (bakery). I will write a separate post to review this place, as it is absolutely drool worthy and the owners are fantastic people!
Ice cream is amazing. I love coffee or hazelnut the most, but you will be spoilt for choice. Try and have it in a brioche instead of a cone… it is something that can be found only in Sicily!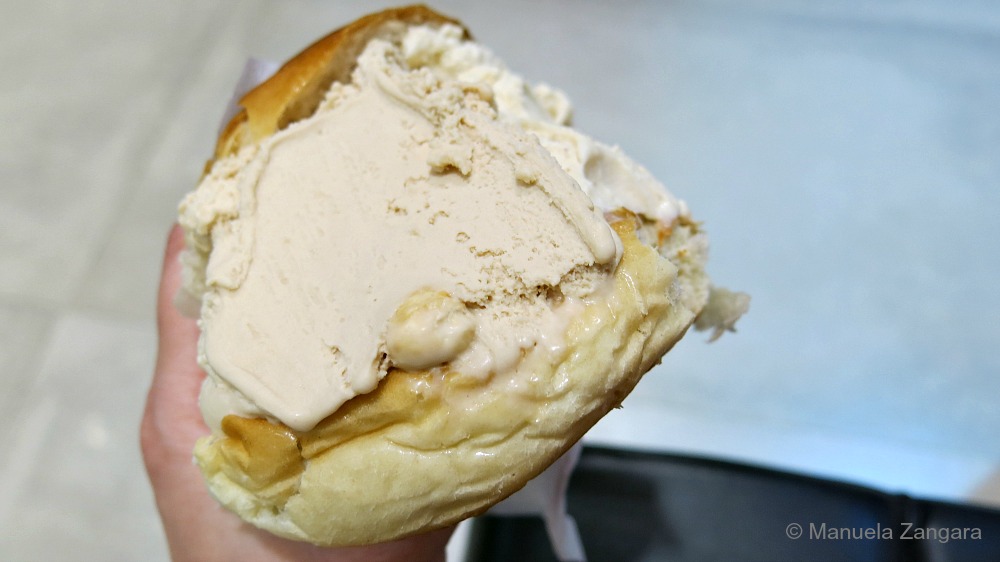 Sweets are very good too. For amazing cannoli and other Sicilian specialities, go to Pasticceria Peralta.
Look at those Pesche and Graffe!!!
Expect a detailed review of this place too with pictures of their cannoli making procedure!
If, like me, you like sausage, you MUST try Baldassare's sausage with fennel. The shop is on the main street, towards the beach. Ask around… everyone knows it.
San Vito is an absolute gem and a place that should be added to your next Sicilian adventure!
RESOURCES ON MSM
SOME RECIPES FROM THE REGION OF SICILY:
STREET FOOD
Arancine
Panelle
Cazzilli/Crocche' di patate
Rascature
Ravazzate
Spiedini
Crostini
Sfincione
Ham and Cheese Sicilian Brioches
PASTA
Spaghetti with home-made Tomato Sauce
Pasta con i Broccoli Arriminati
Baked Anelletti
Sedanini with Swordfish and Eggplant
Busiati with Pesto Trapanese and Fried Eggplant
Pasta con le Sarde alla Palermitana
Busiati with Herbs, Pistachios and Zucchini
OTHER MAINS
Beef Agglassato
Sarde a Beccafico
Gatto' di Patate
Baked Swordfish Involtini
Eggplant Involtini
Fish Couscous
Pork Involtini alla Palermitana
Home-made Sicilian Pork Sausage with Fennel
Falsomagro
APPETISERS, SIDES & DRINKS
Sicilian Almond Milk
Bruschetta with Matarocco
Olive Schiacciate
Caponata
Cabbuci
Sweet and Sour Pumpkin
Eggplant Patties
DESSERTS
Cannoli
Cassata Siciliana
Buccellato
Martorana
Cassatelle Trapanesi
Biancomangiare with Citrus Salad
Cubbaita
Pesche Dolci alla Siciliana
Almond Cookies
Fig Cookies
Coffee Granita
Almond Parfait
Gelo di Melone
Genovesi
Ricotta filled Graffe
Browse through all my Sicilian recipes here.
TRAVEL IN ITALY:
Venice Guide – Italy
Milan Guide – Italy
Rome Guide – Italy
Palermo Guide – Italy
Trapani, Erice and Segesta Guide – Italy
RESTAURANT REVIEWS – ITALY:
Nonna Betta – Rome
Da Enzo al 29 – Rome
Da Bucatino – Rome
HOW TO GET AROUND IN SAN VITO LO CAPO
The best way to get around in San Vito is on foot or by bike!
A car is necessary if you want to visit the surrounding areas like Lo Zingaro, Erice and Trapani.
HOW TO GET THERE
By Plane
The little Airport of Trapani Birgi "Vincenzo Florio" is about halfway between Trapani (18km) and Marsala (16km).
It is served almost exclusively by low-cost Ryanair flights, mostly from other cities in Italy and a few other European cities like London-Luton, Paris-Beauvais, Stockholm, Barcelona-Girona, Malta, Monaco, Frankfurt, Brussels.
Or you can land at Palermo's Falcone-Borsellino Airport in Punta Raisi.
To get to San Vito it is best to rent a car or get a transfer from your hotel.
MAP

Related Posts: