This is a post that I would have never wanted to write. It's tough to put down into words what's been going on in my heart and mind in the last couple of days, since I got "the" news. Our dear Lis (Lisa Cifelli from La mia Cucina) passed away, suddenly, leaving us all shattered. In fact, I am still in shock. For my readers who did not know her, she was the co-founder of the Daring Kitchen, a wonderful group of people who every month challenge each other to bake or cook the most amazing recipes. I have been a part of the Daring Kitchen family for over 2 years, but the core group has been together for even longer. As you know, I am not part of many cooking groups, as I unfortunately don't always have the time to cook on deadlines. But the Daring Kitchen was an exception I treasured. I have always liked the concept of conquering "challenging" recipes and I have found great help in the website's forums, besides making some good friends along the way. It's never been a competition, it's more like a family in which all the members encourage and help one another to achieve the best results. And I feel I have indeed achieved some impressive results thanks to Lis and the Daring Kitchen.
I have never met Lis in person, but I got to know her more via email when she asked me, only a couple of months after joining the group, if I wanted to host one of the challenges. What?? Of course I did! I was so honoured. I remember spending days thinking of what to challenge my fellow Daring Cooks in, before choosing Cannelloni.
Lis was always so helpful, kind and cheerful. I remember smiling a lot when reading her emails. She always had encouraging words for everyone in the forums and she was such a great person. I can hardly imagine the Daring Kitchen without her.
Kelly from Sass and Veracity has called out to all the past and current Daring Bakers and Cooks to remember Lis today. I wanted to bake something in her honour, but I did not get enough time to do it. So I thought it would be nice to share with you what I consider my biggest "conquers", achieved thanks to the Daring Kitchen and Lis.
I still remember the very first challenge I participated in, it was about Potato Salads and I made my Insalata Russa served in ham cannoli.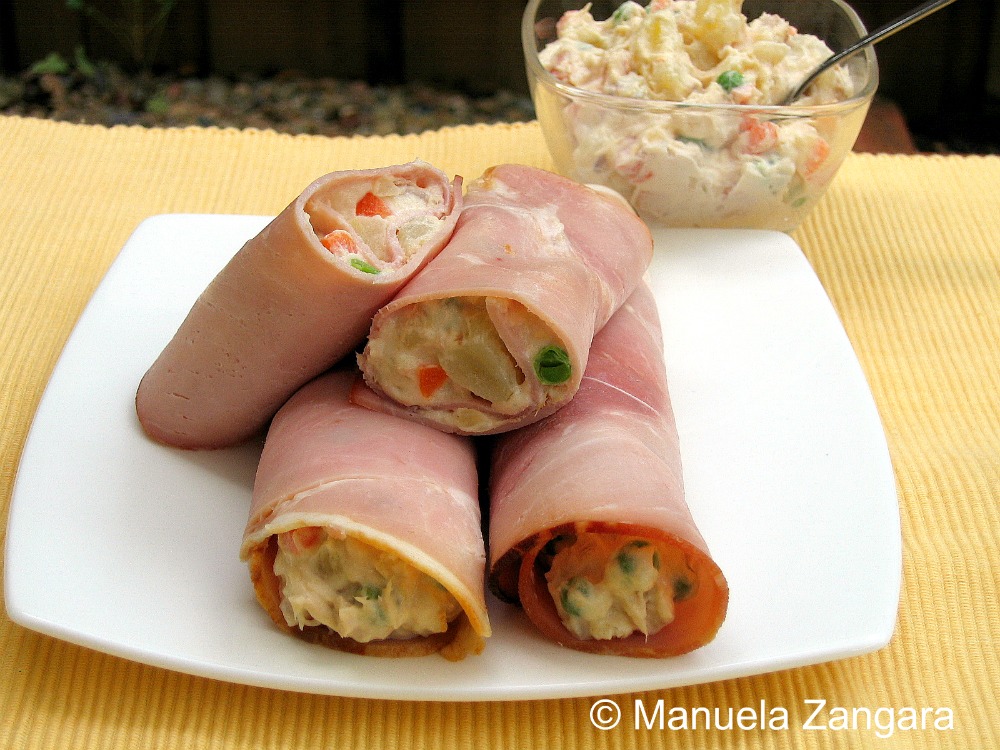 I remember making Consommé for the very first time and turning it into a more "Italian dish": Chicken and Saffron Consommé with Tortellini.
Then came the more inventive challenges when we had to come up with a recipe of our own and I made Eggplant & Tri-colour Goat Cheese Mille-feuille on Couscous
and Balsamic, Maple and Miso Glazed Pork Spare Ribs.
Making Paella was another great challenge!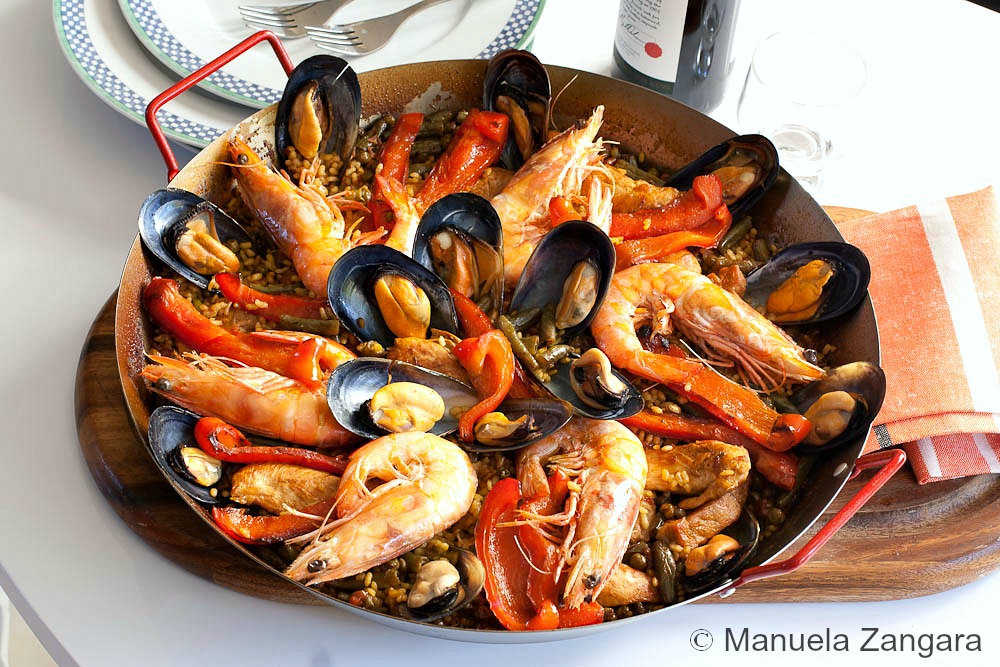 I learnt amazing techniques like de-boning a chicken to make a Ballotine!
Or brining chicken!
Or making salumi
and cheese!!!
Till my latest achievement, the one I am the most proud of to date: making French Croissants!
I am not sure I would have tackled all these techniques if it weren't for Lis and the Daring Kitchen members. They helped me gain the confidence I needed to try. They taught me that no matter how well or bad your recipe turns out, it's the experience you gain while trying that counts. You will do better the next time, as you "have been there" already and you will succeed in the end. The Croissants challenge was a great example of this. My first batch failed. Miserably. I was so disappointed that I said to myself: there's no way I am making these again. Yet a couple of days later, l went back to the grocery store, refilled on butter and started all over again. I wasn't going to give in so quickly. I did not want to disappoint my fellow Daring Cooks. And when the second batch was successful, I was so proud of myself that I immediately shared the results on the forum!!! It is like a big family where I go to rejoice for my fellow bloggers successes and help out whenever I can. And I cannot believe Lis won't be there any more. It makes me so sad.
My thoughts and prayers are with her family and friends. I wish there was something else I could say and do to help relieve the pain, but l know that's not possible. I want you all to know that Lis was an inspiration to all of us in the community she co-founded and she will never be forgotten.
#tributetolis #daringbakers

Related Posts: