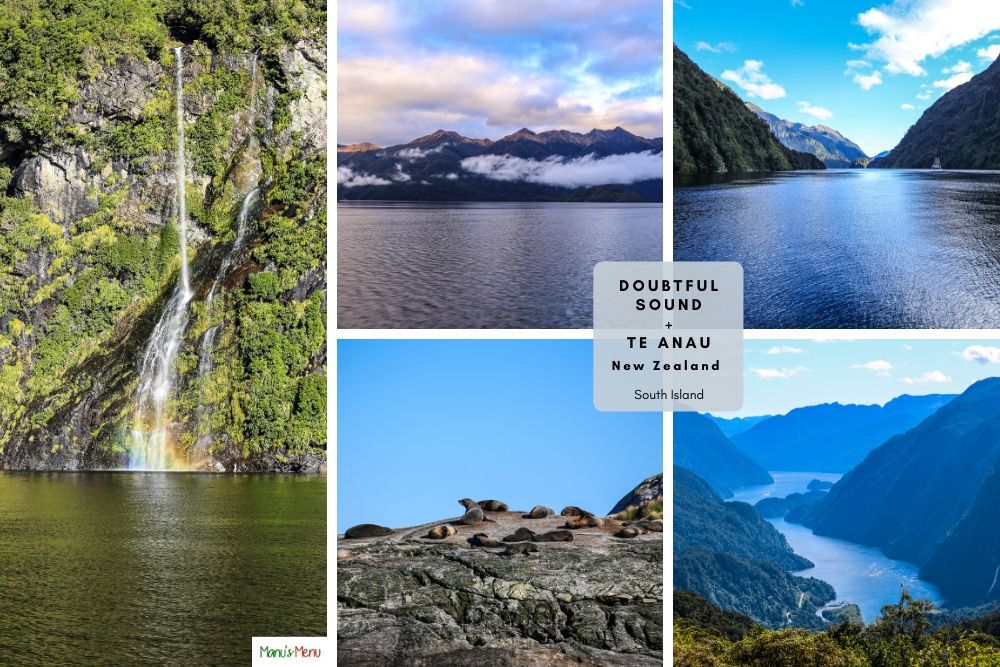 My family and I have recently been on a 9-day road trip to New Zealand's South Island. Such an amazing place! Today I will share with you my Doubtful Sound and Te Anau – New Zealand Guide in the hope that you can find it useful to organise your own holiday.

Te Anau is a little town often used as the base to visit the nearby Fiordland National Park which is one of the most stunning places in the whole world!
SIGHTSEEING
We decided to stay in Te Anau for 2 nights to be able to do 2 excursions in the Fiordland National Park: Doubtful Sound and Milford Sound (make sure to check out my next guide for information on this excursion!).
At first, we were undecided on whether to visit the Doubtful Sound or not, however, in the end, we were really happy we did. In fact, we liked it even more than Milford Sound. So, I highly recommend it.
We booked our excursion with Real Journeys. It is a full-day excursion and we departed from Manapouri. The previous night we had slept in Gore, which meant a very early morning start to be able to arrive at Manapouri by 7:30 AM.
The excursion is divided into 3 parts. It starts with a boat trip on Lake Manapouri to get deep in the heart of the Fiordland National Park.
Once you arrive, you board a bus to get to Doubtful Sound. You pass over the epic Wilmot Pass through Fiordland's rainforest and into the Sound.
Then you board another boat for a 2-hour 45-minute cruise of Doubtful Sound, exploring beautiful waterways on your way to meet the Tasman Sea.
The scenery is absolutely breathtaking.
We also got to see fur seals, but if you are lucky you could also get to see dolphins and penguins.
My favourite moment was when, in front of a beautiful waterfall, the boat's engines were turned off and we could enjoy the stunning panorama in complete silence. You could only hear the water and birds. So peaceful!
If you are wondering whether or not it is worth visiting Doubtful Sound if you are already visiting Milford Sound, my answer is YES. Doubtful Sound is different. It is much more remote and less touristy. Scenery-wise, I liked it more than Milford Sound. It reminded me of the Norwegian fiords. It is however much rougher than the excursion on Milford Sound because you get to navigate until the Tasman Sea, which is choppy. Keep that in mind if, like me, you are usually seasick. Still, I highly recommend this excursion!
FOOD
We stayed in Te Anau for 2 nights, so we had 2 dinners.
The first night, we had dinner at The Ranch Bar and Grill.
The food was nice but nothing fancy.
The kids had the fried chicken tenders with fries.
And the mini hotdogs with fries.
And a sundae.
My husband had a venison steak with port jus and wild berries, mushrooms and vegetables.
And I had a plain ribeye steak and salad.
The food was tasty, however, the service was really slow – so much so that we didn't have dessert.
The second night, we had dinner at The Fat Duck. The food was much better here.
The kids had their kids' cheeseburger with fries and ice cream.
My husband had a venison medallion with kumara mash, beetroot relish, and parsnip crisps served with a sweet and sour jus. He absolutely loved this!
And I had a plain ribeye steak and fries which was cooked to perfection.
For dessert, we had a classic vanilla Crème Brûlée with mango ice cream.
The food was great and so was the ambiance. I highly recommend The Fat Duck!
ACCOMMODATION
We stayed at Distinction Luxmore Hotel Te Anau.
We stayed in a Deluxe Room with 2 Queen Beds, which was perfect for the 4 of us.
The room was spotless and well-appointed and the hotel is in a very good position, near the lake and close to cafes and restaurants. There is also free parking.
I can definitely recommend the Distinction Luxmore Hotel for your stay in Te Anau!
CONCLUSION
We quite liked Te Anau. It is a small town with a beautiful lake and lots of nice restaurants and cafes. It is a great place to stay and use it as the base to explore the surrounding area. Many people prefer to visit the Fiordland National Park from Queenstown, however, I would suggest you stay in Te Anau, which is much closer to the park.
RESOURCES ON MSM
TRAVEL IN NEW ZEALAND:
North Island – New Zealand Guide
South Island – New Zealand Guide
Don't forget to PIN this post!
MAP

Related Posts: