Zucchini flowers are a staple in my kitchen. I love them and buy them whenever I find them! The first time I made them for my husband he thought I was joking… "I'll never eat flowers", he told me straight away. So, I let him be… and started making them. Once ready, I brought them to the table with a glass of white wine and I started eating them… when he heard the "crunch", then he said… "Well, maybe I could just try a little piece". And guess what happened next? You got it right… he finished all of them! Now, he loves them just as much as I do, if not more. There are many ways to cook zucchini flowers, but they are very often eaten fried. This is the way I make them at home… just crumbed, no batter. You can stuff them or eat them plain, the choice is yours. I like them both ways. They are usually eaten as an appetiser, or even better as an "aperitivo" (finger food to have before dinner) together with a glass of cold white wine.
Sharing this recipe with What's Cooking Wednesday by Cristi and Full Plate Thursday by Miz Helen.
Ingredients for 4 persons:
20 zucchini flowers
2 eggs
Salt
Flour
Breadcrumbs
For the stuffing (optional):
7 anchovies (cut in 3 pieces each)
3 bocconcini or 80 gms of mozzarella, cubed small
Vegetable oil to fry
Clean the zucchini flowers by removing the stem and the little parts on the sides (the sepals and not the entire calyx), like in the picture. I do not remove the pistil as I like its crunchiness and I find that it adds a little extra "zucchini" flavour.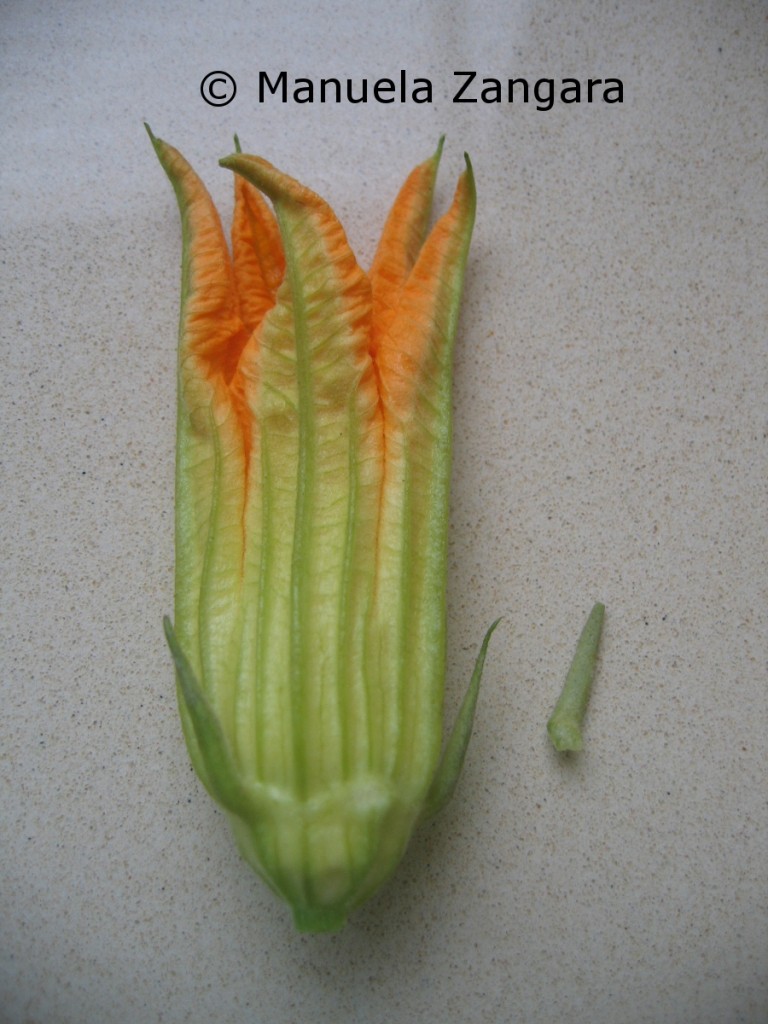 Rinse them very carefully under fresh water. Do it gently: zucchini flowers are very delicate and can tear easily.
If you want to stuff them, gently open the top of the flower and put a piece of anchovy and some cubed mozzarella inside. Close it and keep it aside.
Whisk the eggs in a bowl with ½ teaspoon of salt. Mix the flour and breadcrumbs together in a plate, in a ratio of 1 part of flour to 2 parts of crumbs.
Dip the zucchini flowers in the egg wash and then crumb them well.
Shallow fry them in hot vegetable oil.
Add extra salt to taste. Serve warm with a glass of cold white wine.

Related Posts: