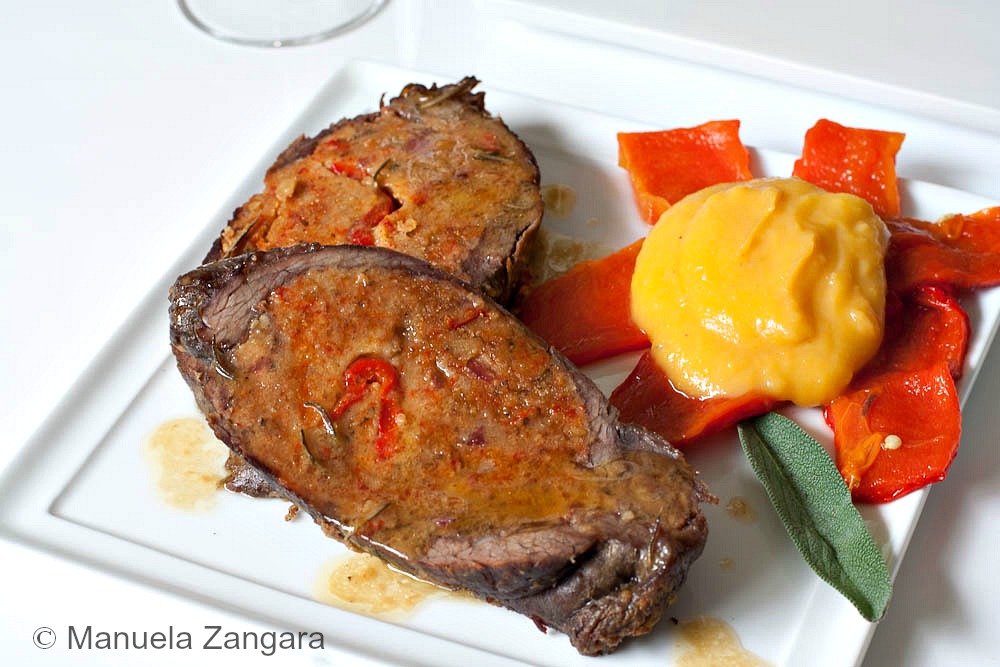 A little while ago I shared with you the recipe of my family equivalent of a Sunday Roast: Falsomagro and I have already talked about how hard it is to reproduce certain dishes when moving from one country to another (or to the other side of the world, like in my case).  You can find all the ingredients for the filling here, but the cuts of meat available in Australia are so different to the Italian ones it is not even funny!  So, after years of hardship, I finally settled for flank steak… it actually works great for stuffed roasts and the final result is actually better than the original: the meat is so soft and tender that you can literally cut it just with a fork!  Today's recipe is similar to Falsomagro and it is another one of the dishes that my mum would make for Sunday lunch.  It is a meat "pocket" filled with breadcrumbs, salami, cheese and lots of delicious roasted capsicums!  I love it!  And I like the way it looks when cut… orangy and with plenty of stuffing!  I served it up with a pumpkin cream, which is a quick twist on normal mash potatoes.  The sweetness of pumpkin goes great with capsicum!  Enjoy!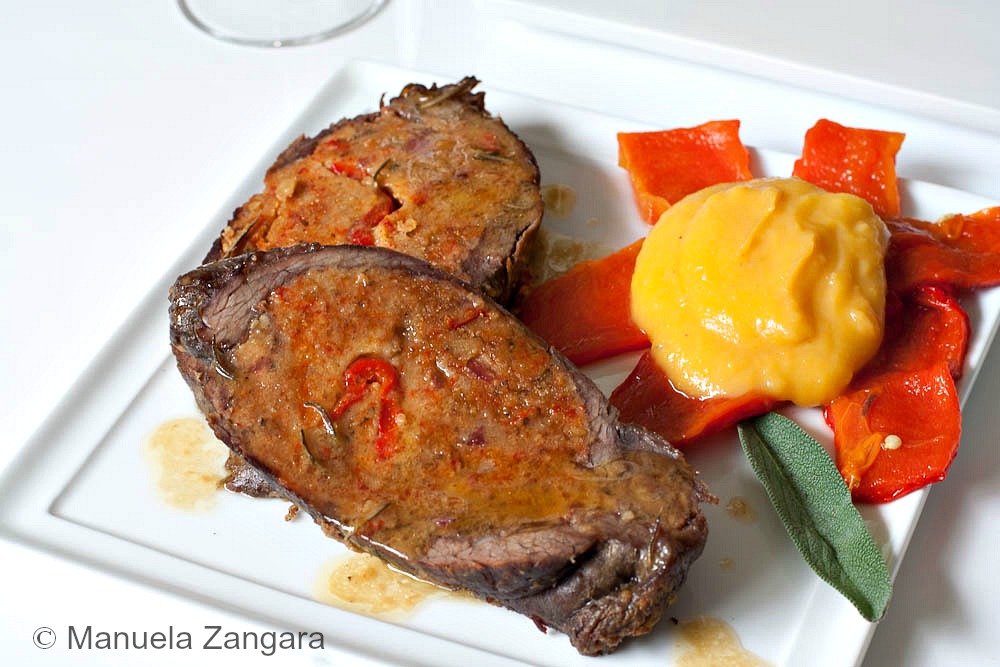 Capsicum Stuffed Flank Steak with Pumpkin Cream
The recipe for a delicious Sunday meal: Capsicum stuffed flank steak served with pumpkin cream.
Total Time
1
hour
30
minutes
Ingredients
Flank steak
600

gms

– 1.3 lbs. flank steak

2

tbsp

exta virgin olive oil

2

tbsp

vegetable oil

I use sunflower oil

1

sprig rosemary

1

bay leaf

2

sage leaves

80

ml

– 2.7 oz. white wine

1

beef stock cube

Water & Salt to taste
Filling
150

gms

– 5.3 oz. capsicum

roasted and peeled

200

gms

– 7 oz. breadcrumbs

30

gms

– 2 tbsp Parmigiano Reggiano

thinly grated

30

gms

– 1 oz. salami

chopped

45

gms

– 1.5 oz. provolone cheese

chopped

1

egg

1

tbsp

parsley

chopped

Salt & Pepper
Pumpkin Cream
500

gms

pumpkin

160

gms

potatoes

1

pinch

nutmeg

1

tbsp

milk

1

tbsp

butter

Salt & Pepper to taste
Instructions
Now you can prepare the flank steak. You need to cut a pocket in the thick end of the flank steak using a sharp knife. Try to go as far in as you can, so you don't end up with an unstuffed end piece. Do this very carefully, trying not to tear the meat (or cut your hands!).

Stuff your flank steak with this filling and close it with toothpicks (or with a butcher needle if you have one).

Now using some butchers' string, tie the flank steak by knotting the string tightly at one end and wrapping it tightly all around the meat. Make a knot at the other end to secure the string.

Put some vegetable oil in a frying pan and let it heat. When hot, put in the stuffed flank steak and fry it on all sides.

In the meantime, prepare a pot with 2 tbsp of extra virgin olive oil, sage, bay leaves and rosemary leaves. Let it heat on a low flame and after 2 minutes add the seared flank steak in. Pour the white wine on it and, after the alcohol has burnt off, add the beef stock cube and some water.

Cover and let it cook on a slow fire for about 1 hour. Add some more water (and salt) if required during cooking. When cooked, let it cool down, remove the string and then cut it in thick slices (around 1.5 cm – 0.6 inches).

Serve warm with the pumpkin cream.

Related Posts: