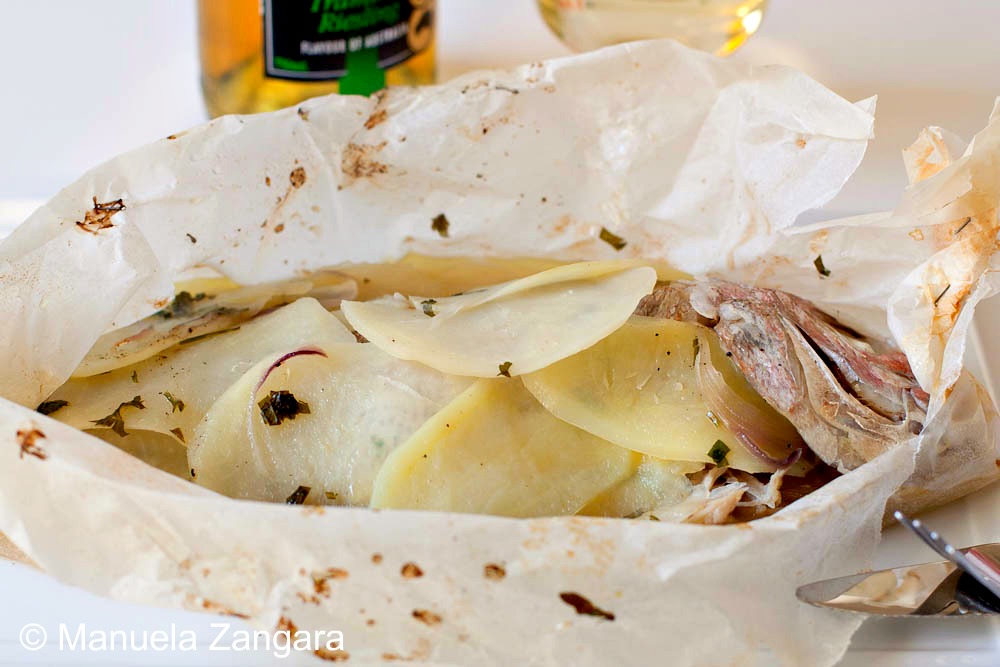 I am not a huge fan of fish… I like it, but when given the choice, fish is never on top of the list.  The truth is, I like fish that is not easily available in Sydney: sardines, anchovies, small mackerel… However, on Christmas Eve, we tried to follow the Italian tradition of eating fish.  We bought snapper and my mom cooked it en papillote (or al cartoccio, as we say), with potatoes, red onion and white wine.  It is a very simple and light dish and I must admit that even I liked it a lot!  When the fish is fresh, you really do not need too many ingredients that may overpower its delicate flavour… It is a great recipe both for a special occasion or a mid week dinner!  Enjoy!
Ingredients:
1 kg – 2 lbs. snapper, cleaned (you can also use fillets)
2 medium potatoes, thinly sliced
½ red onion, thinly sliced
2 tbsp extra virgin olive oil
100-150 ml – ½ cup white wine
1 tbsp parlsey, chopped
Salt & Pepper
Wash the fish, rub it with a little salt and keep aside.
Thinly slice the red onion and the potatoes.  Blanch the sliced potatoes in boiling water for 3 or 4 minutes and keep them aside.  In the meantime, mince the parsley.
Take a big piece of baking paper, drizzle half of the extra virgin olive oil at the bottom, put a layer of potatos and some red onion.  Season it with salt and pepper.
Place the snapper on top of the potatoes and onions.  Cover the fish with some more potatoes and onions.  Season it with salt and pepper.  Sprinkle the parsley and pour the remaining extra virgin olive oil on the top.  Close the baking paper to create a little parcel (you may need to staple it to keep it in place) and, before closing it fully, add the white wine.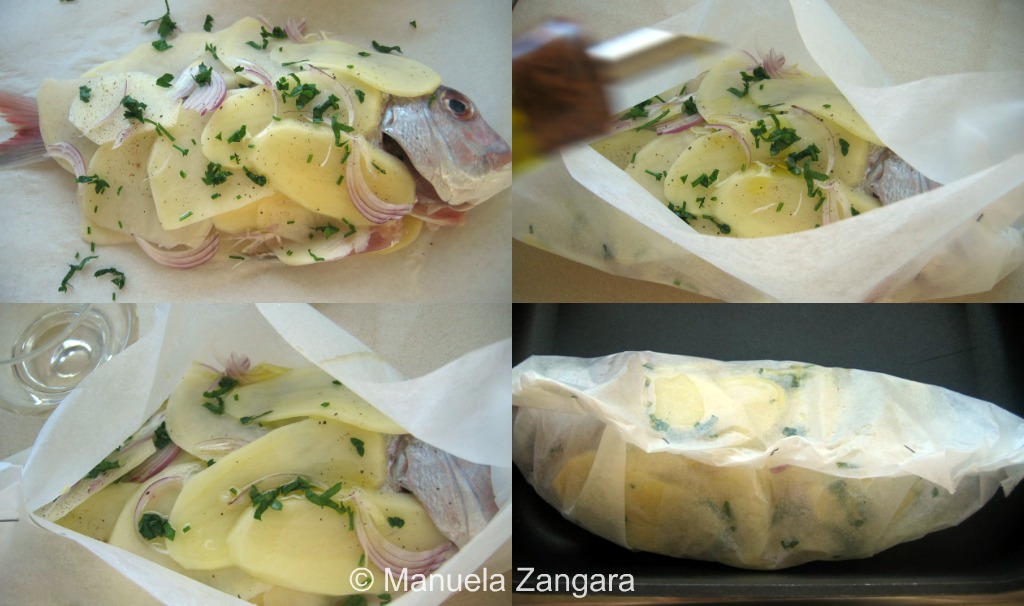 Bake it in a preheated oven at 180ºC – 350ºF for about 30 minutes or until cooked through.  If you are baking a fillet, you may need to reduce the cooking time accordingly.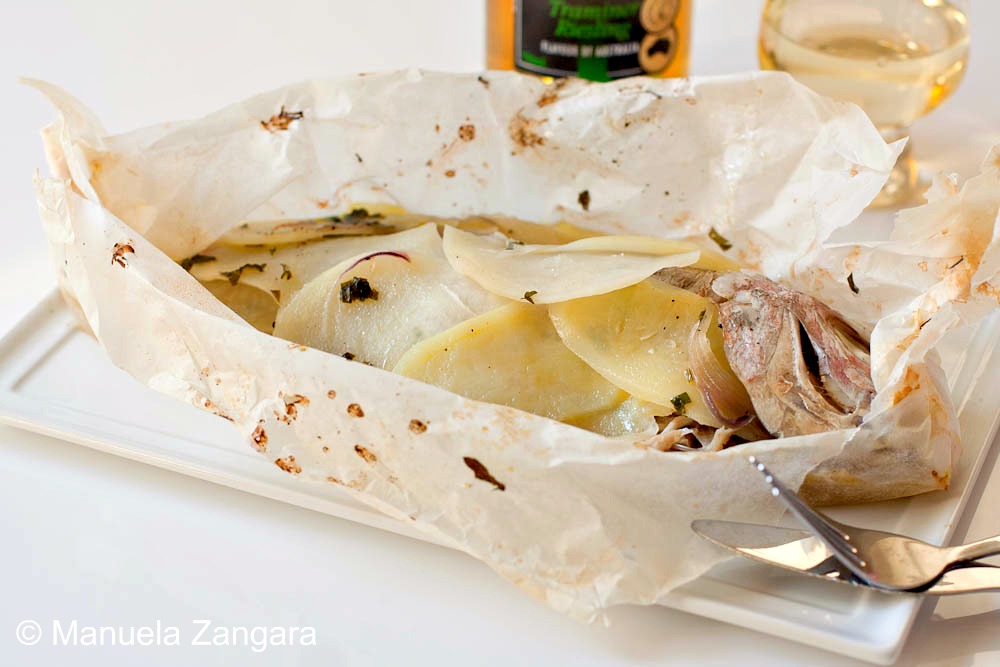 Clean the fish and serve it warm with the potatoes on the side.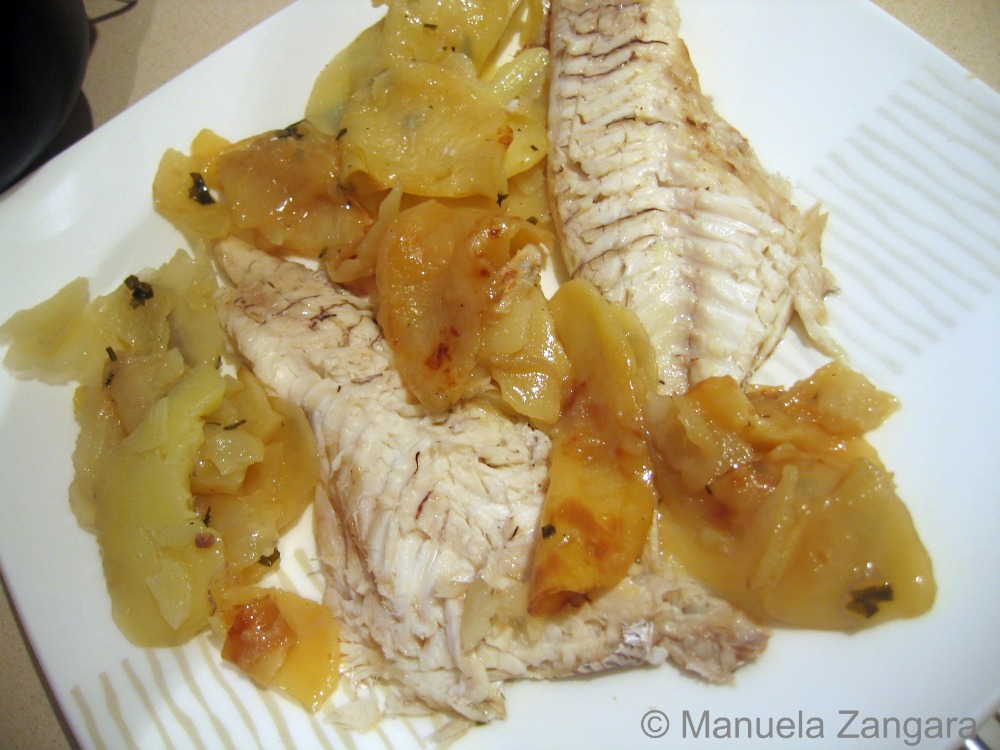 It is the end of the month again!  Which means it is time to check out the great roundup that Nancy from Spicie Foodie has put together of some of the best recipes from the blogosphere!  Check out Your Best Recipe of December!  I am contributing my Supplì al telefono to it!  Have fun!

Related Posts: