Last autumn, my family and I travelled to Europe, as the kids had a school exchange in Italy organised by their Australian school. After a few days in South Africa, and 5 days travelling around Slovenia and Croatia, we finally settled down in Italy for a few weeks. Today I will share with you my Cividale del Friuli – Italy Guide.
Cividale del Friuli is a little Medieval town in the North East of Italy. It is located in the region of Friuli-Venezia Giulia and, to give you a quick idea, it is less than a 2-hour drive north-east of Venice and just a few minutes from the Slovenian border. In fact, it is so close to Slovenia that the locals always cross the border to buy food, cigarettes, and petrol – all items that are considerably cheaper in the neighbouring country.
We spent the most memorable 3 weeks in this little gem of a town. It is going to be very hard to summarize them in this post. We would basically drop off the kids to school in the morning, have breakfast, and leave for our daily excursion.
We used Cividale as the base to explore the surrounding areas (including the Alps, Trieste, Gorizia, Grado, Aquileia, etc.). To avoid writing an endless post, I will only write about the town today and share the excursions as separate posts.
Video – Highlights
HISTORY
Cividale is very famous for its Longobard history. Cividale's official history begins on a precise date: 50BC when the town was founded by none other than Julius Caesar! It was named Forum Julii in his honour and this name later became the name of the "Friuli" region.
In the 6th century AC, when Longobard warriors headed south into Italy, they established one of their early capitals in Cividale. Two hundred years later, the region's religious power, the Patriarchate of Aquileia, also moved to Cividale. So for several centuries, Cividale was the base for temporal and religious authority in the area, and the city's richest monuments and artifacts are a legacy of that era. Later, nearby Udine grew in importance and Cividale is now just a pleasant market town with a lovely setting and some fine sights.
This area was also crucial during WWI and there are plenty of museums (including real trenches), memorials, and monuments. I will write a post on that because the topic is quite lengthy.
SIGHTSEEING
Even though Cividale is a small town, there are quite a few interesting sights and things to see! Just a stroll around the town's alleys is a pleasant way to spend a few hours!
Piazza Paolo Diacono
This is the heart of Cividale and a good place to begin exploring the rest of the town. Piazza Paolo Diacono was named after an 8th-century writer and historian.
The centrepiece of the irregularly-shaped square is a fountain featuring Diana and four lions' heads. It's a picturesque spot, and there are several cafés with outside tables where you can sit down and enjoy a coffee or aperitivo.
Our apartment was right in this square, so we were locals to the neighbourhood for 3 weeks and thoroughly enjoyed all the nearby cafés and restaurants – more about that later in the post.
Town Hall
In the centre of Cividale del Friuli, in front of the Cathedral and in the square of the same name, stands the Palazzo Comunale. The building was rebuilt many times and it boasts both renaissance and gothic features.
On the façade facing the Duomo there is a bas-relief with the Lion of St. Mark with an epigraph dating back to 1560, and, below, a plaque commemorating the visit of Emperor Franz I of Austria in 1816.
There is a bronze statue of Julius Caesar in front of the building that was made in 1935.
Cathedral of Santa Maria Assunta
The Cathedral dedicated to Santa Maria Assunta is the main church of Cividale. The first church built in this place dates back to the 8th century. The current cathedral is in a Gothic-Venetian and Renaissance style.
Devil's Bridge
The Devil's Bridge is one of the symbols of Cividale. Boldly suspended on the Natisone River, it is very old. The two banks were joined at least from the 1200s by a wooden passage replaced by a stone bridge that was built in 1442.
The fate of the bridge has a tragic epilogue. On the 27th of October 1917, during the defeat of Caporetto (the worst Italian defeat during WWI), the bridge was blown up in an attempt to slow down the enemy. Unfortunately, it was a useless act, as the Austrian Army crossed the river the same evening. The bridge was however reconstructed in a short period of time, keeping to its original structure.
The popular fantasy has connected the construction of the bridge to supernatural forces thus the name. Legends say that the devil facilitated the construction of the bridge in exchange for the soul of the first person passing through it. However, the inhabitants of Cividale mocked the devil and sent an animal instead of a person to pass on it.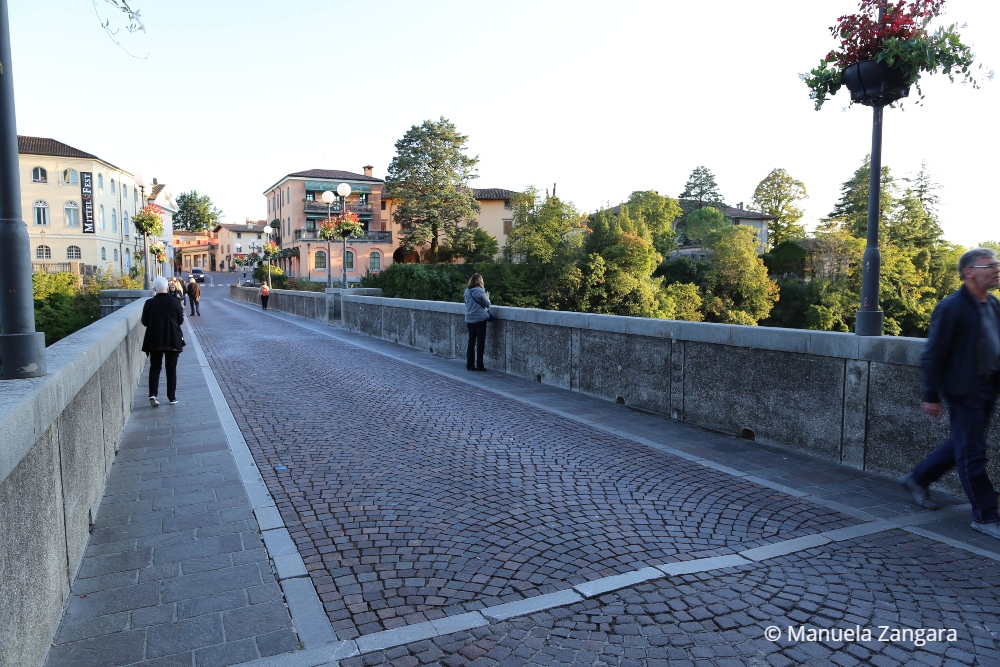 From the new viewpoint, you can enjoy a wonderful landscape, encompassing the picturesque town with its array of church towers, the winding river Natisone below, and green hills rising to distant mountains, snow-capped for part of the year.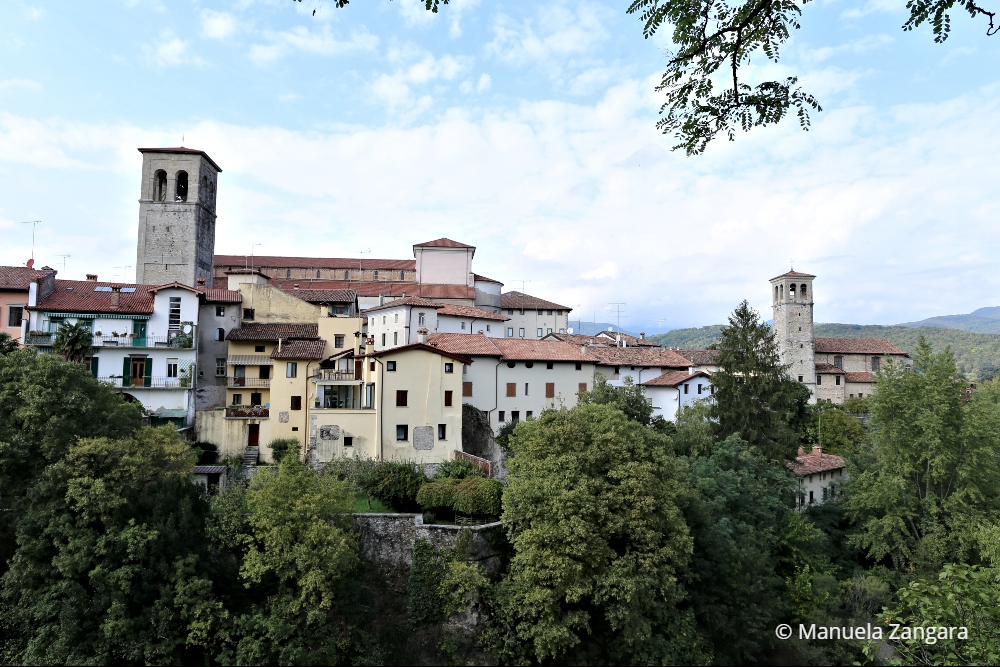 Celtic Hypogeum
Recrossing the bridge to go back towards Piazza Paolo Diacono, you will be able to visit the Celtic Hypogeum (Ipogeo Celtico). First, you will need a "secret key" though – ask for it at Bar Ipogeo, the café on the main street just above the bridge!
This is an underground sight, so we did not visit it – I am claustrophobic! On a side street alongside the bar is an unimpressive door which you can open onto the Ipogeo Celtico. This is a series of rock chambers, or grottoes, carved close to the cliff face. No-one knows how old the caves are, who dug them, or why. As the name suggests, some think this is a pre-Roman Celtic site, perhaps intended for burials or rites.
Longobard Temple
Continuing along Via Monastero Maggiore from the Hypogeum, you will reach Cividale's finest Longobard treasure: Longobard Temple (Tempietto Longobardo). This is a small 8th or 9th-century Longobard chapel, now inside a former convent: Monastero di Santa Maria in Valle. An archway leads to the elegant church of San Giovanni Battista – you enter the main convent complex through a ticket office on the left.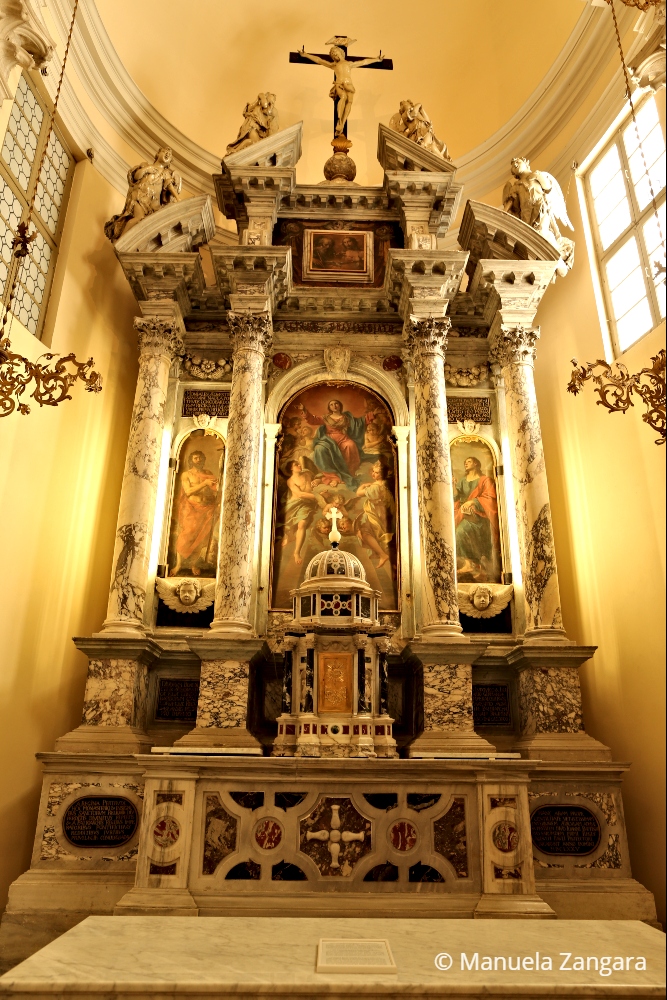 Tempietto Lombardo is a small, simple chapel and a rare and important surviving example of Longobard architecture, with later additions such as faded frescoes dating back to the 14th century. Parading on either side of an elaborately decorated arched window are six elegant female forms. The stucco work decorating the chapel is beautiful and delicate. The building was damaged several times by earthquakes so one can only imagine how elaborate the original decorations may have been.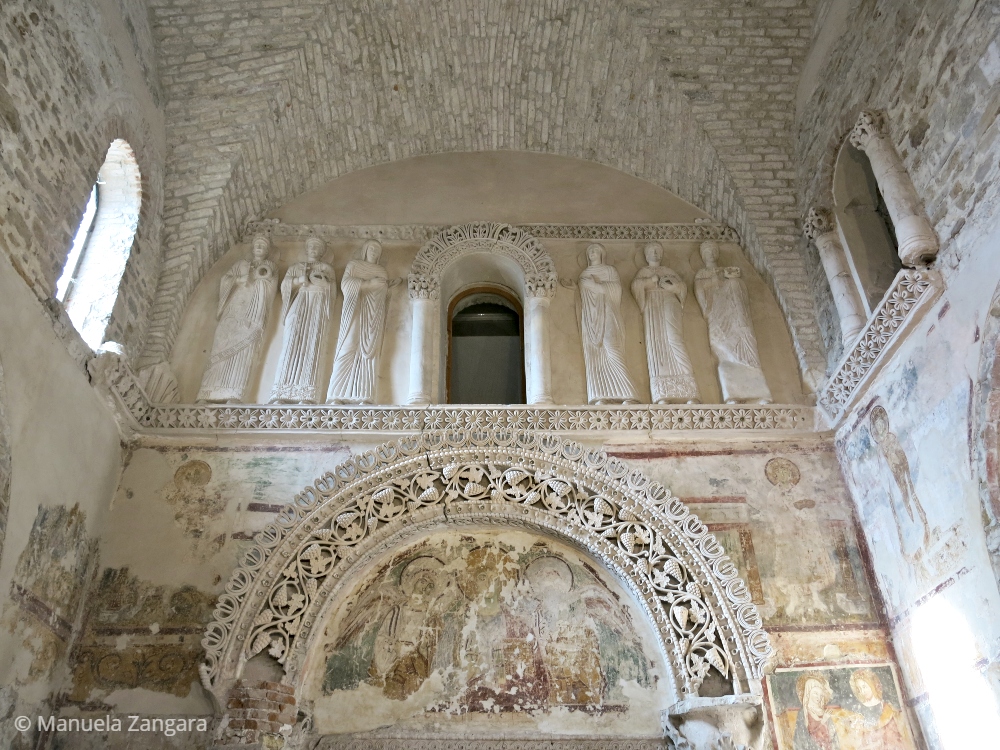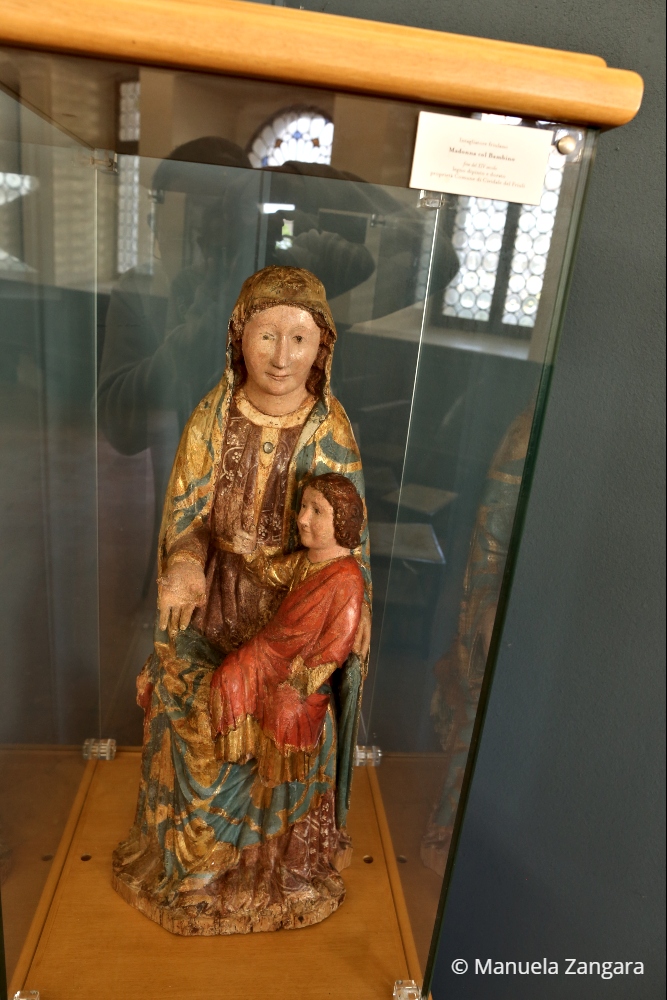 There is also a spectacular viewpoint.
Medieval Town and Medieval House
If you have the time, I'd suggest strolling on down the road alongside the ravine, where you'll see more pretty views and pass some charming historic buildings, through an old town gateway and out to where the atmosphere becomes more rural, and attractive buildings sit with gardens overlooking the river.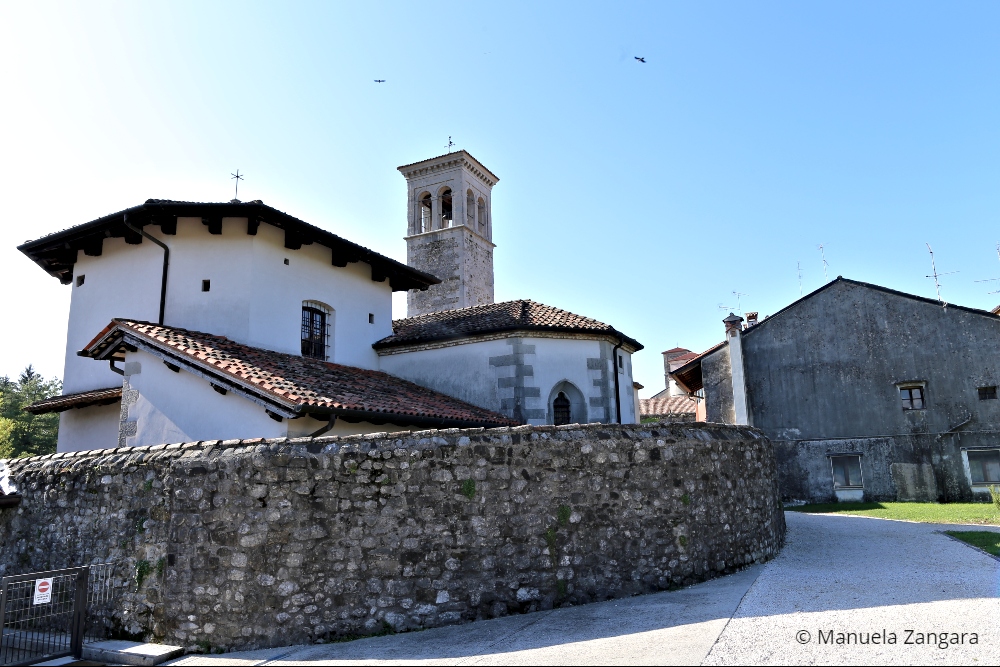 I personally loved the little Church of San Pietro e San Biagio.
Nearby is the medieval house known as the "oldest house of Cividale" or "the goldsmith's house".
Christian Museum and Ratchis Altar
Alongside the Duomo is a small but important museum, the Museo Cristiano. The main entrance is outside the church, to the right. Two magnificent pieces of sculpture on display provide a window into the early Christian world. First is a beautifully carved block of Istrian stone, the Altar of Ratchis. Ratchis was an 8th-century Longobard duke whose evident devotion led him to commission this altar and to end his days as a monk.
In the same room is the Baptistery of Callisto, a large and elegant octagonal baptismal font, embellished with columns and carved decorations, some of them much older than the 8th-century baptistery itself.
National Archaeological Museum
On the other side of the Duomo, in the imposing Palazzo dei Provveditori Veneti, is the Museo Archeologico Nazionale, an archaeological museum dedicated to the Roman and Longobard treasures found of the area.
Since the museums have varying opening hours, generally closing for lunchtime, check the latest opening times at a tourist office in the region or online in advance, where you'll also find the prices of tickets.
Canussio Castle
Canussio Castle is situated in via Nicolò Canussio. The Austrian barons Creiger transformed the building according to a particular neo-gothic taste. The complex is characterized by the mixture of different elements of various historical ages and by the turrets of diverse heights.
Great War Museum
Located in the former railway station of Cividale in Viale Guglielmo Marconi 43, the Museum of the Great War collects armour, uniforms, and original weapons of the armies operational on the Italian front.
In one of the halls, you can visit a didactic trench: a thorough reconstruction of a trench section with a dressing room in the cave, cave shelter, gunships with protective shields, and cross-links.
The museum is small, but it is very well organised. The volunteers who run it are also very knowledgeable. If you speak Italian, you will learn A LOT from them. If you don't speak Italian, visit anyway. It is free and some parts of it will give you goosebumps.
I took a picture of this Maggi broth bottle.
And a tin of San Daniele ham – the local prosciutto! I can't believe soldiers were already eating that 100 years ago!
BY NIGHT
Here are a few shots we took while walking around after dark.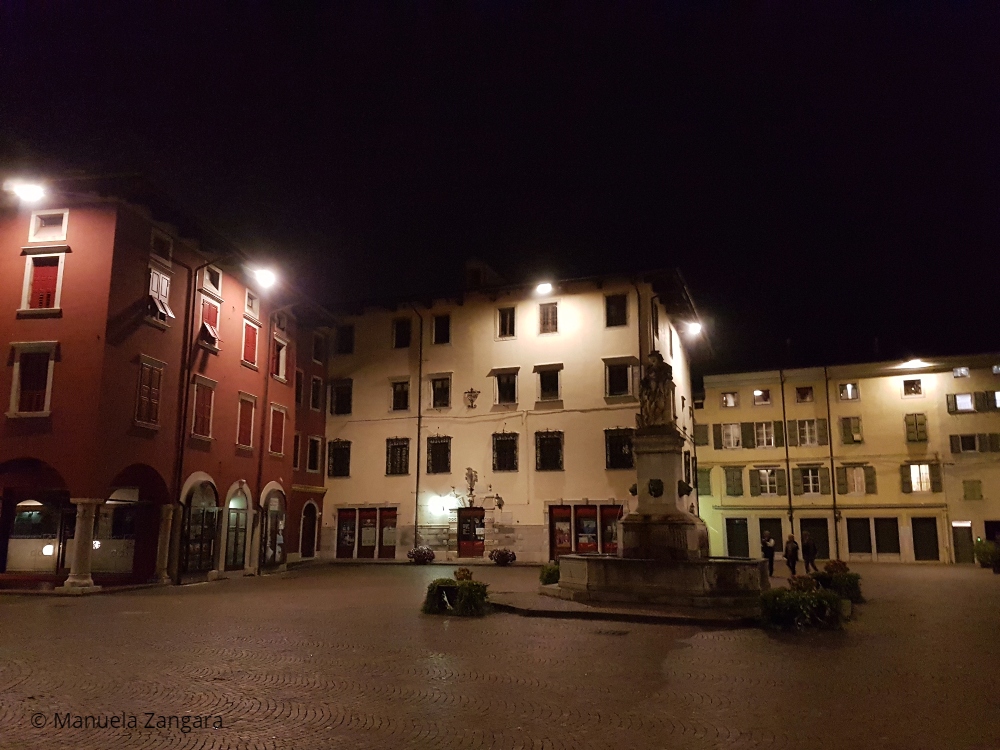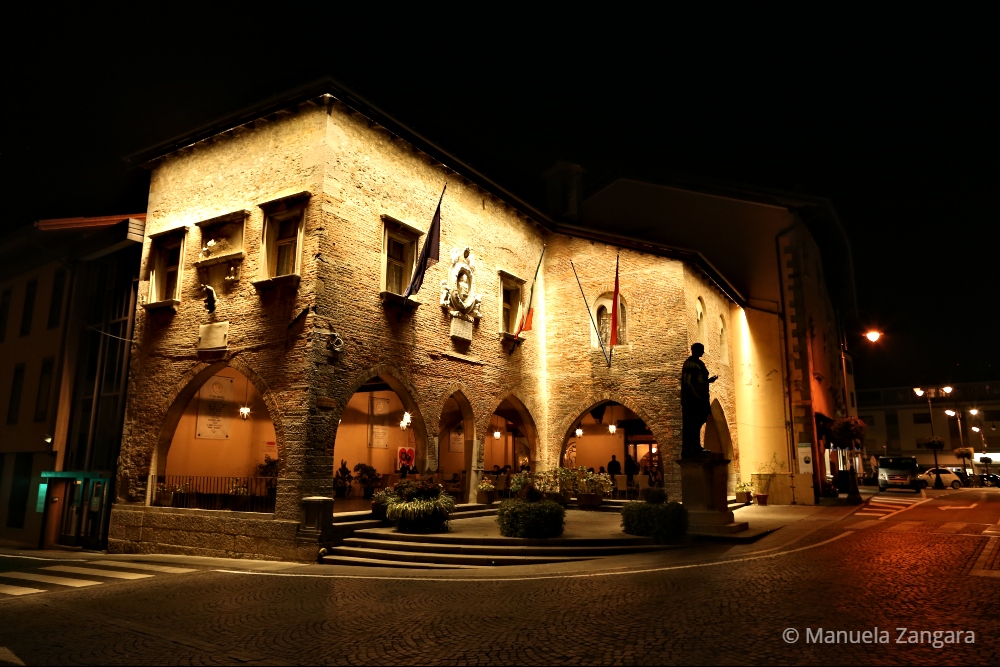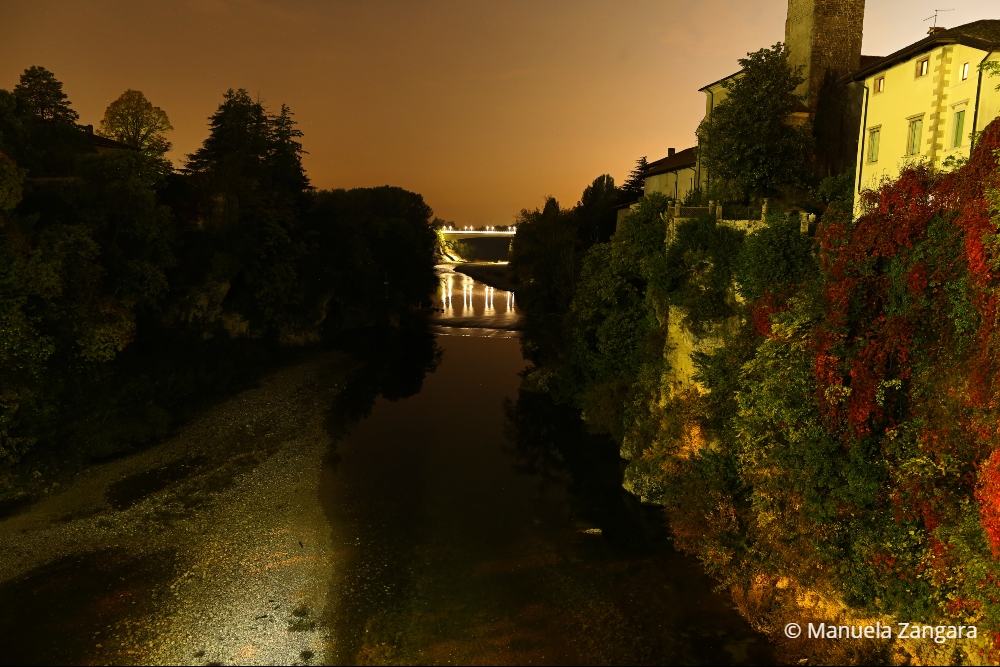 This place is quiet and safe even at night.
FOOD
Here is where I could end up writing a book. Maybe I should!! I always say that there is no Italian cuisine as such and it would be more correct to say Italian cuisines. What you eat in Sicily is completely different than what you eat in Milan!
I must admit that I did not know much about food from Friuli-Venezia Giulia and I fell completely in love with it. In our 3 week stay, we never had a single bad meal. Every meal was better than the previous one.
We "only" tried 3 restaurants in Cividale itself (all of them were outstanding), as we were mostly out of town during the day and on weekends and we would often have dinner at home. We would do our grocery at the shopping centre called Borc di Cividat and at Latteria Sociale where you can find all sorts of cheese.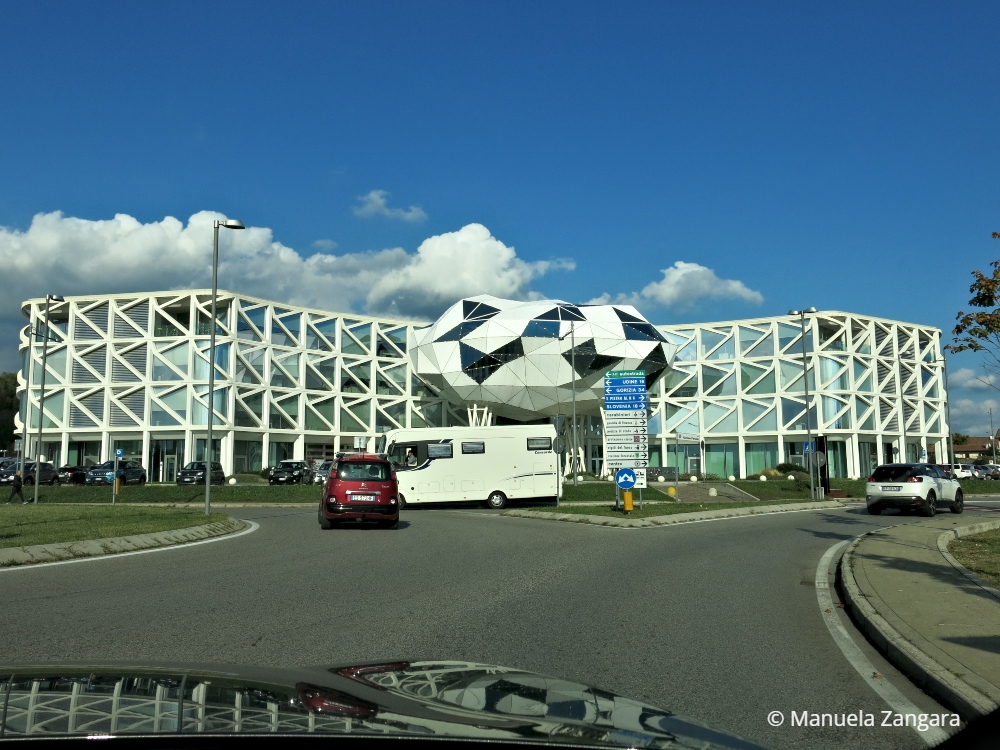 In fact, I bought some fresh Porcini mushrooms (I was craving them so much!) and made some amazing Porcini Risotto.
I also got the best fresh vongole and made pasta with them. Ohhh so good!
And I bought some fresh ravioli that I made with butter and sage.
Cafés
Zuckerfee
Our day would start with an espresso and brioche/cornetto – aka an Italian croissant filled either with pastry cream, jam, gianduja cream, or pistachio cream.
Sometimes we would eat Sfogliatelle filled with pastry cream instead.
Need I say more? Isn't that the best way to start your day??
Our favourite breakfast café was Zuckerfee, in Piazza Paolo Diacono. Absolutely recommended both for the food quality and the kindness of the people who work there!
Pasticceria Gelateria Ducale
We also got some good pastries from Pasticceria Gelateria Ducale to have as dessert after dinner.
Caffè Longobardo
In the evening, we would always have an aperitivo at Caffè Longobardo, in Piazza Paolo DIacono. They made the best Aperol Spritz ever (recipe here)!
And that's where we also tried our first Hugo (recipe here)!
They also make good coffee and croissants for breakfast. Highly recommended. Great service too – they also speak English.
Restaurants
Pizzeria 4S
We had pizza at Pizzeria 4S on more than one occasion and the pizza was always excellent. We had Margherita.
Salame and Italian Sausage.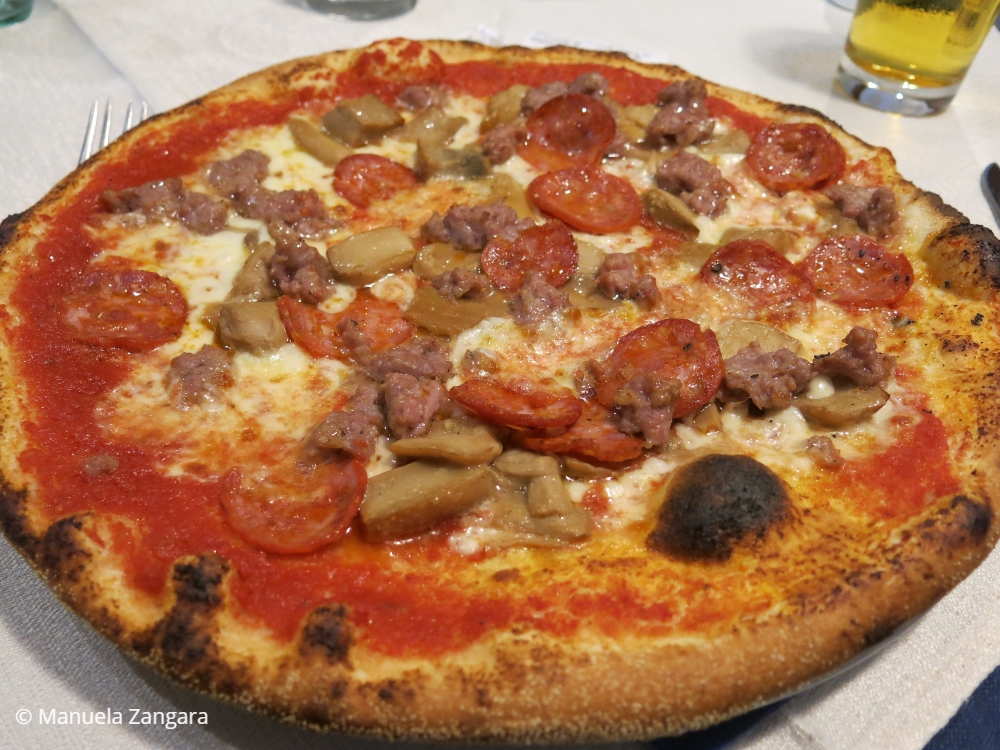 And Prosciutto and Grana.
Highly recommended.
Antica Trattoria ai 3 Re
We also really loved Antica Trattoria ai 3 Re. We ate here twice, and only because we discovered it towards the end of our stay.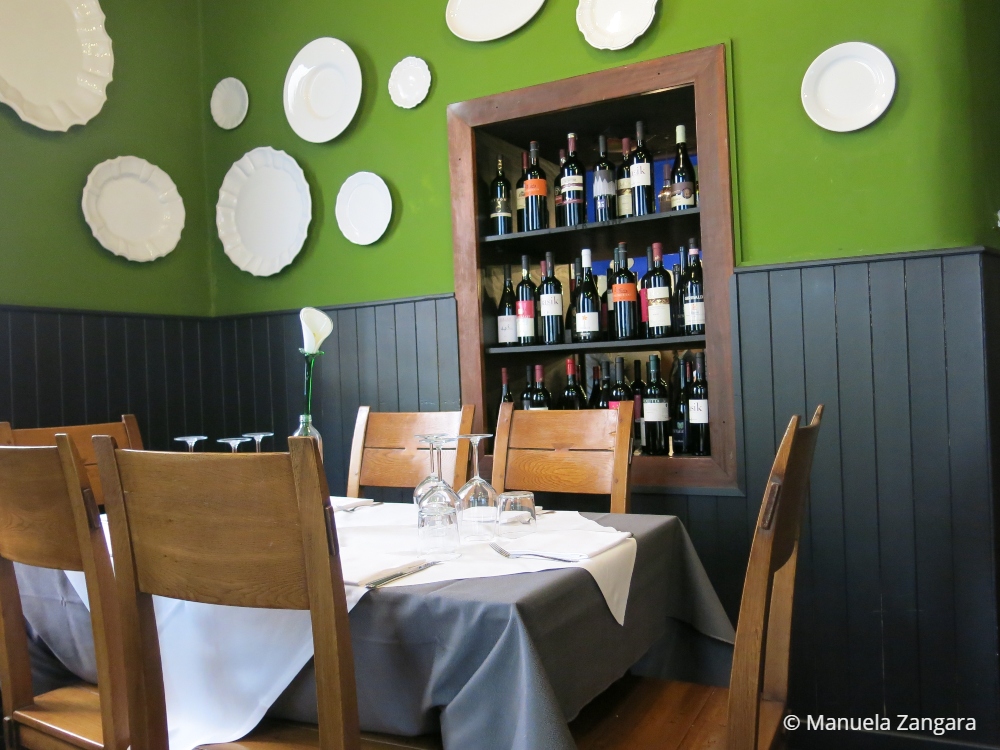 Their mixed salumi and cheese platters (that came with honey and preserves) were to DIE for. You don't need much more when the quality of what you serve is so good.
Their pasta was also excellent. We tried their Cjarsons – local ravioli – filled with sausage and speck and served with melted butter and smoked ricotta. YUMMMM!
Their Chestnut Ravioli served with melted butter and smoked ricotta. So good.
And their Beetroot Gnocchi served with Gorgonzola. Look at that colour!
The kids had meat and roasted potatoes.
Their cake was scrumptious.
However, their piece the resistance was dessert. We had a Chocolate Mousse and a Diplomat Cream Pudding topped with the most delicious popping chocolate pearls. Such a great sensorial experience as the chocolate popping on your tongue was delicious, noisy, and lots of fun!
This place is absolutely recommended!!
Frasca da Gianni
This little gem of a place is 5 minutes away from the town centre and it came recommended by the owner of the apartment we were renting (thank you Gianni!).
Here is where we had our last meal out before leaving Cividale and it was unforgettable.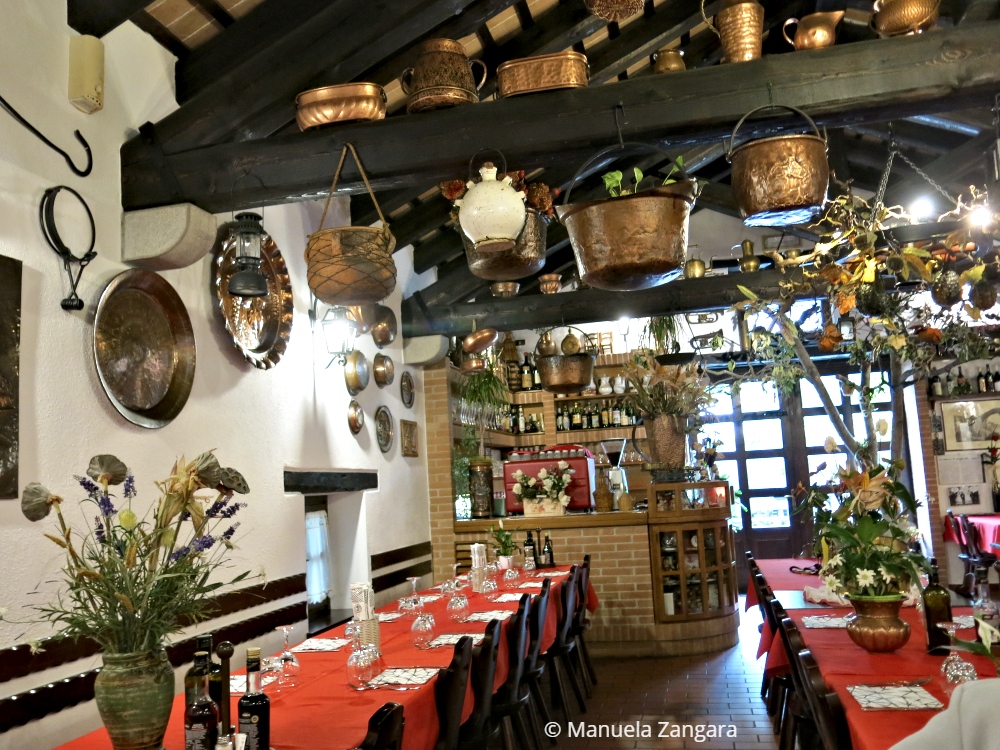 We had some delicious mixed salumi and cheese (with pickles).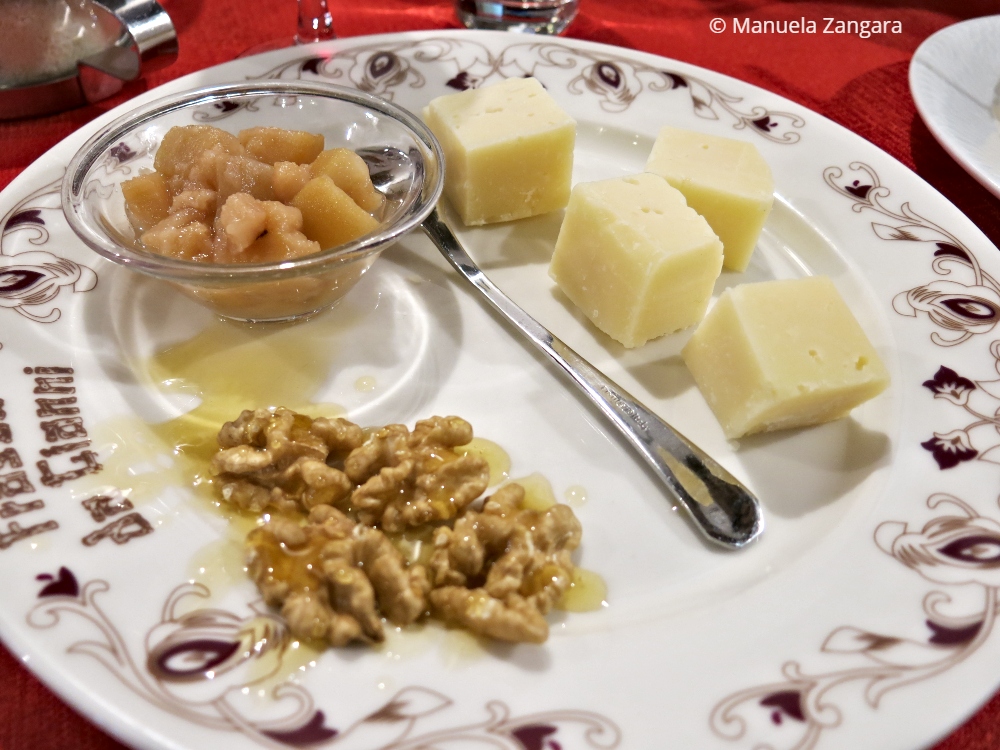 My husband had a local specialty: fresh Sweet and Sour Salame cooked with onions and served with grilled polenta. SO GOOD. It looks like a big sausage, but it is actually salame cooked before it's put to age.
I had Radicchio Lasagne. Look at that oozing cheese and béchamel.
I can highly recommend this place as well.
International Food Fair
On one of the weekends, they also organised an Internation Food Fair!
ACCOMMODATION
We stayed in a beautifully appointed apartment right in the heart of town, in Piazza Polo Diacono: Casa in Piazza. This place is a gem.
We booked the 1 bedroom apartment with a king bed.
There were a big kitchen and a sofa bed in the living room.
There was also a perfectly sized bathroom.
It is very clean and practically new. Highly recommended – I think a place like that right in the centre of town is hard to beat! And with so many restaurants and cafés just down in the square!
Also, the building itself is ancient – it dates back centuries and the restoration work was done really tastefully. You can still see part of the original walls in some areas of the apartment!
The mezzanine with loft is the apartment above this and it was lovely too – friends from our same group were renting it, so we got to visit.
The owner and his wife are truly amazing people. Very friendly, helpful, and kind. One day they even took us for a drive to see the vineyards and we had lunch together. More on that in another post though.
If you decided to visit Cividale, look no further: stay at Casa in Piazza for an AMAZING experience.
CONCLUSION
I must admit I did not know this part of Italy. I had passed through it many times to go to Austria or Slovenia, but I had never stopped to visit it. I was very pleasantly surprised by how beautiful Friuli-Venezia Giulia is.
Cividale itself is such a nice little town. Beautiful, cozy, full of history and with lots of friendly people. My kids did not want to leave. They made lots of friends through the school exchange and they are keeping in touch with them even now. We were supposed to go back next year, but due to these crazy times, we still don't know if that is going to be possible. However, it may not be in a year, but we will definitely return. We still have so much to see, do, and EAT!!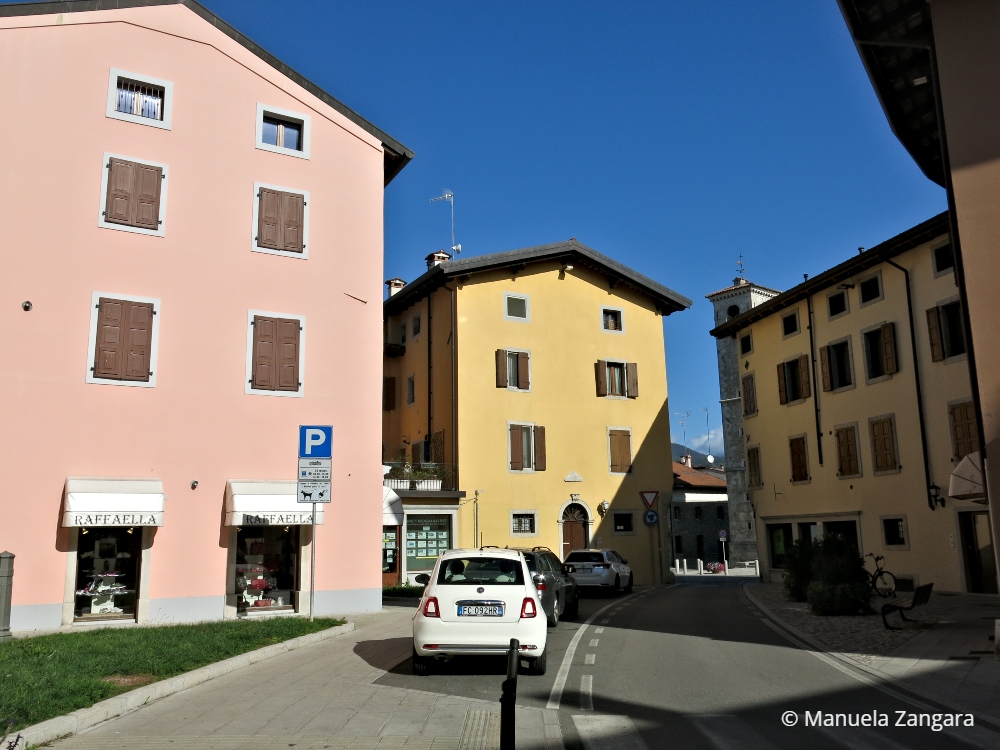 If you have any questions, leave a comment and I will be happy to help out!
Don't forget to PIN this post!
RESOURCES ON MSM
TRAVEL
Trapani, Erice, and Segesta – Italy Guide
San Vito lo Capo – Italy Guide
FOOD
Maiale al Latte – Purcit Tal Lat
Chifeletti – Kipfel – Kifelček
MAP

Related Posts: