During our 3 week stay in Cividale del Friuli, we were lucky enough to be able to visit the surrounding areas with our rental car. The nearby mountains are particularly beautiful and we visited a few villages in the Alps. So today I will share with you my guide on Sauris, Illegio, Malga Paramosio!
SIGHTSEEING – SAURIS
Sauris, or Zahre as it is called in the old German dialect, is a little village with ancient traditions. It is located in a green valley dominated by the splendid peaks of the Dolomites, in the Carnic Alps.
This area has been semi-isolated for centuries, making it possible for traditions, costumes, language and architecture to remain unaltered over time.
The area is breathtakingly beautiful: thick woods, alpine meadows studded with "malghe" (shepherd's huts often turned into restaurants) and the green lake that changes its colours according to the seasons. Sauris immediately wins its guests over due to its unspoilt beauty and its calm, relaxing atmosphere.
Sauris is an "island" both from a linguistic point of view (a very particular, ancient language of German influence is still spoken today) and from a cultural and architectural point of view.
In fact, the architecture of the village is very interesting and it is characterised by houses built in wood and stone using a unique technique, more similar to the technique used in the nearby Carinthia. The houses are characterised by a ground floor in stone, a basement and raised floors in wood, built using the ancient BLOCKBAU technique (entire tree trunks create a solid structure thanks to their interlocking corners). The roof is covered in wooden shingles.
Carving and woodworking are a tradition that still lives on today. Look at these beautiful works!
The traditional food of the village is also very interesting. The scarcity of local agricultural products, due to the climate and characteristics of this territory, has influenced dietary habits, resulting in cuisine based on only a few dishes made with simple, yet substantial ingredients, suitable for the heavy work and intense pace that people in Sauris were subjected to for several months a year.
People could rely on certain cereals like barley, rye, and buckwheat, milk and its derivatives, the meat of domestic animals, game, wild herbs and produce from the vegetable garden.
Smoking was used especially to preserve meat and was probably introduced into Sauris by the first settlers and the people of Sauris became masters in smoking techniques.
Among the types of meat obtained from domestic animals, those most popular included mutton and pork. This latter, in particular, guaranteed the survival of every family, provided them with lard, bacon, sausages, blood-pudding and cooking fat.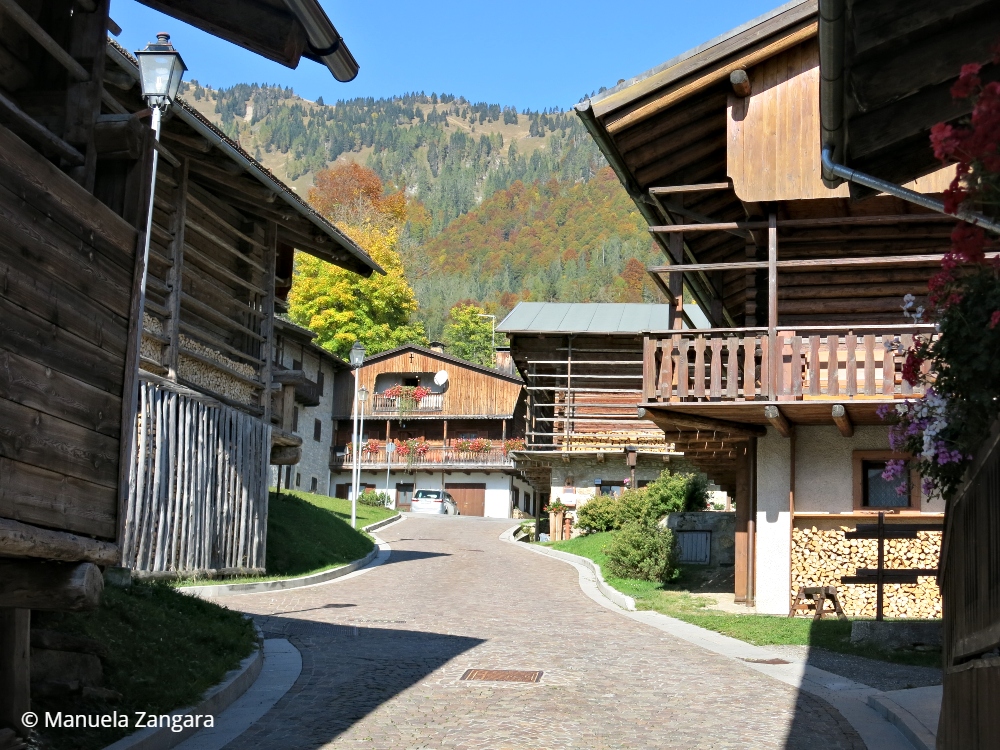 Today, Sauris is a synonym of prosciutto. The local prosciutto is very famous in Italy and it is considered to be one of the best the world, even though, unfortunately, it is not widely available abroad. Sauris prosciutto is very slightly smoked (not as much as speck) and it is delicate, with a mild flavour, soft and sweet.
During our visit, we went to Prosciuttificio Wolf to get some prosciutto and speck – they were both AMAZING. I must confess that I have ever eaten as better prosciutto than Sauris'! I wish you could taste it!
SIGHTSEEING – ILLEGIO
Illegio is a small ancient town in the mountains of Carnia, not far from Tolmezzo.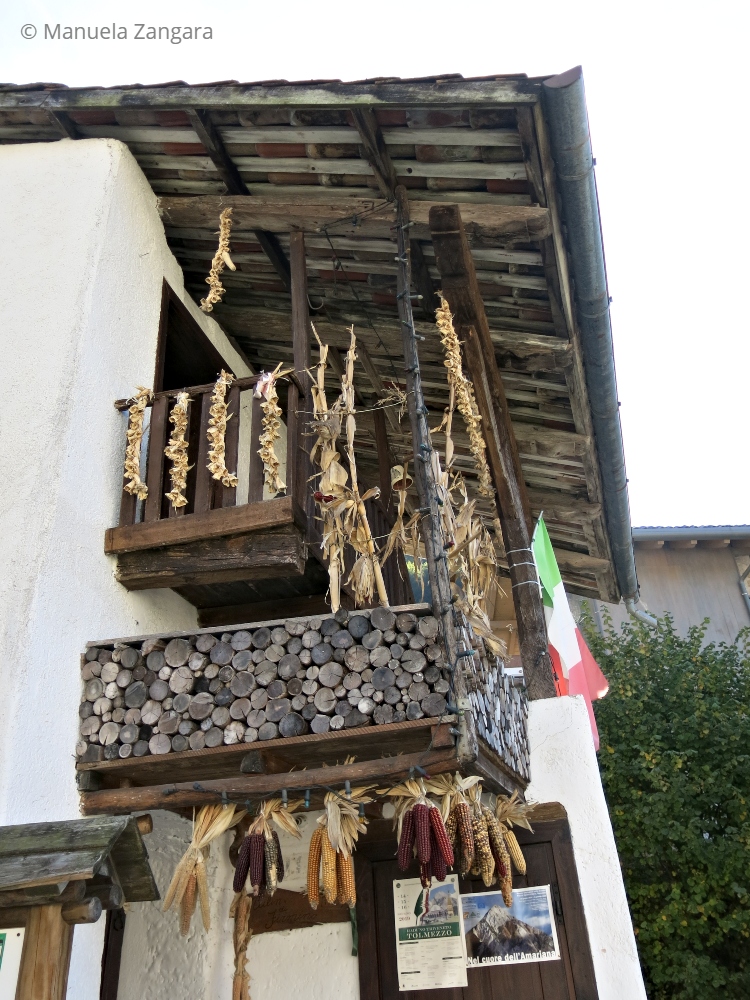 The Church of San Floriano, a treasure trove of intact medieval beauty from the 9th century, stands at an altitude of 750 metres and can be visited every Sunday or by request during the week, by climbing a path (30 min) from where you can admire a splendid view of the surrounding mountains.
The town has a few watermills and you will also be able to discover The Mills' Path that includes the sixteenth-century Mulin dal Flec.
Illegio is just pretty. The houses are ancient, well-kept and there are flowers everywhere. When we visited, there was practically nobody else but us, so it was also very quiet. Definitely worth a visit!
FOOD – MALGA PRAMOSIO
We had a delicious and hearty lunch at Malga Pramosio. A malga is a shepherd's mountain hut that has been converted into a restaurant, often family-run. In some of the malghe you can also spend the night. The food is simple, hearty and locally sourced. They are usually closed in winter – it would be impossible to get there in the snow anyway!!
Malga Pramosio is at 1500m above sea level. The malga is in a mountain area that was the theatre of fierce battles during WWI. In fact, you can see a monument dedicated to Maria Plozner Mentil, one of the "portatrici carniche", local women who were recruited as auxiliaries by the Italian army to carry on their back food supplies, medicines, tools and ammunitions to the Alpine soldiers defending the border. True heroes of war, as so many were killed in action. You can also visit many remains of WWI in the area.
At Malga Pramosio they make delicious cheese and dairy products.
The food was soooo good and filling!
We started off with a huge mixed platter of local cheese and cold meats. YUM!
Then we had gnocchi with ragu'.
Gnocchi with butter and local smoked ricotta.
We had sausage with polenta and frico – a potato, onion and cheese pancake typical of the area which is to DIE for!
And to finish it off, we had polenta with speck.
Needless to say, we were too full for dessert! Hahahaha This place is highly recommended both for its food and for the historical value of the area. Besides, doesn't the view look breathtaking??
ACCOMMODATION
In Cividale, we stayed in a beautifully appointed apartment right in the heart of town, in Piazza Polo Diacono: Casa in Piazza. This place is a gem.
We booked the 1 bedroom apartment with a king bed.
There were a big kitchen and a sofa bed in the living room.
There was also a perfectly sized bathroom.
It is very clean and practically new. Highly recommended – I think a place like that right in the centre of town is hard to beat! And with so many restaurants and cafés just down in the square!
Also, the building itself is ancient – it dates back centuries and the restoration work was done really tastefully. You can still see part of the original walls in some areas of the apartment!
The mezzanine with loft is the apartment above this and it was lovely too – friends from our same group were renting it, so we got to visit.
The owner and his wife are truly amazing people. Very friendly, helpful, and kind. One day they even took us for a drive to see the vineyards and we had lunch together. More on that in another post though.
If you decided to visit Cividale, look no further: stay at Casa in Piazza for an AMAZING experience.
CONCLUSION
I highly recommend a day out in the mountains surrounding Cividale. It is a very interesting and quiet area. And the food is amazing too!
If you have any questions, leave a comment and I will be happy to help out!
Don't forget to PIN this post!
RESOURCES ON MSM
TRAVEL
Trapani, Erice, and Segesta – Italy Guide
San Vito lo Capo – Italy Guide
Cividale del Friuli – Italy Guide
Grado and Aquileia – Italy Guide
Venzone and San Daniela – Italy Guide
Friuli Eastern Hills – Italy Guide
FOOD
Maiale al Latte – Purcit Tal Lat
Chifeletti – Kipfel – Kifelček
MAP

Related Posts: