This is another one of my favourite dishes since childhood.  Have I already said that I love gorgonzola (and any other blue cheese for that matter)?  Well… I could eat it on anything, even as a dessert (yes, I do have a couple of aces up my sleeve on this)!  This dish though is very simple and earthy… nothing too fancy or "extreme".  Just deliciously traditional scaloppine, thin slices of meat coated in flour and cooked with a gorgonzola sauce.  The only twist here is the fact that they also get to be baked before being served.  Enjoy!
Sharing this post with Full Plate Thursday by Miz Helen. 
Ingredients for 4 persons:
500 gms pork sizzle steaks (or any 1 cm thick pork steaks)
100 gms gorgonzola (mild)
½ cup milk
½ medium onion, chopped
1 cup flour
1 tsp salt
2 tbsp extra virgin olive oil
1 standard shot of Gin
Mix the flour and salt in a plate and lightly coat each pork steak with it.
Then finely chop the onion and put it in a frying pan with extra virgin olive oil.  Add the pork steaks on a single layer and fry them on a medium fire till they are slightly browned on both sides.
Then put them in a plate and keep them aside.  Do this for all the steaks.
Now put the milk and the roughly chopped gorgonzola in the same frying pan where you browned the meat.
When the cheese has melted, add the shot of Gin and let the alcohol burn off for 2-3 minutes.  The sauce has to remain liquid, as it will thicken later when it is put in the oven.
Put the pork steaks and all their juices in the frying pan and turn them once to coat them well with the gorgonzola sauce.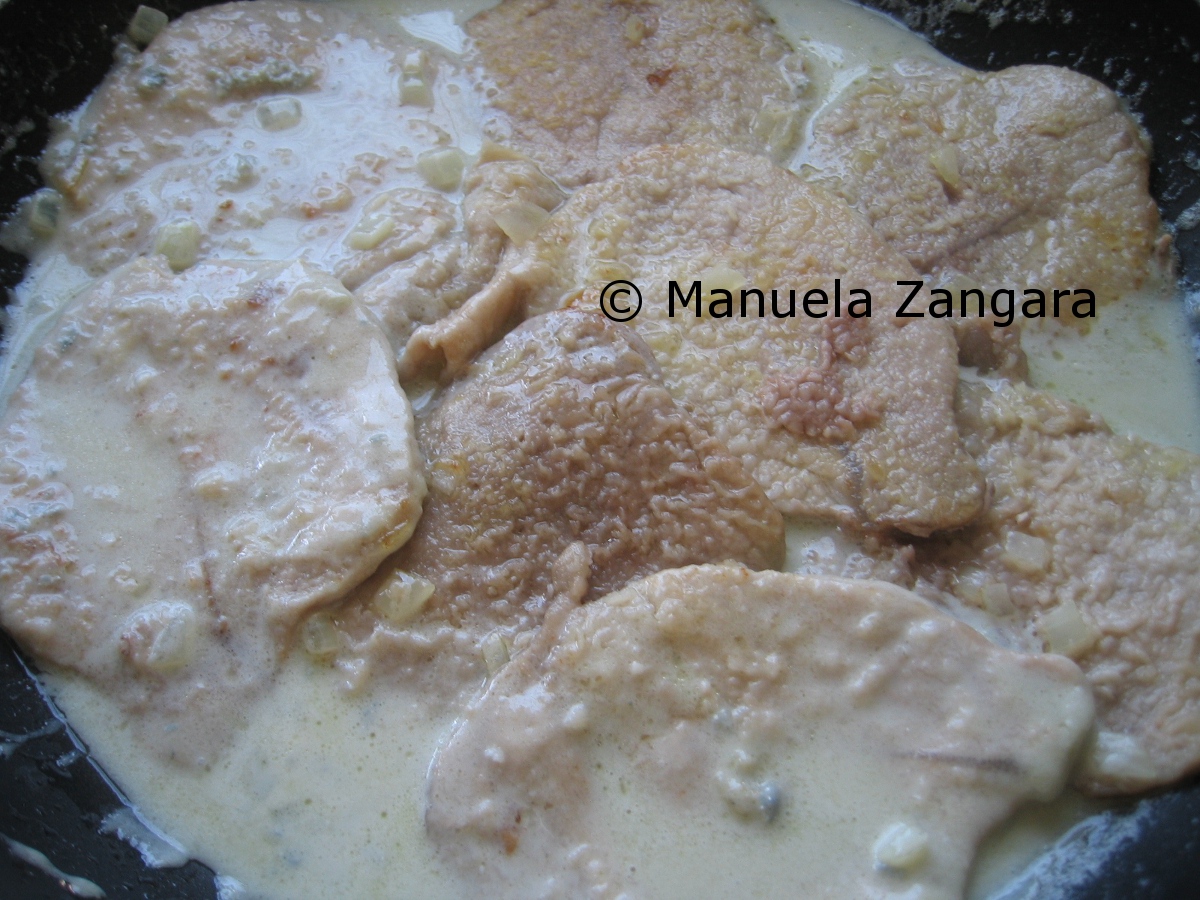 Then place the meat in a baking dish on a single layer (it is ok to slightly overlap them like in the picture) and spoon the remaining cheese sauce on the top.
Bake in a preheated fan forced oven at 200°C for 10-12 minutes or until golden.  Serve with a simple green salad or steamed green beans as a side.

Related Posts: