I have always loved meat (much more than any seafood) and beef above all.  And what's better than beef fillet?  Nothing!  I have to say that Australian beef is among the best in the world, so I consider myself very lucky to able to enjoy it whenever I feel like it.  Back in Italy, beef fillet was always the meat of choice for special occasions, so the choice for my Foodbuzz 24×24 Christmas in July event was easy.  Only, I did not want to make a normal steak… I wanted to cook something more "unusual" and festive.  That's when I came across this recipe for a beef eye fillet, filled with puréed chestnuts and then roasted in the oven.  It looked so good that I had to try it.  Besides, chestnuts are as "Christmassy" as it gets back in Italy.  Needless to say we all loved it.  It's best eaten medium rare and it is so soft that it melts in your mouth.  Also, the chestnut purée was so delicious that I am going to make it again and serve it as a side along with my future steaks instead of the usual mashed potatoes!  So, here you have it.
Recipe adapted from the magazine "La Cucina Italiana", December 2006
Ingredients:
For the roast
1.2 kg eye fillet roast
100 ml cream
100 ml white wine
1 shallot, sliced
10 leaves of sage
1 carrot, chopped
1 onion, chopped
1 stalk of celery, chopped
Extra virgin olive oil
Salt & Pepper
For the chestnut purée
250 gms chestnuts (weighed after cooked and peeled)
2 shallots, sliced
50 ml cream
50 ml white wine
30 gms butter
100 ml water
Salt & Pepper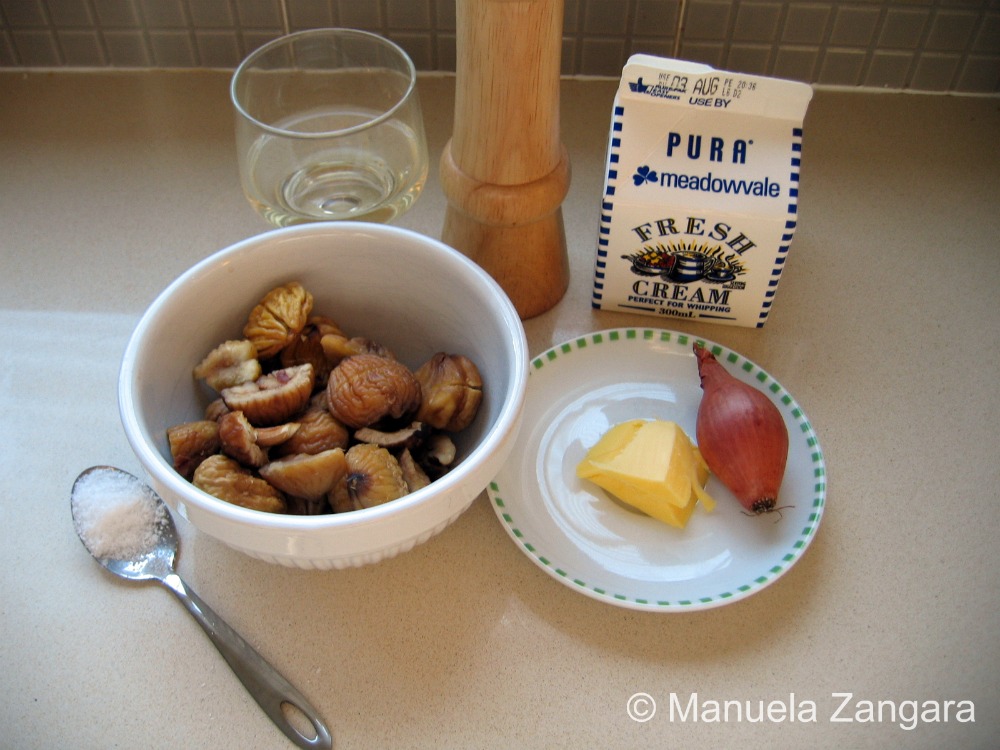 Start by preparing the chestnut purée.  Put the chestnuts in a pressure cooker with a little water (just enough to cover them) and cook for 10 minutes.
Peel them when still warm and keep aside.  Make sure to take them out of the hot water only a few at a time… if they cool down, it will be very hard to peel them.
Put the peeled chestnuts in a pot with the sliced shallots, cream, wine, butter, water, salt and pepper and cook them covered and on a low flame for 40 minutes.  You will very likely need to add a little bit of water, so check the pot regularly.  When cooked, purée them with an electric mixer.  Keep aside.
Now you can start preparing the meat.  Put the sliced shallot, pepper and sage in a bowl and marinate the eye fillet roast in it for about 1 hour.  Reserve the marinade.
Then make a hole through the centre of the roast using a sharp knife.  Insert a cylindrical mould into the hole (or 2 if the hole is longer) to keep the hole open while cooking.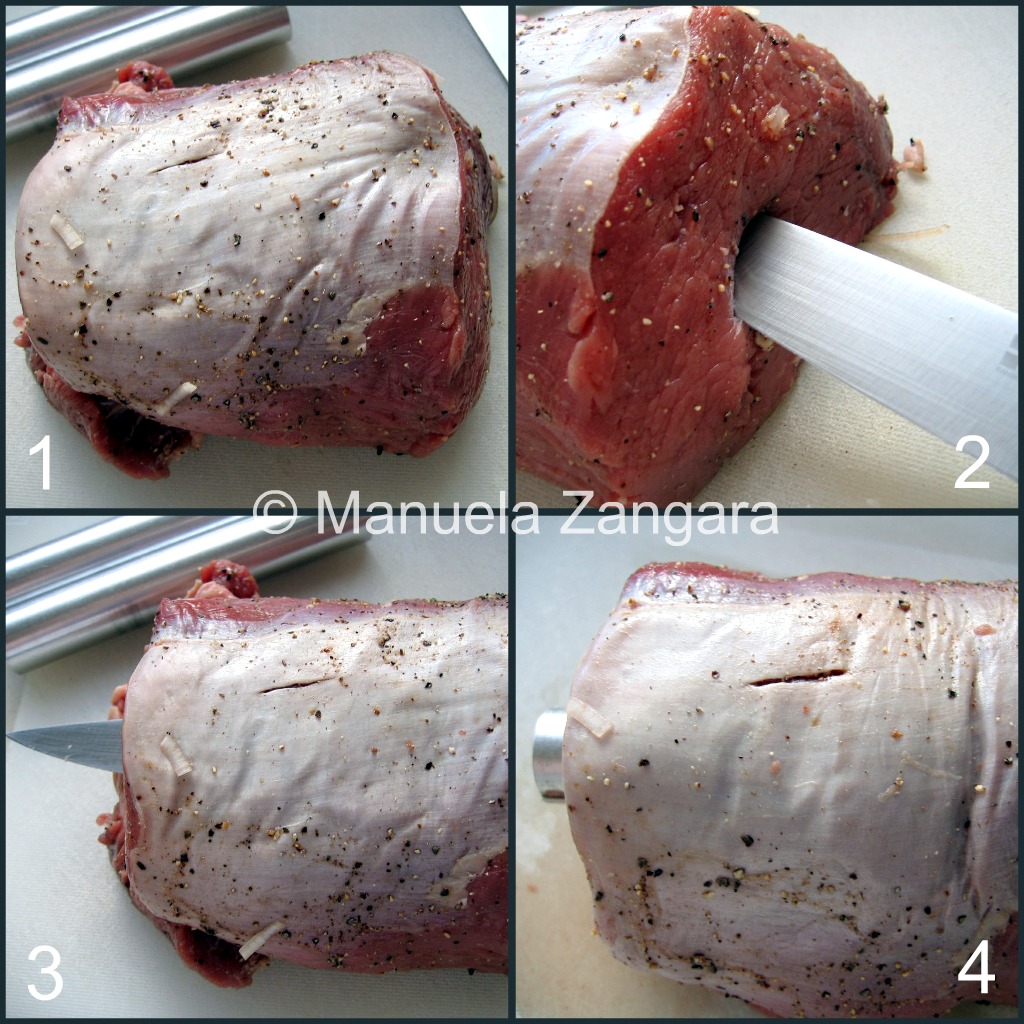 Then loosely tie the roast with butcher's twine so that the roast will retain a regular shape while in the oven.  Make sure to pass the twine through the cylindrical mould(s) too, just like shown in the picture.
Heat up some extra virgin olive oil in a frying pan and when hot, put the roast to sear well on all sides.  Make sure to do this for no longer than 5 minutes.
Now put the roast in an oven proof dish, season it with salt and pepper and cover it with the chopped onion, carrot and celery, the reserved marinade and some extra sage.  Drizzle with some extra virgin olive oil and bake in a preheated fan forced oven at 250°C for 10 minutes.  Then take it out of the oven and let it cool down.
When cooled, remove the mould(s) and fill the hole with the chestnut purée using a piping bag.
Then put it back in the oven proof dish, add the remaining wine and bake in a preheated fan forced oven at 250°C for 15 minutes.  Then remove the roast from the pan, cover it loosely with some foil and let it rest.
In the meantime, filter the sauce from the oven proof dish (or you can blend it with all the cooked veggies).  Put it in a pot, add the remaining cream to it and simmer for 5 minutes.  Add salt if required.
Slice the roast and serve it warm with the sauce on the top.

Related Posts: