Since I moved to Australia from Italy 5 years ago I haven't gotten used to the "reversed" seasons yet.  For someone who has spent the majority of her life in the Northern hemisphere where it is summer in July and winter in December, I have to live with the seasons reversed and believe me, it can be hard.  The hardest time of the year is Christmas… for me it is always been a "winter Christmas", often a "white one" and my traditional Christmas meal has always been made with winter ingredients.  Yet, living in Australia, you have Christmas in summer.  Don't get me wrong, I love barbecues, the sun and the beach but I just can't get into a "Christmas mood"… and I am not the only one.  This is why, many people around here celebrate what is known as "Christmas in July", which is basically a winter Christmas celebrated during our coldest month of the year.
So, when I got Foodbuzz's email for this month's 24X24, I thought it would be nice to hold a 24X24 event about my family's Christmas in July celebration.  This was my first time ever submitting a 24X24 proposal, so I was double excited when I got Foodbuzz's acceptance email!
The idea behind this event, which was held at our house on Saturday 30th July, was to "pretend it was Christmas".  So my husband and daughters helped out decorating the house… we even got a little Christmas tree out of the garage and decorated it for the occasion.  We set the table with our red Christmas table cloth and lit a red candle in the centrepiece we use at Christmas.
A few days before the event, I also made some gingerbread men to use as signposts.
See what lovely little Santa's elves we have?
The girls had a blast… who doesn't like Christmas?  They got so excited the moment I told them about the event!  We also played Christmas music all day!  Victoria loves the Italian version of "Holy Night" ("Tu scendi dalle stelle") and of "Jingle Bells" ("Din Don Dan")!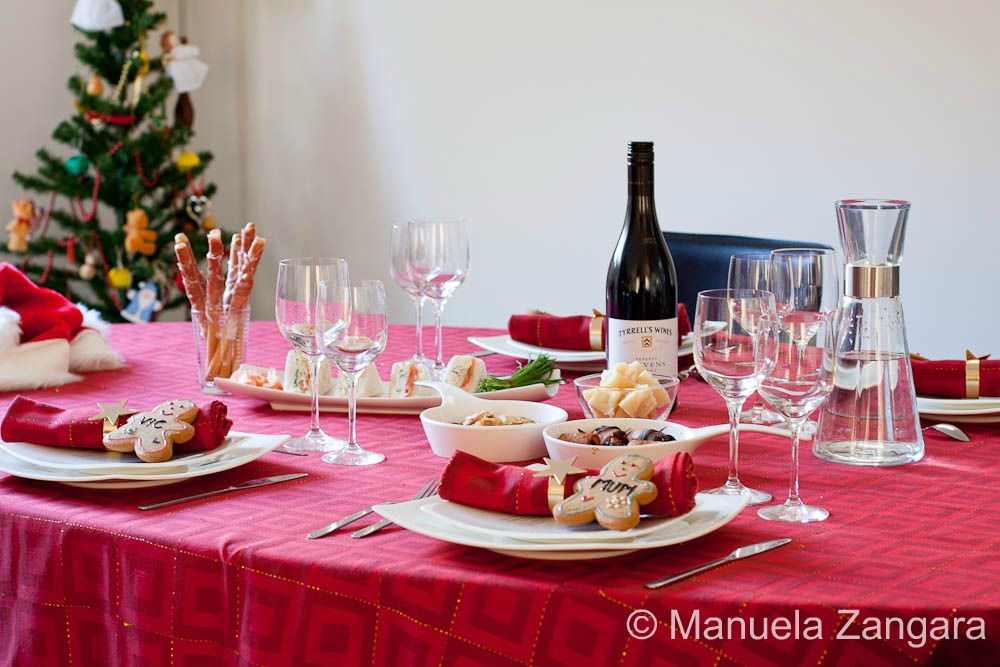 The menu I submitted to Foodbuzz's 24X24 is for a traditional Italian Christmas meal with a few modern twists.  It was divided into Antipasti (appetizers), Primi (pasta main dishes), Secondo (a meat main dish), Contorni (sides), Dolci (desserts) and Dopo pasto (after meal).  Here is the detailed menu of what I prepared:
Antipasti
Parmigiano Reggiano chunks
Prosciutto di Parma rolled on breadsticks
Smoked salmon, mascarpone and chives mini tramezzini (sandwiches)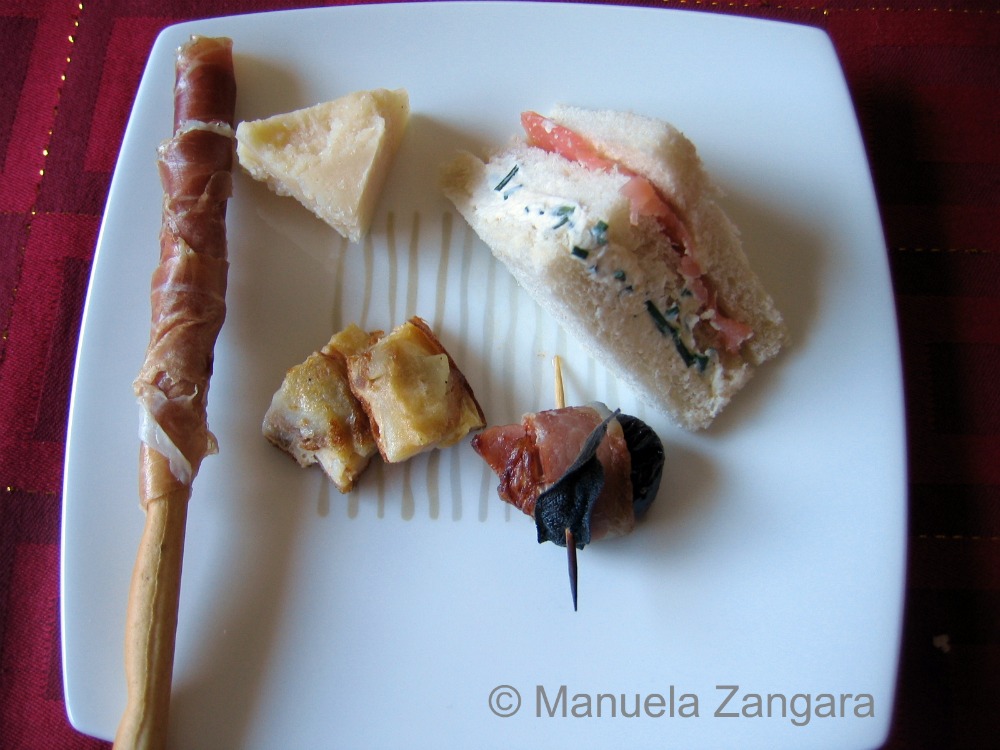 Primi
Secondo
Contorni
Dolci
Dopo Pasto
I had to make most of the dishes from scratch (from the artichoke and ricotta mezzelune to the cocoa gnocchi, cannoli shells and even the nougat) as you cannot find them ready made where we live (and some are only sold at Christmas time).
Let me say that a traditional Italian Christmas lunch is long and very rich.  We take almost the whole day to eat it and it is our only meal of the day.  In this specific case, I did not make huge quantities as we wanted to enjoy a bit of everything without getting stuffed.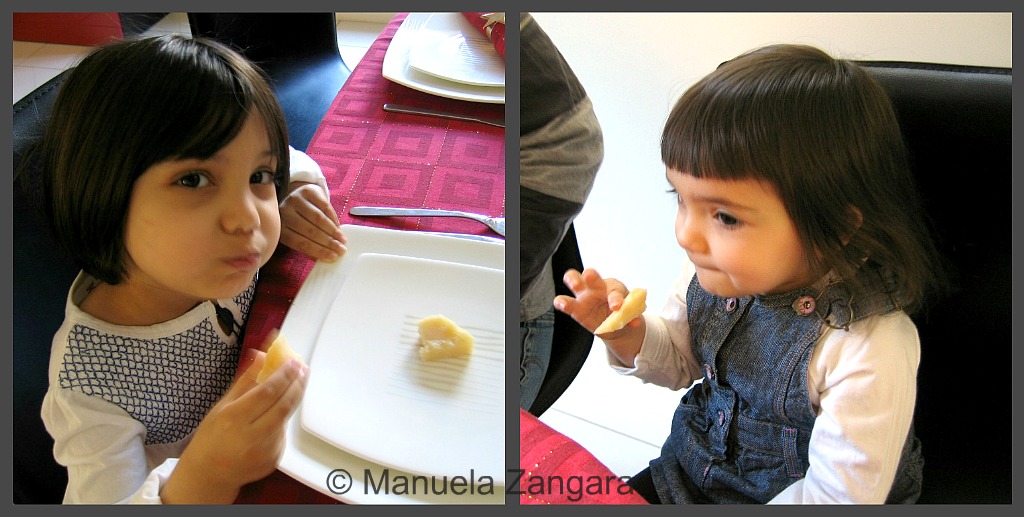 Anyhow, I will post the recipes with the usual quantities for 4 people.  As I have quite a few recipes to post and I want to write about them the way I always do (so with detailed instructions and step by step pictures), I will post the new recipes over the next few days… so stay tuned!  As for the recipes of the Potato Frittata
and Cannoli Siciliani, you can already see them by clicking on the links.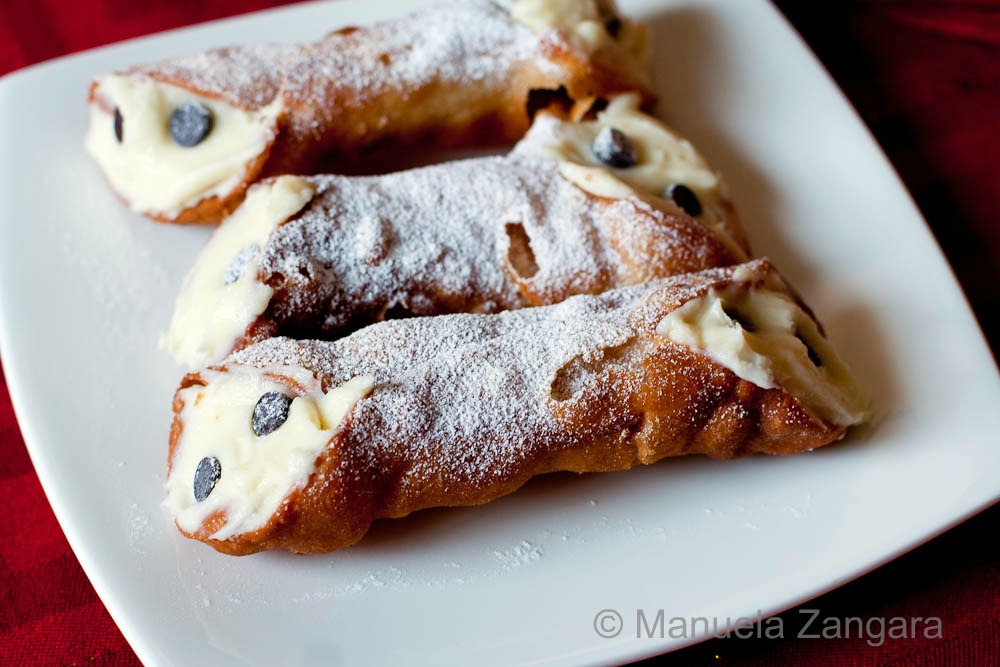 I will not post about the Parmigiano Reggiano chunks as it is really not a recipe, but just pieces of Parmigiano Reggiano cut out from a bigger form.
Nor will I post about Prosciutto di Parma rolled on breadsticks, as they are simply very thin slices of Prosciutto di Parma rolled on grissini.
Similarly, I will not write a separate post about Smoked salmon, mascarpone and chives mini tramezzini, as they are small layered sandwiches made with smoked salmon and mascarpone mixed with chives.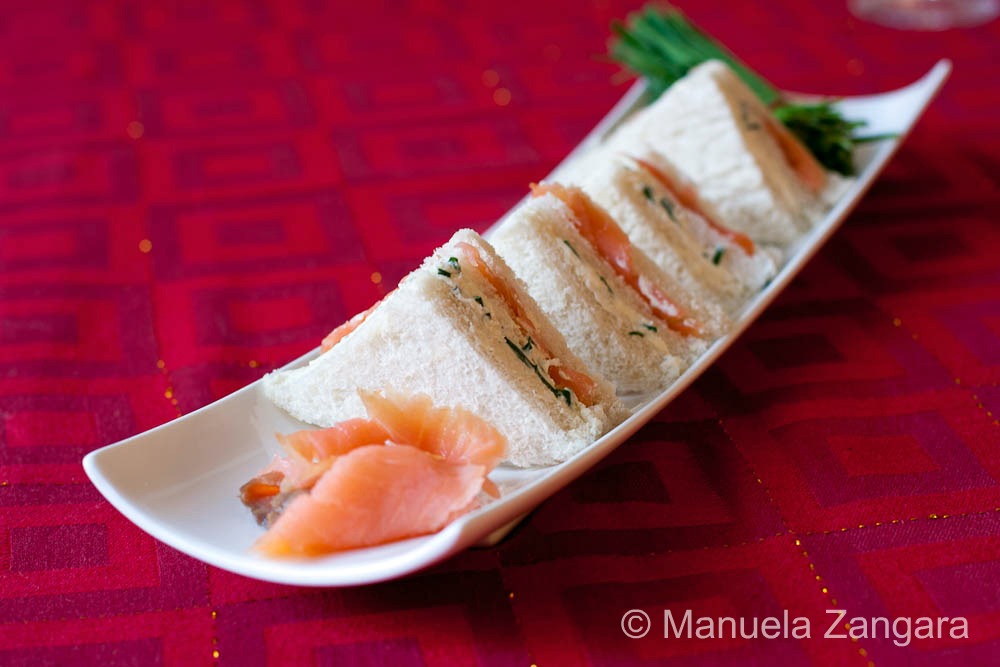 I will write a dedicated post for each of the remaining recipes and post them over the next week or so.  All you have to do is come back here to check out:
Warm baked prunes wrapped in crunchy bacon and sage
Artichoke and ricotta mezzelune (stuffed pasta) on a Parmigiano Reggiano fondue
Cocoa gnocchi with mascarpone and walnut sauce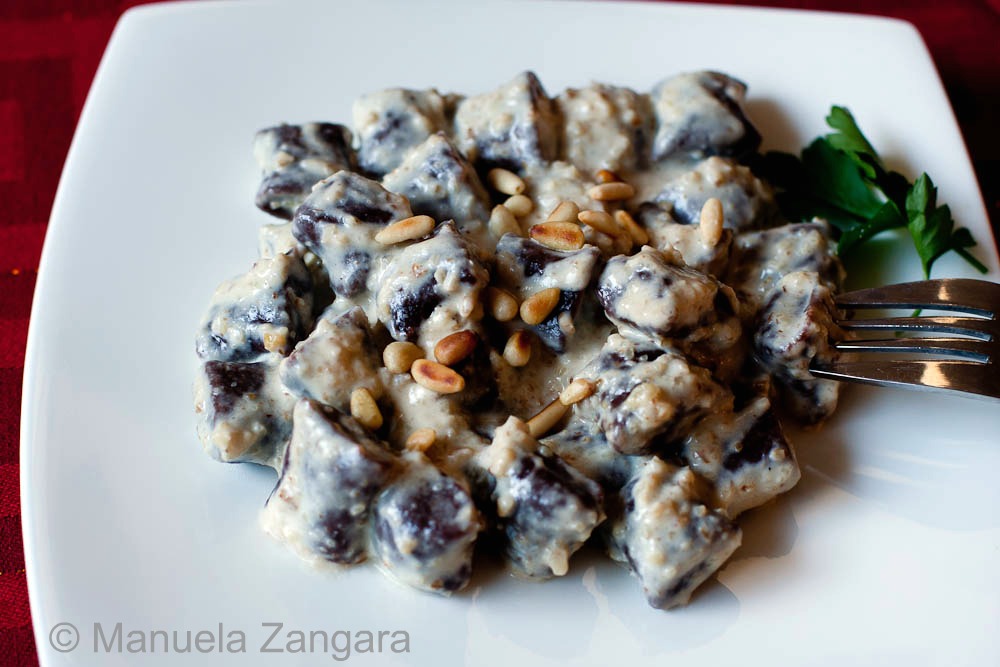 Beef Fillet Roast stuffed with pureed chestnuts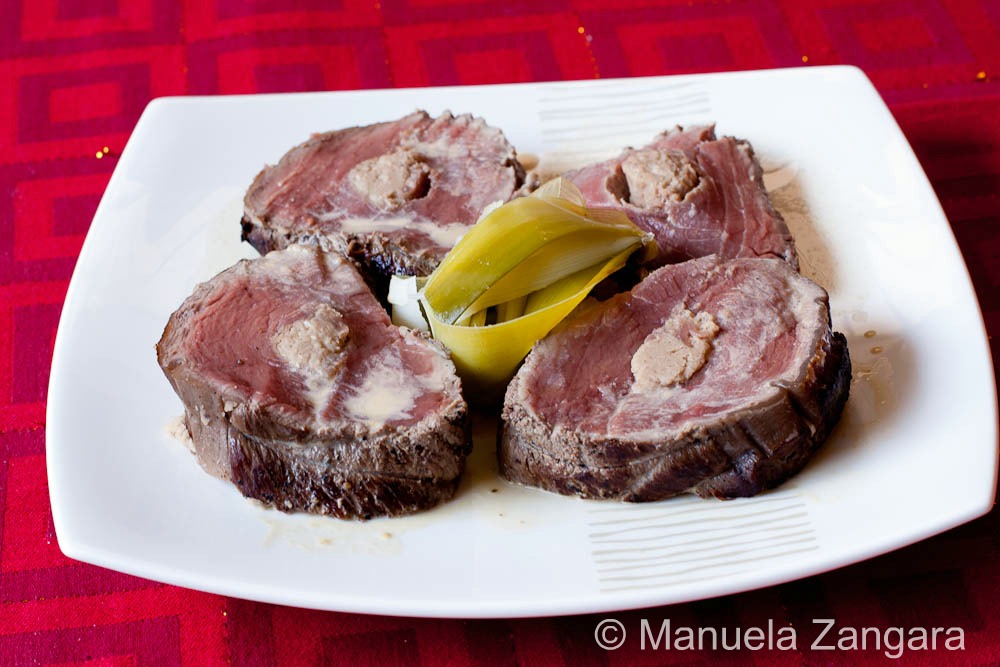 Orange, Fennel and Black olive salad
Potato, speck and leek bauletti (parcels)
Semifreddo al Torroncino (semifreddo of mixed nut nougat) with hot chocolate sauce
Home-made chocolate covered honey torrone (mixed nut nougat)
So, stay tuned and Merry Christmas in July everyone!!!

If you liked my Christmas in July event, please head over to this month's Foodbuzz 24×24 and send some buzz my way! 🙂
Related Posts: