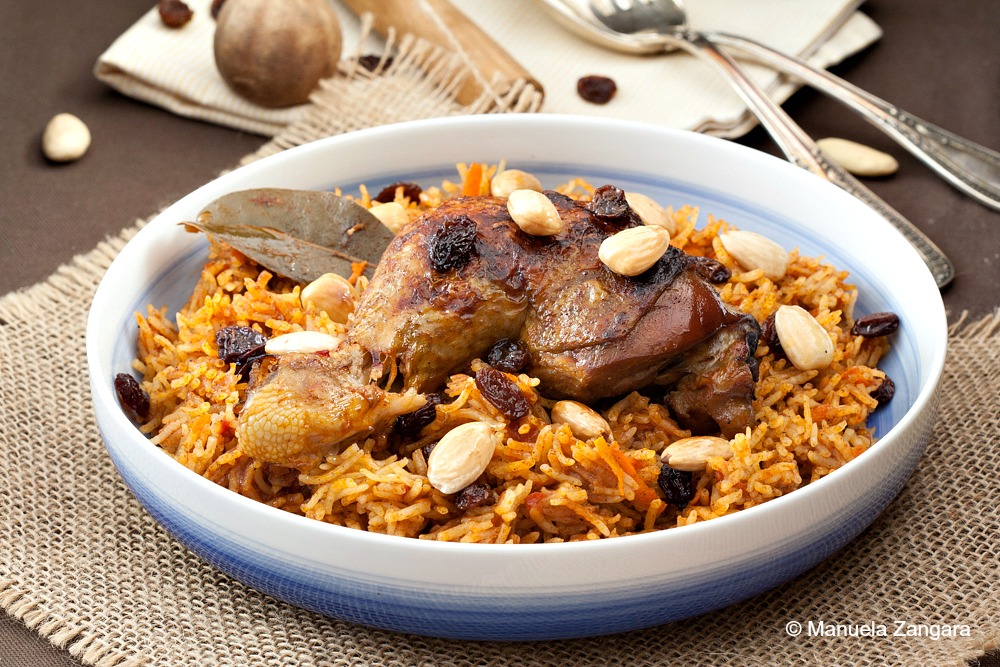 For the month of October, Sawsan from Chef in Disguise challenged us to prepare a rice based main meal that represents our own culture, or one from a cuisine that we would like to explore.
Now that's the kind of Daring Cooks challenge I like! I love rice actually. At first I thought of making risotto, as that's probably the most renowned Italian rice based dish. But then it hit me, it would not be much of a challenge to me as I am very familiar with both the technique and the flavour profile. I then thought about Indian food, but I do already have a couple of biryani recipes (my Hyderabadi Chicken Biryani is actually one of the most popular recipe on Manu's Menu!), and I wanted to try something new. So, I turned to the Middle East for inspiration and I found out about Kabsa – كبسة. It is a rice based dish served in many Middle Eastern countries (where it is sometimes called machbūs) and it is considered one of the national dishes of Jordan and Saudi Arabia. There are many kinds of kabsa and it can be made with chicken, goat, lamb, camel, beef and fish. I chose to make a Saudi recipe and to use chicken as my kids like it more than any other meat!  The dish is much easier to make than it seems and it tastes amazing. All the ingredients are easy to find, and I even found the dried lime at the local Lebanese shop! Try it and let me know how you like it!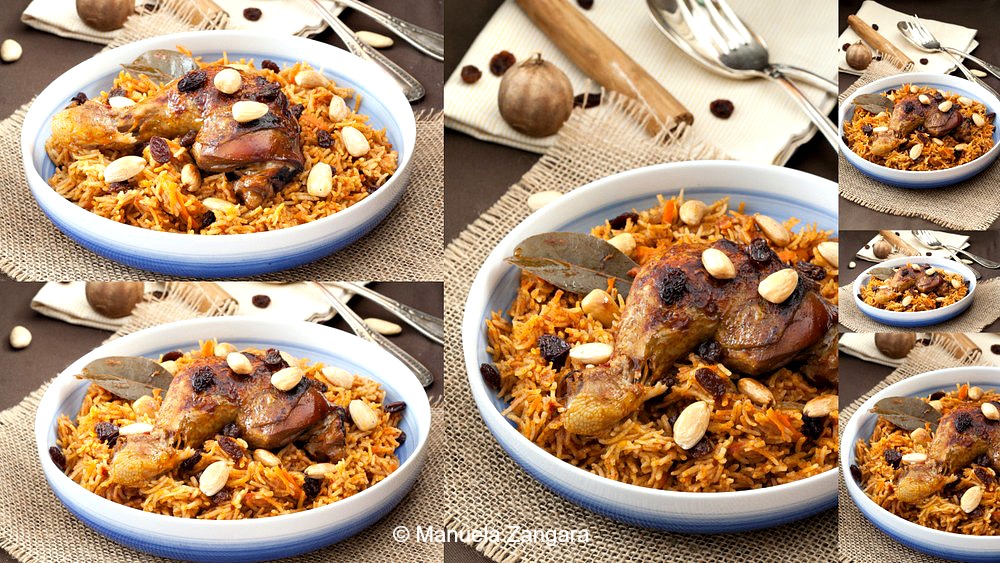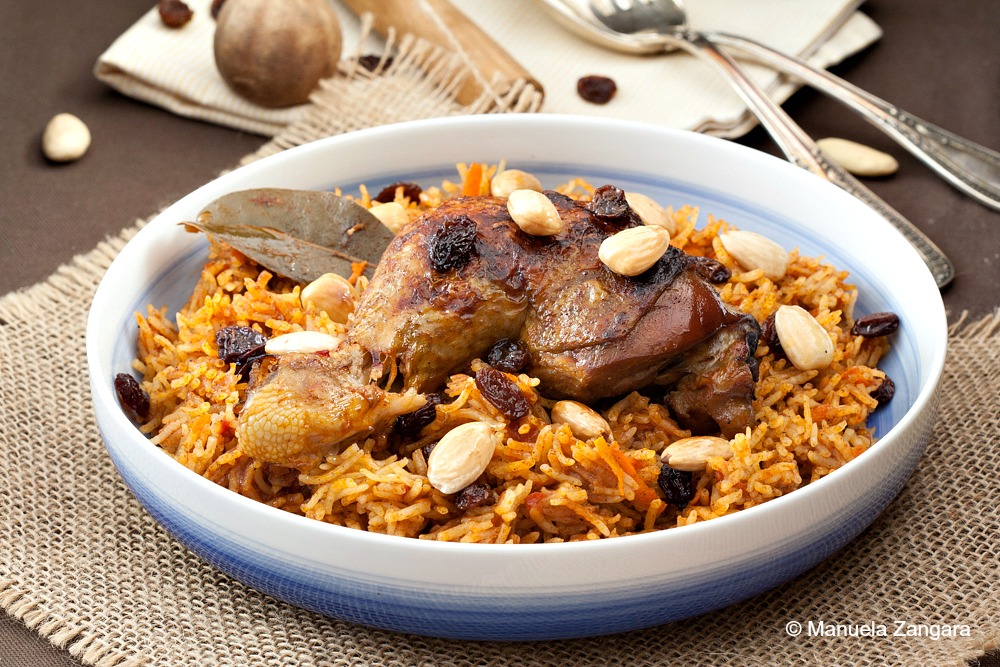 Chicken Kabsa
Chicken Kabsa - an exotic Saudi rice dish served with raisins and almonds.
Total Time
1
hour
10
minutes
Ingredients
1/3

cup

vegetable oil

2

cups

onions

chopped

½

tsp

ginger

grated

600

gms

chicken pieces

with bones and skin

1

tbsp

salt

½

tbsp

ground pepper

½

tbsp

cardamom powder

1

dried lime

½

tsp

cinnamon powder

¼

tsp

clove powder

1

bay leaf

1

tbsp

tomato paste

2

cups

tomatoes

finely chopped

1 ½

cup

long grain rice

like Basmati

2

cup

carrots

shredded

1/3

cup

almonds

blanched and halved

1/3

cup

raisins
Instructions
Wash and soak the rice in cold water for 45 minutes.

In a big pot, add the 1/3 cup of vegetable oil, chopped onion and ginger. Fry on medium heat until brown.

Add the chicken and brown it on both sides.

Add the cardamom powder, cinnamon powder, clove powder, dried lime, bay leaf, salt, and pepper and mix well.

Add the tomato paste and the chopped tomatoes and cook until the oil rises to the top. Add 1 liter – 4 cups of water, cover and let the chicken cook for 25 minutes on medium-high heat.

In the meantime, fry the raisins until plump and brown in a little bit of oil, drain and keep them aside. Then do the same thing with the almonds. Keep aside.

Once the chicken is cooked, remove it from the pot and put it in a baking pan. Broil it in a hot oven for 5 to 10 minutes. Keep aside.

Drain the rice and put it in the pot from where you removed the chicken. Add the shredded carrots and mix well.

Cover with a clean tea towel and the cover with a lid (this will prevent the steam from evaporating too quickly). Cook the rice for 20-25 minutes on medium heat.

Serve the rice topped with the chicken and the roasted almonds and raisins.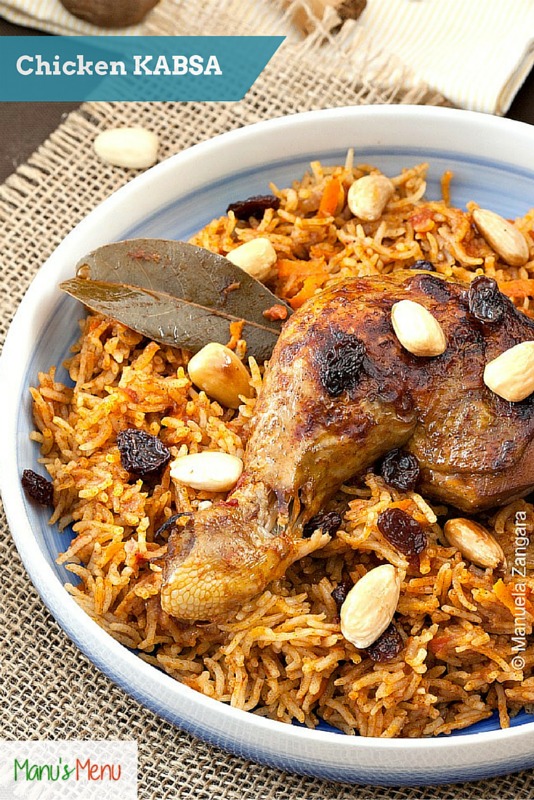 Related Posts: