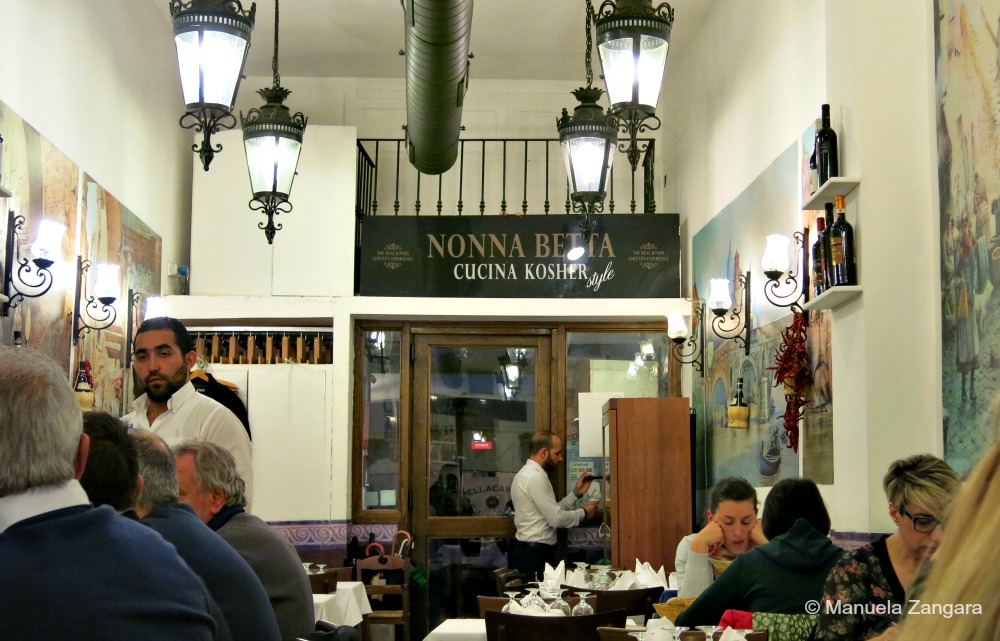 During our recent holiday in Italy, we spent 3 days in Rome. Rome is famous, even among Italians, for its food. It is considered delicious, hearty and the essence of comfort food. And I couldn't agree more. Needless to say, food was one of the highlights of our short stay and today I will share with you the first of three reviews of the restaurants we dined at: Nonna Betta.
Roman cuisine is one of my favourite! I love its decided flavours and the fact that it is so connected with the surrounding territory. Ingredients like abbacchio (aka lamb), Pecorino Romano, ricotta and other cheeses give you a good idea of how important shepherds have always been in this region. Poor ingredients and offal are a staple, just like many vegetables and cured meat like guanciale (cured pork cheek) that is the star ingredient in iconic pasta dishes like Carbonara, Amatriciana and Gricia.
Maybe not many of you know this, but the Jewish community of Rome has contributed a lot to the local cuisine. Many famous dishes like "Carciofi alla romana" (whole artichokes filled with minced garlic and parsley and cooked in olive oil), "Carciofi alla giudia" (Jewish style artichokes – whole artichokes filled with chili peppers and deep fried), fried zucchini flowers and salt cod are all their doing.
So, when in Rome I always like to have a Kosher dinner in one of the restaurants in the Jewish area of town, known as the "Roman ghetto". The ghetto was established in 1555 in the Rione Sant'Angelo, in the area of present-day Via del Portico d'Ottavia, near the Synagogue.
This time we chose "Nonna Betta". Nonna Betta is an authentic Roman Jewish restaurant and it's a family owned business.  Nonna Betta was actually the grandmother of the current owner.
There are 2 separate menus, as they respect the Judaic Talmud rule that forbids mixing meat with dairy. So, one menu features meat dishes and the other one features fish and cheese. They also use only seasonal ingredients, so you won't always find the same dishes on the menu.
They serve all the main Jewish Roman specialities like: carciofi alla giudia, battered cod fillets, fried zucchini flowers, amatriciana alla giudia (Roman Jewish-style amatriciana, made without pork), agnolotti col sugo di stracotto (ravioli with a slow-cooked meat sauce), polpette col sedano (meatballs with celery), rigatoni con la pajata (pasta with veal intestines), cacio e pepe con cicoria (cacio e pepe pasta with stir-fried dandelion greens). They also offer a selection of Middle Eastern specialties like felafel, couscous, hummus and babaganoush.
We started with an antipasto of Carne secca di manzo (cured beef – 10,00 €). This is similar to bresaola, but it's much thicker. It comes with rocket and a drizzle of extra virgin olive oil.  It was delicious!
We also tried the famous Fiori di zucca (fried zucchini flowers filled with mozzarella and anchovies – 3,00 €). These were very good, light, airy and not oily at all.
As main dishes we had Bucatini all'Amatriciana – Jewish style (13,00 €). As Amatriciana is traditionally made with guanciale – cured pork cheek, this is traditionally substituted with Carne secca, which is cured beef.  I was particularly curious about this dish, as I am a huge guanciale lover, but I am happy to say that it was very very good!
My father loves offal, so he ordered Rigatoni con la pajata (pasta with veal intestines – 13,00 €). I know this doesn't sound really appealing the most people, but it is a traditional Roman dish and it was really good too.
We also had some Gnocchi al sugo di castrato (gnocchi with lamb sauce – 13,00 €). This was probably the least impressive dish of all, as the sauce was way too acidic for our taste. The gnocchi, however, were nice, soft and pillowy.
I chose Tagliolini con carciofi (egg pasta with artichokes – 9,00 €). Tasty and simple!
My mother had Lasagna con carciofi (lasagna with artichokes – 9,00 €)… and it was as yummy as it looks!
The portions were very generous, so we were way too full to order dessert. They also offer baklava and a few delicious looking ricotta based cakes.
The service was quite good and attentive and we had a good experience over all. Be advised though that all the restaurants in this area do cater for tourists, so they may be a bit more expensive than others. However, the dishes remain traditional and are not influenced by tourism.
RESOURCES ON MSM
RECIPES FROM THE REGION OF LAZIO:
Puntarelle alla Romana
Gnocchi alla Romana
Spaghetti alla Puttanesca
Stracci di Antrodoco
Abbacchio a Scottadito
Saltimbocca alla Romana
Bucatini all'Amatriciana
Supplì al Telefono
Fried Zucchini Flowers
TRAVEL IN ITALY:
Venice Guide – Italy
Milan Guide – Italy
Rome Guide – Italy
MAP

Related Posts: