If you follow me regularly, you may know that I am off for a short holiday with my family for some well deserved R&R.  While I am gone, I thought I would leave you in good company.  I have wanted to host some guests on Manu's Menu for a while and this sounded like the perfect time to start!  So I have asked 3 of my favourite foodie friends to write some guest posts for Manu's Menu while I am away.  I thought of asking la Reine des Macarons to start off this series in style and wit!  Jill from Mad About Macarons is one of the first bloggers I started following and I simply adore her and her sense of humor!  She is also the author of the book Mad About Macarons, which is the ultimate guide to the world of macarons.  I love this book and if you like macarons (seriously… who doesn't?), it is a must have… it will turn you into a pro in no time!  Even though Jill is very famous for her macarons, she is also a fantastic cook and knows how to prepare many other mouth-watering dishes!  I can't wait to see what she has in store for us today!!  But before we begin, how about reading a bit more about Jill and getting to know her better with a short interview?  Here it goes!
How would you introduce yourself in a few words?
Basically love anything artistic, foody, winey, music and I'm a happy bunny.
How long have you been blogging for and how/why have you started?
Waverley Books suggested I blog and so it started in November last year, just after the book's launch at the BBC's Good Food Show in the UK.  The website wasn't set up as a blog, however, and nobody knew about it.  Not even my parents!  Nobody could comment.  Here was me blogging to myself into the complete empty void of the internet.  Finally 'Le Blog' was transformed in February and since then I have enjoyed meeting so many lovely people and discovered that blogging can be just as addictive as making macarons!
What is a kitchen gadget or appliance you cannot live without?
The electric hand whisk for whisking up the egg whites for macarons!
What is your ultimate comfort food?
When I'm on my own I love a melted gooey cheese on multigrain bread with fresh thyme and lashings of homemade chutney.  It's a bit too British for hubby. 😉
Which, among the posts you have written, is your favorite one? Why?
That's made me think. Possibly the ones that have yet to be published since I become pretty attached to them.  Perhaps the Spam post since I adore looking at the funny side of situations – I also think this one shocked a few people: did she actually make a spam macaron?
And lastly, what is your favorite dish?
Like music, it depends on moods, seasons, weather so it can change constantly.  The dish I've yet to make for dinner…
AND NOW… I'LL LEAVE YOU WITH JILL! ENJOY!
~*~*~*~*~*~~*~*~*~*~*~*~*~*~*~*~*~*~*~*~*~*~*~*~*~*~*~*~*~*~*~*~*~*~*~*~
Mamma Mia! When Manu asked me to guest post, I couldn't help feeling excited.  I adore all the tempting treats that Manu serves us on her Menuand especially all of the beautifully authentic Italian delicacies, complete with her famous step-by-step immaculate instructions and gorgeous photos. I was also lucky enough for Manu to share her Genovese Ericine Sicilian specialities, for the egg yolk recipe series.
What could I serve on her guest menu that would be authentic from France? To help me pick something, Manu and I have a number of things in common: we both followed our hearts to another land with another language and settled into another culture.  I came to France from Scotland and although it's not far compared with Manu, the culture difference was pretty mind-boggling.  I didn't just marry a Frenchman.  I married a Corsican.
The island of Corsica has been in and out of so many hands in history but although it's closer to Italy than France, geographically – it is politically part of France. Their culture is a real mix of Italian and French.  I could go on but basically the Corsicans and the Scots have plenty in common when it comes to their feelings of independence!
One of Corsica's popular dishes is stuffed courgettes.   They come alive with the taste of the Corsican speciality cheese, Brocciu, which is made from unpasturised goat's or ewe's milk. Either way, it's fresh and fabulously creamy – a bit like Italian ricotta but it's not.  It's just brocciu (pronounced 'broach'.)
This is so simple and a favourite when we visit my husband's family in their remote mountain village.  I have a few family recipes for this classic but each one is different: this one is my own adaptation since the best ones I have tasted on the island use mint rather than parsley or basil.
Enjoy them and meanwhile, have a wonderful, relaxing holiday, Manu!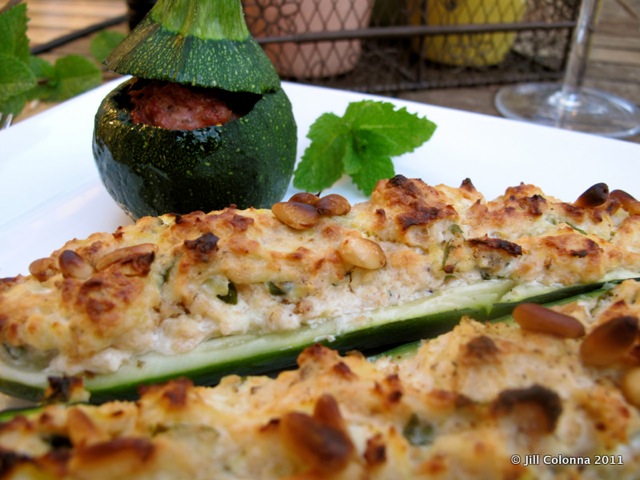 CORSICAN STUFFED COURGETTES
Serves 4
Preparation Time: 15 minutes
Cooking Time: 45 minutes
8 glossy courgettes (zucchini)
3 cloves garlic, finely chopped
1 tbsp fresh mint, finely chopped
2 slices mixed grain bread (or plain if you prefer), mixed to breadcrumbs
250g fresh Corsican Brocciu cheese or tub of ricotta
20g parmesan, finely grated
2 tbsps pine nuts
Drop the courgettes into a large pot of salted boiling water and leave them to soften for 5 minutes.  Remove with a slotted spoon and set aside to cool while preparing the other ingredients. Preheat the oven to 200°C.
2. Trim off the ends then halve each of them lengthwise.  Using a small spoon (I love to use a grapefruit spoon as it has more control), hollow out the flesh leaving a shell about 1cm thick.  Chop up the removed courgette pulp.
3.  Fry the chopped courgette pulp in some olive oil over a medium heat for about 5 minutes, stirring constantly or until the courgettes are no longer giving off any more liquid.  Add the garlic and mint and continue to stir over the heat for another couple of minutes.  Set aside to cool and season with salt and pepper.
4. Using a blender, blitz the bread into crumbs.  In a bowl, mix the cheeses, pine nuts, breadcrumbs and add the cooked courgette mixture.
5.  Dry the courgette shells with kitchen paper then stuff each one generously.  Place them in a single layer on an oiled baking dish.
6. Bake for about 40 minutes, until browned.
Serve hot on their own or with other stuffed vegetables.
~*~*~*~*~*~*~*~*~*~*~*~*~*~*~*~*~*~*~*~*~*~*~*~*~*~*~*~*~*~*~*~*~*~*~*~*~*~*~*~
Now that was a delicious meal idea!!!  Make sure you visit Mad About Macarons to read this and many more fantastic recipes and tips about making macarons!
Jill, THANK YOU so much for writing such a yummy guest post for Manu's Menu.  I really appreciate it! 🙂
You can also follow Jill on Facebook and Foodbuzz.

Related Posts: