Today there won't be any recipe on MsM… it is the time to celebrate and above all it is the time to enjoy the company of your loved ones.  My parents have been here for a couple of weeks already and we are all having a great time together.  The kids especially are having a blast with nonni!
So today, while we are all busy having a cosy family time (and lots of yummy food!), I just want to wish all my readers a very Merry Christmas!
We have also been busy in the kitchen… today the girls and I have baked and decorated a batch of sugar cookies for Santa!  Here they are… cute, eh?  Victoria's cookies are on the left and Georgia's ones are on the right: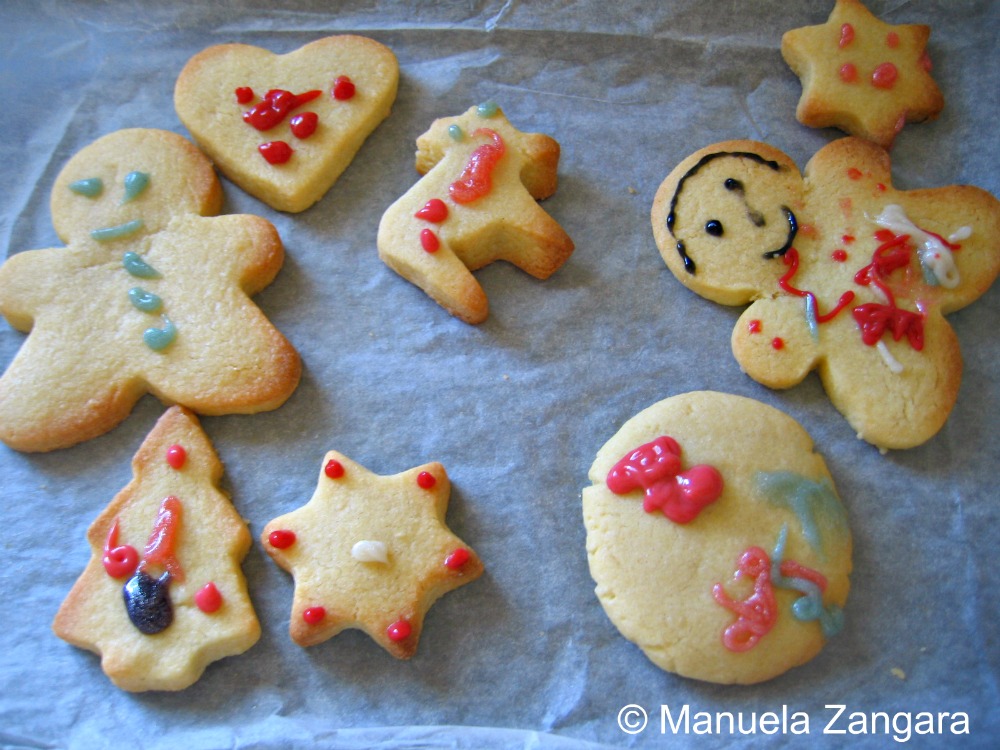 And are you curious to know what our menu will be??  Here it goes…
CHRISTMAS EVE
Antipasti (all served on home-made Pain Brioche)
French Pâté de canard with Onion Jam and Persian Blue Salt
Smoked Ocean Trout
Norwegian Smoked Salmon
Entrées
Dessert
CHRISTMAS LUNCH
Entrée
Fish Couscous – my mom's recipe for the most famous dish of Trapani (Sicily).  This is the "real deal", not the pre cooked couscous you find at the stores!
Dessert
Parfait di mandorla with warm chocolate sauce – this is my Aunt Maria's recipe.  I have already shared a recipe for almond parfait when I started blogging, but this version is slightly different (and so delicious!).
I will be posting the recipes of our Christmas meals over the next few weeks.  For now, how about checking out my Christmas in July post for some tasty ideas?
And for an extra sweet treat…. Check out my Christmas Tree Cake Pops!
MERRY CHRISTMAS to all my readers and their families!!!
Manu

Related Posts: