As many of you already know, Manu's Menu will take part to the Online Bake Sale for Japan organised by Sabrina at The Tomato Tart.  More than 90 food bloggers around the world have come together to support the initiative.  Each of us will bake one or more goodies that will be put up for auction on March 30th on The Tomato Tart's website.  Then we bloggers will ship the treats to the winners of the auction.  All money raised will be donated to Second Harvest Japan, a non profit organisation that is already helping the worst hit areas of Japan.  For a sneak peek of ALL the goodies to be auctioned, please click here!
As the day of the auction is approaching fast, I thought of writing a post to display the goodies that I will donate for the cause.  I have already linked the original recipes to the event, but if you have read my post "Japan – How we can help" you will know that this is something I am very passionate about.  So, in an attempt to spread the word and invite all of you to BID and be GENEROUS, I am reposting my recipes here, today… the day our flight would have landed in Tokyo.
At the Online Bake Sale for Japan, you could be lucky (or better said, generous) enough to become the happy receiver of either a batch of my Almond Cookies or a batch of my "HAND decorated" Martorana – Marzipan.  And guess what?  It does not matter where you live… Manu's Menu will also ship outside Australia.  So, BID, BID, BID and……… BID till you WIN!!!!!!
If you have read my recipe you will know that this is a traditional Sicilian sweet.  This homemade version tastes even better than the one you buy at the pastry shops in Sicily… and if you have ever been there, then you know how good these must be!  When I first heard of the auction I immediately knew I wanted to donate these cookies for it.  Why?  Well, they resemble the Japanese flag, they are not brittle and will get to their geographic destination in perfect shape, and above all, they taste DIVINE!
If you like almonds, you MUST bid for these.  They are not very sweet, and are just right for tea time.  They are crunchy on the outside and gooey on the inside… mmm… my mouth is watering just thinking about them!!!  Whenever I make them they are a big hit and finish in a matter of minutes.  Please, come over to The Tomato Tart's website on March 30th and bid for them!
——————————————————————————————-
Yes… yet another almond based treat and another traditional Sicilian sweet.  I love it.  It was my favourite sweet as a child and if you look at the colourful shapes, you will easily understand why.  You children will love it too, trust me.  My 3 year old daughter could not stop admiring them… until she gave the first one a bite… then there was no way to stop her from devouring them!
I chose this sweet for the Online Bake Sale for Japan as I wanted to contribute something special, something that caught the eye of the potential bidders… after all, we are trying to raise as much money as possible here!  Be generous and when you bid please keep in mind that some of these pieces are fully hand-made (I only have moulds for some of the shapes) and I have hand painted all of them… so they are "precious"!!!
You may get the same shapes as in the pictures or there could be slight variations of shapes and/or colours.  Each piece is unique… after all, that's what "hand-made" means!  Please, come over to The Tomato Tart's website on March 30th and bid for them!
——————————————————————————————-
So, once again… remember, put a reminder in your calendar and come over to The Tomato Tart's website on March 30th to place your bids for Manu's Menu's Almond Cookies and Martorana – Marzipan and for all the other wonderful treats that will be baked all around the world for you and shipped directly to your home!
Here is a list of all the other people who will contribute to the auction with their goodies, make sure to check them out!
PLEASE BE GENEROUS AND "LET'S RAISE SOME DOUGH" FOR THE AMAZING JAPANESE PEOPLE!  THEY REALLY  NEED ALL THE HELP WE CAN GIVE THEM.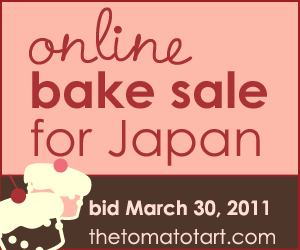 Related Posts: