This is a dish that I learnt from my dad.  He is from Palermo and all the dishes of Palermo that I know to cook, I have learnt from him.  He has in turn learnt them from his mother and grandmother, so they are all family recipes, handed down from generation to generation.  One of the reasons why I am writing this blog is to keep these traditions alive, so that my daughters (and all my readers) can learn them too.  These rolls can be made with beef or pork meat and can either be baked or barbecued.  They are really tasty and they are one of our family's favourite meat dishes.  I hope you enjoy the involtini.
Sharing this recipe with Hearth and Soul Hop by Alex.
Ingredients for 4-6 persons:
500 gms pork (or beef) sizzle steaks (0.5 cm thick to be flattened to 0.2 cm thick).
For the stuffing
1/4 medium onion, finely chopped
50 gms salami, chopped small
50 gms provolone piquant, cubed small
4 tbsp Parmigiano Reggiano, finely grated
1 cup breadcrumbs
2 tbsp tinned diced tomatoes
6 tbsp extra virgin olive oil
1 pinch salt
For the skewers
Half an onion, cut in wedges and the layers separated
Bay leaves
Breadcrumbs and vegetable oil
Flatten the steaks till they become 0.2 cm thick.  They need to be very thin, so they cook fast and you can get to taste the stuffing as well.
You need a 10×8 cm slice of meat for each involtino, so if your flattened sizzle steaks are bigger, then cut them accordingly and keep them aside.
To make the stuffing, put the chopped onion, chopped salami, cubed provolone piquant, grated Parmigiano Reggiano, breadcrumbs, diced tomatoes, extra virgin olive oil and salt in a bowl and mix well.  You may have to add more extra virgin olive oil, depending on the breadcrumbs and how much they absorb the liquids.  You need to obtain a soft enough stuffing so that when you press it with your hands, it retains the shape you give it and doesn't crumble.
Now take one 10×8 cm slice of flattened meat and put some stuffing at the lower part of the slice.  You should try and put at least 1 or 1 ½ tablespoons of stuffing per slice.  Press the stuffing with your hands, so it becomes like a patty.
Now, roll the meat over the stuffing, trying to close the sides by tucking them in and roll it closed.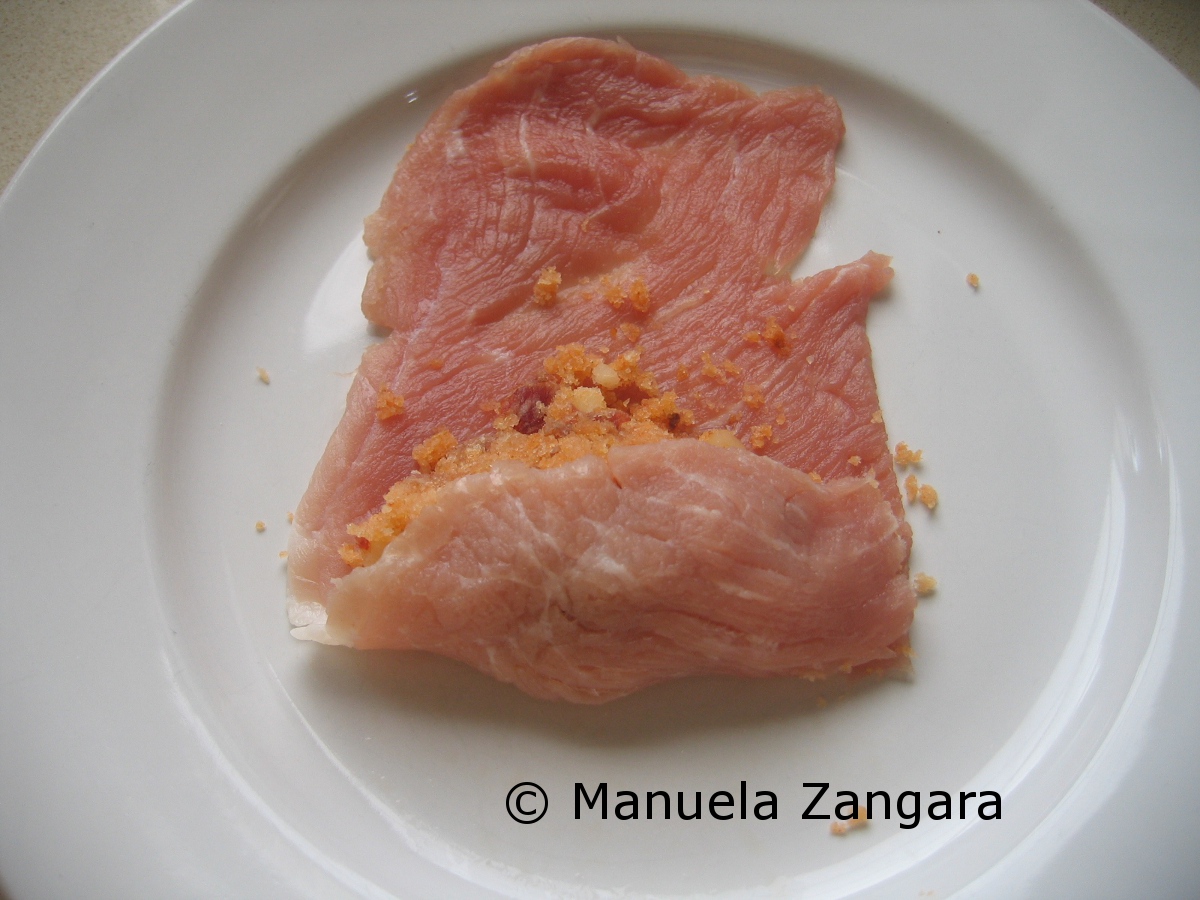 Repeat this for all the slices of meat and keep them aside.
Take a skewer and put one piece of onion, one involtino, one bay leaf, one involtino, one piece of onion etc. till the skewer is almost full.  Repeat for other skewers until you have used all the involtini.
Put some vegetable oil in a plate and some breadcrumbs in another.  Coat the skewered involtini with oil and then with breadcrumbs.
Bake in a preheated fan forced oven at 180°C for 20 minutes or until golden.  Turn once after 10 minutes.  Serve warm.
On another note, I am very happy to say that the picture of my Osso Buco alla Milanese has been published both by TasteSpotting and Foodgawker!  And TasteSpotting has also published the picture of my Light Blueberry Muffins with a lemon sugar crust!  I am soooo honored and happy about this! THANK YOU!!!! 🙂

Related Posts: