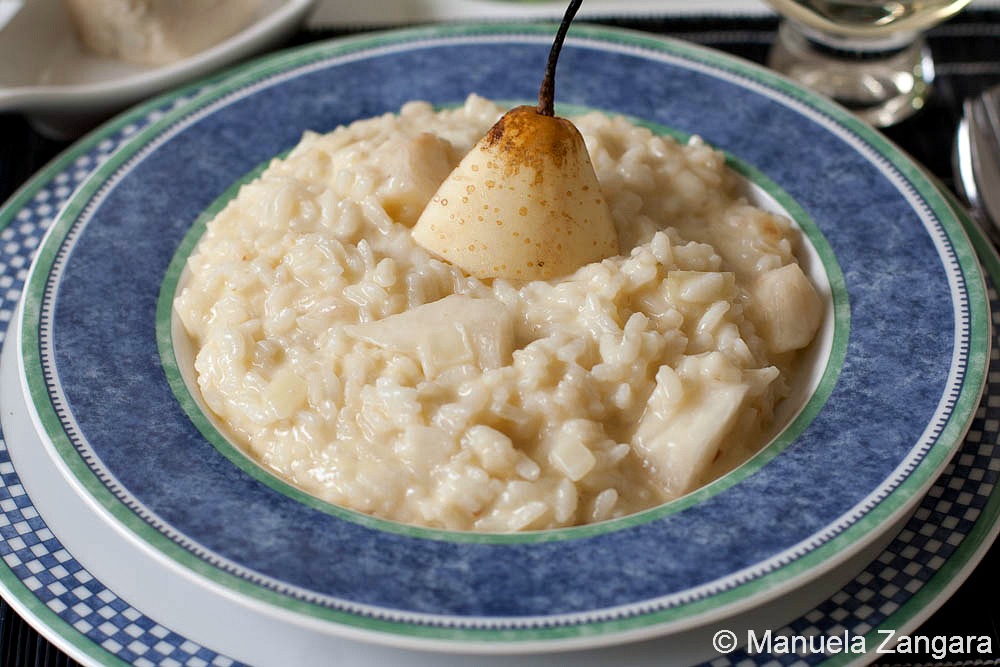 If you follow this blog more or less regularly, you already know I have a huge love for blue cheese.  And to me, gorgonzola is the king of blue cheeses… I guess I am also biased as I was born not too far from a place called Gorgonzola, from where the cheese supposedly originates.  I always say as a true cheese lover: "the smellier, the better".  My 5 year old doesn't agree with me, but my not even 3 year old seems to have taken after mummy.  In fact, she loved this risotto and kept asking for more.  Pairing cheese with pears may appear as an innovative idea, but it is actually a classic.  So much so that in Italy we have a saying that goes: "al contadino non far sapere quant'è buono il cacio con le pere" (don't let the farmer know how good cheese is with pears)… or you would not share them!  So, this pairing must have been around for a while.  No wonder… it is delicious!  Give this risotto a try and let me know!  Buon appetito!
Ingredients (for 4 persons):
320 gms – 11.3 oz. rice (Arborio, Carnaroli or Vialone nano)
½ onion, finely chopped
200 gms – 7 oz. gorgonzola
2 medium pears, cubed
2 tbsp extra virgin olive oil
50 ml – 1.7 oz. white wine
1 lt – 33.8 oz. salty water or vegetable stock (I used water as I did not want the stock to overpower the delicate flavour of the ingredients)
4 tbsp Parmigiano Reggiano, finely grated
30 gms – 2 tbsp butter
Salt to taste
NOTE: the pictures are for ½ a dose.
Start by putting the water with a pinch of salt in a pot and heat it on the fire.  The water has to be hot all the time while you are cooking risotto, so that the rice temperature does not drop when you add the water to it.
Put the finely chopped onion and the 2 tbsp of extra virgin olive oil in a pot and let it cook on a slow fire, until the onion becomes soft and transparent.  Add the rice, mix well and let it cook for 1 or 2 minutes, until it becomes translucent.  Now pour in the white wine and let the alcohol burn off by cooking on a high flame.  Then add enough hot water or stock to cover the rice and turn the fire to medium-low.  Keep cooking, occasionally stirring the rice and adding hot water little by little, until the rice is cooked.  It is going to take approximately 18 to 20 minutes depending on the rice you are using.
When the rice is ready, put the fire off and add the butter, grated Parmigiano Reggiano, gorgonzola and the cubed pears to it.  Mix very well, until the rice becomes creamy.
Make sure that your risotto is moist (or, as we say, all'onda – which literally means wavy) and not sticky.  You can do that by adding 1 or 2 extra tbsp of hot stock if needed.  Check for salt and season to your liking.
Serve immediately.
So, what's you favourite cheese ever??
Pin It

Related Posts: