My mom used to make this pumpkin soup often in autumn and winter, when pumpkin is in season in Italy.  It is a comforting and tasty soup, perfect for a cold winter evening.  If you are vegetarian you can make it without speck.  If you do cook it with speck though, try and find the Italian speck as its flavour is so distinctive that it gives this soup a special taste.  I also like the chopped parsley added at the end as it gives the soup a refreshing flavour.  If you do not have pearl barley, you could substitute it with rice.
Sharing this post with Hearth and Soul Hop by Kankana.
Ingredients for 4 persons:
750 gms potatoes, peeled and cubed in 3×3 cm pieces
750 gms pumpkin, peeled and cubed in 3×3 cm pieces
1 small onion, roughly chopped
50 gms Italian speck, thinly sliced and chopped
2 tbsp extra virgin olive oil
1 tbsp parsley
Salt
Pepper
1 l water or stock
80 gms white pearl barley
Chop the onion and the sliced Italian speck and put them in a pot with the extra virgin olive oil.
Let it fry for a couple of minutes on a low flame.
Now add the chopped pumpkin and potatoes, add water (or stock), cover it and let it cook on a low flame until the vegetables are soft.
Add the pearl barley, adjust salt to your liking and keep cooking until the barley is soft.
You may have to add a little more water if the soup becomes too dense.  When the barley is soft and the vegetables have almost melted, it is ready.
Serve warm with some ground pepper, a drizzle of extra virgin olive oil and chopped parsley on the top.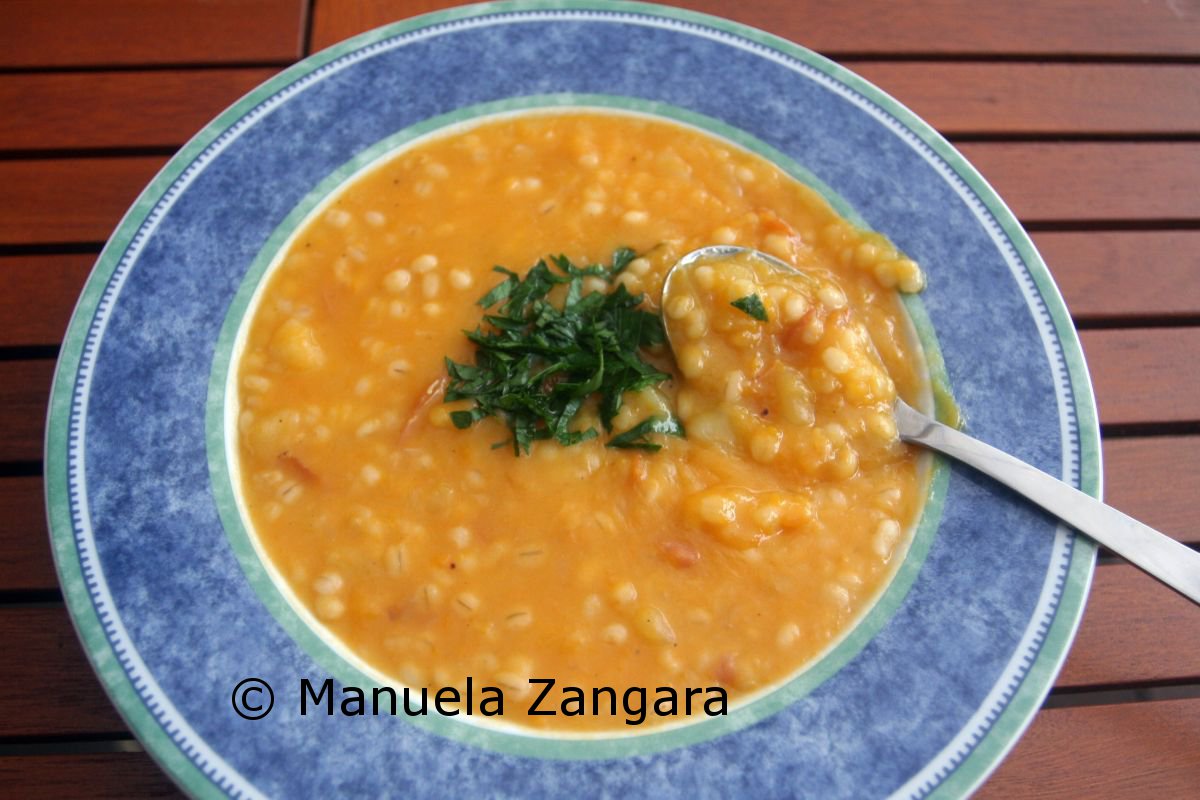 I also want to take the time to thank Tina from Pinay Cooking Corner for awarding me with The Sisterhood of the World Bloggers Award!
Since I started blogging I got to know lots of amazing people who share my same passion for cooking and food in general and I do feel blessed.  Not only Tina is one of them, she and I have also something else in common: we are both trying to keep our culinary traditions alive while living in a different country to the one we were born in.  When I read her blog (which by the way has amazing recipes and pictures) I can totally relate to her "expat" stories.  So receiving this award from her means a lot to me.  She is a very generous and supportive friend, one I am so happy to have "met"!  Thank you Tina and keep up the fantastic work you are doing with your blog, Pinay Cooking Corner! <3
So here I am, sharing this award with a few other "blogging sisters" (even though I would love to share it with many more)! 🙂
Daksha from Daksha's Vegetarian Recipes World
Elyse from The Cultural Dish
Fiona from Nuts About Food
Hester from Alchemy – Simple Ingredients, Magical Food
Jill from Mad About Macarons
Kankana from Sunshine & Smile
Liz from That Skinny Chick Can Bake!!!
Mindy from Whiski Business
Nami from Just One Cookbook
Paola from  An Italian Cooking in the Midwest
Sandra from Sandra's Easy Cooking
Tiffany from Como Water
Visda from Eat, Drink and Just Be!
Enjoy visiting these sites!!!  And thank you so much again Tina from Pinay Cooking Corner: salamat (hope it is correct!)!

Related Posts: