When I was a child I didn't like sweets made with puff pastry: they would crumble so easily leaving my hands dirty and sticky.  Traditionally, Italians do not use puff pastry for sweets very often… I remember eating lots of it in France though.  Well, I have grown up and the times when I did not like sweets made with puff pastry have long gone.  Would that be because I have learnt how to eat them without making too much of a mess?  Or more likely, because I do not care about the mess anymore… I like them too much!  This recipe is very simple and quick to prepare.  I made it the other day as I had some left over cream and strawberries and wanted to put them somewhere else other than in a glass!  I happened to have some puff pastry in the freezer (something that I always have), so the decision as to what to make was easily taken: strawberries and cream in puff pastry cases.  Enjoy!
Ingredients (makes 2):
1 sheet frozen puff pastry, thawed
150 gms strawberries
150 ml cream, to whip
2 tbsp sugar
More sugar to sprinkle on top of the cases
Milk to brush the cases with
Mint leaves for decoration (optional)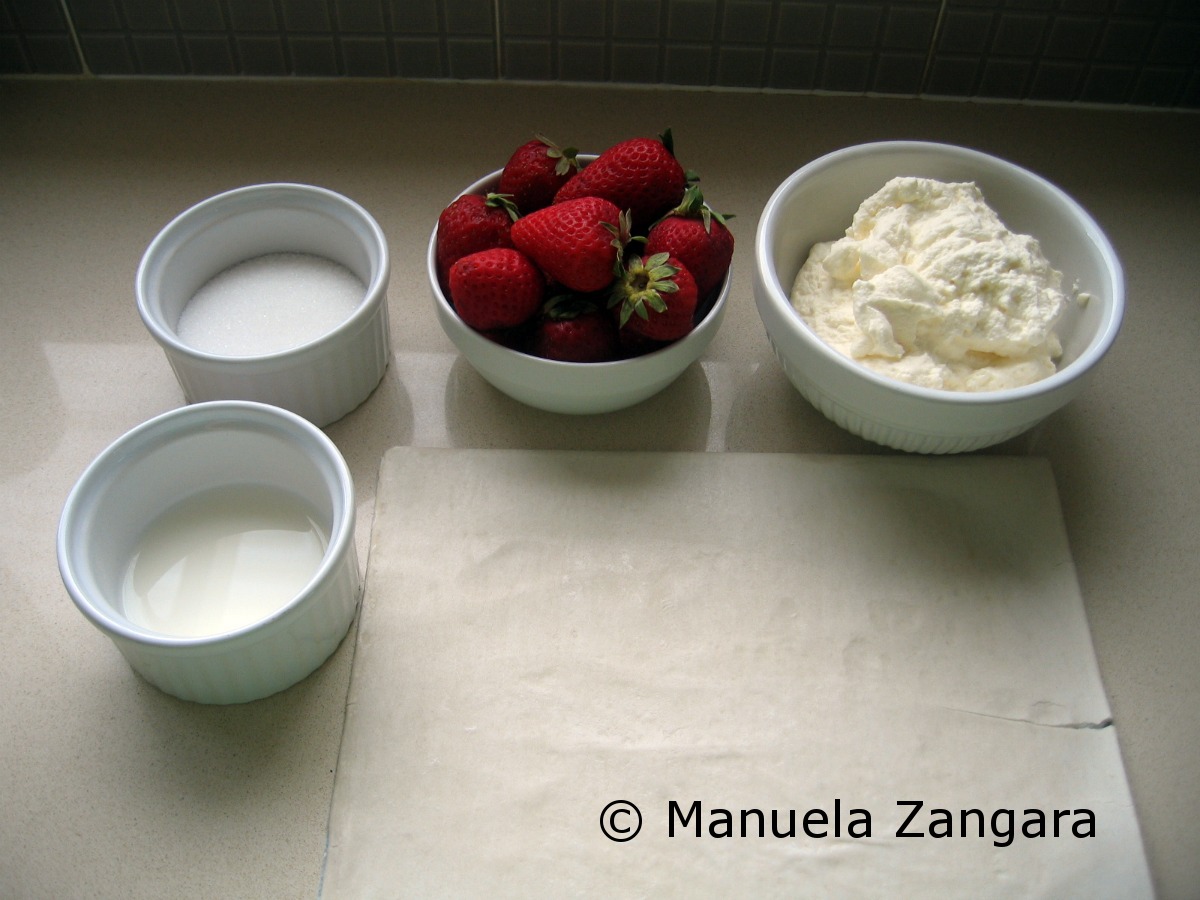 Clean and cut the strawberries into 4 pieces each.  Put them in a small bowl with 1 tbsp of sugar, mix well and keep them aside.  Cut 1 strawberry in half and keep for decoration.
Take 2 round cutters: one of 10 cm in diameter and a smaller one (about 5 cm in diameter).  Using the bigger cutter, cut 2 circles and put them on a tray lined with baking paper.
Then with the same cutter, cut 2 more big circles.  Take the smaller cutter, put it in the middle of the big circles and cut out 2 smaller circles, making a "hole" in the big circles (they will look like rings).
Put these rings on top of the big full circles, like in the picture and press them gently with your fingers so they attach.
Make small holes with the tines of a fork in the centre of each case, so they do not puff up in the oven.
Brush the cases with milk and sprinkle some sugar on the top.
Bake them in a preheated fan-forced oven at 200°C for about 10 minutes or until golden brown.  When ready, keep them aside to cool.
In the meantime, whip the cream with 1 tbsp of sugar.  When ready, add the strawberries and any accumulated juices and fold them in gently.
Put the strawberries and cream in the puff pastry cases and decorate with half a strawberry and mint leaves.
NOTE: do not throw away your left over pastry.  You can brush it with milk and sprinkle some sugar on the top to make delicious pastry treats to serve with tea or coffee.
Just a quick one… Paola from An Italian Cooking in the Midwest honoured me with yet another award, one I had never received before!  It is the Most Deserved Award:
Thank you soooo much/grazie Paola! 🙂  For the people out there who still do not know her, she is an Italian girl living in the USA and trying to cook authentic Italian food (but not exclusively) in her new home… just like me.  Her blog An Italian Cooking in the Midwest is fantastic and filled with delicious recipes!  You absolutely must check it out!
Also… I got another wonderful award from Sandra of Sandra's Easy Cooking!  This is a special award that Sandra herself created to pass along to all the bloggers she follows and follow her.
She is one of the first bloggers I met on this journey and I love her blog.  She has a great personality and you can easily see that by reading her posts.  If you still do not know her site, you need to visit it ASAP, you have no idea what you've been missing!!!  Thank you soooo much Sandra from Sandra's Easy Cooking! <3
I have been given and I have shared quite a few awards lately (THANKS everyone!!!!), so I thought of sharing these 2 with the only person I could not pass any of them to, as she has always been awarding me!!!  So, this one is ALL for you my dear friend Tina from Pinay Cooking Corner!  I do not think I need to introduce her to my readers, as I am sure you are all familiar with her wonderful site… but if there is anyone who still does not know her… well, what are you waiting for?  Just click on Pinay Cooking Corner and check out all the mouth watering dishes that Tina prepares and shares with all of us! 🙂
Enjoy!

Related Posts: