Today I am a guest at my friend Pola's beautiful site: An Italian Cooking in the Midwest.  I was so thrilled when she asked me to write a post for her!  Why?!  Well, because I love her site.  We have many things in common: we are both Italians living abroad and trying (hard) to maintain our Italian culinary traditions in places where we cannot always find all the ingredients we have grown up using and eating.  It can be hard at times, but we also discover other cuisines along the way, which is great!  Anyhow, this time I decided to keep up our Italian tradition and prepare one of my favourite Italian dishes for her: risotto.  I found an authentic scamorza affumicata (smoked scamorza cheese) at the Italian store and I could not resist it.  I love this lightly smoky cheese, especially melted on pizza, in a sandwich and in… risotto.  Before I leave you to the recipe I want to THANK Pola for giving me the opportunity to be a guest over at her beautiful site and for being such a supportive and lovely fellow foodie and friend!  Enjoy!
Ingredients: (for 4 people)
350 gms rice (Arborio, Carnaroli or Vialone nano)
1/2 onion, finely chopped
2 tbsp extra virgin olive oil
1/2 glass white wine
1 lt stock (preferably chicken or vegetable stock)
180 gms smoked scamorza cheese, cubed
30 gms butter
50 gms Parmigiano Reggiano, finely grated
Salt to taste
Pepper and more Parmigiano Reggiano finely grated to serve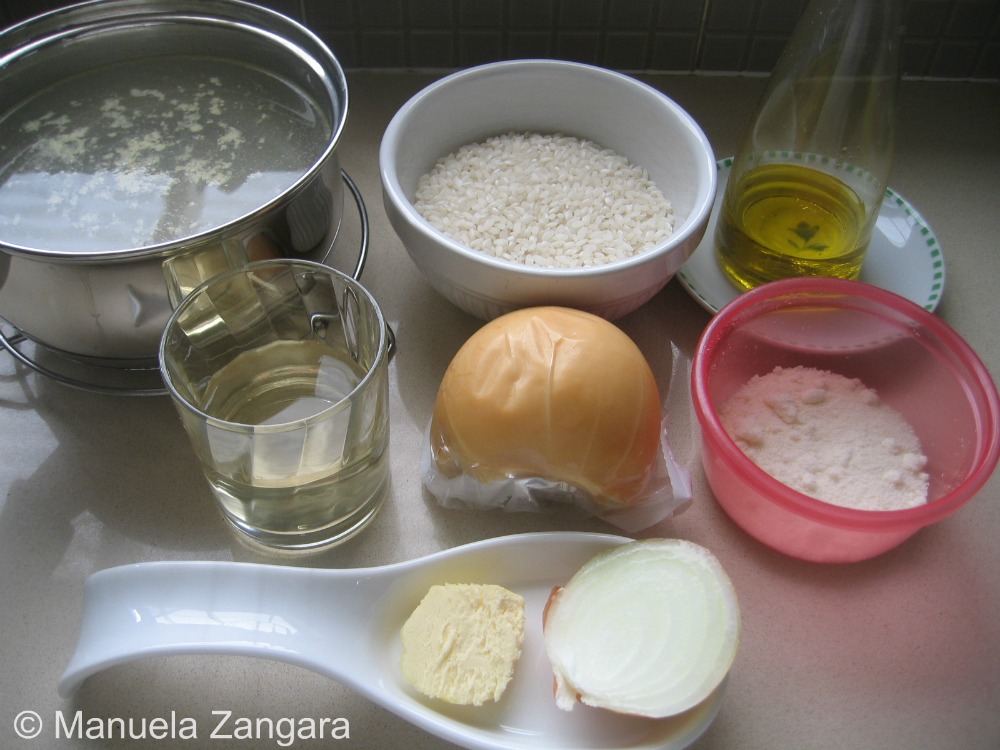 Start by putting the stock in a pot and heat it on the fire.  The stock has to be hot all the time while you are cooking risotto, so that the rice temperature does not drop when you add the stock to it.
Put the finely chopped onion and the extra virgin olive oil in a pot and let it cook on a slow fire, until the onion becomes soft and transparent.
Add the rice, mix well and let it cook for 1 or 2 minutes, until it becomes translucent.
Now pour in the white wine and let the alcohol burn off by cooking on a high flame.
Then add enough stock to cover the rice and turn the fire to medium-low.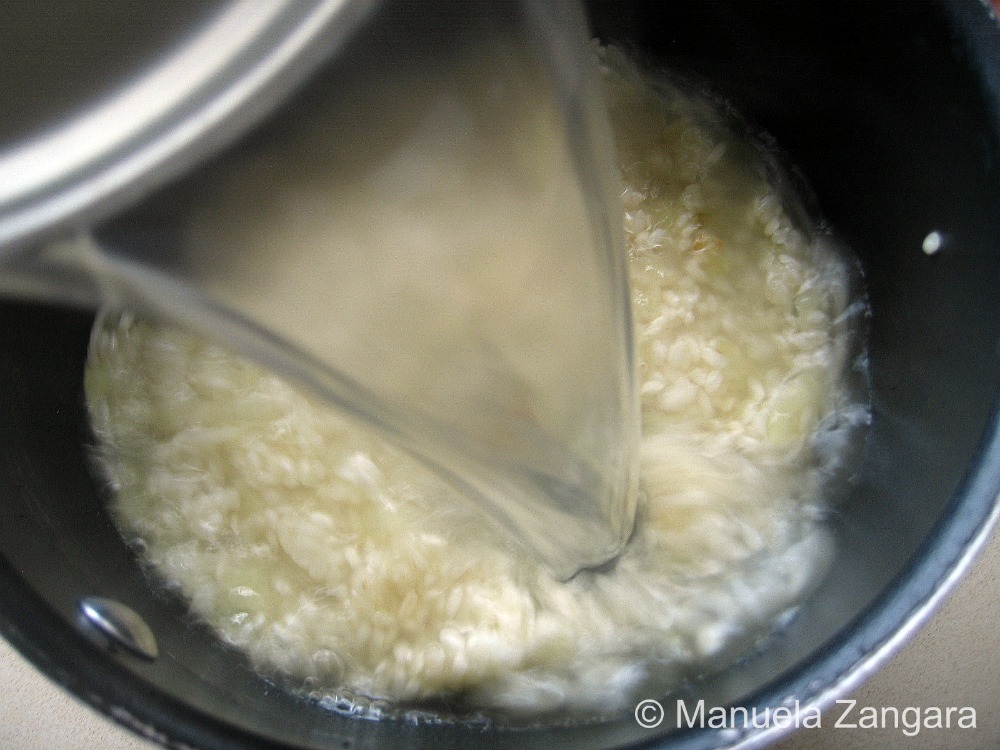 Keep cooking, occasionally stirring the rice and adding stock little by little, until the rice is cooked.  It is going to take approximately 18 to 20 minutes depending on the rice you are using.
When the rice is ready, put the fire off and add the chopped smoked scamorza, butter and Parmigiano Reggiano to it.
Mix very well, until the cheese melts and the rice becomes creamy.  Make sure that your risotto is moist (or, as we say, all'onda – which literally means wavy) and not sticky.  You can do that by adding 1 or 2 extra tbsp of stock if needed.  Check for salt and season to your liking.
Serve with some more grated Parmigiano Reggiano and a sprinkle of freshly ground pepper on the top.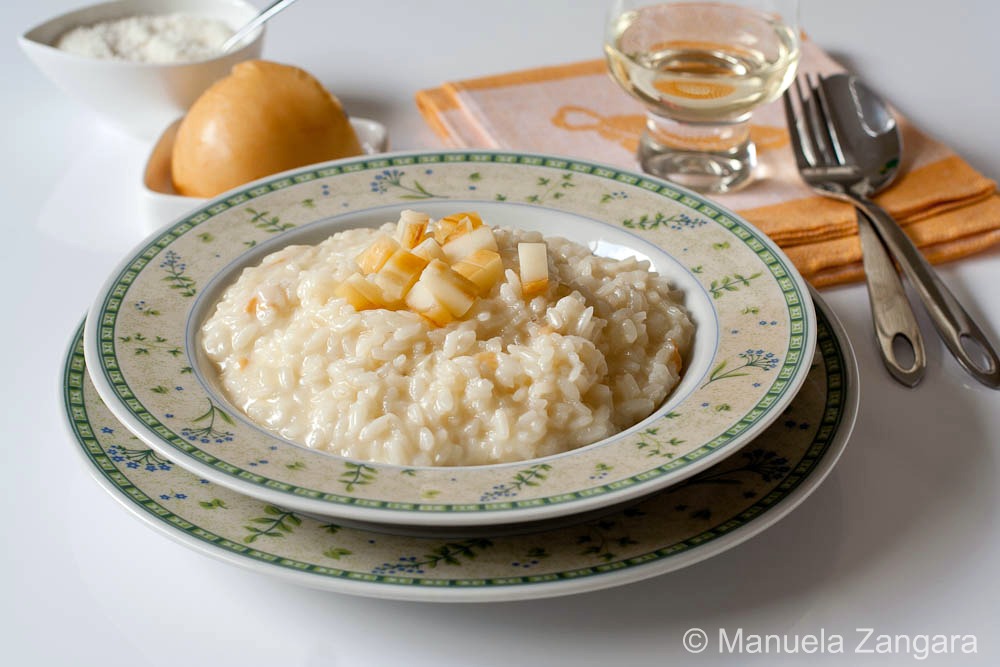 NOTE:  Whenever you cook risotto, do not wash the rice before cooking.  The starch is needed for the risotto to become creamy.
Thanks again Pola!  Please, pass by An Italian Cooking in the Midwest and take your time to browse all the mouth-watering recipes that Pola has posted!  You'll get so hungry!!!  Just enough to cook some risotto! 😉
You can also follow Pola on Twitter, Facebook and Foodbuzz!

Related Posts: