During our 3 week stay in Cividale del Friuli, we were lucky enough to be able to visit the surrounding areas. We had a rental car and we drove around extensively to explore the region. Today I will take you to visit some important WWI sites.
This part of Italy that borders with Austria to the North and Slovenia to the East was part of the Austro-Hungarian Empire for many years. It was also the theatre of some of the most terrible WWI battles between the Italian and the Austrian troops, with the Italian trying to push the Austrian as far back east as possible.
SIGHTSEEING
If you are interested in history like me, this is an absolute must-visit-part of the world. If you go trekking on the local mountains, you are still likely to find some objects from the battles – it won't take a lot of digging!
There are many sites to visit and a lot of them include museums, memorials, war cemeteries, and restored trenches. We visited some of these places and I will share some info and pictures with you in this post.
Kobarid – Caporetto
The battle of Caporetto took place from the 24th of October to the 19th of November 1917, near the town of Kobarid (now in north-western Slovenia, then part of the Austrian Littoral). The battle was named after the Italian name of the town.
The Austro-Hungarian forces were able to break into the Italian front line and defeat the Italian forces opposing them. 10,000 Italians and more than 50,000 Austrians were killed during this battle. The defeat was a debacle for Italy as the Austro-Hungarians were able to penetrate deeper into the country. It was such a catastrophic event that the saying "e' stata una Caporetto" (literally "it has been a Caporetto") still means "it was a disaster" even today.
The little town of Kobarid is now in Slovenia and it hosts a little but very interesting museum.
You can see the permanent exhibition with weapons, objects, books, pictures and many things that have been found in the area.
They also have some temporary exhibitions from time to time. You can also watch a short 20-minute movie in English that explains the details of the battle.
After visiting the museum, we walked up the hill to visit the memorial.
There is a chapel there and monuments in honour of all who died. Some people have also been buried here, especially people whose identity remained unknown.
It is a very touching place.
Cividale del Friuli
Located in the former railway station of Cividale, the Museum of the Great War collects armour, uniforms, and original weapons of the armies operational on the Italian front.
In one of the halls, you can visit a didactic trench: a thorough reconstruction of a trench section with a dressing room in the cave, cave shelter, gunships with protective shields, and cross-links.
The museum is small, but it is very well organised. The volunteers who run it are also very knowledgeable. If you speak Italian, you will learn A LOT from them. If you don't speak Italian, visit anyway. It is free and some parts of it will give you goosebumps.
I took a picture of this Maggi broth bottle.
And a tin of San Daniele ham – the local prosciutto! I can't believe soldiers were already eating that 100 years ago!
Aquileia
Aquileia is most famous for the amazing mosaics and Roman ruins – more on that in a separate post. However, the churchyard of the Basilica di Santa Maria Assunta contains a plot with Italian war graves from the First World War.
It is a very peaceful place. We were the only ones visiting it – I guess not many people know it even exists!
Wandering around the graves and reading names, dates, and stories was really moving. So many young lives were lost during this absurd war.
Please, consider stopping by to pay your respect if you visit the mosaics of the church.
Redipuglia
The Redipuglia War Memorial is located near the village of Fogliano Redipuglia, in the Friuli Venezia Giulia region. It is the largest war memorial in Italy and one of the largest in the world, housing the remains of 100,187 Italian soldiers killed between 1915 and 1917 in the eleven battles fought on the Karst and Isonzo front. It is so big that you can see it from the highway while driving!
The shrine, built between 1935 and 1938 on the side of the hill, consists of 22 horizontal platforms of stone, arrayed in step-like progression, hosting the remains of 39,857 identified soldiers, arranged in alphabetic order. The top frieze of each platform, above the name plaques, reads repetitively Presente (Present).
Above the last step, a votive chapel is lined by two large mass graves holding the remains of 60,330 unknown soldiers. The chapel and two adjacent rooms contain personal belongings of Italian and Austro-Hungarian soldiers.
The opposite hill was formerly the site of a war cemetery. It has now been turned into a memorial park with statues dedicated to the various branches of the Italian Army.
It also displays Italian and Austro-Hungarian artillery pieces.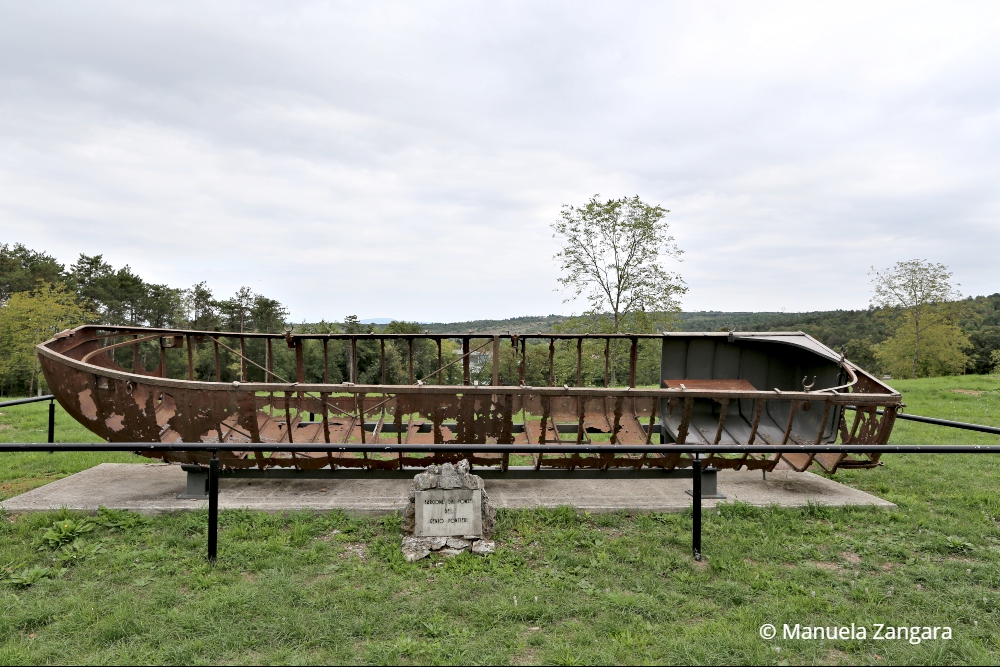 You can also visit trenches and tunnels.
There is also a little museum with war relics, reconstructions, and panels about the history of the Third Army and the battles of the Isonzo.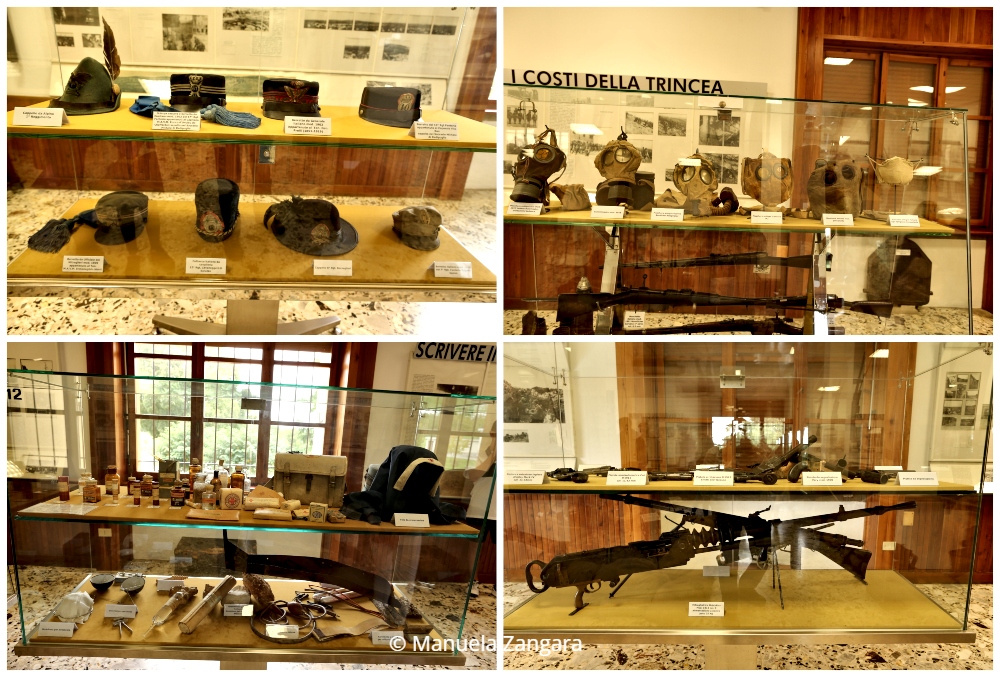 The Carnia carriers were also remembered. They were very brave women who used to carry supplies to the first line through dangerous mountain trails.
Italy's fallen in World War I are commemorated at Redipuglia on the 4th of November of every year.
San Michele al Carso
This area was greatly impacted during the war. During the warmer months, I highly recommend you explore it on foot as they have lots of easy mountain trails that will let you experience the remains of the war.
You will see trenches, monuments, statues, etc.
From the top of the mountain, you can see an amazing panorama towards Gorizia!
The most interesting attraction is definitely the Virtual Museum of the Great War. I personally loved this. You get to put on some special glasses and "live through" the war. It is quite scary actually, as it is very realistic but absolutely worth trying. This is something the kids would find very interesting and a great way to get them interested in history.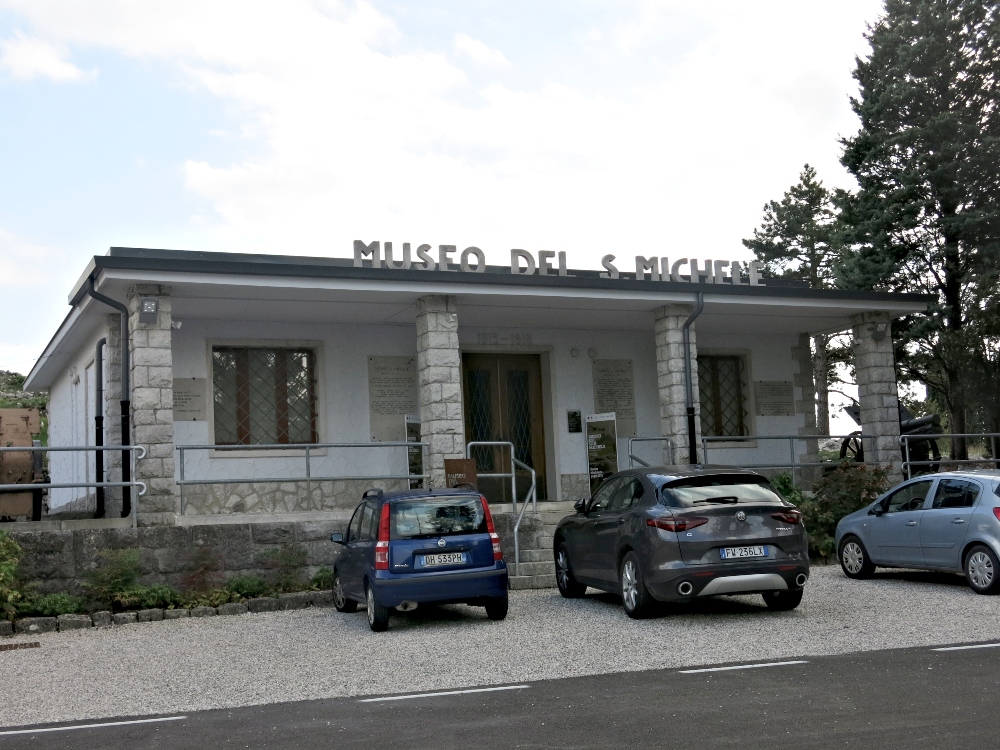 Next to the museum, you can also visit the underground tunnels built to host the cannons. Very interesting too!
Highly recommended.
FOOD
We tried 2 restaurants around these areas and I can highly recommend both.
Gostišče Jazbec – Kobarid (Slovenia)
We found this place by chance, as we were driving towards the museum. It was a great find, I tell you! In fact, we liked it so much that we would have wanted to go back to Gostišče Jazbec… if only we had had more time!
We had a mixed salumi platter.
Ravioli with ragù.
Polenta with speck and cheese.
Chocolate filled crêpes.
Walnut filled crêpes. Delicious!
Kobariški Štrukelj, dumplings filled with raisins, breadcrumbs and walnuts and derved with melted butter. SO GOOD!!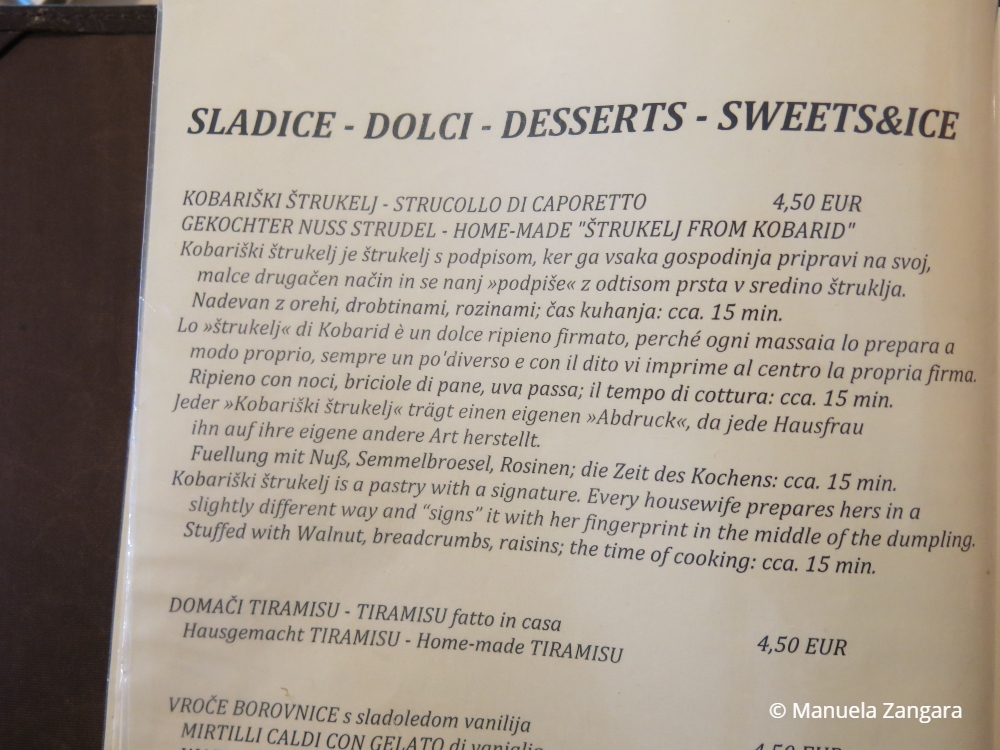 '
The price was very good and the food delicious. This is a highly recommended spot to enjoy a yummy lunch!
Lokanda Devetak – San Michele del Carso
Lokanda Devetak is a real gem. it is a "high-end" trattoria with hearty, but sophisticated food.
We had a mixed salumi platter.
A mixed cheese platter served with home-made preserves.
Gorgonzola and Apple Spätzle.
Fusi pasta with luganighe sausages and Jamar cheese sauce.
Snidjeno Testo, yeasted dough dumplings filled with rabbit ragù and served with fennel seeds and local smoked ricotta. AMAZING!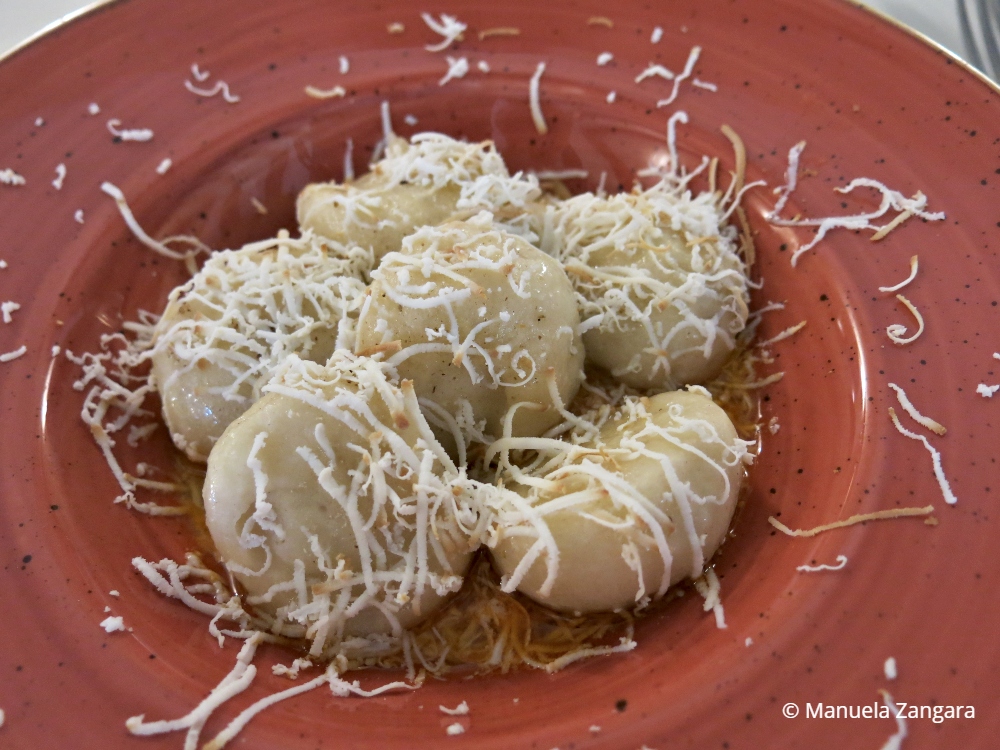 For dessert, we had Honey Semifreddo with Cointreau Oranges. Note that the honey is locally produced, and when I say locally, I mean by the same people who run the restaurant. Yep, that's how awesome this place is!
A dark Chocolate "Soup" with cream gelato, pan biscuit and whipped cream foam.
And the BEST Tiramisù I have ever had. It would be worth being back even just for this, I tell you. I have had plenty of Tiramisù in my life, but this is hard to beat!
I absolutely recommend a meal at Lokanda Devetak!
ACCOMMODATION
We stayed in a beautifully appointed apartment right in the heart of town, in Piazza Polo Diacono: Casa in Piazza. This place is a gem.
We booked the 1 bedroom apartment with a king bed.
There were a big kitchen and a sofa bed in the living room.
There was also a perfectly sized bathroom.
It is very clean and practically new. Highly recommended – I think a place like that right in the centre of town is hard to beat! And with so many restaurants and cafés just down in the square!
Also, the building itself is ancient – it dates back centuries and the restoration work was done really tastefully. You can still see part of the original walls in some areas of the apartment!
The mezzanine with loft is the apartment above this and it was lovely too – friends from our same group were renting it, so we got to visit.
The owner and his wife are truly amazing people. Very friendly, helpful, and kind. One day they even took us for a drive to see the vineyards and we had lunch together. More on that in another post though.
If you decided to visit Cividale, look no further: stay at Casa in Piazza for an AMAZING experience.
CONCLUSION
I highly recommend a visit to any (or all) of these places. Whether or not you love history like me, you will definitely find something interesting. If anything, it is a good occasion to reflect on what a tragedy a war is and on how much pain it causes.
Even if it has been 100 years already, every village in this area has a monument to honour the local victims. You can tell it is still a very sensitive topic.
Do visit and see for yourself!
If you have any questions, leave a comment and I will be happy to help out!
Don't forget to PIN this post on WWI!
RESOURCES ON MSM
TRAVEL
Trapani, Erice, and Segesta – Italy Guide
San Vito lo Capo – Italy Guide
Cividale del Friuli – Italy Guide
FOOD
Maiale al Latte – Purcit Tal Lat
Chifeletti – Kipfel – Kifelček
MAP

Related Posts: