This is definitely a "winter dish" and one of my favourite comfort foods.  There is nothing better than to dig your fork into a soft crêpe-like wrap covered in béchamel sauce and grated Parmigiano and seeing the vegetables and cheese filling oozing out of it…  Ok, if your mouth hasn't started watering by now, there's something wrong with you or with my description… just scroll down for some pictures and you will know what I mean!  Crespelle are basically Italian savory crêpes that you can fill with whatever you like (usually the fillings are cured meats and/or vegetables AND cheese), topped with béchamel sauce and then baked until a nice golden crust forms on the top.  They are a great dinner treat and even if a bit time consuming, you can make them over a couple of days as the fillings and the crêpes can be easily prepared in advance and kept in the fridge till you are ready to assemble and bake the dish.  Enjoy!
Ingredients (makes 8 crespelle):
For the crespelle
30 gms butter
165 gms flour
350 ml milk
2 eggs
1 pinch salt
For the fillings
Radicchio & Gorgonzola
1 radicchio, shredded
1 onion, thinly chopped
2 tbsp extra virgin olive oil
Salt
100 gms gorgonzola, chopped
Mushroom, Zucchini & Taleggio
1 big flat mushroom, sliced
2 zucchini, coarsely sliced
2 cloves of garlic
2 tbsp extra virgin olive oil
1 tbsp parlsey, thinly chopped
Salt
100 gms taleggio, chopped
For the béchamel sauce
Make half the dose of the béchamel recipe that you find in How to make béchamel sauce in the Techniques page of this blog.
Parmigiano Reggiano, thinly grated for the top
To prepare the fillings:
Wash and shred the radicchio and keep it aside.
Thinly chop the onion and put it in a large pot with the extra virgin olive oil.
Sauté for a couple of minutes until translucent, then add the shredded radicchio and salt.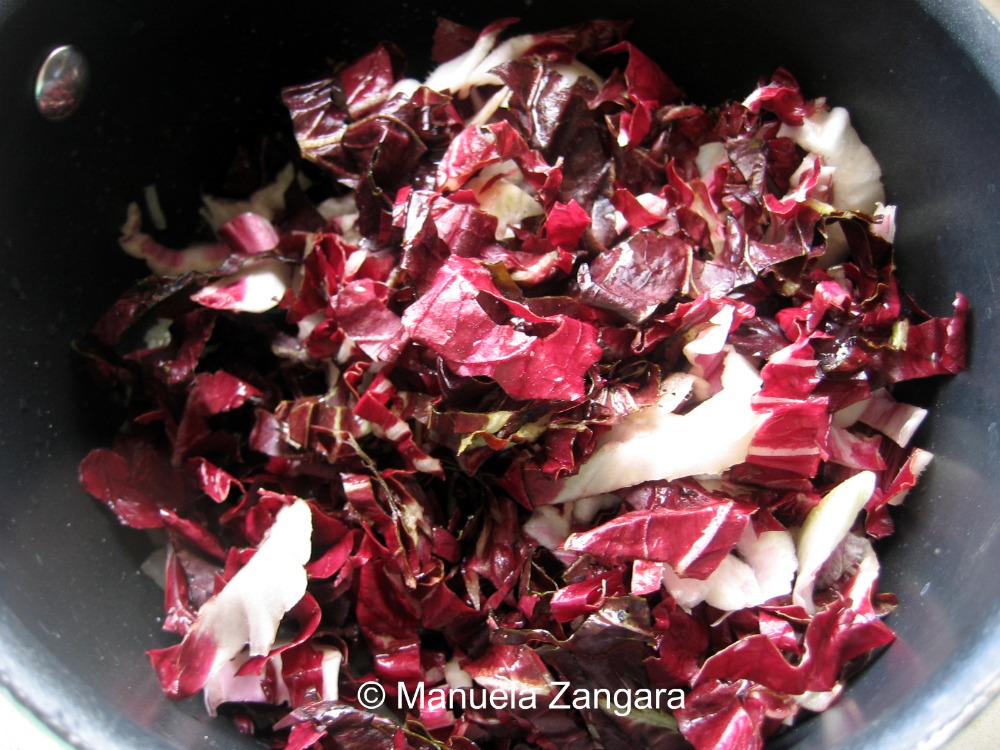 Cover and let it cook on a low flame for about 10 minutes.  You should not have to add water as radicchio usually creates a little liquid while cooking, but do keep an eye on it and adjust as needed.  Your end result has to be rather dry though.  When cooked, keep aside until cool.
Now chop the zucchini and slice the mushroom.  Put the cloves of garlic and the extra virgin olive oil in a non stick pan and sauté for a couple of minutes.
Add the vegetables and salt and let them cook for 10 minutes, or until soft (NOTE: they need to be quite soft and dry).
When cooked add the chopped parlsey and keep aside until cool.
To prepare crespelle:
Put all the ingredients in an electric mixer and blend for a couple of minutes until your batter is smooth.
Let it rest in the fridge for 30 minutes.
Take a non stick frying pan and put it on the fire.  When hot add ¼ tsp of butter and a ladle of batter by swirling the pan so the batter coats the base of the pan. You want to make the coating thin (about 1.5 mm thick).  When the surface of the crespella dries up, it is time to flip it over.  Do so by using a plastic spatula to loosen its sides first and then flip it over.  Cook it for a minute more, then remove it from the pan and keep it aside.  Repeat this till your batter is over (this recipe should make about 8 crespelle).
As soon as the crespelle are cool enough for you to handle them, you are ready to fill them.
Put radicchio and gorgonzola in one half of 4 of the crespelle, and put zucchini & mushrooms and taleggio in the other 4.
Fold in half and then in half again.
Take an oven proof dish, put a little béchamel on the bottom to prevent the crespelle from sticking to the bottom of the dish.
Put the crespelle in the dish on a single layer (it's ok if they overlap a little) and cover them with the remaining béchamel sauce.  Sprinkle the top with some thinly grated Parmigiano Reggiano and bake in a preheated fan forced oven at 180°C for about 15 minutes or until you get a nice golden crust on the top.  Serve warm.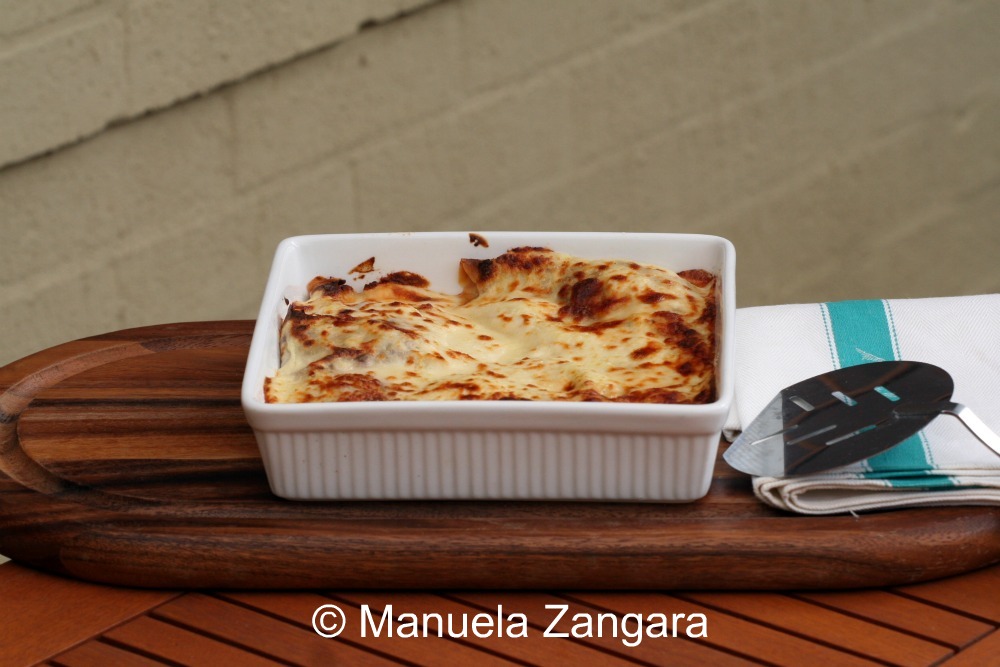 Related Posts: