Mary, who writes the delicious blog, Mary Mary Culinary was our August Daring Cooks' host.  Mary chose to show us how delicious South Indian cuisine is!  She challenged us to make Appam and another South Indian/Sri Lankan dish to go with the warm flat bread.  When I saw this month's challenge I got really excited: after making pasta from scratch for last month's challenge, it was time to learn something new as we had never eaten appam before!  And I can tell you that we were all (including our little girls) quite impressed by this coconut and rice flat bread.  As many of you already know, my husband is of Indian origin.  What you probably do not know is that he is from Goa and Goa is considered a "South Indian State".  Goan cuisine is quite unique and different than many of its surrounding states, even though it still uses lots of local spices and coconut.  This is because Goa used to be a Portuguese colony (which means Portuguese cuisine influenced Goan cuisine a lot) and many of its inhabitants are Catholic (which means that Goa's most famous dishes are non-veg and even made of beef and pork).  You can read a little more about Goan cuisine here.  So, for the "curry component" of the challenge I could not choose anything else but a traditional Goan dish.  I decided to make ambotik, a fish curry traditionally made with shark (or angel fish as it is called here), freshly scraped coconut and tamarind.  It is slightly spicy, but its main characteristic is the sourness given by the tamarind and vinegar.  I did not have a recipe for this dish, so I looked it up on the internet and found a version that convinced my husband (I had never eaten ambotik before).  We made a few changes and added some goraka to it.  It came out great and it was the perfect dish to eat with appam!
APPAM
Recipe taken from the Daring Cook's Challenge (which was adapted from Aparna at My Diverse Kitchen)
Ingredients: (makes about 15)
1 ½ cups (360 ml/300 gm/10½ oz) raw rice
1 ½ teaspoons (7½ ml/5 gm) active dry yeast
2 teaspoons (10 ml/9 gm) sugar
½ cup (120 ml) of coconut water or water, room temperature
1 ½ tablespoons (22½ ml/18 gm) cooked rice
½ teaspoon (2½ ml/3 gm) salt
½ cup (120 ml) thick coconut milk (from the top of an unshaken can)
Soak the raw rice in 4 to 5 cups of water for at least 3 hours. I soaked it overnight, to save some time the following day.
Dissolve the sugar in the coconut water or plain water and add the yeast. Set aside in a warm area for 10-15 minutes, until very frothy.
Drain the rice and grind it in a blender with the yeast mixture to make a smooth batter. You can add a bit of extra water if needed, but I did not. Add the cooked rice, and grind/blend to combine well. You can see that it is not completely smooth, but very thick – that's about right.
Pour into a large bowl, cover and leave in a warm place for 8-12 hours. You not only want the mixture to rise and collapse, but to ferment. When it is ready, it will have a slightly sour and distinctly yeasty smell. Don't worry – they are very mild tasting when cooked!
Add the coconut milk and salt, and a bit of water if necessary, so that you have a batter that is just a bit thicker than milk. Notice how it bubbles after you add the coconut milk. I recommend test-cooking one before thinning the batter.
Heat your pan over medium heat. Wipe a few drops of oil over it using a paper towel. Stir the batter and pour in 3-4 tablespoons, depending on the size of the pan. Working quickly, hold the handle(s) and give the pan a quick swirl so that the batter comes to the top edge. Swirl once only, as you want the edges to be thin and lacy.
Cover the pan and cook for about 2 minutes. Uncover and check. The center should have puffed up a bit, and will be shiny, but dry to the touch.
When ready, loosen the edges with a small spatula and serve immediately. These need to be served hot out of the pan.
Make another, and another… until the batter finishes.
NOTE: The leftover batter can be refrigerated for a day or 2.
AMBOTIK – A GOAN FISH CURRY
Recipe adapted from Sanjeev Kapoor and… my husband!
Ingredients: (for 4 people)
500 gms fish, cut into ½ inch thick slices (shark, pomfret, mackerel or king fish)
For the marinade
1 tsp turmeric powder
1 tsp salt
For the masala
1 tbsp coriander seeds, dry roasted
1 tsp cumin seeds, dry roasted
1 cup coconut, scraped
8 red chillies
1 inch ginger
8 to 10 cloves garlic
2 inch cinnamon
5 cloves
2 tbsp white vinegar (I used rice vinegar)
Water
For the gravy
3 tbsp vegetable oil
2 medium onion, chopped
2 tbsp tamarind concentrate and 4 tsps sugar (to taste – it has to taste sweet, sour and spicy)
3 goraka pieces
1 green chilli, slit (optional)
Salt
Start by scraping the coconut.  You can buy it already scraped in some Indian stores, or scrape it yourself with a coconut scraper.  You can freezer whatever scraped coconut you do not need for the ambotik by putting it in a freezer bag.
Marinate the fish with the salt and turmeric powder for 10 to 15 minutes.
In the meantime, dry roast the coriander seeds and cumin seeds by putting them in a frying pan and roasting them on the stove.
Now, you can prepare the masala.  Put the scarped coconut, red chillies, roasted cumin seeds, roasted coriander seeds, ginger, garlic, cloves, cinnamon, vinegar and a bit of water into a mixer and grind to a very fine paste.
Heat the vegatble oil in a pan.  Add the chopped onion and sauté till golden brown.
Add the masala and cook on high heat for two minutes stirring continuously.
Add three cups of water and bring the gravy to a boil.
Add slit green chilli and stir (optional).  Add the marinated fish pieces and simmer for five minutes.
Add the tamarind concentrate, sugar to taste (if required) and the goraka pieces.  Add salt to taste.
Stir gently and cook on low heat for five minutes.  Serve hot with appam or steamed rice.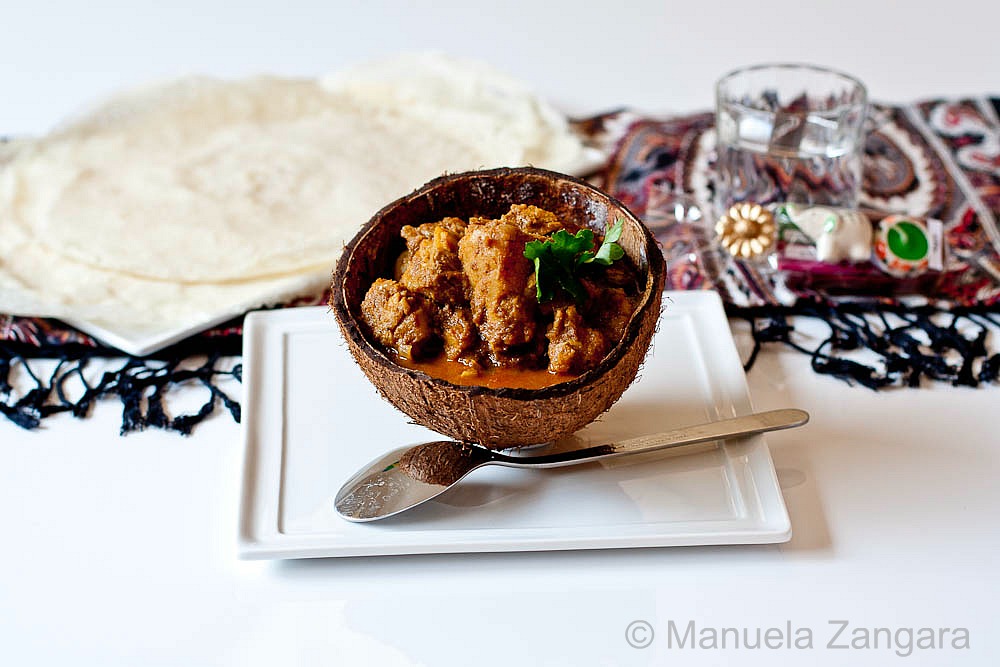 On a completely different note, I have submitted the Chocolate covered honey and mixed nut nougat recipe for this month's challenge over at FoodFrenzy.  This month's ingredient is honey.  If you liked the recipe, please take a minute and vote for it here.  The voting is on between July 15th and 24th.  Thank you very much! <3
And… Happy Independence Day to all my Pakistani friends for the 14th and to all my Indian friends for the 15th! ♥

Related Posts: