Coffee is very important for us Italians. I would probably say that it is an essential part of our culture and no good meal is considered as such unless it concludes with a good cup of espresso.  One of the main issues Italians have when travelling abroad is the never-ending search for a "good coffee". I know, this will sound weird to the majority of you, but for people who have at least 2 or 3 espresso a day, having to deal with "long" and often tasteless espresso is a nightmare.
I had the same problems and when I first moved to Australia, I too was disappointed many times at the local coffee shops. Luckily for me in the last few years the development of a new kind of home coffee machines has made everything easier. I have been in love with coffee capsules since the day I tried one. No more long, light espresso… what you need is all in that capsule and in the right amount of water used to brew it.
Apparently, I am not the only one who likes the taste and convenience of coffee capsules. Many other people have joined the revolution and now enjoy a delicious coffee at home. All good, you would think. Absolutely, from a taste perspective, but not so much so from an environmental point of view. Coffee capsules are bad for the environment and they pollute. So much so that the German city of Hamburg has banned them from state-run buildings!
So what to do to keep getting our daily fix of good quality coffee without destroying our planet? The smart people at TerraCycle came up with a brilliant idea: recycling! But what is TerraCycle and what do they do? In their own words:
"TerraCycle offers free recycling programs funded by brands, manufacturers, and retailers around the world to help you collect and recycle your hard-to-recycle waste. Simply choose the programs you'd like to join; start collecting in your home, school, or office; download free shipping labels; and send us your waste to be recycled. You can even earn rewards for your school or favorite non-profit!" And again: "With your help, we are able to divert millions of pounds of waste from landfills and incinerators each month."
Clever right? And not only, using this service is completely free and very easy. All you have to do is sign up on their website and join the recycling program you like (in this case the NESCAFÉ Dolce Gusto Capsule Recycling Program). When you have collected enough capsules and you are ready to recycle them, put them in a box (use an old recycled box and make sure your capsules are dry – I put them in Ziploc bags, just to be extra safe), get the shipping label sent via email, print it and drop the box at your nearest Australia Post office. All done and without having to spend a cent. All that would already be great, but TerraCycle does more: you will earn money for each capsule you send for the non-profit organisation of your choice!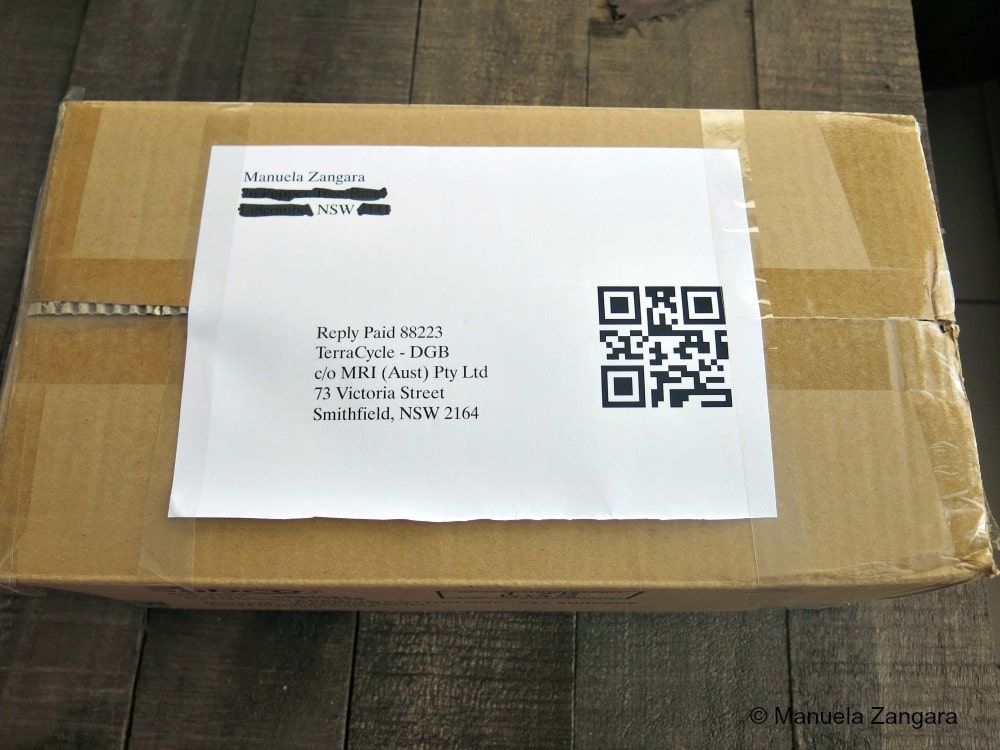 For this amazing programme, TerraCycle has partnered with NESCAFÉ Dolce Gusto and DeLonghi and they sent me one of their beautiful Stelia machines to try out. I must admit that I was very impressed. First of all the machine looks stunning and very elegant. Did you know its design is inspired by a drop of coffee? I love how futuristic it looks, really classy.
It is really easy to operate the Stelia machine. You basically just put it on, add the capsule, read how much water each of the capsule needs, touch the relevant level on the machine and press the brewing button. That's all. The machine gives both boiling and cold water.
Another thing I really like is the range of drinks that you can make with it. Forget about a coffee machine that only makes coffee! With the Stelia machine you can make delicious Espresso, but also Ristretto (my favourite – basically a shorter and more intense Espresso!), Americano, Lungo (a "stretched" espresso), Cappuccino, Latte Macchiato (this also comes in a Caramel flavoured version!), Café au Lait, Chocoletto (a delicious hot chocolate – my kids' favourite!), Mocha, Chai Tea Latte and even Peach flavoured Iced Tea! Basically NESCAFÉ Dolce Gusto has it all!
So, what are you waiting for? Get your Stelia machine, start trying out all the delicious NESCAFÉ Dolce Gusto flavours and recycle all your capsules now with TerraCycle!!
This is a sponsored post, but the opinions in this post are my own.

Related Posts: