When Divya from Flavour Fiesta asked me to write a recipe for her beautiful magazine I was really excited!  I have always liked her website and I simply love her magazine: content, style, photos… everything!  You MUST check it out, trust me!!!  When she said the theme would be spring I was intrigued and I immediately started thinking about what could be representative of Italy and spring at the same time.  Whenever I think of spring I think of flowers and in this case… edible flowers.  Italians eat quite a lot of zucchini flowers in spring.  I personally love them and was ecstatic when I realised I could easily find them in Sydney!
This risotto is one of my favourite ways of eating zucchini flowers.  It is healthy (I only used extra virgin olive oil and no butter), delicate, colourful and elegant, especially if served in a Parmigiano Reggiano basket.  To make things more fun, try and use tomatoes and the left over stems to make spring bugs and serve them on the side!  I made a butterfly and a ladybird (using cloves as "dots").  Please, head over to see what beautiful article Divya put together from this and 2 other great recipes by 2 of my favourite blogger friends!  Thank you again Divya!!!  Enjoy everyone and… buon appetito!
Ingredients (for 4 persons):
320 gms – 11.3 oz. rice (Arborio, Carnaroli or Vialone nano)
½ onion, finely chopped
20 zucchini flowers (+ 4 for garnishing)
2 tbsp extra virgin olive oil (plus 1 tbsp to add at the end)
50 ml – 1.7 oz. white wine
1 lt – 33.8 oz. salty water or vegetable stock (I used water as I did not want the stock to overpower the delicate flavour of the zucchini flowers)
1 pinch saffron threads
4 tbsp Parmigiano Reggiano, finely grated
Salt to taste
More Parmigiano Reggiano, finely grated to make the baskets
Start by making the Parmigiano Reggiano baskets.  Put a piece of baking paper on a frying pan, making sure it is flat and completely touching the surface.  Now sprinkle some Parmigiano Reggiano on it, making a circle.  Make sure to cover the full surface of the circle (do not leave any big holes) and not to make the layer too thin or the basket may crack.  Now put the pan on the fire.  When the cheese has completely melted, pick up the baking sheet and flip it on the outer surface of an upside-down bowl.  Press it down gently on the bowl, to shape the basket.  Do this immediately as the melted cheese hardens fast.  Let it cool down for a couple of minutes, then gently peel off the baking paper and let the basket cool down and harden completely.  Gently lift the cheese basket off the bowl, turn it upside down it and keep it aside.
To make risotto, start by putting the water with a pinch of salt in a pot and heat it on the fire.  The water has to be hot all the time while you are cooking risotto, so that the rice temperature does not drop when you add the water to it.
Put the finely chopped onion and the 2 tbsp of extra virgin olive oil in a pot and let it cook on a slow fire, until the onion becomes soft and transparent.  Add the rice, mix well and let it cook for 1 or 2 minutes, until it becomes translucent.  Now pour in the white wine and let the alcohol burn off by cooking on a high flame.  Then add enough hot water to cover the rice and turn the fire to medium-low.  Keep cooking, occasionally stirring the rice and adding hot water little by little, until the rice is cooked.  It is going to take approximately 18 to 20 minutes depending on the rice you are using.
While the rice is cooking, clean and roughly chop the zucchini flowers.
5 minutes before the rice is ready, add the chopped zucchini flowers and the pinch of saffron to it and mix well.  Then continue cooking normally.
When the rice is ready, put the fire off and add the remaining extra virgin olive oil and Parmigiano Reggiano to it.
Mix very well, until the rice becomes creamy.  Make sure that your risotto is moist (or, as we say, all'onda – which literally means wavy) and not sticky.  You can do that by adding 1 or 2 extra tbsp of hot water if needed.  Check for salt and season to your liking.
Serve in the Parmigiano Reggiano baskets and decorate with a zucchini flower.
TIP:  Whenever you cook risotto, do not wash the rice before cooking.  The starch is needed for the risotto to become creamy.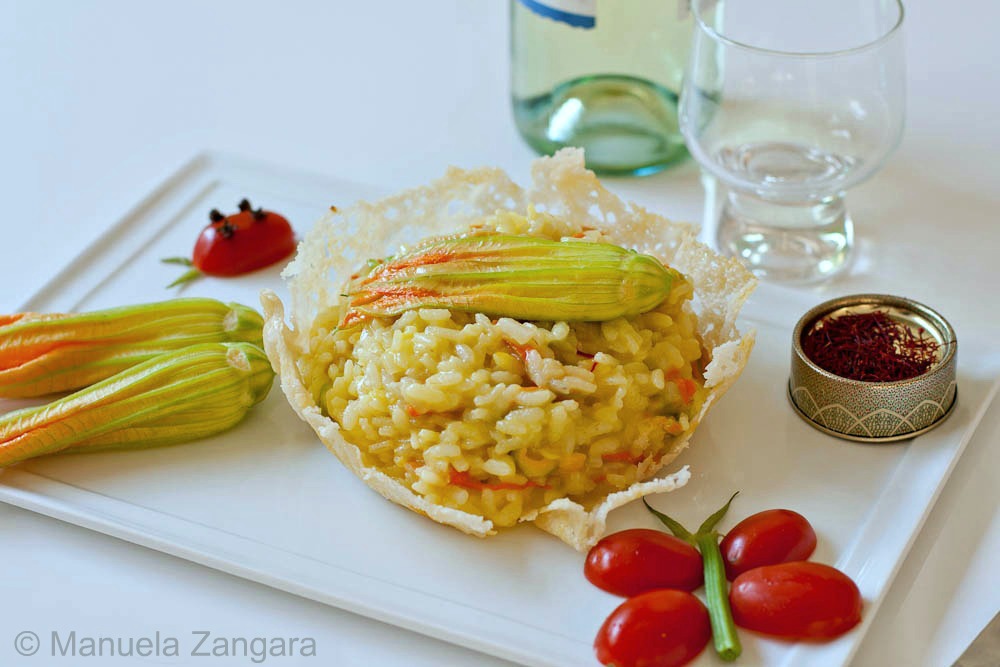 This recipe has been featured on Flavour Fiesta Magazine – Spring Issue 2012, make sure to check it out for great spring recipes and tips and to see some beautiful pictures!  Here is a sneak peek!

Related Posts: