I don't think I have said this before, but when I was expecting my eldest daughter, I used to have very strong savoury cravings and risotto was always on the top of my list!  The great thing about risotto is that it is like a white canvas that you can paint with any flavour you fancy!  And you can also add seasonal veggies to it and cheese with lots of nutrients, besides the great taste!  Today's risotto is made with fennel and pork sausage and I think this is one of those classic combinations that never fails to conquer your taste buds no matter what variations you make.  My husband likes all dishes with meat, while I usually like risotto with veggies, so this one is a recipe that pleases the whole family!  Enjoy!
Sausage and Fennel Risotto
How to make a tasty and quick midweek's dinner: Sausage and Fennel Risotto.
Ingredients
Sausage & Fennel Sauce
200

gms

– 7 oz. pork sausage

removed from casing and chopped

1

fennel

thinly chopped

2

tbsp

extra virgin olive oil

Salt to taste
Risotto
320

gms

– 11.3 oz. rice

Arborio, Carnaroli or Vialone nano

½

onion

finely chopped

2

tbsp

extra virgin olive oil

50

ml

– 1.7 oz. white wine

1

lt – 33.8 oz. beef or vegetable stock

4

tbsp

Parmigiano Reggiano

finely grated

30

gms

– 2 tbsp butter

Salt to taste
Instructions
To prepare the sausage and fennel sauce, put the chopped fennel in a pan with the extra virgin olive oil and cook on low to medium fire until soft.

Add the chopped sausage and cook on high heat until the sausage is cooked through. Season with salt to taste.

Now put the stock in a pot and heat it on the fire. The stock has to be hot all the time while you are cooking risotto, so that the rice temperature does not drop when you add the stock to it.

Put the finely chopped onion and the 2 tbsp of extra virgin olive oil in a pot and let it cook on a slow fire, until the onion becomes soft and transparent.

Add the rice, mix well and let it cook for 1 or 2 minutes, until it becomes translucent.

Now pour in the white wine and let the alcohol burn off by cooking on a high flame.

Then add enough hot stock to cover the rice and turn the fire to medium-low. Keep cooking, occasionally stirring the rice and adding hot stock little by little, until the rice is cooked. It is going to take approximately 18 to 20 minutes depending on the rice you are using.

Then 5 minutes before the rice is ready, add the sausage and fennel sauce to it, stir well and keep cooking as above.

When the rice is ready, put the fire off and add the butter and grated Parmigiano Reggiano. Mix very well, until the rice becomes creamy.

Make sure that your risotto is moist (or, as we say, all'onda – which literally means wavy) and not sticky. You can do that by adding 1 or 2 extra tbsp of hot stock if needed. Check for salt and season to your liking.

Serve immediately.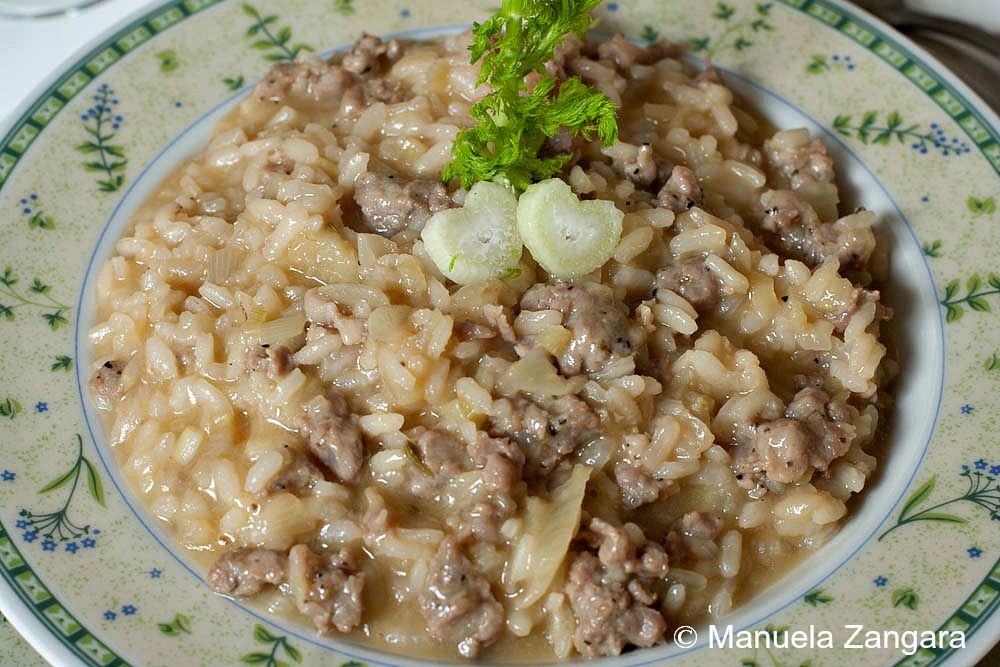 On a completely different note, I have a very exciting piece of news to share with all of you!  MsM's Baked Empanadas have been featured on HuffPost Taste!  I am sooooo honoured! 


Related Posts: