As I have mentioned in my Baked Anelletti post, last Sunday was Father's Day in Australia.  So, after having anelletti on Saturday, my husband chose to go out for lunch on Sunday and he chose our family's favourite restaurant to celebrate his special day: Abhi's Indian Restaurant in North Strathfield.  We were first introduced to this delightful place by a friend of Indian origin when we moved to Sydney over 5 years ago.  It was the first Indian restaurant that we tried out here and we were immediately hooked.  And we have been going back ever since.
There are a few great things about Abhi's that have remained constant throughout the years: a nice ambience, very friendly and attentive service and some of the best Indian food in town.  I don't think you can ask for more.
We have had lots of special dinners at Abhi's, including the last dinner out as a couple only 2 days before our eldest daughter Victoria was born and have great memories of this place, but the food and the service is what really makes us come back over and over again.
Another big plus for us is the fact that you easily find off street parking in the streets around the restaurant, which is very good especially when you are going out with small children.  Speaking of which, Abhi's is also a child friendly place.  The staff are great with kids!  Our girls both LOVE Mango Lassi, so whenever we go, they get served their own share in smaller glasses with a straw, much easier for them to handle and drink.  And they usually finish it in about 30 seconds flat (yes, it is THAT good) and then start having mum's and dad's share too! 😉  They also have a couple of child seats/highchairs, but you need to request it at the time of booking to make sure it is available.
They also do take-away, which is very handy when you want to eat restaurant quality food without going out… we did this quite a lot when the girls were very young!
During the last 5+ years we have eaten many of their dishes and now have a few favourites…
We have eaten Masala Dosa, Chicken Tikka, Bhaji Rolls, Hariyali Chops, their Mixed Tandoori Platter, Cheese and Onion Kulcha, Naans and other delicacies.  They are all great, but today, I am going to review only our favourite dishes (what we ate on Father's Day).
We started off with Mango Lassi ($3.80).  It is the best I have ever had, sweet and smooth… not too thick and not too runny, just the way we like it and it has a hint of spice that I think is nutmeg (but have never asked)!  As I said, it is our girls' favourite drink ever, and you can see it…
Then we are served a basket full of crunchy Pappadums ($2.80) that our girls devour calling them "chippies".
The very attentive staff noticed that the little ones were enjoying them and kindly brought us an extra serving with Sweet Mango Chutney and Kachumber for free (they are usually $2.60 each).  The chutney is great and we happily dug in!!  Thanks 🙂
For the entrée we all had their signature dish: Palak Patta Chat ($14.80) which is made up of "spinach leaves in a crispy lentil batter, topped with yogurt, date & tamarind and chilli & mint sauces".  Does that sound decadent enough?  Well, it is.  It is one of my favourite dishes ever.  The spinach leaves are crunchy, the yogurt and mint sauces are refreshing while the date and tamarind sauce is sweet and tangy!  A spoonful of this dish makes your tastebuds dance!  The presentation is quite impressive too, as you can see from the pictures.
Our mains were 2 classic dishes: Chicken Makhni (also knows as Butter Chicken – $20.80) and Lamb Korma ($21.80).  The chicken is slightly spicy (which I love) and full of flavour.  It is one of those dishes that you find in any Indian restaurant, but this is the best I have eaten.
The Korma is very mild and creamy and the lamb is cooked to perfection, it practically melts in your mouth!  I have no idea how they do that!  These dishes are so good that we always order them!
We also got some rice to eat with our mains.  As always, we ordered their Kashmiri Pulao ($3.50 per serving).  As I have mentioned in my Kashmiri Pulao post, I am very picky when it comes to rice and I tend to severely judge the quality of a restaurant by the way they cook their rice.  Abhi's rice is cooked to perfection, it is not sticky, the grains are all separated and the cashew nuts and raisins of this pulao add crunchiness and sweetness to it… it is the perfect accompaniment for any curry!
At this point we were already quite full, but can you really write a restaurant review without mentioning their desserts?  No way… so we went ahead and we sacrificed ourselves for the cause… happily!  😉
We had Gulab Jamun ($10.80) and Rose and Pistachio Kulfi ($10.80).  The Gulab Jamun are served warm with a scoop of vanilla ice cream on the side and some of their cardamom scented syrup.  They are moist and soft and soaked to perfection in the syrup.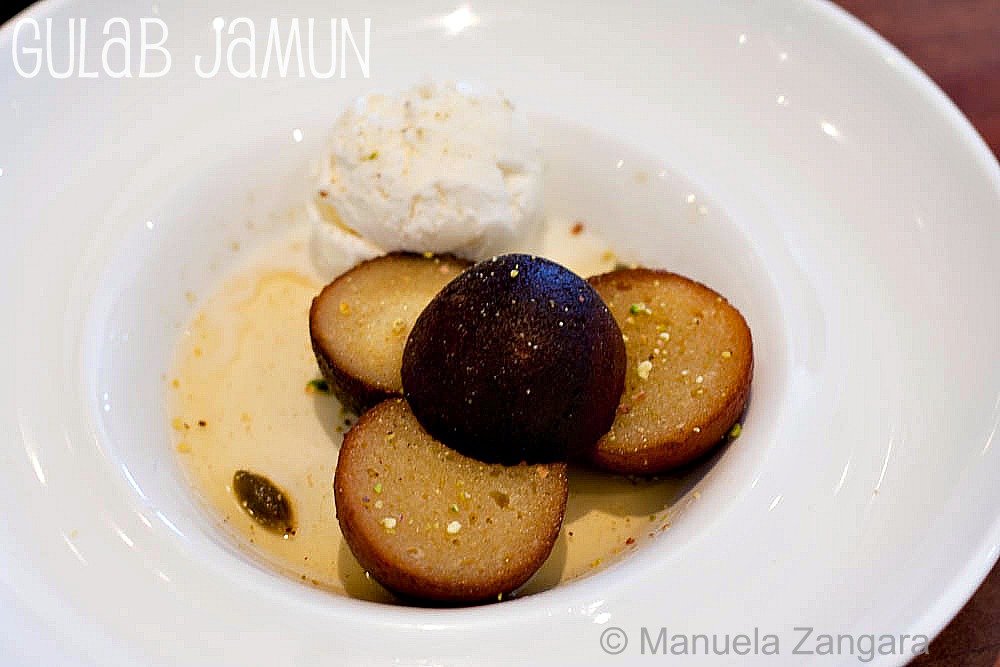 The kulfi is divine!  I love the sweet taste of rose and the crunchiness of pistachios in it.  Delicious!
Before leaving, we also had some Mukhwas served in a beautiful tray.  Mukhwas is an after-meal snack that helps with digestion and freshens up your mouth.
We also ordered some take away (just for the sake of this review ;-P) to have the following day.
We chose Aloo Tikki as an entrée ($14.80) which are "lightly spiced crispy potato patties shallow fried in sunflower oil, on a bed of chick- pea masala with khatta chutney (tamarind and jaggery) and gram flour sev".  It is slightly spicy and I love the chick pea masala and the finely chopped raw onion served with it.  A really hearty entrée.
And then we got a vegetarian main: Ennai Kathrikai ($17.80), which is a dish made with "whole baby eggplant in a ground paste of cashew, peanut, sesame, coconut, cooked in Hyderabadi style".  This is another one of our favourite dishes and the eggplant (and peppers) are nicely coated in a spicy, thick and creamy curry… delicious!
The friendly people at Abhi's also threw in a generous serving of plain rice (usually $2.90) for us to enjoy the following day.  This was really good even the next day.
You always find that their combinations of flavours are somewhat complex and the textures are well thought through.  There are always contrasts (crunchy and soft, sweet and sour, spicy and sweet) and I love that.  Their chefs are really talented and Head Chef Kumar Mahadevan is of Masterchef fame!
Generally speaking, their prices are a bit above average but the servings are generous and the quality of the food is outstanding, so I would say a few extra dollars here and there are justified.  Another good indication of the authenticity of their food is that a fair share of the place's clientele is of Indian origin.
It is definitely a place that I would recommend trying if you like good Indian food and friendly and attentive service.  As for us, we will surely keep going back!
Abhi's Indian Restaurant
163 Concord Road,
North Strathfield NSW 2137
Ph. (02) 9743 3061
Fax (02) 9743 6517
Email [email protected]
Website http://www.abhisindian.com.au/

Related Posts: