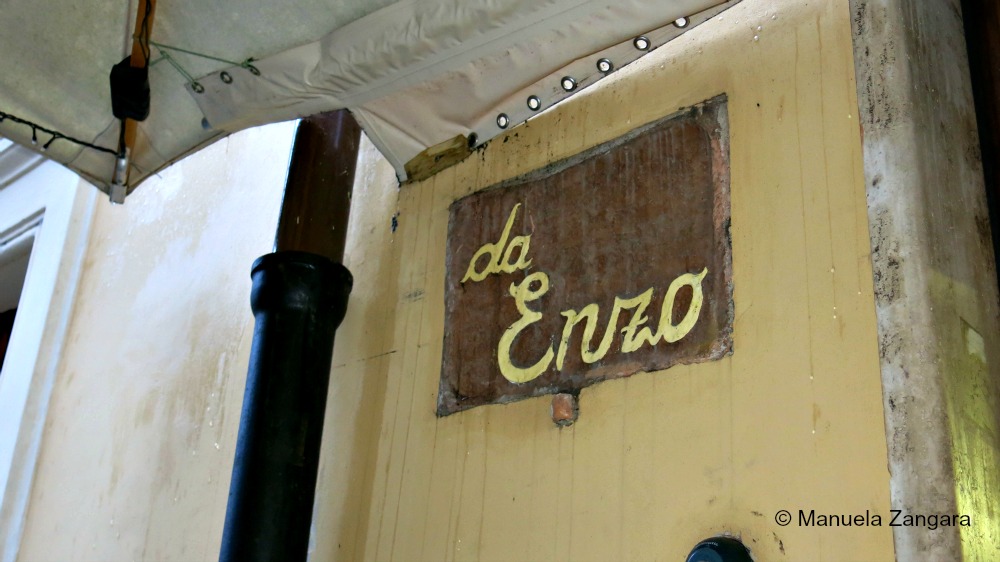 During our recent trip to Rome, we had 3 amazing dinners. I have already shared with you my review of Nonna Betta, a popular restaurant in the heart of the Roman Ghetto that serves amazing kosher and traditional local food.  Today, I would like to take you to Trastevere, another area of Rome famous for its restaurants. Among the many possibilities, we chose to try Da Enzo al 29. First of all I think I should mention that the name of this restaurant literally means "At Enzo's at 29"… where Enzo is the name of the restaurant owner and 29 is the street number where the restaurant is located. Fun, right?  We read about it in one of the restaurant guides that we found in our apartment and as Mr. Cosimo's review was good, we decided to give it ago.
This is a typical Roman trattoria, located in Trastevere. Trastevere is on the west bank of the Tiber, and its name comes from the Latin "trans Tiberim", meaning "beyond the Tiber". This areas has an interesting history and because of its position across the Tiber it remained partially isolated from the rest of the city for centuries. Its population has been multicultural since the ancient Roman period, the inhabitants of Trastevere, called Trasteverini, have developed a culture of their own. Up until now, it retains its original character thanks to its narrow cobbled streets lined by ancient houses and it is quite popular among foreign tourists.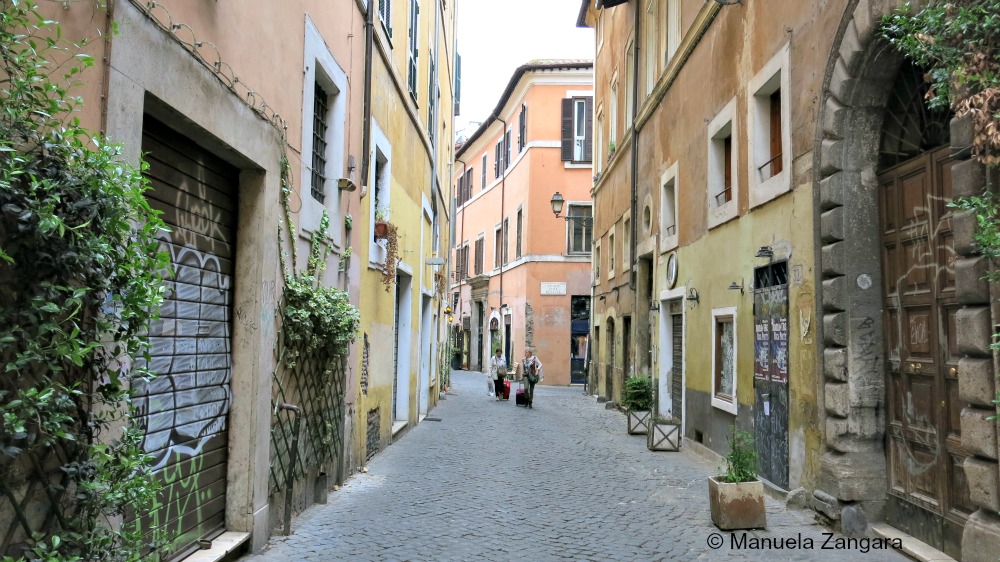 In this area you can find quite a few trattorie. A trattoria is usually less formal than a ristorante and, traditionally, it does not have a printed menu (though this is changing lately). The dishes available for ordering are written daily on a blackboard, they are rustic and seasonal.  The service is casual and friendly and prices are generally lower than at a "proper restaurant", while portions are generous.
Da Enzo al 29 has been around since 1933 and it is a gem. Firstly, their food philosophy is all about using local high quality ingredients. The majority of the food you eat there comes from the region around Rome. The extra virgin olive oil comes from the town of Viterbo and it is amazing.  They also use many bio ingredients and local cheese and wine.  Even their ice cream is home-made!! But more about it later.
I loved the ambience… the walls are painted in yellow and the tablecloths are red and white. The typical straw chairs are there too! It was rainy and cold outside, but inside the restaurant it felt cozy and warm!
We started off with La Palla al 29 (a salt cod and potato croquette filled with mozzarella) and Carciofo alla Giudia (whole deep fried artichoke). Sorry about the photo… it tasted so good that my better half couldn't wait for me to take a picture before attacking it! 😉
Then we had Rigatoni all'Amatriciana… with guanciale (cured pork cheek). They were to die for!!!
I had their Rigatoni alla Carbonara. This was the real thing, with guanciale and pecorino and it was AMAZING. Obviously there was no cream in it, but see how creamy it was?? YUM!  The only little issue was that the pasta a bit too al dente even for my liking (and I like my pasta al dente!).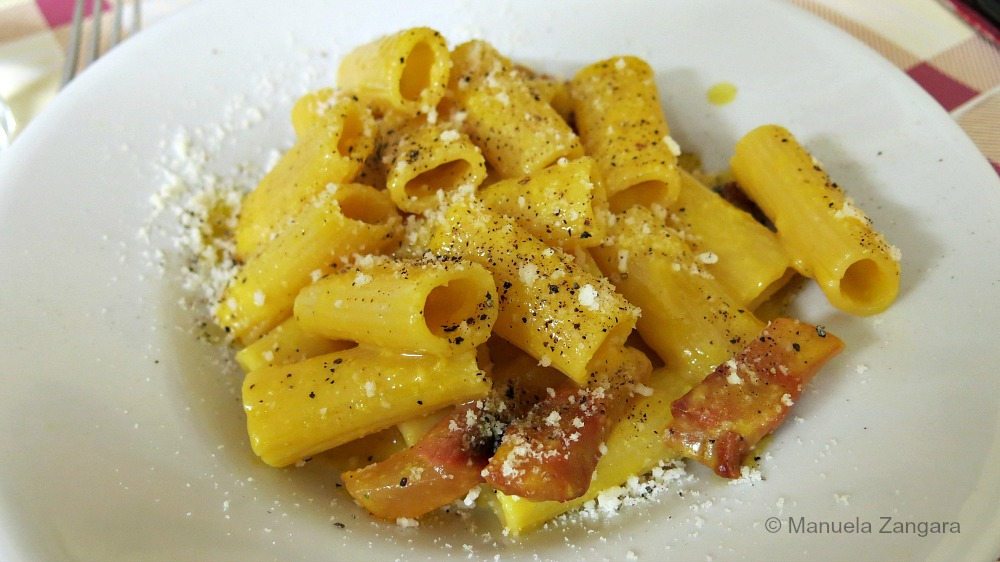 My mum order the soup of the day: Potato and Cavolo Nero (kale) and it was warming and hearty.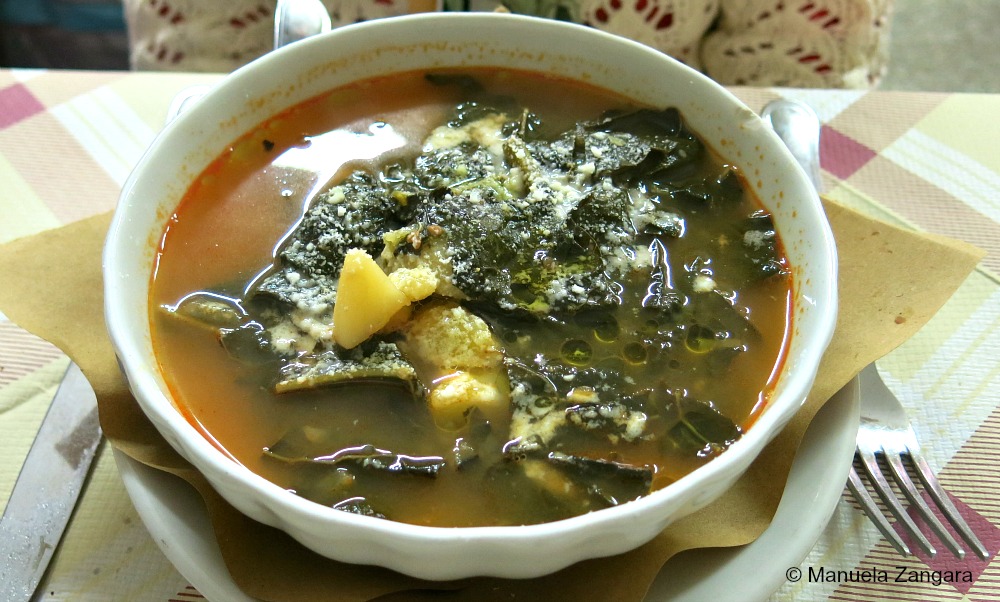 Then we had Abbacchio a Scottadito – grilled lamb chops, another traditional Roman dish.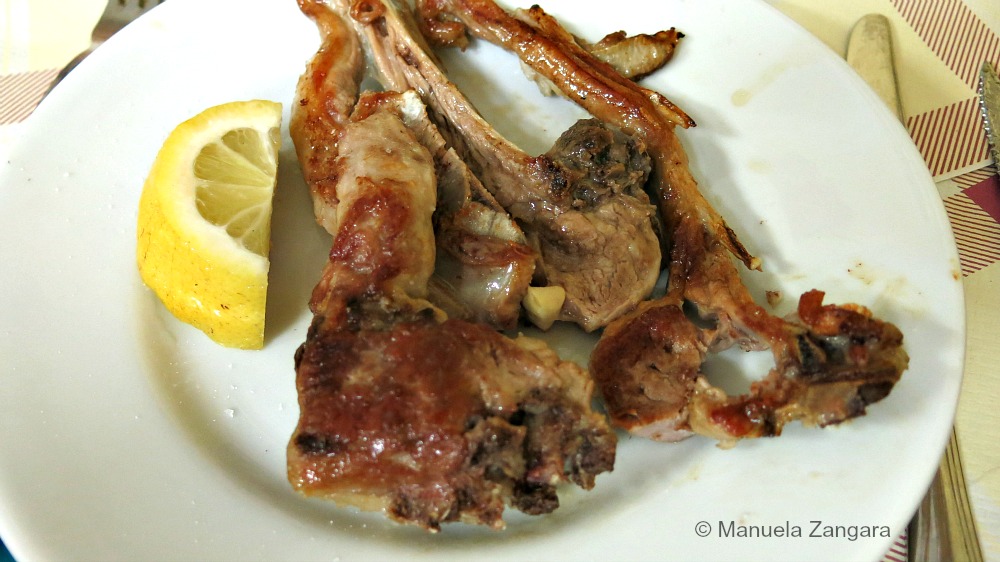 A Carciofo alla Romana – a whole artichokes filled with minced garlic and parsley and cooked in olive oil. It was quite good, soft and hearty.
And hand-made chips (yum!).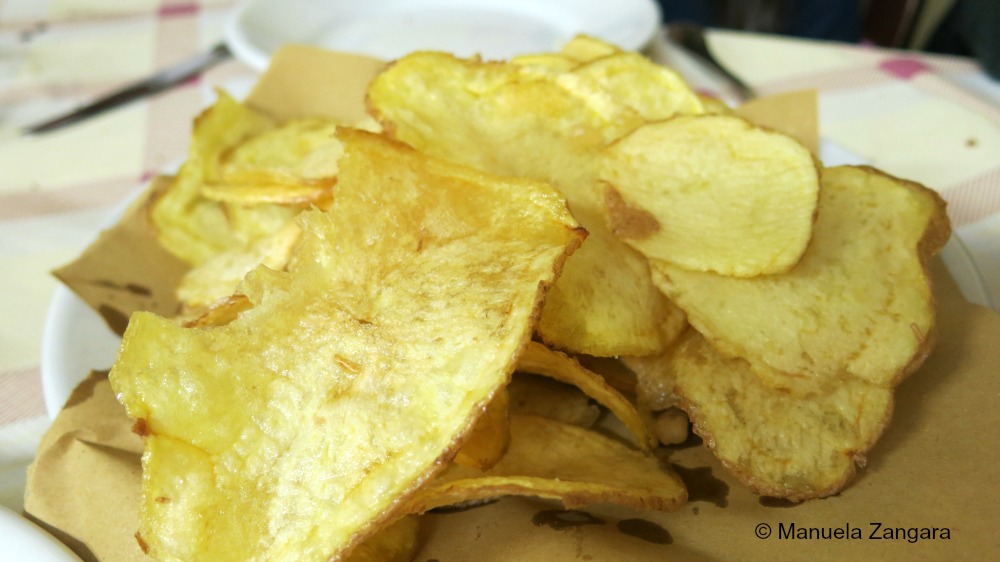 To finish it off, we tried their Pistachio Ice Cream. This is home-made and it doesn't have any preservatives or food colouring.  You could easily tell that it was made with real pistachios and it did not have any artificial flavouring! I highly recommend it!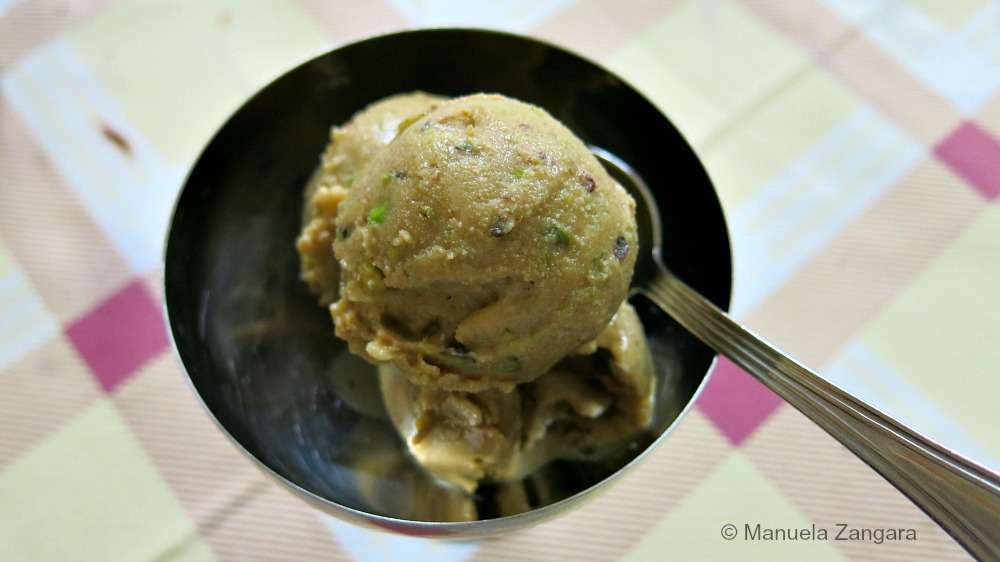 The portions were very generous and the service was quite good and attentive. We had a great experience over all. Be advised though that they don't usually take reservations, so go there early and be prepared to queue! The food is worth the wait and it is as original as it gets! Highly recommended!
RESOURCES ON MSM
RECIPES FROM THE REGION OF LAZIO:
Puntarelle alla Romana
Gnocchi alla Romana
Spaghetti alla Puttanesca
Stracci di Antrodoco
Abbacchio a Scottadito
Saltimbocca alla Romana
Bucatini all'Amatriciana
Supplì al Telefono
Fried Zucchini Flowers
TRAVEL IN ITALY:
Venice Guide – Italy
Milan Guide – Italy
Rome Guide – Italy
RESTAURANT REVIEWS – ITALY:
MAP

Related Posts: