I must admit I have discovered Chinese cuisine only recently.  Growing up in Italy when I did, you would not come across too many "foreign" food restaurants.  And… I am not old: I am "only" 33!  Ethnic restaurants (as we call them in Italy) are becoming more and more popular nowadays, so I would say that pretty much everyone has eaten at least Chinese or Indian food once in their life.  As a teeneger, I remember eating at a Chinese restaurant probably twice with my school mates, as it was a "cheap" option for us students… but I would always order something "safe", like chicken stir fry with almonds (not with cashews)!  And rice.  Fried rice is a dish I have always liked and I still do.  I do not put any shrimp in it as nobody in my family likes them, but I found out that making fried rice at home is quite simple and it is a great way to use up all your left over rice!  This recipe is for 3, as I make it for my husband, myself and our 2 little girls… feel free to increase the rice quantity to 1 cup for 4 people.
Ingredients (for 3 persons):
¾ cup of uncooked long grain rice
2 tbsp (+1 tsp) vegetable oil
1 tsp ginger paste
1 tsp garlic paste
¾ cup peas, frozen
½ cup ham, chopped
1 egg, lightly beaten
Soy sauce to taste
If you do not have left over rice, you will need to cook your rice first.  To get a better and tastier fried rice, it is always better to cook your rice the day before, so the rice won't absorb too much oil and and the grains will remain separate.  Cook the rice and keep aside.
Cook your peas.  I use frozen baby peas and I put them in the microwave inside a microwave safe container for a few seconds, to slightly cook them.  Keep aside.
In a small non stick frying pan, heat up 1 tsp of vegetable oil.  Add the beaten egg and let it set for a minute.  Then break it with a wooden spoon.  When cooked through put the fire off and keep aside.
In a wok, heat up some vegetable oil, add the ginger and garlic pastes and fry for 1 minute.
Add the rice and stir well.  Add the chopped ham, cooked peas, cooked egg and soy sauce to taste.  Stir well and cook for a few minutes, until all the ingredients come together.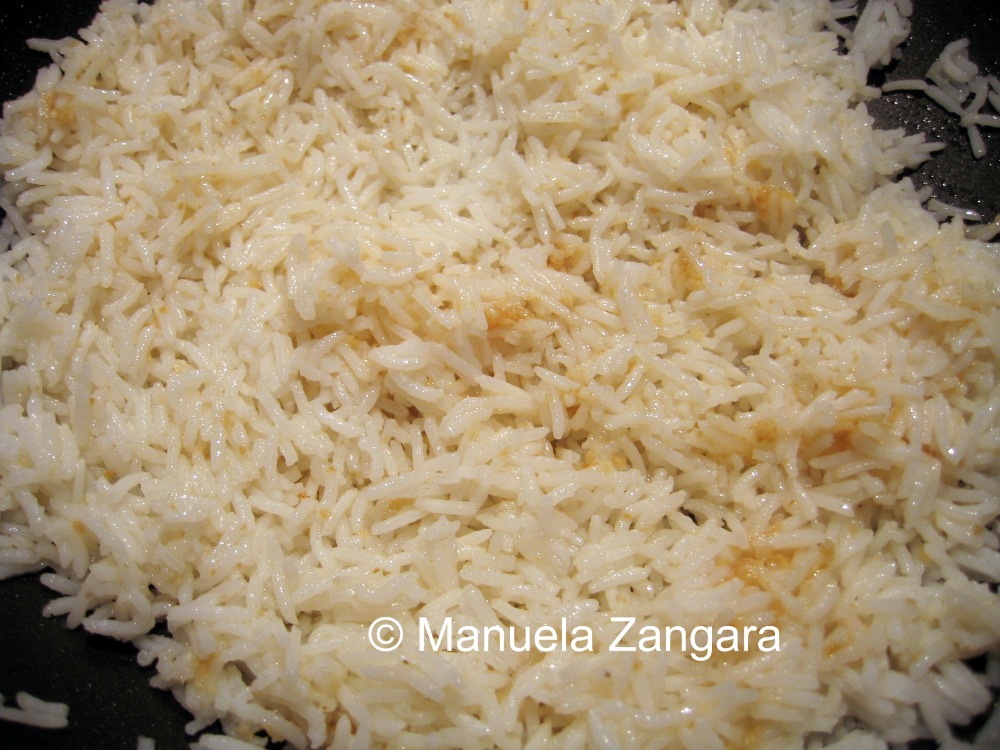 Serve warm by itself, or use as a side for any Asian dish.

Related Posts: