I am very happy about today's post as I will be reviewing one of my all-time favourite restaurants: Azzurra.  It's not a famous or hatted restaurant, but it serves delicious and hearty food. Besides, it has an added bonus… you can eat on their terrace while enjoying a spectacular view.
Azzurra is located in Macari, a little Sicilian village just a few kilometres away from San Vito Lo Capo, near Trapani. The village itself is very pretty… all white houses on the hill that overlooks the Mediterranean Sea.
The vegetation in this area is typically Sicilian: prickly pears, almond trees and lots of flowers.
We eat there often when we are in San Vito and so did during our latest visit. The prices are fair and the portions are generous.
Azzurra is very famous for its pizza and bread. In fact, they make some amazing bread called Cabbuci… it looks like pita and is cooked in their wood fired oven.
They serve it hot with their delicious Eggplant Caponata and it is to die for. We always order it to start off our meal and there are no leftovers… ever.
Then we ordered their Busiati with Pesto Trapanese. Yum!
And pizza!!
Their most famous pizza is called Rianata. It is a typical pizza from the area of Trapani that is usually made with garlic, parsley and anchovies. Usually it has grated Pecorino instead of Mozzarella as cheese.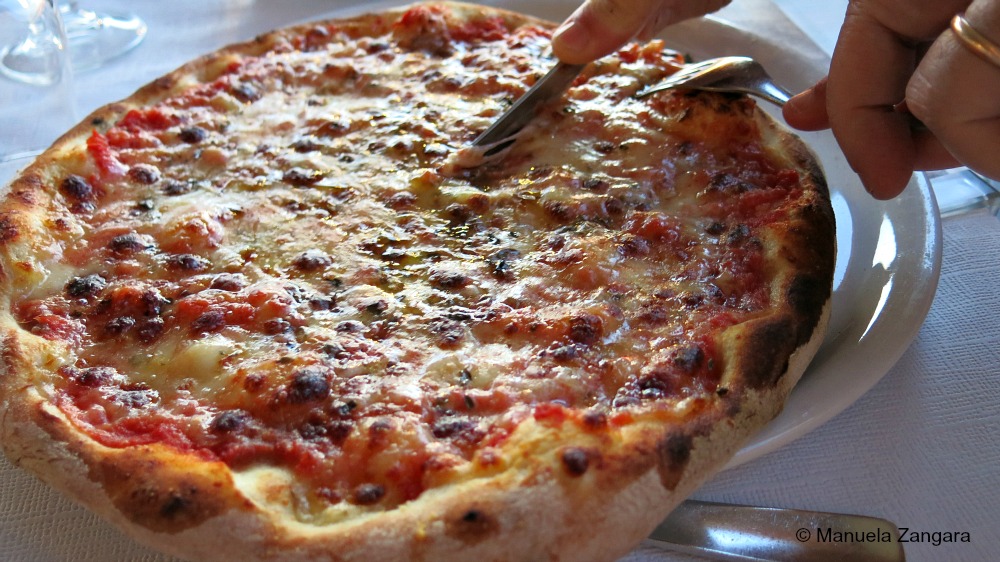 Though nowadays, you also find what is called Rianella, which also has Mozzarella on it.
It is sooooo yummy!!
For dessert, we had another local treat: Fried Cassatelle filled with sweet Ricotta. These have to be eaten hot, so be careful not to get burnt!
The thing I like the most about this place is the amazing location. You can't beat it.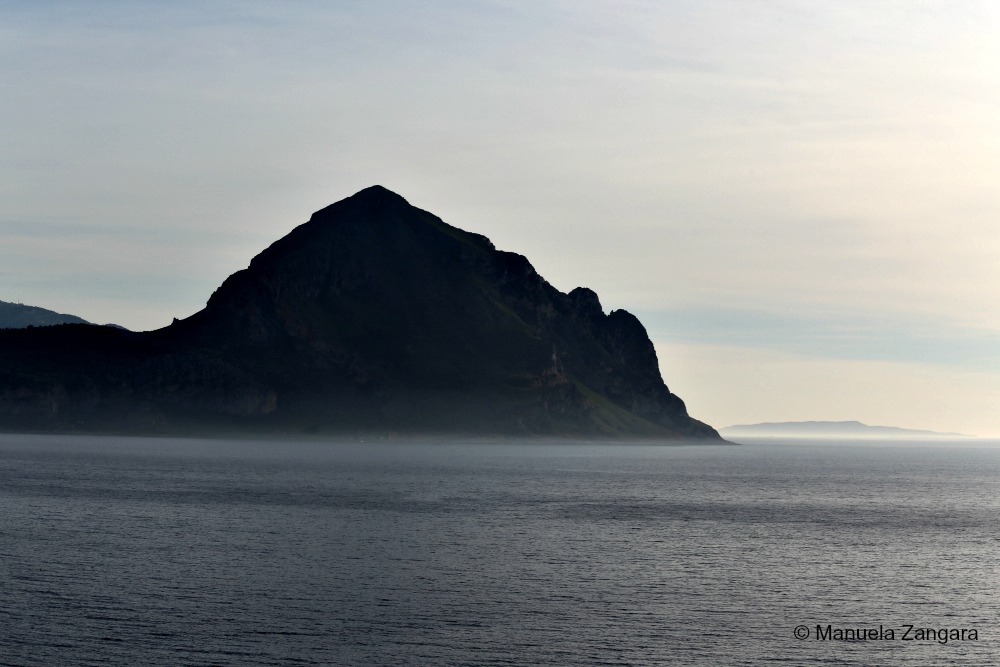 I have traveled a lot and have seen many sunsets around the world and I can easily say that the sunset you see from Azzurra's terrace is among the finest.
Look at those colours!
When there are no clouds in the sky, you can actually see the orange sun go down and disappear in the sea.
The portions are generous and the service is always good, friendly and attentive. I love the people who work there. We always have a great experience. Highly recommended!
RESOURCES ON MSM
SOME RECIPES FROM THE REGION OF SICILY:
STREET FOOD
Arancine
Panelle
Cazzilli/Crocche' di patate
Rascature
Ravazzate
Spiedini
Crostini
Sfincione
Ham and Cheese Sicilian Brioches
PASTA
Spaghetti with home-made Tomato Sauce
Pasta con i Broccoli Arriminati
Baked Anelletti
Sedanini with Swordfish and Eggplant
Busiati with Pesto Trapanese and Fried Eggplant
Pasta con le Sarde alla Palermitana
Busiati with Herbs, Pistachios and Zucchini
OTHER MAINS
Beef Agglassato
Sarde a Beccafico
Gatto' di Patate
Baked Swordfish Involtini
Eggplant Involtini
Fish Couscous
Pork Involtini alla Palermitana
Home-made Sicilian Pork Sausage with Fennel
Falsomagro
APPETISERS, SIDES & DRINKS
Sicilian Almond Milk
Bruschetta with Matarocco
Olive Schiacciate
Caponata
Cabbuci
Sweet and Sour Pumpkin
Eggplant Patties
DESSERTS
Cannoli
Cassata Siciliana
Buccellato
Martorana
Cassatelle Trapanesi
Biancomangiare with Citrus Salad
Cubbaita
Pesche Dolci alla Siciliana
Almond Cookies
Fig Cookies
Coffee Granita
Almond Parfait
Gelo di Melone
Genovesi
Ricotta filled Graffe
Browse through all my Sicilian recipes here.
TRAVEL IN ITALY:
Venice Guide – Italy
Milan Guide – Italy
Rome Guide – Italy
Palermo Guide – Italy
Trapani, Erice and Segesta Guide – Italy
RESTAURANT REVIEWS – ITALY:
Nonna Betta – Rome
Da Enzo al 29 – Rome
Da Bucatino – Rome
HOW TO GET AROUND IN SAN VITO LO CAPO & MACARI
The best way to get around in San Vito is on foot or by bike!
A car is necessary if you want to visit the surrounding areas like Lo Zingaro, Erice and Trapani.
HOW TO GET THERE
BY PLANE
The little Airport of Trapani Birgi "Vincenzo Florio" is about halfway between Trapani (18km) and Marsala (16km).
It is served almost exclusively by low-cost Ryanair flights, mostly from other cities in Italy and a few other European cities like London-Luton, Paris-Beauvais, Stockholm, Barcelona-Girona, Malta, Monaco, Frankfurt, Brussels.
Or you can land at Palermo's Falcone-Borsellino Airport in Punta Raisi.
To get to San Vito it is best to rent a car or get a transfer from your hotel.
MAP
91010 San Vito Lo Capo TP, Italy

Related Posts: