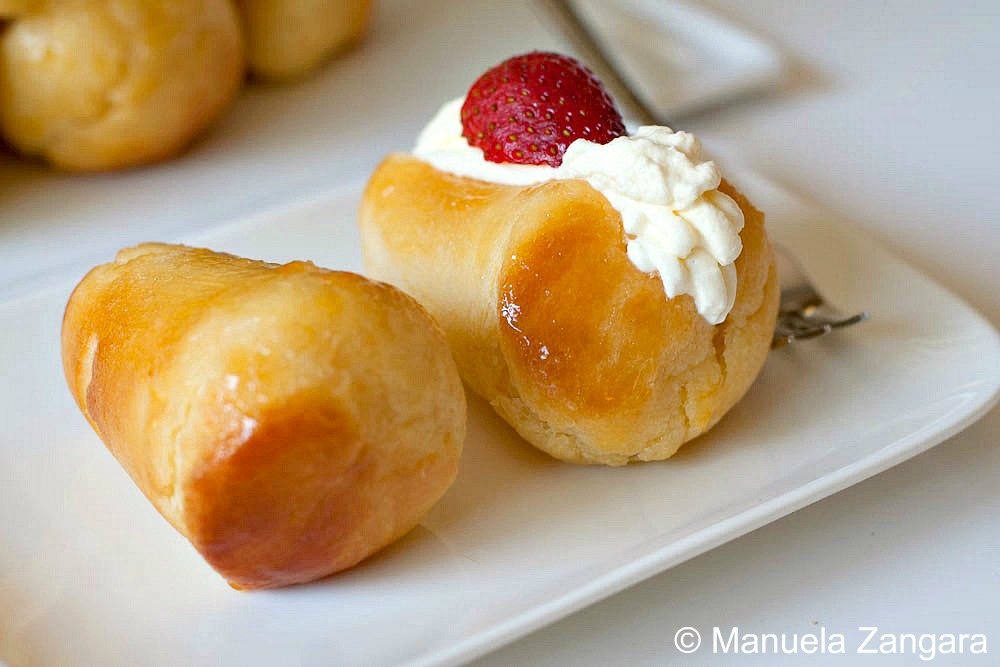 Today I am going to show you how to make one of the most popular sweets from Naples.  In fact I am going to take you to the southern region of Campania for my series on Italian Regional dishes.  This region has a vast culinary tradition, so I will be presenting quite a few dishes from this area in the next few weeks.  Probably the most famous of all is pizza, which was invented in Naples!  You will be amazed to read the list of famous dishes that are commonly called "Italian" but originate from this area!  More on that in the next few weeks.  Today I want to share with you the recipe for babà, soft cakes dipped in syrup (usually rum flavoured)… one of my favourite sweets.  Even though it is now considered a typical dish from Naples, I found out from the site from which I adapted this recipe, that it was actually created in Poland by the king Stanisław Leszczyński who used to find the then very popular Kugelhupf too dry for his taste.  The legend says that one day he got angry and just threw the Kugelhupf to the other side of the dining table, hitting a bottle of rum that fell on it, soaking the sweet.  The king tasted it and liked it so much that he decided to call it Ali Baba like the character of One Thousand and One Nights which was his favourite book.  Then the sweet was exported to France where it became known simply as Baba (pronounced with the accent on the final "a") and from there to Naples.  Whatever its origin, it is now one of the most popular sweets from Naples.  You can make it in individual pans like I did, or use the Kugelhupf pan.  It is delicious and much easier to make than what it may seem!  Enjoy!
Recipe adapted from Giallo Zafferano 
Ingredients for 12 babà: (I make 20 smaller babà with this same dose – mine were 45 mm – 1.75 inches in diameter and 48 mm – 1.9 inches high)
FOR THE DOUGH
125 gms – ½ cup + 1 tbsp butter, softened
250 gms – 1 cup flour
50 ml – 1.7 oz. milk, lukewarm
7 gms – ¼ oz. dry yeast
5 gms – 1 tsp salt
4 large eggs, lightly beaten
30 gms – 2 tbsp sugar
FOR THE SYRUP
600 ml – 2 ½ cups water
600 gms – 2 ½ cups sugar
Dark Rum to taste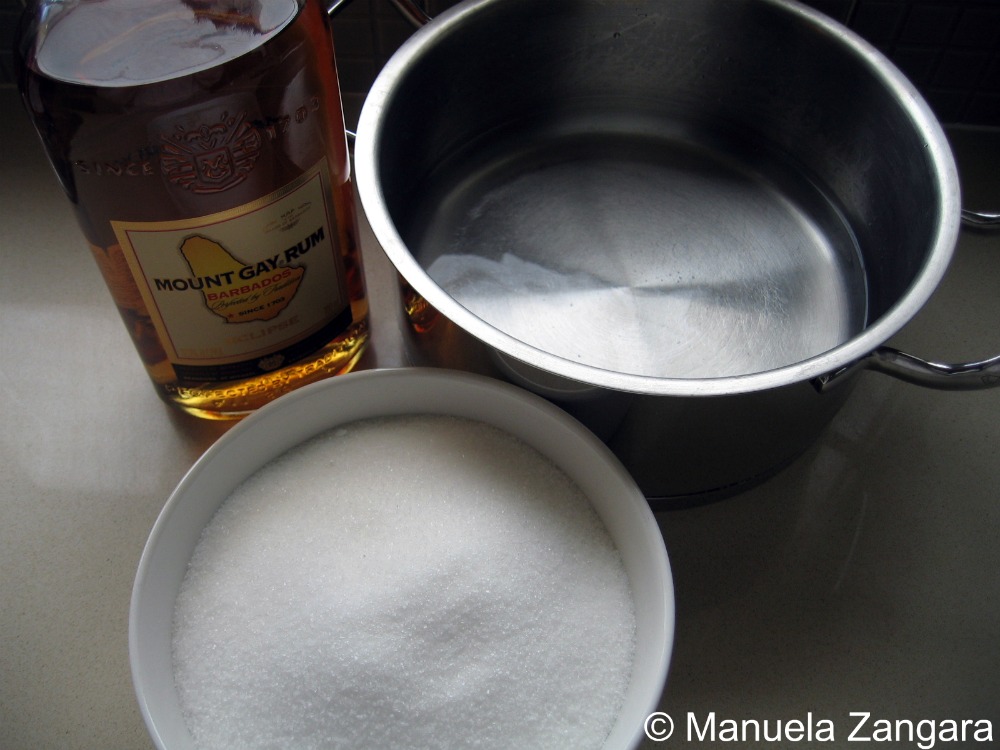 TO MAKE THE BABÀ LOOK SHINY
3 tbsp apricot jam
1 ½ tbsp water
Start by preparing the syrup.  Put the water and sugar in a pot and heat on a medium fire.  Let the sugar melt and boil the syrup for a couple of minutes.  Then put the fire off and add the Dark Rum.  You can add as much as you like (this also depends on how "tasty" your rum is).  Let it cool.
Dissolve the dry yeast in a bowl with the lukewarm milk and 2 tsp of sugar.  Set aside to activate until the froth forms.
Put the flour, beaten eggs and yeast mixture in a mixer with a dough hook (1 – 2).  Knead well on low speed until smooth.  In the meantime, using a fork, mix the soft butter and the remaining sugar together until creamy (3).  Increase the speed of the mixer and add this cream to the dough little by little while kneading (4).  When it is well incorporated, put the soft dough into a greased bowl (5), cover it with cling wrap and set it aside to rise for 1 and a half hour or until it doubles in volume (6).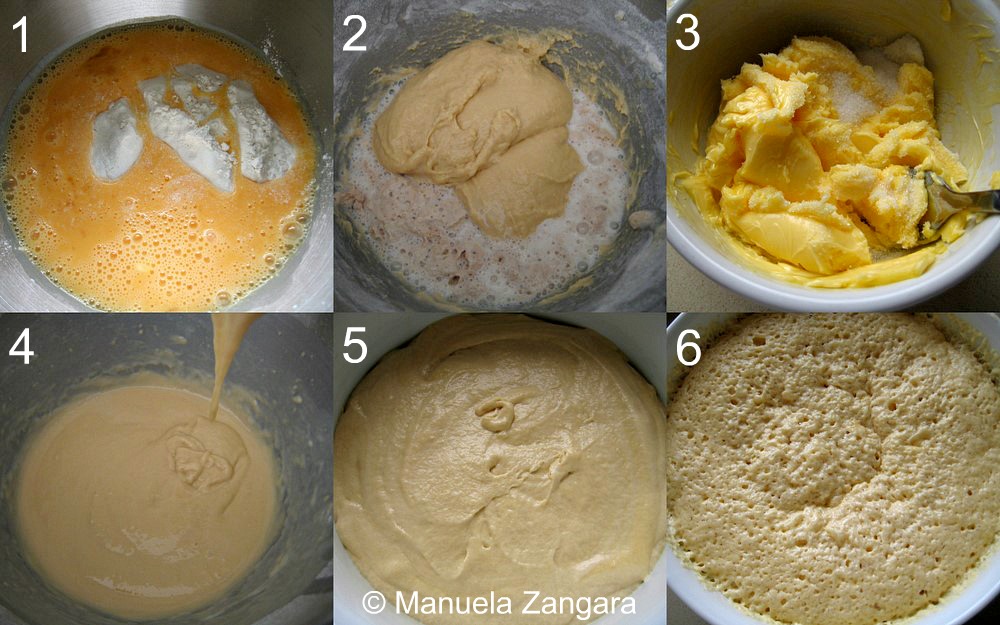 Then half fill your babà tins (make sure you grease them and dust them with a little flour so the babà won't stick) and let it rise for another 20 minutes. NOTE: make sure you only half fill them, I overdid the first batch and the shape did not come out "perfect".

Bake in a preheated oven at 180º C – 350º F for 15 to 20 minutes (depending on the size of your tins).  When ready, remove from the tins and put them in the cold syrup for a few minutes.  When they have soaked up enough liquid, take them out one by one and gently squeeze them to get rid of the excess syrup.  If your babà have come out right, they will not crumble.  Set them aside.

Melt the apricot jam together with the water in the microwave.
Mix well and brush each babà with this mixture to make them shiny.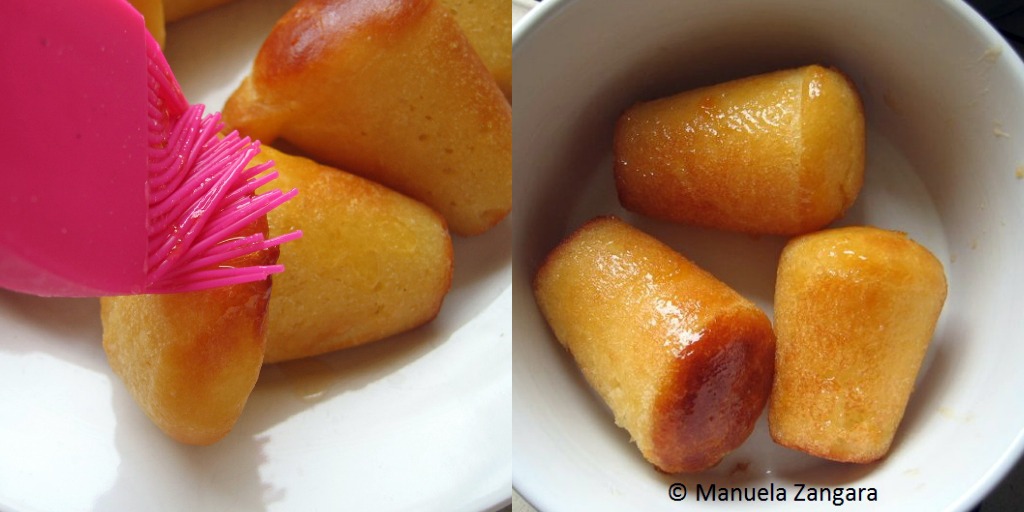 You can serve them as is, or decorate with some whipped cream and strawberries (or any other fruits that you like).  You can also add more rum (or more of the rum syrup) just before serving them, if you like a stronger rum flavour.

NOTE: if you want to serve this to children, you can substitute the rum with some lemon zest.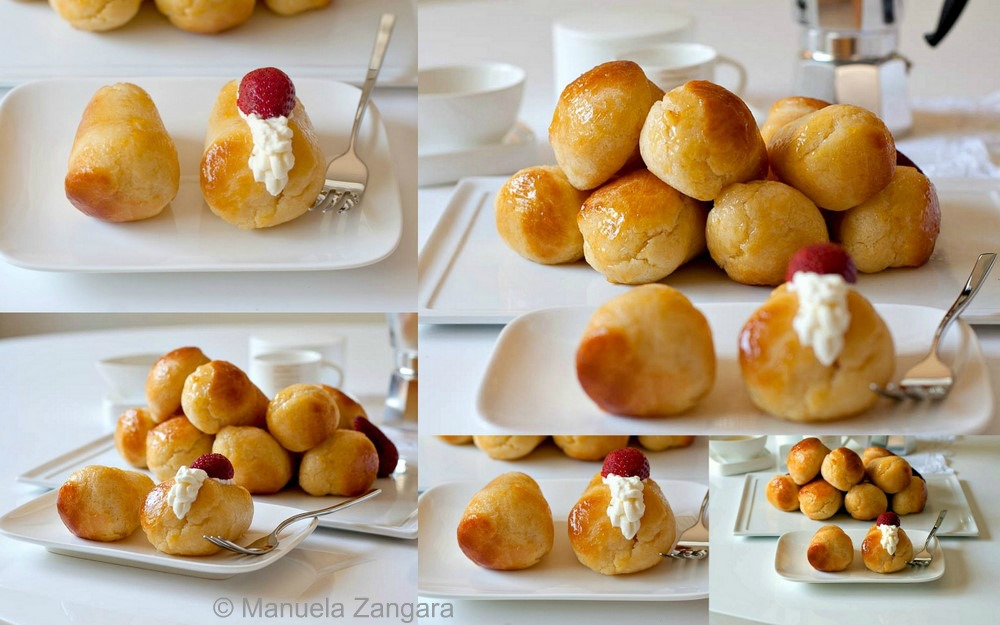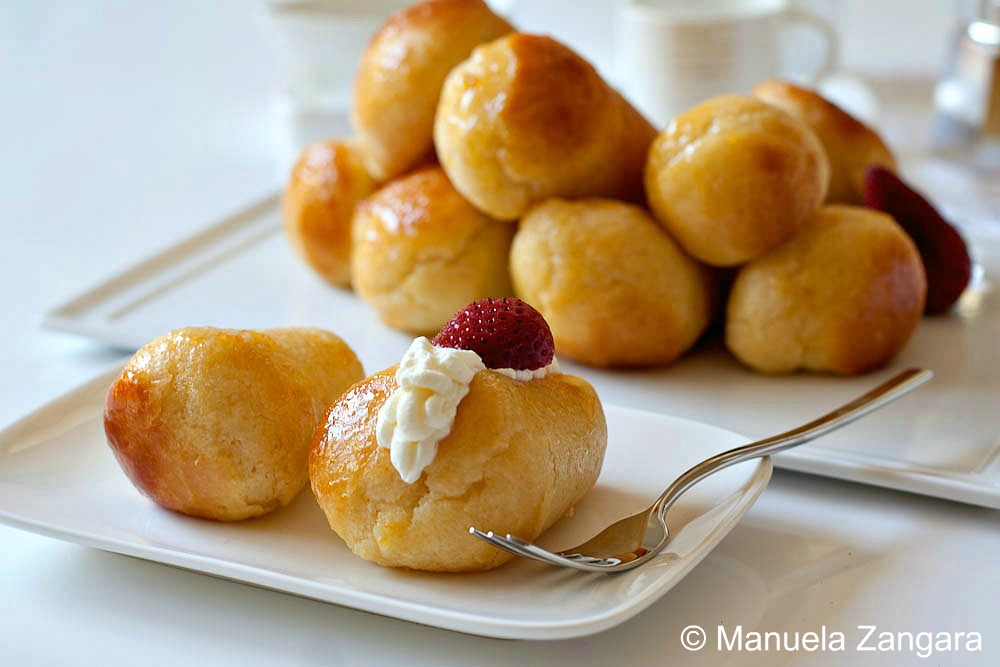 Related Posts: