Maybe not everyone is familiar with Burrata.  It is a kind of fresh cheese typical of the Italian region of Apulia, in the south of the country.  It is in fact a "composite" cheese as it is made of a mozzarella outer shell filled with soft mozzarella scraps and cream and then closed to form a "pouch".  It is a delicious cheese and cutting into it reserves an even more decadent surprise, as the inside is very soft and oozing with cream.  It is best eaten fresh and served at room temperature.  You can eat it on its own or you can cook with it and add it to pasta sauces or risotto, like in today's recipe.  Truffle Oil may seem a bit of a strange addition to this dish, but in Italy it is often drizzled over mozzarella and it goes incredibly well with burrata too.  Simply drizzle a little truffle oil on your risotto just before serving.  This is a very hearty, yet delicate and sophisticated dish that is great for both a quick dinner or a more special occasion.  Enjoy!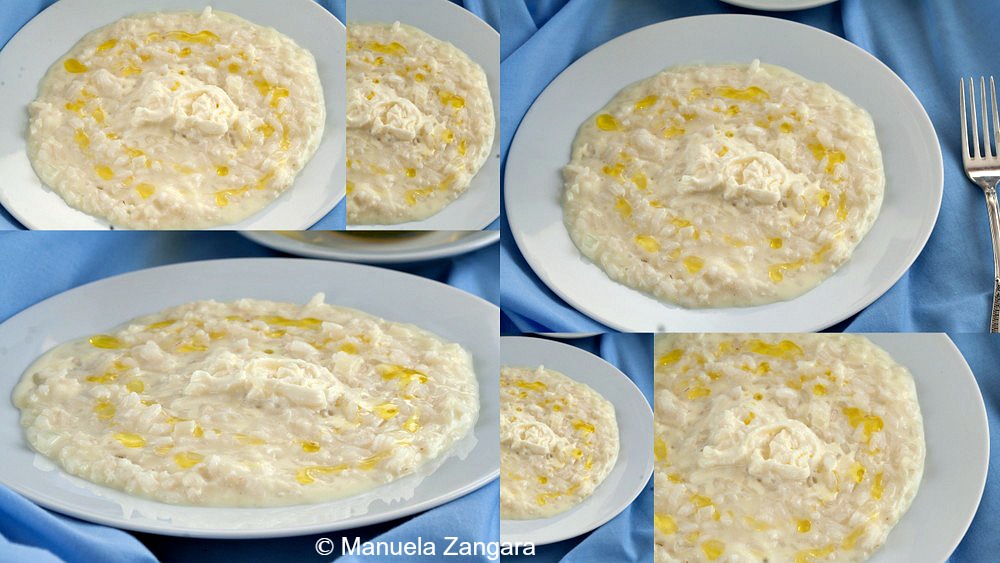 Burrata and Truffle Oil Risotto
A creamy and delicious risotto made with Burrata cheese and a drizzle of Truffle Oil.
Ingredients
320

gms

– 11.3 oz. rice

Arborio, Carnaroli or Vialone nano

½

onion

finely chopped

2

tbsp

extra virgin olive oil

50

ml

– 1.7 oz. white wine

200

gms

– 7 oz. Burrata

1

lt – 4 cups salty water or vegetable stock

4

tbsp

Parmigiano Reggiano

finely grated

4

tbsp

Truffle Oil

Salt to taste
Instructions
Start by putting the water with a pinch of salt (or the vegetable stock) in a pot and heat it on the fire.  The water has to be hot all the time while you are cooking risotto, so that the rice temperature does not drop when you add the water to it.

Put the finely chopped onion and the 2 tbsp of extra virgin olive oil in a pot and let it cook on a slow fire, until the onion becomes soft and transparent. Add the rice, mix well and let it cook for 1 or 2 minutes, until it becomes translucent. Now pour in the white wine and let the alcohol burn off by cooking on a high flame. Then add enough hot water/stock to cover the rice and turn the fire to medium-low. Keep cooking, occasionally stirring the rice and adding hot water little by little, until the rice is cooked. It is going to take approximately 18 to 20 minutes depending on the rice you are using.

When the rice is ready, put the fire off and add the grated Parmigiano Reggiano and chopped Burrata to it (including the Burrata juices/cream).

Mix very well, until the rice becomes creamy.

Make sure that your risotto is moist (or, as we say, all'onda – which literally means wavy) and not sticky.  You can do that by adding 1 or 2 extra tbsp of hot water/stock if needed.  Check for salt and season to your liking.

Serve immediately and drizzle with Truffle Oil.

Related Posts: