November's Daring Cooks' Challenge had us on a roll! Olga from Effortless Lessly challenged us to make stuffed cabbage rolls using her Ukrainian heritage to inspire us. Filled with meat, fish or vegetables, flexibility and creativity were the name of the game to get us rolling!
This was the first Daring Cooks challenge I took part in after Lis suddenly passed away last month.  I won't lie.  It wasn't easy.  It felt strange… though Ruth and Shelley are doing a great job keeping the site and challenges going and I am very thankful to them for doing this in such a difficult time.
This month's challenge was indeed a challenge for me… I had never made nor eaten cabbage rolls.  I must say they were easier to make than I had expected.  I know some people love these while others hate them… they always polarise people's opinions.  I must admit that, even though I love all the ingredients used to make them and even though they tasted good, for some reason, I did not fall in love with them.  That said, I also think I cooked them a little too much, so they did dry up more than what I expected and that may also be the reason why I couldn't appreciate them as much.  Being summer here, I had a hard time finding cabbage… I only found it sold in halves, which did not make it easy for me to make the rolls…  However, it was a fun challenge and I have learnt a new technique for steaming and separating cabbage leaves that I had no idea existed.  So, I leave you to Olga's Ukrainian Cabbage Rolls!
Cabbage Rolls
Cabbage Rolls - the recipe for a classic Eastern European dish.
Cook Time
1
hour
30
minutes
Total Time
2
hours
30
minutes
Ingredients
1

green cabbage

900

gms

– 2 lbs. pork

or ground pork

900

gms

– 2 lbs. beef

or ground beef

300

gms

– 1½ cups dry rice

I used long grain

2

yellow onions

medium size

2

carrots

medium size

90

ml

– 6 tbsp olive oil

or other vegetable oil, divided

5

garlic cloves

1

liter

– 4 cups tomato puree

or 4 tbsp of tomato paste

9

gms

– 1½ tsp salt

or to taste

45

gms

– 3 tbsp sugar

or to taste

8

gms

– 2 tsp black pepper

3

bay leaves
Instructions
Recipe Notes
Stuffed cabbage rolls are even better the day after. Some people like them browned-up in a skillet the next day.
The pot with the stuffed cabbage rolls will keep in the fridge for several days. They also freeze very well.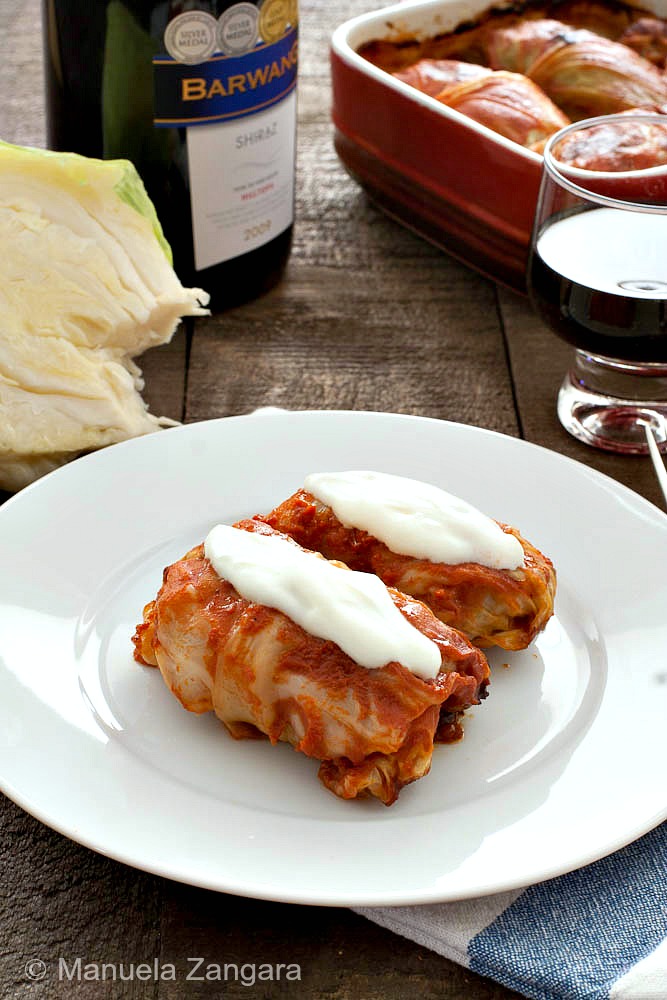 Related Posts: