Today's recipe is all about Australia, as I am sharing with you how to make Rissoles. Rissoles are basically Australian beef and vegetable patties that are pan-fried and served with Ketchup (or "tomato sauce" as we say here).
I didn't know what they were before moving to Australia, but I got hooked quite quickly as they are similar to pan-fried meatballs. And who doesn't like that??
I usually make these with beef, but you can use the ground meat you prefer: chicken, lamb, and pork (or a combination of them) all work well.
Tomorrow we celebrate Australia Day. And while it is a National holiday, so people have a day off from work, to school kids, this day also means the end of summer holidays. In fact, next week my kids will be back in school. I must admit that 6 weeks off are nearly not enough, especially since it is still extremely hot down here. In Italy, we get about 9 weeks off in summer!
Anyhow, back to school also means busy weekdays! So these Rissoles are a lifesaver especially since my kids adore them!
I hope you'll like them too!
If you are curious about Australian food, do check out my other Aussie recipes here. Among many delicious dishes, you will find savoury classics like Crumbed Barramundi, Sausage Rolls, Meat Pies, Seared Kangaroo Fillet Steaks with Raspberry Glaze and my luscious Aussie Burger with the Lot.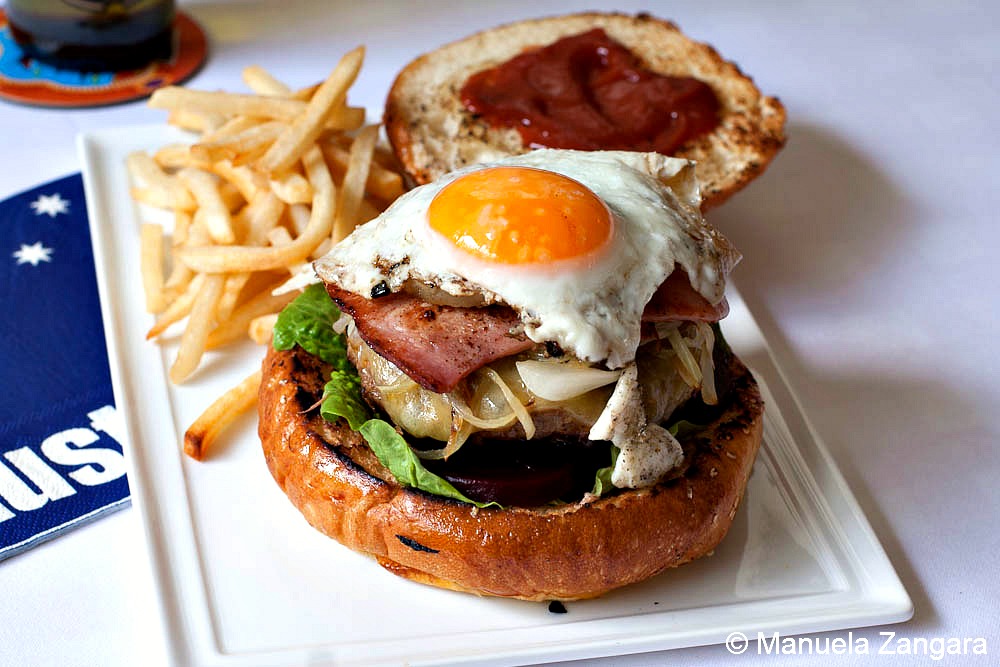 And delicate desserts like Melting Moments with Passion fruit Buttercream, Sticky Date Pudding with Butterscotch Sauce, Honeycomb, Lamingtons, Pavlova, and a refreshing Peach Melba!
Enjoy and let me know how you like them in the comment section below!
Rissoles
Rissoles – moist and delicious pan-fried beef and vegetable patties all the way from Australia!
Ingredients
Rissoles
500

gms

–  1 lb. beef mince

1

small onion

grated

1

small zucchini

grated

1

small carrot

grated

1

egg

1

garlic clove

minced

½

tsp

thyme

½

tsp

salt

2

tsp

Worcestershire Sauce

½

cup

panko breadcrumbs
Instructions
Put all the rissoles ingredients in a medium-sized bowl and knead well together.

Scoop up about ¼ cup of mixture and make a 2 cm – 2/3" thick pattie. Indent the middle slightly. This will stop them from puffing up and you won't need to press them down too hard while cooking. It's a great trick for juicy rissoles. Repeat with the remaining mixture. You will get about 10 patties.

Heat the oil in a skillet over medium heat. Add half the patties and cook for 4 minutes or until golden brown. Make sure to press them lightly with a spatula.

Flip and cook the other side for 3 - 4 minutes or until golden.

Transfer to a plate, and repeat with the remaining rissoles.

Serve with tomato ketchup.
Recipe Notes
You can also bake these rissoles. Spray a baking tray with oil. Place the rissoles on the tray and spray the top with more oil. Bake at 200°C – 390°F for 20 minutes, then flip them over and bake for another 5 minutes or until golden.
Don't forget to pin this post!

Related Posts: