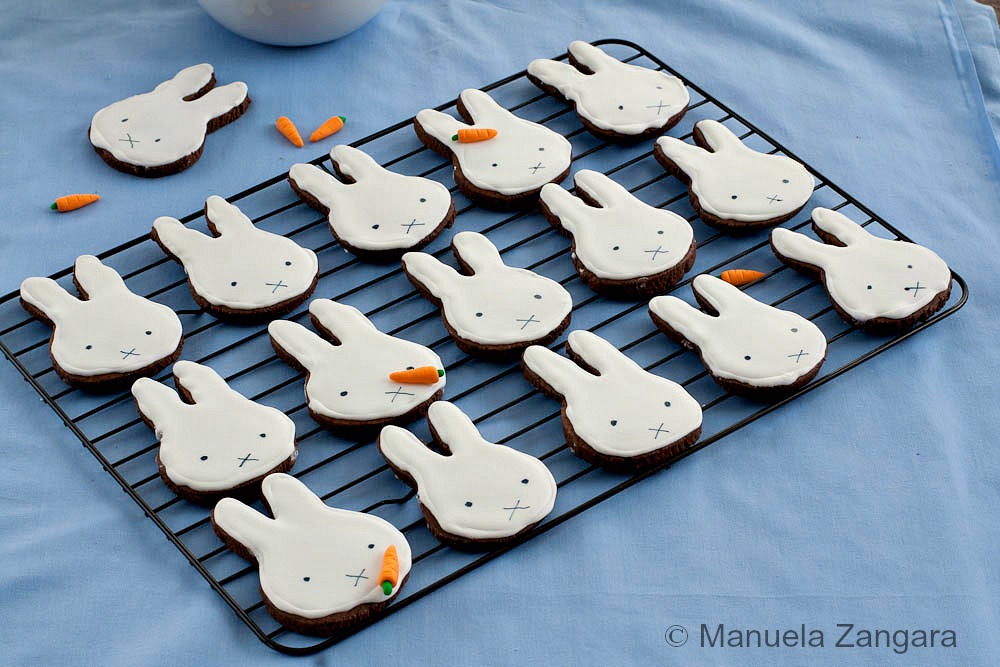 I made these cookies for my daughter's 4th birthday party.  If you follow this blog, you will already know that the theme was Miffy, the little bunny.  I made some Mini Carrot Cupcakes with Cream Cheese Frosting, some Miffys/Bunny Marshmallow Pops, a Miffy Cake and these cookies.  They were quite successful and they were all gone pretty soon!  The kids loved them!  To make them, I used a chocolate cookie dough that is not too sweet (which goes great with the sweet icing) and that is very forgiving and easy to work with.  I love these cookies and you can easily make them in advance and freeze them already cut.  Then all you have to do is bake them (no need to defrost them!) and decorate them!  To make Miffy's face, I made some stencils out of cardboard, just like I did last year to make Peppa Pig's Cookies!  Decorating these cookies was very easy as Miffy is not very complicated to make… but you can be as creative as you like!  Enjoy!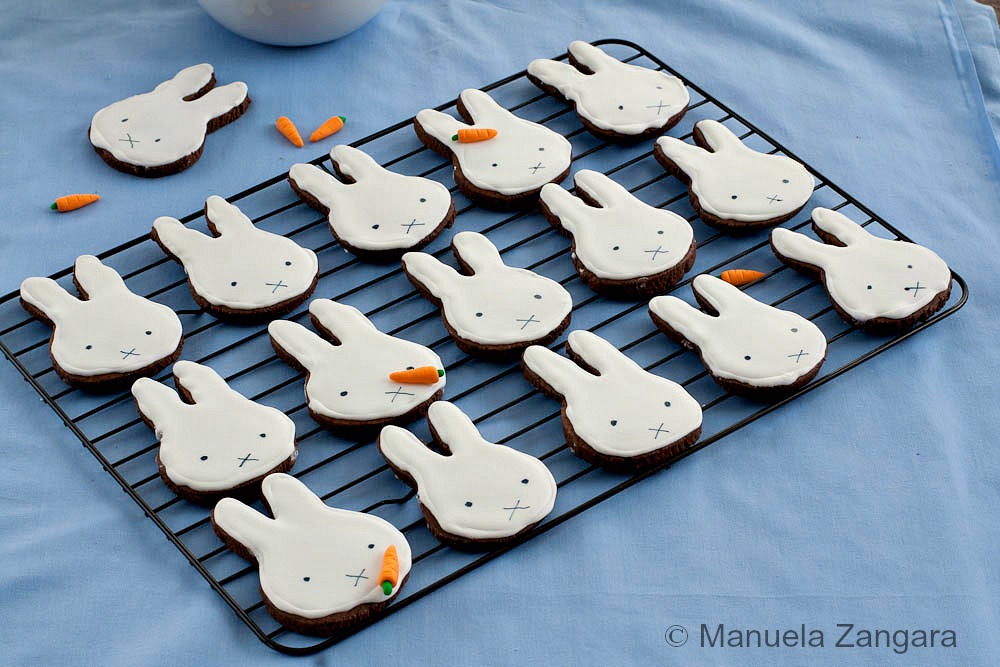 Miffy Chocolate Cookies
An easy recipe to make cute and delicious Miffy Chocolate Cookies!
Total Time
1
hour
12
minutes
Ingredients
75

gms

– 2.65 oz. sugar

75

gms

– 2.65 oz. butter

at room temperature

1

egg

1 ½

tbsp

milk

225

gms

– 8 oz. flour

25

gms

– 0.9 oz. cocoa powder

Food colouring

Edible Ink Pen
Instructions
Cream the butter and sugar together in the bowl of an electric mixer with a paddle attachment on low to medium speed. Mix until well incorporated.

Add the egg and milk and mix well. Sift the flour and cocoa powder together, add to the bowl and mix well. The dough will be ready when it clumps around the paddle attachment.

Roll it into a 6 mm – ¼ inch thick sheet and cut out your cookies using a cardboard stencil (I make these all the time and it is quite easy, all you need is a printed image of what you want to make, some clean cardboard, some transfer paper, a pen and a sharp exacto knife. Put the transfer paper between the image and the cardboard and transfer the image onto the cardboard by tracing the outline with a pen. Then cut out the shape).

Put the cookies on a baking tray lined with baking paper and bake in a pre-heated oven at 180°C – 355°F for 10 to 12 minutes.

When ready, let them cool down on the baking tray for a few minutes, then transfer them to a wire rack to cool down completely.

In the meantime, prepare your Royal Icing following

my tutorial

.

When the cookies have cooled down completely, decorate them with the white icing. Start by outlining the shapes with a very thin line of icing and then fill it in ("flooding") with the same icing. Some people use a thinner consistency of icing to flood the cookies, but I used the same icing (a bit thicker) to outline and flood because it saved me time. I also made my own piping bags with baking paper.

After flooding them, I let them dry and then I added all the details (eyes and mouth) with an edible ink marker.

Let them set completely before serving them.

Related Posts: