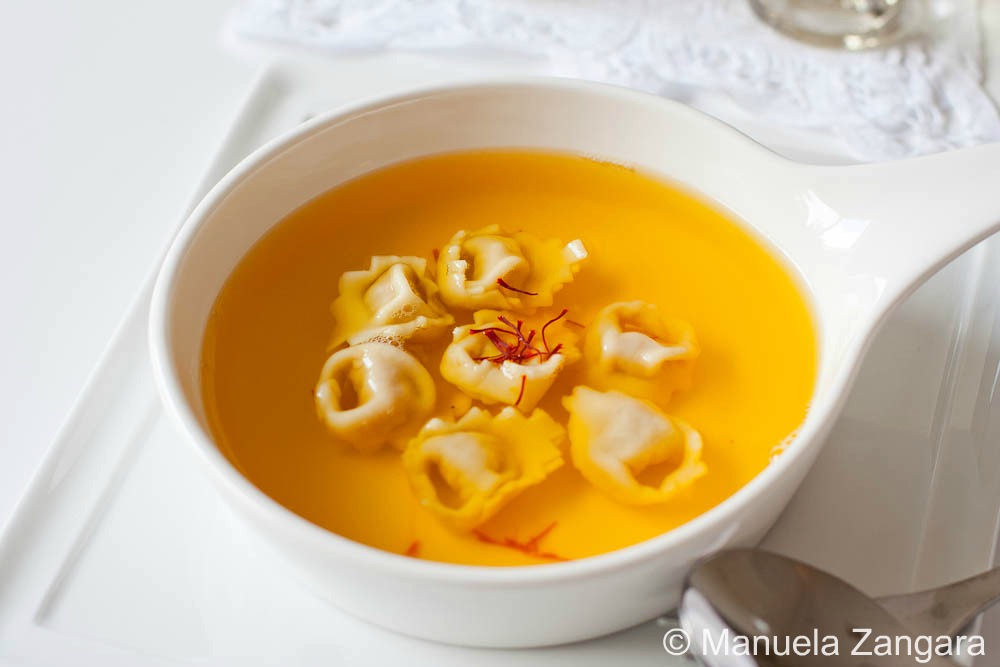 Peta, of the blog Peta Eats, was our lovely hostess for the Daring Cook's September 2011 challenge, "Stock to Soup to Consommé". We were taught the meaning between the three dishes, how to make a crystal clear Consommé if we so chose to do so, and encouraged to share our own delicious soup recipes!  When I saw this month's challenge I was a bit intimidated as I had never made Consommé before, but then I thought that this would be a great chance to learn something new.  Besides, it is still a bit cold down here, so what better challenge than to make a nice hearty soup?  The challenge was mainly about making stock from scratch, turning it into a soup and serving it with an accompaniment of our choice.  The Consommé bit was an "optional step", but I was not going to miss out on the chance to try it!  As it was my first attempt, I decided to make it from a simple home made white chicken stock (which means the chicken bones are not roasted prior to being cooked in the stock).  I also chose what I thought was the easiest method to make Consommé: the freeze (gelatine) filtration method.  Choosing the accompaniment was easy… being Italian, I chose to make the most classic Italian accompaniment for Consommé: tortellini (stuffed pasta filled with pork meat, prosciutto, mortadella and Parmigiano Reggiano).  To be precise, I made the tortellini version from Bologna (there are many variations in Italy with slightly different fillings).  Then on the spur of the moment I decided to "spice up" my basic Consommé and added some saffron to it… it tasted great and I loved the intense yellow colour!

For Consommé – recipe adapted from Peta at the Daring Cook's Challenge
Ingredients:
2kg (4½ lb) chicken bones
500gm (1 lb) chicken wings
500gm (1 lb) white mirepoix – 4 medium onions and 4 large celery ribs
Bouquet Garni – parsley, bay leaves, a sprig of thyme and whole peppercorns
Up to 5 liters of water (I used about 4 – 1 gallon)
Powdered gelatine (follow package instructions for the ratio of gelatine to liquid)
Salt
Saffron, a pinch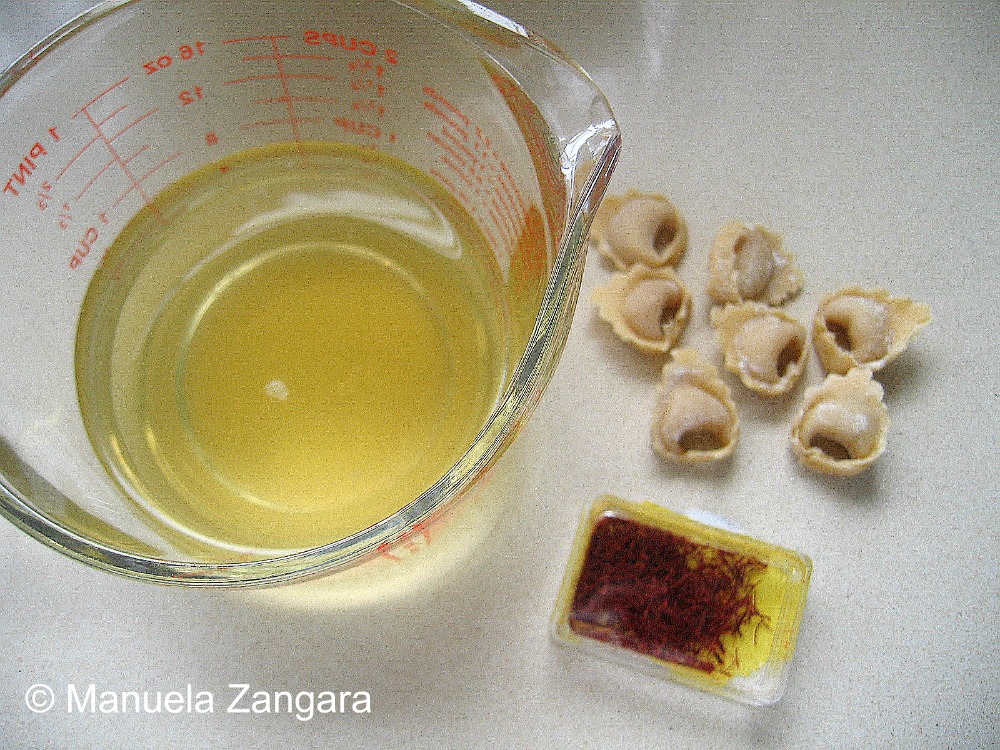 For Tortellini di Bologna 
Ingredients (for 6 people – you can refrigerate them for a couple of days or freeze them)
For the dough:
Egg pasta dough as per the instructions on How to make egg pasta dough (the filling is enough for 300 gms – 10.5 oz. flour and 3 eggs)
For the filling:
100 gms – 3.5 oz. pork loin
50 gms – 1.75 oz. mortadella
50 gms – 1.75 oz. Italian prosciutto (possibly Parma)
50 gms – 1.75 oz. Parmigiano Reggiano, finely grated
1 egg
Nutmeg, a pinch
Salt
To make Consommé
Put the chicken carcasses and wings in a big pot.  Add the mirepoix (peeled onions and celery stalks) and the bouquet garni (I put the herbs in a normal teaball, but it would be better to use a "sachet d' épice" made with a cheesecloth bag as the teaball was not very big).  Cover with water.
Put the pot on the fire and bring it to a boil.  Now reduce the heat and simmer, uncovered and without stirring for 3 to 4 hours.  Remember to strain off the fat/froth with a slotted spoon every now and then.
At this point you have a tasty chicken stock.  Strain it through a sieve lined with a muslin cloth or a coffee filter and discard the bones, mirepoix etc.  Keep aside.
To make Consommé (which is basically a filtered and "purified" stock that becomes clear and almost transparent) I used the freeze (gelatine) filtration method.
Measure the stock and enough gelatine powder to set it (follow the instructions on the package for quantities, as they vary).  Dissolve the gelatine powder in 1 cup/240 ml of the stock.  Then add it to the remaining hot stock and dissolve it by mixing it well.
Now, quickly cool the stock by placing the whole pot into your sink and running cold water around it.  Pour it into containers and place in the fridge.
Allow the stock to set fully (this is really important) then place it into the freezer to freeze solid (overnight).  If the stock is put into the freezer before it sets solid it will not separate properly when you thaw it.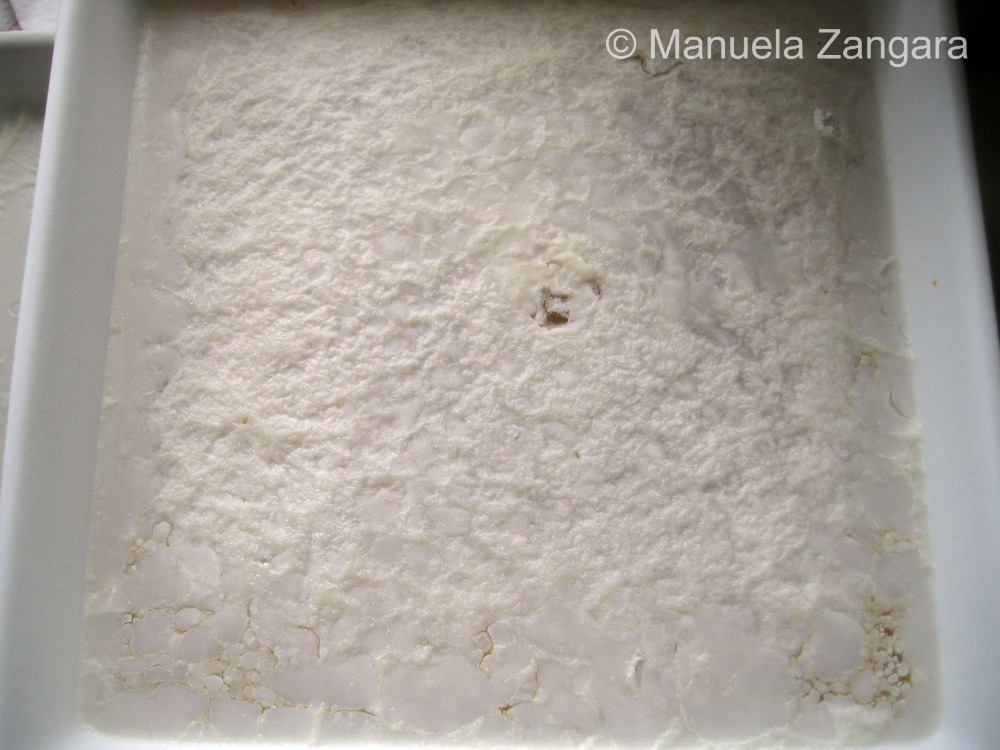 The following day, chop the frozen jelly into chunks and put them into a sieve lined with a filter cloth in the refrigerator.  Allow it to thaw in the refrigerator.  This process cannot be rushed. It has to happen in the refrigerator so the gelatine and any fat solids don't melt and run through your filter cloth.  This will take at least one day.
Now you should have a crystal clear liquid: your Consommé is ready.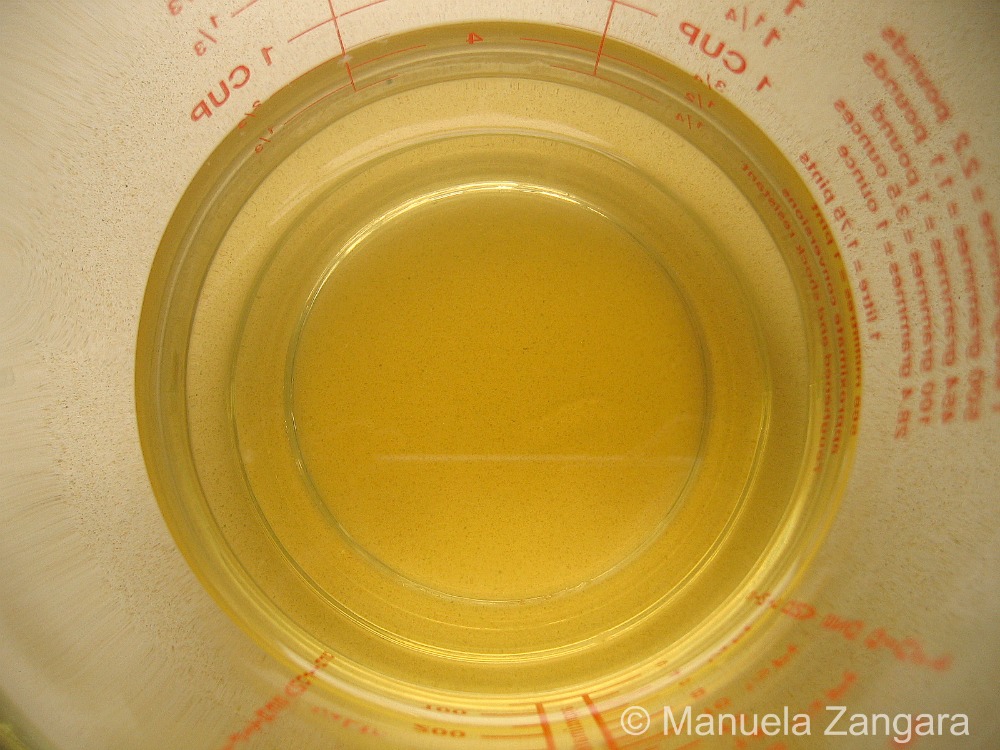 See the difference between the stock and the Consommé!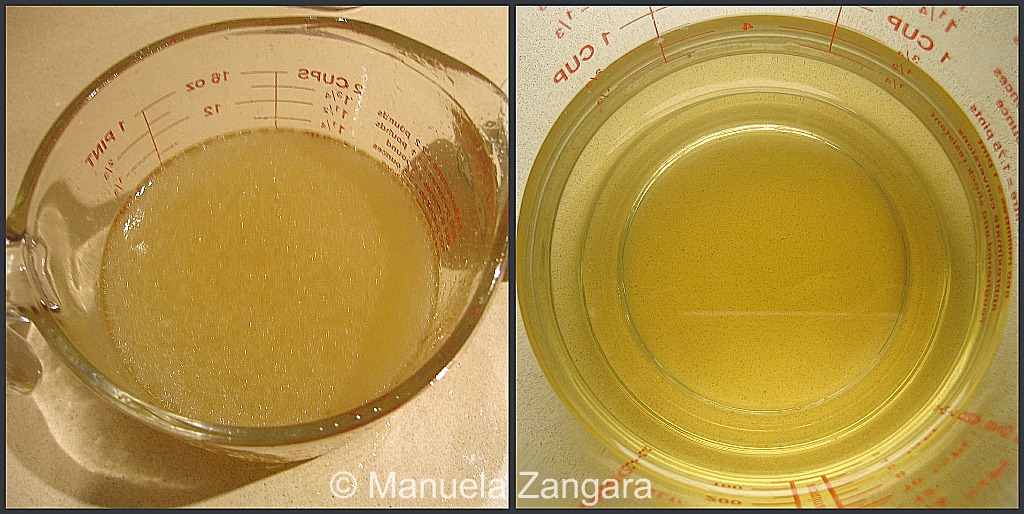 To make Tortellini di Bologna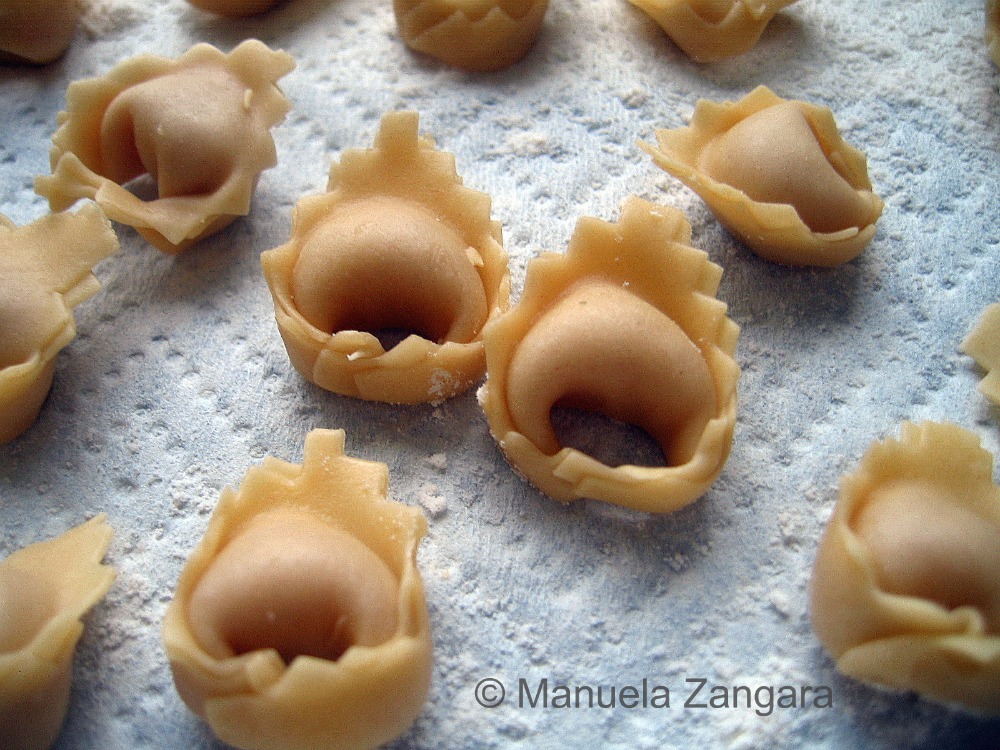 To prepare the filling, mince the pork loin, mortadella and prosciutto for 3 times in a meat mincer.  If you don't have a meat mincer you can use a mixer (the consistency will be a bit different but the taste won't change).
b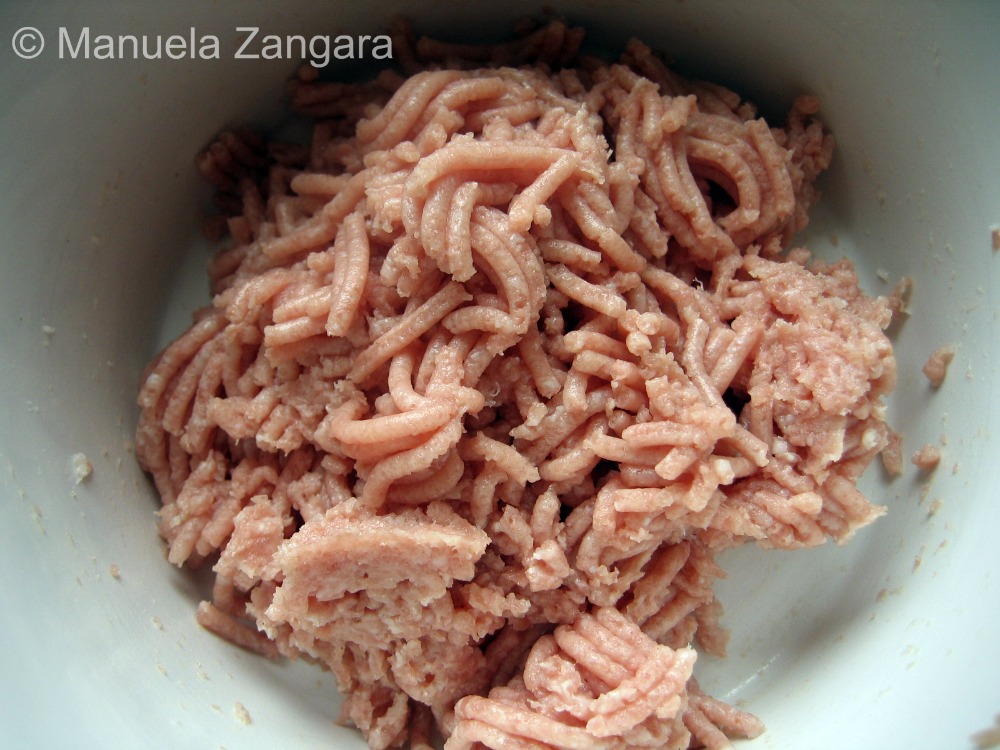 Add the finely grated Parmigiano Reggiano, egg, nutmeg and a pinch of salt (make sure to taste before adding salt as mortadella, prosciutto and Parmigiano Reggiano have a high sodium content).  Mix well and keep your filling in the fridge until you are ready to use it.
Prepare the egg pasta dough as per the instructions on How to make egg pasta dough and then proceed to make tortellini as per the tutorial on How to make tortellini (I made the smaller 4 cm tortellini to have with the Consommé).
Cook the tortellini following the steps on How to cook pasta al dente.  Only in this case you will not have a pre set cooking time.  This will vary on the thickness of your tortellini (it should take approximately a couple of minutes to cook if you have just made the pasta.  If a number of hours have passed since you made the pasta then it would be slightly dry and could take between 10 to 12 minutes to cook).  So, the best solution is to taste it!  Remember, to check the joint, where your pasta is thicker.  It does have to remain firm to be al dente.
NOTE: when making tortellini with soup, I would cook them in the soup/stock itself so the tortellini take up the soup's flavours.  In this case though, I did not want to risk the Consommé getting "ruined" or "cloudy" in case a little of the filling came out… or all my work would have been undone!  So I cooked them separately and then mixed them with the Consommé.
While the tortellini are cooking, warm up your Consommé, add salt to taste and a pinch of saffron to it.  Mix well.
When the pasta is cooked, put a few tortellini in the plates and cover them with the chicken and saffron Consommé.  Enjoy warm.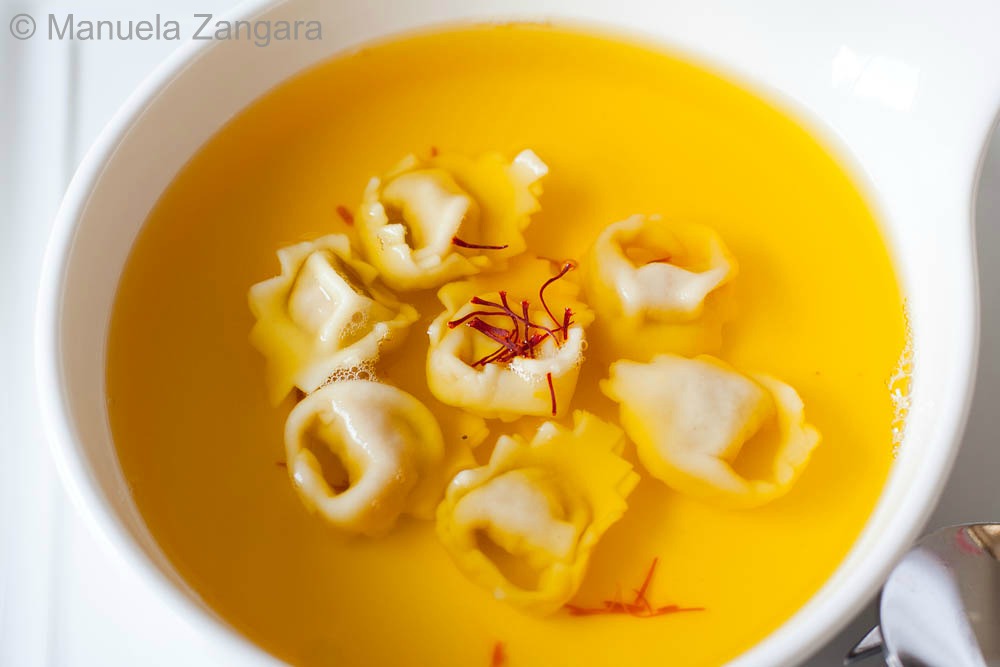 Related Posts: